2 best hotels in Ban Nasangweiy
Our top picks
Lowest price first
Nearest to
Best reviewed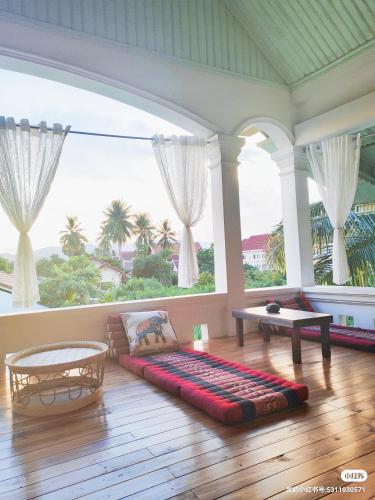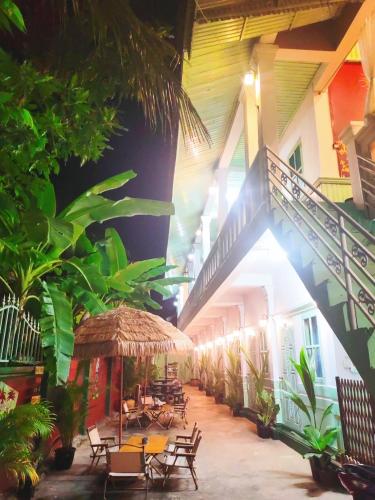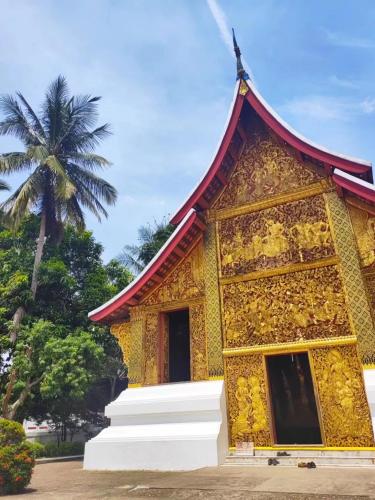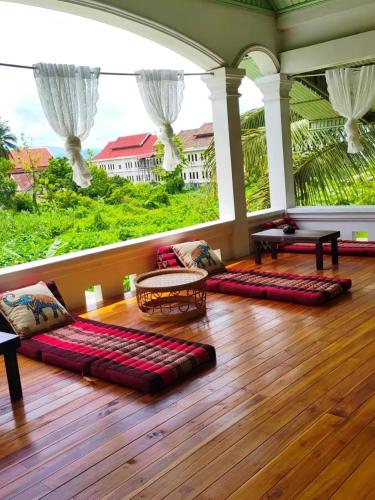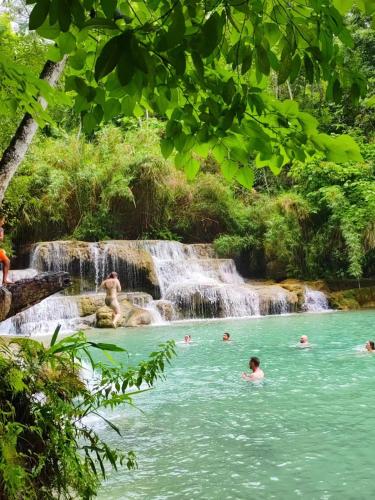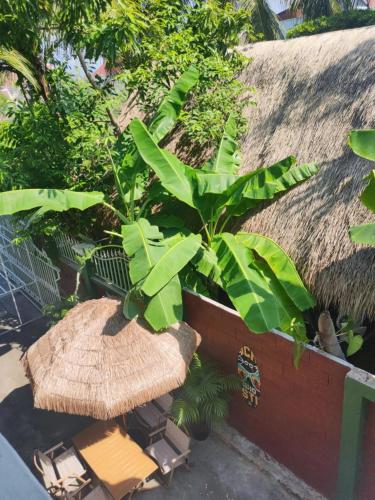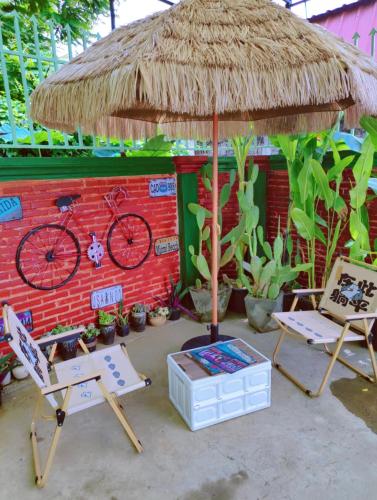 See all
天堂鸟花园客栈
Ban Nasangweiy,Ban Nasangweiy - View on map
Free Wi-Fi
Free parking
Balcony/Terrace
Garden
Express check-in/check-out
Luggage storage
Currency exchange
Daily housekeeping
See all
Bounmixay Guest House
Ban Nasangweiy,Ban Nasangweiy - View on map
Free Wi-Fi
Car parking
Massage
Luggage storage
Bicycle rental
Laundry service
Safety deposit boxes
Smoking area
"Bad location, but everything else ok. "
More about Ban Nasangweiy
Discovering the Fun Facts of Ban Nasangweiy in Luang Prabang, Laos
Ban Nasangweiy is a small village located in the Luang Prabang Province of Laos. This village is known for its beautiful scenery, rich culture, and friendly locals. One of the most interesting facts about Ban Nasangweiy is that it is home to the Hmong people, one of the largest ethnic groups in Laos. The Hmong people have their own unique customs, traditions, and beliefs, which can be observed in the daily life of the village. Visitors can also witness the traditional Hmong clothing and handicrafts, which are sold in the local markets.
Top Reasons to Visit Ban Nasangweiy on Your Next Trip
Ban Nasangweiy is a hidden gem in Laos, and there are many reasons why travelers should consider adding it to their itinerary. Firstly, the village offers a peaceful and relaxing atmosphere, away from the hustle and bustle of the city. Visitors can enjoy the stunning natural scenery, including rice paddies, mountains, and waterfalls. Secondly, Ban Nasangweiy is an excellent place to learn about the Hmong culture and way of life. Travelers can participate in cultural activities, such as traditional dance performances, cooking classes, and handicraft workshops. Lastly, Ban Nasangweiy is a great destination for outdoor enthusiasts, with plenty of opportunities for hiking, cycling, and trekking.
How to Go to Ban Nasangweiy: A Traveler's Guide
Ban Nasangweiy is located approximately 15 kilometers from Luang Prabang, and the easiest way to get there is by hiring a tuk-tuk or a motorbike. The journey takes around 30 minutes, and the road is relatively easy to navigate. Alternatively, travelers can take a public bus from the Northern Bus Station in Luang Prabang, which runs several times a day. The journey takes around 45 minutes and costs around 10,000 kip per person. For those who prefer a more comfortable mode of transportation, private taxis are also available for hire.
Fun Things to Do in Ban Nasangweiy: Exploring the Hidden Gems
Ban Nasangweiy may be a small village, but there are plenty of interesting activities to keep travelers entertained. One of the must-visit attractions is the Kuang Si Waterfall, which is located just a short drive from the village. This beautiful waterfall features turquoise blue pools, perfect for swimming and relaxing. Another popular activity is the Ban Nasangweiy Rice Experience, where visitors can learn about the traditional rice farming techniques of the Hmong people. The experience includes a guided tour of the rice paddies, a rice planting demonstration, and a delicious lunch made from fresh local ingredients. Other activities include hiking to the nearby mountains, visiting the local markets, and participating in cultural activities.
Why Use Agoda.com to Book Your Hotel in Ban Nasangweiy
Agoda.com is the perfect platform for travelers looking to book a hotel in Ban Nasangweiy. The website offers a wide range of accommodation options, including budget guesthouses, mid-range hotels, and luxury resorts. Travelers can easily search for hotels based on their preferences, such as location, price, and amenities. Agoda.com also offers competitive rates and exclusive deals, ensuring that travelers get the best value for their money. Additionally, the website features user reviews and ratings, allowing travelers to make informed decisions when choosing a hotel.
The Best Season to Visit Ban Nasangweiy: A Comprehensive Guide
The best time to visit Ban Nasangweiy is during the dry season, which runs from November to April. During this time, the weather is dry and cool, with temperatures ranging from 20 to 30 degrees Celsius. The dry season is also the best time to visit the Kuang Si Waterfall, as the water levels are high and the pools are crystal clear. However, travelers should be aware that this is also the peak tourist season, and prices for accommodation and activities may be higher than usual. The wet season, which runs from May to October, is also a good time to visit Ban Nasangweiy, as the landscape is lush and green. However, visitors should be prepared for occasional rain showers and muddy roads.
Tips for Travelers: Making the Most Out of Your Ban Nasangweiy Trip
For travelers planning a trip to Ban Nasangweiy, here are some tips to help make the most out of your experience. Firstly, be respectful of the local culture and customs, especially when visiting the Hmong villages. Dress modestly and ask for permission before taking photos. Secondly, bring comfortable shoes and clothing, as there are plenty of opportunities for outdoor activities. Don't forget to bring sunscreen, insect repellent, and a hat to protect yourself from the sun. Lastly, be prepared for a slower pace of life, as Ban Nasangweiy is a rural village with limited amenities. Bring cash with you, as there are no ATMs in the village, and stock up on essentials before arriving.
Where to Stay in Ban Nasangweiy: The Ultimate Accommodation Guide
Ban Nasangweiy offers a range of accommodation options to suit all budgets and preferences. For budget travelers, Bounmixay Guest House is a popular choice, offering clean and comfortable rooms at affordable rates. For those looking for a more luxurious experience, Xiangfeng International Hotel is a great option, featuring spacious rooms, a swimming pool, and a restaurant serving local and international cuisine. Other mid-range options include Villa Ban Phanluang and Ban Viengkham Homestay, both of which offer comfortable rooms and friendly service.
What to Eat in Ban Nasangweiy: A Foodie's Delight
Ban Nasangweiy is a foodie's delight, with plenty of delicious local dishes to try. One of the must-try dishes is laap, a traditional Hmong salad made from minced meat, herbs, and spices. Another popular dish is khao soi, a spicy noodle soup served with chicken or beef. For those with a sweet tooth, try the sticky rice with mango, a popular dessert made from glutinous rice and fresh mango. Other local specialties include grilled fish, papaya salad, and fried noodles.
How to Travel Around Ban Nasangweiy: A Transportation Guide
Getting around Ban Nasangweiy is relatively easy, as the village is small and compact. Walking and cycling are popular options, as the roads are flat and easy to navigate. For those who prefer motorized transportation, tuk-tuks and motorbikes are available for hire. It's also possible to rent a bicycle or motorbike from local shops. However, travelers should be aware that the roads can be bumpy and uneven, so it's important to drive carefully and wear a helmet.