1 best hotels in Chamni
Our top picks
Lowest price first
Nearest to
Best reviewed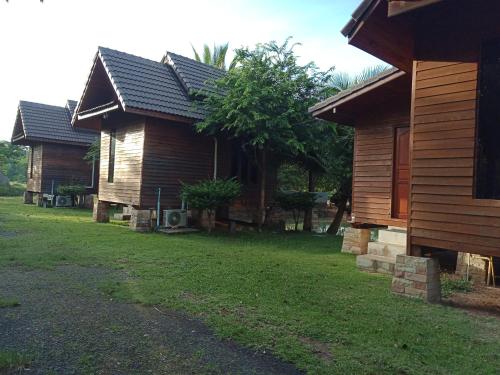 See all
Home Style Resort
Chamni,Chamni - View on map
Car park
Free Wi-Fi in all rooms!
Front desk [24-hour]
Check-in/out [express]
BBQ facilities
Luggage storage
Laundry service
Restaurants
"Pro: super big room, friendly staff, worth your money Con: can't think of anything "
Frequently asked questions
What are the most popular hotels in Chamni?
Some of our most popular hotels in Chamni are Home Style Resort.
What are the best hotels in Chamni for couples?
Hotels in Chamni that are highly rated by couples include Home Style Resort.
What are the best hotels in Chamni for families?
Hotels in Chamni that are highly rated by families include Home Style Resort.
More about Chamni
Discovering Chamni: Fun Facts and Reasons to Visit
Located in the heart of Buriram province in Thailand, Chamni is a charming rural district that offers a glimpse into the country's rich history and culture. The area is known for its ancient Khmer temples, picturesque rice paddies, and friendly locals who are always eager to welcome visitors. One of the most interesting facts about Chamni is that it was once part of the Khmer Empire, which ruled over much of Southeast Asia from the 9th to the 15th century. As a result, the district is home to several stunning temples that showcase the intricate stonework and architectural style of the Khmer people. Aside from its historical significance, Chamni is also a great place to experience rural Thai life. The district is dotted with small villages where you can see locals going about their daily routines, from tending to their crops to making handicrafts.
Getting to Chamni: A Guide for Travelers
Chamni is located about 400 kilometers northeast of Bangkok, making it a bit of a journey to get there. The easiest way to reach the district is by flying to Buriram Airport, which is served by several domestic airlines. From there, you can take a taxi or hire a car to Chamni, which is about a 30-minute drive away. If you're traveling from Bangkok, you can also take a bus or train to Buriram and then transfer to a local bus or taxi to Chamni. The journey takes about 6-7 hours by bus or 5-6 hours by train, so be sure to bring plenty of snacks and water for the trip.
Top Things to Do in Chamni: Exploring the Best of Buriram
One of the main attractions in Chamni is the Phanom Rung Historical Park, which is home to a stunning Khmer temple that dates back to the 12th century. The temple is perched on a hilltop and offers panoramic views of the surrounding countryside, making it a popular spot for sunrise and sunset. Another must-see attraction in Chamni is the Prasat Muang Tam, which is a group of five Khmer temples that are surrounded by a moat and lush greenery. The temples are known for their intricate carvings and bas-reliefs, which depict scenes from Hindu mythology. For nature lovers, Chamni is also home to several scenic spots, such as the Huai Talat Reservoir and the Khao Kradong Forest Park. The reservoir is a great place to go fishing or take a boat ride, while the forest park offers hiking trails and a scenic lookout point.
Why Book Your Chamni Hotel with Agoda.com
When it comes to finding the perfect hotel in Chamni, Agoda.com has you covered. The website offers a wide range of accommodations to suit every budget and preference, from cozy guesthouses to luxurious resorts. One of the benefits of booking with Agoda.com is that you can read reviews from other travelers who have stayed at the hotel before. This can help you get a better sense of what to expect and avoid any unpleasant surprises. Agoda.com also offers competitive prices and frequent promotions, so you can save money on your Chamni hotel stay. Plus, the website is easy to use and allows you to filter your search results by price, location, and amenities.
The Best Time to Visit Chamni: Weather and Festivals
The best time to visit Chamni is during the cool season, which runs from November to February. During this time, the weather is mild and pleasant, with temperatures averaging around 20-25°C. This makes it a great time to explore the temples and natural attractions without getting too hot or sweaty. If you're interested in experiencing local festivals, Chamni hosts several throughout the year. One of the most popular is the Phi Ta Khon Festival, which takes place in June or July and features colorful parades, music, and dancing.
Tips for Travelers: Making the Most of Your Chamni Experience
When visiting Chamni, it's important to respect the local culture and customs. This means dressing modestly when visiting temples and removing your shoes before entering. It's also a good idea to learn a few basic Thai phrases, such as "hello" and "thank you," to show your appreciation for the locals. Another tip for travelers is to bring plenty of insect repellent and sunscreen, especially if you plan to spend time outdoors. The mosquitoes can be quite pesky in rural areas, and the sun can be strong even on cooler days. Finally, be sure to try some of the local food when in Chamni. The district is known for its spicy papaya salad, grilled chicken, and sticky rice, which are all delicious and affordable.
Where to Stay in Chamni: Hotels and Accommodations
If you're looking for a comfortable and affordable place to stay in Chamni, Agoda.com has several options to choose from. One of the most popular hotels is the Home Style Resort, which offers cozy rooms and a convenient location near the temples and natural attractions. Other options include the Baan Khun Ya Resort and the Ploy Resort, both of which offer comfortable rooms and scenic views of the surrounding countryside.
Tasting Chamni: A Guide to Local Food and Drink
When it comes to food, Chamni has plenty of delicious dishes to try. One of the most famous is som tam, which is a spicy papaya salad that is often served with sticky rice and grilled chicken. Another popular dish is larb moo, which is a spicy minced pork salad that is flavored with lime juice and herbs. For drinks, be sure to try the local beer, which is called Chang. It's a refreshing and affordable option that pairs well with spicy food.
Getting Around Chamni: Transportation Options for Tourists
Getting around Chamni is easiest by car or motorbike, as there is limited public transportation in the area. If you're comfortable driving, you can rent a car or motorbike from one of the local rental shops. Alternatively, you can hire a taxi or tuk-tuk to take you around the district. Just be sure to negotiate the price beforehand to avoid any surprises. Overall, Chamni is a hidden gem in Buriram province that is well worth a visit. Whether you're interested in history, nature, or local culture, there's something for everyone in this charming district. And with Agoda.com, finding the perfect hotel for your Chamni adventure is easy and hassle-free.