Hotels in Balatonfured
Our top picks
Lowest price first
Nearest to
Best reviewed
Fast facts about Balatonfured, Hungary
| | |
| --- | --- |
| Accommodations | 338 properties |
| Popular hotel | Hotel Golden Lake Resort |
| Popular area | Balatonfured |
| Nightly rates from | $40 |
Where to stay in Balatonfured
---
4-star hotels in Balatonfured
---
The hotel is a very nice, old style building. It belongs to the Anna Grand Hotel, so the wellness facilities and/or breakfast can be used there.
---
Located in the tourist / spa centre of Balatonfured, the hotel is a perfect selection. The parks, museums, the lake and the port are within 5 minutes walk. Rooms are as expected in four-star hotels. SPA facilities are good as well. Breakfast and dinner were good, although the staff in the restaurant is kind of snobby and brings invoices without waiting for the end of t...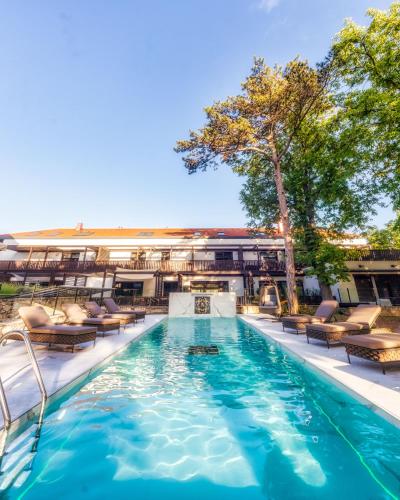 ---
Good quality as well as selection of food
---
Real reviews for hotels
This is a hidden gem. Clean, modern, all the best things about a holiday resort tastefully done. Great for children as parents can indulge in icecreams and holiday activities without breaking the bank.
---
Balatonfured hotels with breakfast
---
Frequently asked questions
What are the best resorts in Balatonfured for families?
Places to stay in Balatonfured that are exceptionally scored by families include Hotel Golden Lake Resort, Akademia Hotel and Danubius Hotel Annabella.
What resorts in Balatonfured offers the best views?
Verified travelers to Balatonfured have given exceptional reviews for the views at Koczor Winery and Guesthouse, Anna Grand Hotel Wine&Vital and Fürjes Villa Panzió.
What hotels in Balatonfured have the best breakfast?
Verified travelers to Balatonfured have given top reviews for the breakfast at Koczor Winery and Guesthouse, Astoria Hotel and Restaurant and Anna Grand Hotel Wine&Vital.
What are the prime properties found in Balatonfured for business visitors?
Accommodations located in Balatonfured which are highly rated by business travelers are Hotel Golden Lake Resort, Akademia Hotel and Danubius Hotel Annabella.
What resorts in Balatonfured are highly rated with respect to facilities?
Accommodationsin Balatonfured which is very highly rated for amenities include Andrea Pansio, Sunrise Apartmanhaz and LUA Resort - Adults only.
What properties found in Balatonfured are exceptionally rated with respect to service?
Accommodationsfound in Balatonfured which is exceptionally rated with respect to service include Danubius Hotel Annabella, Hotel Tagore and Sunrise Apartmanhaz.
What's the best hotel in Balatonfured close to a amusement park?
Highly scored hotels around Balatonfured near amusement park include LA VITA APARTMAN, Katyca Apartman and Apartment in Casa Ciliegia.
Where can I reserve rooms in Balatonfured that has free cancellation policy?
Yes, you'll find the majority of hotel rooms provide free cancellation rates, in which you can expect to receive a full refund if you cancel before the deadline. Filter your search by free cancellation to find flexible hotel deals in Balatonfured.
When should I travel to Balatonfured?
Last year, Balatonfured accrued its most visitors during the month of August. In spite of this, make sure to consider other months during which there are fewer visitors, as the most popular sights will be less crowded.
Are international tourists allowed into Balatonfured?
Foreign travelers are allowed into Balatonfured, according to our most current information. Due to evolving restrictions, we recommend you browse here for additional information.
Is quarantine required for unvaccinated travelers to enter Balatonfured?
Quarantine is not required for unvaccinated travelers to enter Balatonfured from outside the country. For up-to-date and detailed information on travel restrictons, please pay a visit to the official websites of the travel authority or government of the country you wish to travel to, or go to here.
Is pre-departure covid test needed for fully vaccinated visitors to enter Balatonfured?
Proof of negative pre-departure COVID-19 test is not required to enter Balatonfured. For recent and detailed information on travel restrictons, please check out the official websites of the travel authority or government of the country you wish to visit, or go to here.
Explore more travel vacation rentals
More about Balatonfured
Discover the Best Things to Do in Balatonfured
Balatonfured is a charming town located on the northern shore of Lake Balaton, the largest lake in Central Europe. There are plenty of things to do in Balatonfured, making it an ideal destination for travelers looking for a relaxing getaway. One of the top attractions in the town is the Tagore Promenade, a beautiful walkway that stretches along the lakefront. Visitors can enjoy stunning views of the lake and the surrounding hills while strolling along the promenade. Another must-see attraction is the Annagora Aquapark, a water park that offers a variety of water activities for all ages. For those interested in history and culture, Balatonfured has several museums and galleries worth visiting. The Jokai Memorial Museum is dedicated to the famous Hungarian writer, Mor Jokai, and showcases his life and work. The Balatonfured City Museum, on the other hand, displays the town's history and culture through various exhibits and artifacts. For art enthusiasts, the Koczka Art Gallery features a collection of contemporary Hungarian art.
Why Balatonfured Should Be Your Next Travel Destination
Balatonfured is a hidden gem in Hungary that should be on every traveler's bucket list. The town offers a perfect blend of natural beauty, culture, and history, making it an ideal destination for all types of travelers. The town's location on the shore of Lake Balaton also makes it a popular spot for water activities such as swimming, boating, and fishing. One of the reasons why Balatonfured is so special is its unique microclimate. The town is known for its mild climate, which is perfect for growing grapes. As a result, the town is home to several vineyards and wineries, producing some of Hungary's best wines. Visitors can take a tour of these wineries and taste some of the local wines, making for a perfect day trip.
Explore the Hidden Gems of Balatonfured, Hungary
While Balatonfured is a popular tourist destination, there are still plenty of hidden gems waiting to be discovered. One such gem is the Tamas Hill, a beautiful hill located just outside the town. The hill offers stunning views of the lake and the surrounding countryside, making it an ideal spot for a picnic or a hike. Another hidden gem is the Balaton Uplands National Park, a protected area that covers over 56,000 hectares of land. The park is home to several rare and endangered species of flora and fauna, making it a must-visit destination for nature lovers. Visitors can go on guided tours of the park and explore its many hiking trails.
The Ultimate Guide to Traveling to Balatonfured on a Budget
Traveling to Balatonfured doesn't have to break the bank. There are several ways to save money while still enjoying all that the town has to offer. One of the best ways to save money is by booking your hotel through Agoda.com. Agoda.com offers affordable and hassle-free hotel bookings, allowing you to find the best deals on hotels in Balatonfured. Another way to save money is by taking advantage of the town's free attractions. The Tagore Promenade, for example, is a beautiful walkway that is completely free to visit. The Balaton Uplands National Park is also free to visit, making it an ideal destination for budget travelers.
Experience the Best of Balatonfured: Where to Stay and What to Eat
When it comes to finding the best place to stay in Balatonfured, there are several options to choose from. The Danubius Hotel Annabella and Danubius Hotel Marina are two of the most popular hotels in the town, offering stunning views of the lake and convenient access to the town's attractions. For those looking for a more intimate experience, the Aura Hotel Adults Only and Boutique Hotel Annuska are excellent options. When it comes to food, Balatonfured has a lot to offer. The town is known for its fish dishes, with the most popular being the Balaton-style fish soup. Other local specialties include the Hungarian goulash and the chimney cake, a sweet pastry that is a must-try for anyone with a sweet tooth. There are several restaurants in the town that serve these dishes, with the Koczka Csarda and the Kisfaludy Restaurant being two of the most popular.
Uncover the Best Time to Visit Balatonfured for an Unforgettable Trip
The best time to visit Balatonfured depends on what you're looking for. The town is a popular destination during the summer months, when the weather is warm and sunny, and the lake is perfect for swimming and water activities. However, this is also the busiest time of the year, with crowds and higher prices. For those looking for a quieter and more affordable trip, the spring and fall months are ideal. The weather is still mild, and the town is less crowded, making it easier to explore the attractions and enjoy the local culture. The winter months are also a good time to visit, especially for those interested in winter sports such as skiing and ice skating.
Tips for Travelers That Would Like to Visit Balatonfured
When planning a trip to Balatonfured, it's important to keep a few things in mind. First, make sure to book your hotel in advance, especially if you're traveling during the peak season. This will ensure that you get the best deals and that you have a place to stay. Second, make sure to pack appropriately for the weather. While the town has a mild climate, temperatures can still vary depending on the season. Make sure to bring comfortable shoes for walking and hiking, as well as a swimsuit if you plan on swimming in the lake. Finally, don't forget to bring your camera. Balatonfured is a beautiful town with plenty of photo opportunities, from the stunning lake views to the charming streets and buildings.