11 best hotels in Ballito
Our top picks
Lowest price first
Nearest to
Best reviewed
Fast facts about Ballito, South Africa
| | |
| --- | --- |
| Accommodations | 864 properties |
| Popular hotel | The Capital Zimbali |
| Popular area | Ballito |
| Nightly rates from | $12 |
Discover the neighborhoods of Ballito
---
4-star hotels in Ballito
---
i would rate this as the best hotel in its category. The rooms are extremely comfortable but most importantly, the staff are fantastic and there is an all-round awesome vibe. The food is amazing and its a great spot to socialise.
---
Excellent overall however meals are overpriced and they really should offer a service to press and launder guests clothes for the price they charge and their star rating. Will definitely visit them again.
---
A delightful choice for a one-night stopover. Beautifully appointed and very comfortable. Wished we could have stayed longer. Will definitely go there again when the opportunity arises.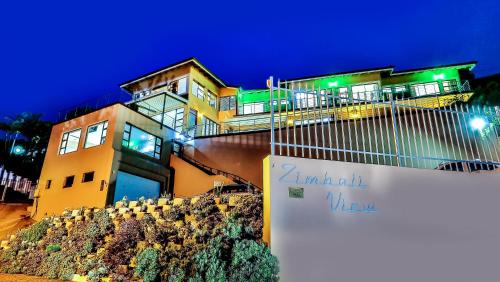 ---
Beautiful property, nothing Zimbali about it though, it could do with an update on a few things such bed linen and towels, the pool was dirty and not operational when we stayed. the house has the best views of the ocean.
---
from the moment we arrived we were made to feel at home. our huge room was tastefully decorated and had every amenity that anyone could ever want. the breakfast was also great and the staff were always friendly and helpful. restaurants and shopping is a stones throw away and so is the beach. definitely will be back!
---
5-star hotels in Ballito
---
The shuttle service in to Ballito, shopping centers was good Both breakfast and dinner buffet was good A nice Wine bar with a nice view over the sea and a good Caesar salad. First we got rooms without balcony , and when we were there it was a bad weather, raining and thunder a lot so we asked for rooms with balconys so that we didn't have to be inside. We got 2 r...
---
We stayed in this hotel on our honeymoon. This was the last stay of our three week holiday and this 5-star hotel did not come close to the other hotels we stayed it and this was mainly down to the staff. It felt like the staff thought they did not have to make an effort because the hotel was in an amazing location. It was truly beautiful but when the staff are not nice...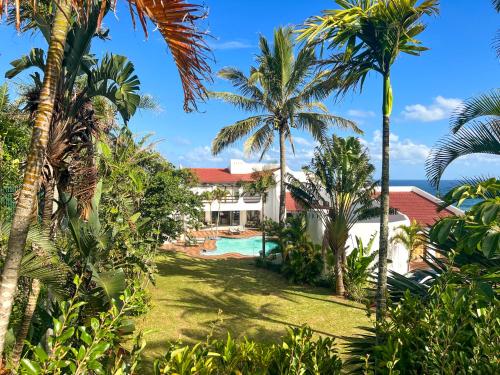 ---
What a wonderful place to relax and see the sea. This lodge offers it all, personal attention to detail, breathtaking view of the ocean, yummy breakfast and helpful staff. A place I would definitely return to .
---
Traveler impressions of Ballito
Its nice, beach is fine and people are friendly. The pubs are cool and one can have a lot of fun. The sea food is awesome very fresh, ask for the catch of the day
Ballito is a beautiful, leafy city with clean, sandy beaches. There are enough shopping centres to satisfy most shopping needs and there are quite a number of good restaurants around.
---
Ballito's best hotels with breakfast
---
Frequently asked questions
What's the normal price of a hotel in Ballito?
The typical price for a 3-star resort in Ballito is USD 80. The average price for a 4-star resort in Ballito is USD 102. The typical price for a 5-star hotel in Ballito is USD 187.
What are the best resorts in Ballito for solo travelers?
Properties around Ballito that are exceptionally rated by solo vacationers are Regal Inn Ballito, Petite Provence Boutique Bed and Breakfast and The Capital Zimbali.
What hotels around Ballito are exceptionally rated regarding sanitation?
Accommodationsaround Ballito that is well rated with regards to hygiene include Sea Dreams Guesthouse, Chakas Cove and Frinton on Sea 3.
What places to stay located in Ballito are well rated for room comfort and quality?
Propertiesfound in Ballito which is exceptionally rated for room comfort and quality include Zimbali View Eco Guesthouse, Vetho House and Zimbali Lodge.
What are most appropriate getaway rentals in Ballito?
Getaway rentals in Ballito which is very highly rated with regards to service include 204@laballito and Summer House. Perfect for families or large groups.
What are the very best accommodations located in Ballito that have spas?
Verified vacationers to Ballito have given top reviews regarding the spa at Fairmont Zimbali Resort.
What are the recommended hotels found in Ballito which has free parking?
A place to stay that has complimentary parking around Ballito that is exceptionally rated is Sandpiper 12.
What are the preferred resorts located in Ballito which have a private beach?
A place to stay that has a private beach around in Ballito which is highly rated is Ballito at Zimbali Suites 615.
Are international visitors allowed into Ballito?
International visitors are allowed into Ballito, according to our most current information. Due to changing restrictions, we advise you to have a look at here for further information.
Is quarantine required for fully vaccinated visitors to enter Ballito?
Quarantine is not required for fully vaccinated visitors to enter Ballito from outside the country. For up-to-date and detailed information on travel restrictons, please have a look at the official websites of the travel authority or government of the country you wish to travel to, or go to here.
Is evidence of vaccination mandatory to enter Ballito?
Proof of COVID-19 vaccination is not required is currently necessary to enter Ballito from outside the country. For further details, please reach out to local authority or visit here.
What vaccines are accepted in Ballito?
All vaccination types are currently acknowledged and accepted by the national health authority of the country that includes Ballito.
Explore more travel vacation rentals
More about Ballito
Ballito is a lasting choice for nature and outdoor travel. Vacationers from across the world flock to Ballito to sample anything this place has got, including the ideal resort hotels in Ballito, hotels and resorts near lakes in Ballito, and hotels with mountain views in Ballito. Vacationers take full opportunity to pick the great many golf resorts and spas in Ballito, Ballito center hotels near aquariums, Ballito downtown accommodation, golf village area hotels in Ballito, and high-rise hotels with views in Ballito nearby top nature areas. Cuisine that can be found with the restaurants and bars in Ballito consists of selections for all kinds of preferences. Favored nature areas in Ballito include Fairmont Zimbali Country Club, Simbithi Country Club, and Umhlali Country Club, which in totality provide you with a assortment of wildlife and adventure experiences and nature-based night-time activities. Hotel room options in Ballito range from cost-effective capsules in Ballito to premium quality 5-star luxurious hotels close to zoos in Ballito. Additionally, you can and more for visitors of most tastes and budgets. Remember-- individual-unit getaway rentals in Ballitoare almost always available for visitors with more particular accommodation needs, which includes multi-bedroom units near aquariums, large terraces with city views, and concierge assistance to assist you to find the most unforgettable outdoor activities at golf courses in Ballito. Top-rated hotels near nature in Ballito allow all comfortable access by means of public transport to Fairmont Zimbali Country Club, and restaurant options with outdoor alternatives too. Additionally, you can book top hotels near Simbithi Country Club, or accessible places to stay around Umhlali Country Club. The structure of Ballito is notably excellent for forest hotels near Ballito, taking walks from your hotel near parks, or accommodations close to the best quality nature tour providers in Ballito.

Ballito is a fashionable vacation spot for tourists seeking an amazing vacation at the beach. Vacationers from all over the world come to Ballito to relish just about everything this place provides, such as water sports, sunbathing, and picturesque leisure. Guests make the most of the numerous top-notch beach hotels in Ballito, Ballito beach hotels, Ballito beach hotels and spas, villas in Ballito, and resorts in Ballito along or close to the seafront----and the coffee shops and Ballito eateriesthat serve regional seafood and various favorites. Cuisine in Ballito includes options for a myriad of tastes. Favorite beaches in Ballito include Salt Rock Beach, Shefield Beach, and Umhlali Beach, which jointly produce a diversity of beach experiences and oceanfront activities. Holiday accommodation alternatives in Ballito range between cost-effective bungalows in Ballito to top of the range 5-star luxury hotels at the beach in Ballito. Additionally, you can come across excellent serviced bedrooms in Ballito, hostels in Ballito, plus more for vacationers of all preferences and budgets. Also, single-unit getaway rentals in Ballito are often readily available for travelers and tourists who have more particular accommodation requirements, for instance multiple-bedroom units, spacious terraces, or facilities for water sports hardware or water-sports vehicles. The very best hotels by the beach in Ballito deliver gorgeous landscapes of the water close to Salt Rock Beach, and also dining alternatives with oceanside atmosphere too. Additionally, you can locate top-rated accommodations nearby Shefield Beach, or seaside view hotels around Umhlali Beach. The climate in Ballito is highly accommodating for water outings, or simply just lounging by the beachfront in the ideal area.

Ballito is a popular holiday location for tourists looking for urban exploration and shopping. Travelers from across the globe flock to Ballito to try everything this locale offers, for instance malls, shopping centers, and markets. Tourists take advantage of the variety of urban boutique hotels in Ballito, Ballito center hotels, Ballito downtown accommodation, market street hotels in Ballito, and urban hotels in Ballito near shopping areas--as well as the cafes and Ballito restaurants that serve local specialties along with other favorites. Cuisine in Ballito comprises of selections for all kinds of tastes. Great shopping centers in Ballito consist of Ballito Bay Mall, Ballito Junctions, and Boulevard Shopping Centre, which altogether provide you with a assortment of shopping experiences and urban activities. Lodging alternatives in Ballito cover all bases from less expensive capsules in Ballito to top quality 5-star luxury hotels near shopping areas in Ballito. Additionally, you can come across incredible serviced bedrooms in Ballito, hostels in Ballito, and many more for vacationers of all preferences and budgets. On top of that, single-unit getaway rentals are possibilities for tourists who have extra specific lodging needs, such as multiple-bedroom units, spacious terraces with city views, terraces with downtown views, or concierge services to assist you to enjoy wonderful shopping activities. The top hotels near markets in Ballito provide you with trouble-free access using public transport to Ballito Bay Mall, as well as food choices with high class atmosphere too. You can also locate top places to stay near Ballito Junctions, or accessible accommodations nearby Boulevard Shopping Centre. The map of Ballito is specifically generous regarding downtown shopping experiences, or just browsing the shopping malls close to hotel zone in Ballito.