Hotels in Bari
Our top picks
Lowest price first
Nearest to
Best reviewed
Fast facts about Bari, Italy
| | |
| --- | --- |
| Accommodations | 1,762 properties |
| Popular hotel | Hotel Excelsior Bari |
| Popular area | Bari |
| Nightly rates from | $24 |
| Airport | Bari Karol Wojtyła Airport |
4-star hotels in Bari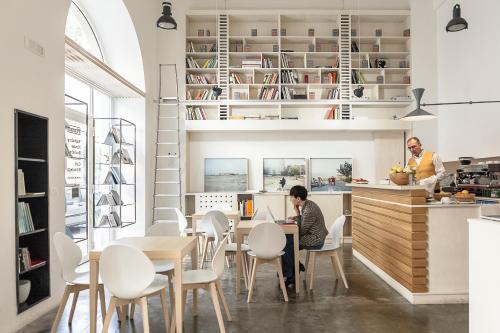 ---
Great launch pad to the Puglia region of Italy, easy walk to Bari train station. Staff were beyond friendly and engaging, breakfast was extensive and this hotel felt like a little sanctuary away from the town and also very secure with front door always locked and reception staff always on hand.
---
The staff is very helpful and friendly
---
I spent three days in Bari for scientific meetings and projects. Bari is a beautiful city with great tourism potential.
---
Only stayed overnight but made full use of pool and wifi. Room was very comfortable nice and quiet with huge bed. Breakfast was very nice and restaurant food for evening meal was reasonably priced great service staff very helpfull. Great hotel for short or long term stay
---
Very beautiful, modern hotel. Lovely rooms, very comfortable beds. Nice little balcony, everything perfect. However the hotel is in a poor location, not near anything and everything is a taxi ride away, which takes 10 minutes for a taxi to arrive and costs €10+. The most disappointing part was the advertised complimentary shuttle bus was not operating, so had to pay €2...
---
I only stay for a night but if there is chance to go to Bari again I would still choose Oriente Hotel. It is not far from old town and very near to coastal line (just few mins walk and you will get a great seaview). The staff I met at the reception & breakfast place were all nice and friendly.
Pauline
, Hong Kong SAR, China
---
air condition didn't work.staff said management had turned them off Cheap skate
---
Real reviews for hotels
take a rickshaw tour around the old city, its a great way to see places you would not see on your own and the guide are great.
A friendly couple offered us to try a snack which was a deep fried polenta while we were looking at the the booth curiously.
Pauline
, Hong Kong SAR, China
Bari is a little town close to the water. They are getting more tourist because of the new airport and the tourist information center was very helpful.
---
Bari hotels with breakfast
---
Frequently asked questions
What's the normal price of a hotel in Bari?
The average price for a 3-star hotel in Bari is USD 120. The average price for a 4-star hotel in Bari is USD 159. The average price for a 5-star property in Bari is USD 277.
What are the most in demand accommodations in Bari?
Some of our most recognized places to stay in Bari are The Nicolaus Hotel, Hotel Majesty Bari and Parco Dei Principi Hotel Congress & Spa.
What are the best hotels in Bari for families?
Properties in Bari that are exceptionally ranked by families include Hotel Excelsior Bari, The Nicolaus Hotel and Hotel Majesty Bari.
What accommodations in Bari offers the best views?
Verified tourists to Bari have given remarkable reviews for the views at iH Hotels Bari Grande Albergo delle Nazioni, Hotel Palumbo and Hotel Excelsior Bari.
What are the preferred accommodations around Bari with spas?
Verified vacationers to Bari have given top reviews for the spa at Mercure Villa Romanazzi Carducci.
What are the most suitable properties located in Bari that includes airport transfer?
Properties which has airport transfer located in Bari which are very highly rated include Gentile 46 Blu Luxury Flat and La dimora sul mare.
What are the recommended resorts located in Bari with restaurants?
Hotels that have restaurants found in Bari that are well rated include Casa dei Visionari 2, Dimora Arco Basso - Old Town and Dimora Arco Basso - Old Town.
What are the ideal hotels in Bari with fitness center?
A place to stay that offers fitness center located in Bari that is well rated is [ApuliaLux] Private 100mq Rooftop Oasis w Jacuzzi.
How long should I spend my time in Bari?
In the past 3 months, travelers remain in Bari for 1 nights on average. The right duration for your travel will be determined by what you're looking to see and explore while there.
Is proof of vaccination needed to enter Bari?
Proof of COVID-19 vaccination is not required to enter Bari from outside the country. For further details, please contact local authority or check out here.
Is pre-departure covid test mandatory for fully vaccinated tourists to enter Bari?
Proof of negative pre-departure COVID-19 test may be required to enter Bari. For recent and detailed information on travel restrictons, please take a look at the official websites of the travel authority or government of the country you wish to visit, or go to here.
What vaccines are recognized in Bari?
Comirnaty (Pfizer), Janssen (Johnson & Johnson), AstraZeneca (Vaxzevria), Moderna Spikevax, Covishield\u202f(Serum Institute of India), Nuvaxovid (Novavax) are currently acknowledged and approved by the national health authority of the country that includes Bari.
Explore more travel vacation rentals
More about Bari
Bari is an exceptional holiday location for art, culture, and history travel. Visitors from all over the globe choose Bari to savor anything and everything this location offers, notably the very best attractions in Bari, monument hotels in Bari, and famous historic hotels in Bari. All those coming in book the scores of hotels near monuments in Bari, Bari center hotels near monuments, Bari downtown accommodation, historical area hotels in Bari, and high-rise hotels with views in Bari near monuments. Dining which is feasible at the restaurants and bars in Bari comprises of flavors for a wide range of preferences. The most popular cultural regions in Bari consist of Basilica di San Nicola, Bari Vecchia, and Cattedrale San Sabino, which together provide you with many sightseeing experiences and art-based evening activities. Resort and room selections in Bari range from cost-effective capsules in Bari to top end 5-star luxurious hotels near galleries and monuments in Bari. It's also possible to come across great serviced suites in Bari, hostels in Bari, and others for vacationers of all tastes and budgets. Notably, single-unit getaway rentals in Bari are almost always available for tourists with extra esoteric hotel needs, for instance multiple-bedroom units near monuments, spacious balconies with city views, or concierge services to help you discover the top cultural activities at historical places in Bari. Some of the best hotels near famous buildings in Bari provide you with comfortable access by means of public transport to Basilica di San Nicola, and also dining choices with open-air alternatives alternatives too. You may also locate top-rated hotels around Bari Vecchia, or comfortable places to stay close to Cattedrale San Sabino. The layout and roadways of Bari are particularly ideal for museum hotels near Bari, or taking walks from your hotel to museums, or hotels near the best museum tour services in Bari.

Bari is a popular vacation spot for tourists searching for urban exploration and shopping. Vacationers from across the globe visit Bari to try anything and everything this place provides, which includes malls, shopping centers, and markets. Guests exploit the various downtown traveler's hotels in Bari, Bari center hotels, Bari downtown accommodation, market hotels in Bari, and urban hotels in Bari close to the best shopping areas--together with the coffee shops and Bari eateries that serve regional specialties and other favorites. Food in Bari offers options for numerous preferences. Fantastic shopping centers in Bari include Teatro Comunale Niccolò Piccinni, Teatro Petruzelli, and Enoteca de Pasquale, which collectively provide you with a great number of shopping experiences and urban activities. Holiday accommodation selections in Bari cover all bases from affordable capsules in Bari to top quality 5-star luxury hotels with shopping in Bari. You may also choose superb serviced suites in Bari, hostels in Bari, and much more for travelers of all tastes and budgets. Furthermore, single-unit holiday rentals might be alternatives for visitors who have extra precise overnight accommodation requirements, for instance multiple-bedroom units, spacious terraces with city views, terraces with downtown views, or concierge services to assist you to enjoy wonderful shopping experiences. The very best hotels near market centers in Bari give you effortless access by public transport to Teatro Comunale Niccolò Piccinni, as well as food choices with upscale ambiance also. You can also find top places to stay around Teatro Petruzelli, or suitable hotels near Enoteca de Pasquale. The map of Bari is exceptionally ideal regarding downtown shopping activities, or just browsing the shopping malls close to hotel zone in Bari.

Bari is a memorable choice for entertainment. Vacationers from around the world go to Bari to uncover anything this place can offer, for instance top-rated hotels with casinos in Bari, hotels & casinos in Bari, and luxury casinos and spas in Bari. Arrivals take full advantage of countless hotels with theme parks in Bari, Bari casinos, hotels & theme parks, Bari water park hotels, theme hotels in Bari, and high-rise hotels with views in Bari close to the best water parks. Eating arrangements that comes along with the restaurants and bars in Bari include a vast range of possibilities for all interests. Popular fun areas in Bari consist of Gargà, La Vineria, and Premiata Norcineria, which collectively create various casino experiences and water park evening activities. Your housing alternatives in Bari range between low-priced capsules in Bari to expensive 5-star luxurious hotels near casinos and indoor water parks in Bari. You can also discover theme packages in Bari, hostels in Bari, and much more for tourists of most tastes and budgets. Also, single-unit vacation rentals in Bari are an alternative for tourists with more unique entertainment necessities, such as multiple-bedroom units near casinos, ample balconies with city views, or hotels with indoor water parks in Bari. The best sports hotels in Bari give direct access using public transport to Gargà, and dining options with outdoor food also. It's also possible to find top hotels close to La Vineria, or convenient hotels near Premiata Norcineria. The map of Bari is famously suited for casino packages, sports holidays, and hotels and theme park packages near Bari, or going for walks from your property to casinos, or properties near the preferred water activities and indoor fun tour services in Bari.