Hotels in Batlow
Our top picks
Lowest price first
Nearest to
Best reviewed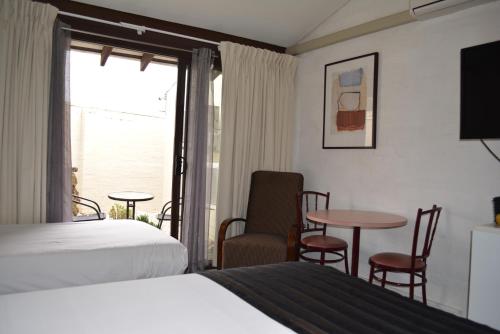 See all
The Apple Inn
Batlow,Batlow - View on map
Car park
Free Wi-Fi in all rooms!
Check-in/out [express]
BBQ facilities
Luggage storage
Bar
Restaurants
Wi-Fi in public areas
"This motel is right in town with good walking access to facilities."
Fast facts about Batlow, Australia
| | |
| --- | --- |
| Accommodations | 1 property |
| Popular area | Batlow |
| Nightly rates from | $78 |
Frequently asked questions
What are the most well-known properties in Batlow?
Several of our most well-known properties in Batlow are The Apple Inn.
What hotels in Batlow offers the best views?
Verified tourists to Batlow have given exceptional assessments for the views at The Apple Inn.
What hotels in Batlow have the best breakfast?
Verified tourists to Batlow have given amazing reviews for the breakfast at The Apple Inn.
What are the top rated resorts in Batlow intended for solo tourists?
An accommodation around Batlow that is highly rated by lone vacationers is The Apple Inn.
What are the top places to stay around Batlow for group travelers?
A property in Batlow that is exceptionally rated by group vacationers is The Apple Inn.
What properties in Batlow are highly rated with respect to facilities?
A property in Batlow which is highly rated regarding amenities is The Apple Inn.
What resorts in Batlow are exceptionally rated with regards to service?
An accommodation found in Batlow that is well rated regarding service is The Apple Inn.
What are the most suitable places to stay in Batlow offering complimentary parking?
Resorts offering complimentary parking located in Batlow that are exceptionally rated include The Apple Inn and The Apple Inn.
Where can I find rooms in Batlow with free cancellation policy?
Yes, you'll find most hotel rooms provide free cancellation rates, in which you will receive a full refund if you cancel prior to the deadline. Filter your search by free cancellation to find flexible hotel offers in Batlow.
When should I visit Batlow?
Last year, Batlow received its most visitors during the month of June. In spite of this, make sure to consider other months during which there are less guests, as the most popular destinations will be less jampacked.
How long should I plan my stay in Batlow?
In the past 3 months, travelers spend time in Batlow for 2 nights on average. The best length for your trip will be determined by what you want to see and do while there.
Is pre-departure covid test required for fully vaccinated travelers to enter Batlow?
Proof of negative pre-departure COVID-19 test is not required to enter Batlow. For up-to-date and in depth information on travel restrictons, please check out the official websites of the travel authority or government of the country you wish to travel to, or go to here.
Explore more travel vacation rentals
More about Batlow
Discover the Best Season to Visit Batlow, Australia
Batlow, a small town located in the Snowy Valleys region of New South Wales, Australia, offers a unique experience for tourists. The best time to visit this charming town is during the autumn season, which falls between March and May. During this time, the town's apple orchards are filled with ripe apples, and the trees transform into a stunning display of orange, yellow, and red hues. The Batlow Apple Blossom Festival is also held during this time, where visitors can enjoy a variety of events such as street parades, live music performances, and apple-themed food and drinks.
Explore Batlow's Fun Facts and Quirky Traditions
Batlow is known for its apple production, and the town is home to one of the largest apple orchards in Australia. The town's apple industry dates back to the 1920s, and it has since become a major contributor to the Australian economy. In addition to apple production, Batlow is also known for its quirky traditions, including the annual Batlow CiderFest, which celebrates the town's cider-making heritage. Visitors can also witness the town's unique tradition of "apple peeling," where locals compete to see who can peel an apple the fastest.
Top Reasons Why You Should Visit Batlow, Australia
Batlow offers a unique and relaxing experience for visitors looking to escape the hustle and bustle of city life. The town's picturesque apple orchards and stunning natural scenery make it an ideal destination for nature lovers. Visitors can also enjoy a variety of outdoor activities such as hiking, fishing, and camping. The town's rich history and unique traditions also make it a must-visit destination for those interested in Australian culture and heritage.
Unforgettable Things to Do in Batlow, Australia
There are plenty of things to do in Batlow that will make your visit unforgettable. Take a stroll through the town's apple orchards and witness the stunning autumn foliage. Visit the Batlow CiderFest and sample the town's famous cider. Take a hike through the nearby Kosciuszko National Park and enjoy the stunning natural scenery. If you're feeling adventurous, take a dip in the nearby Blowering Dam, which offers a variety of water sports activities such as boating, fishing, and swimming.
How to Get to Batlow: Your Ultimate Travel Guide
Batlow is located in the Snowy Valleys region of New South Wales, approximately 400 kilometers southwest of Sydney. The easiest way to get to Batlow is by car, as there are no direct flights or trains that go to the town. Visitors can rent a car from Sydney or Canberra and drive to Batlow, which takes approximately 4-5 hours. Alternatively, visitors can take a bus from Sydney or Canberra to Tumut, which is located approximately 30 minutes away from Batlow.
Why Book Your Batlow Hotel with Agoda.com
Agoda.com offers a wide range of hotels in Batlow to suit every budget and preference. Whether you're looking for a luxurious hotel or a budget-friendly option, Agoda.com has you covered. With Agoda.com, you can easily compare prices and amenities of different hotels and choose the one that best fits your needs. Plus, with Agoda.com's easy booking process, you can book your hotel in Batlow in just a few clicks.
Expert Tips for Travelers Visiting Batlow, Australia
When visiting Batlow, it's important to pack warm clothes, as the town can get quite chilly during the autumn season. Visitors should also bring comfortable shoes for hiking and exploring the town's apple orchards. It's also a good idea to bring insect repellent, as the town is located in a rural area and can attract mosquitos and other insects. Visitors should also be mindful of the town's unique traditions and customs, and respect the locals and their way of life.
Where to Stay in Batlow: Accommodation Guide
Batlow offers a variety of accommodation options to suit every budget and preference. For those looking for a luxurious stay, the Apple Inn is a highly recommended option. This charming hotel offers comfortable rooms and stunning views of the town's apple orchards. For those on a budget, the Batlow Hotel Motel offers affordable rooms and a convenient location in the heart of the town. Other recommended hotels in Batlow include the Batlow Country Inn and the Tumut Valley Motel.
What to Eat in Batlow: Must-Try Local Dishes
Batlow is known for its apple production, and visitors should not miss the opportunity to try the town's famous apple pies and ciders. The Batlow Hotel Motel offers delicious apple pies made from locally grown apples, and the Batlow CiderFest offers a variety of ciders and other apple-themed food and drinks. For those looking for a more substantial meal, the Apple Inn offers a range of dishes made from locally sourced ingredients, including delicious steaks and seafood.