11 best hotels in Brasov
Our top picks
Lowest price first
Nearest to
Best reviewed
Fast facts about Brasov, Romania
| | |
| --- | --- |
| Accommodations | 1,446 properties |
| Popular hotel | Hotel Aro Palace |
| Popular area | Brasov City Center |
| Nightly rates from | $35 |
Discover the neighborhoods of Brasov
---
4-star hotels in Brasov
---
The hotel is without a doubt the best in Brasov. The hotel is conveniently located next to the train station, which is great for those who want to do excursions around Brasov. The breakfast is delicious, and in fact it's the only place in the area that offers breakfast on Christmas Day. Look forward to stay in this hotel if I return to Brasov.
---
It only takes 5 minutes to the square of the old town. The bus station is just next to the hotel. You can take Bus No. 4 to the train station and Bus No. 16 to the Bus Station 2 (you can transfer another bus to Bran Castle at Station 2.) The staff are very helpful. They helped me to search the information of both train and bus. The room is spacious and clean. It is ...
---
Great place and the excellent staff made sure I got to experience some of the best of the Carpathians.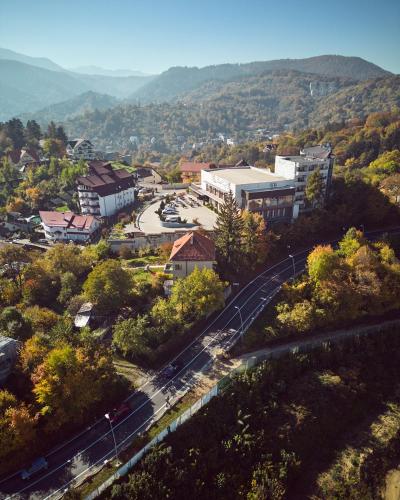 ---
The water pressure is too low, it takes a very long time for shower. The location is not so convenient because it is on the mountain. You have to take taxi whenever u go out. However, it has a pecfect view.
ching
, Hong Kong SAR, China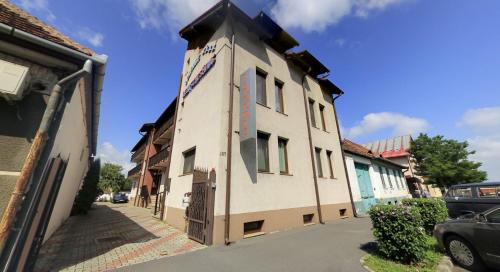 ---
Overall a nice hotel. The internet speed and breakfast were both decent. The bathroom was modern and well kept. The heating did not work to my liking, but the room was warm enough. The room had flies in it, including a horsefly. I was not able to find a reason for them, and did not have a problem after disposing of the 5 flies. Note that the guy at the front desk...
---
The location is in the old town. 1 'min walk to the square and 3-5min walk to the bus station which can bring you to the train station. The room was big and nice. It has hobs, refridgerator, coffee machine etc, as if staying a bnb with cleaner. The breafast was included and provided by a famous restaurant in Brasov called Bistro Arte. The food was good though service w...
Wing
, Hong Kong SAR, China
---
The hotel was just fine, however it was about a ten minute cab ride to the City center. There is very little near the hotel that was tourist friendly. The staff was very nice and spoke enough English to get by, however they had no maps of the city or any information about the town of Brasov - we got that from another hotel in the city. Nice hotel but less than desira...
---
5-star hotels in Brasov
---
at best this is a 4 star hotel. the fact that it has a pool may give it the extra star but for amenity, by aussie standards not 5 star. we were given a room with single beds which wasn't a real issue but more a common sense issue that married couples like to sleep together (well most of the time). we had to go to the foyer to get wifi which was a problem to skype r...
---
Traveler impressions of Brasov
Stay in the old town. Join the free walking tour - just give donation. It was excellent. Easy to do day trips out to other areas like Bran, Sighasoara etc.
Pay a visit via cable car to the Brasov Sign on the hill top...magnificent views of the city. Also vist beautiful Poiana Brasov a few Km away.
amazing city to visit in romania. for me, this is the treasure mountain. people are ok, and you dont feel bad about this city, i think.
---
Brasov's best hotels with breakfast
---
Frequently asked questions
What are the best accommodations in Brasov for two guests?
Hotels in Brasov that are highly rated by couples include Hotel Aro Palace, Casa Chitic Balcescu and Downtown Hostel.
What are the preferred resorts around Brasov for lone visitors?
Resorts in Brasov which are exceptionally rated by solo travelers are Hotel Aro Palace, Casa Chitic Balcescu and Main Square Apartments & More.
What places to stay found in Brasov are very highly rated for hygiene?
Hotelsin Brasov that is highly rated regarding hygiene include Hotel Kolping, Coroana Brasovului and Grand Hotel Belvedere.
What places to stay found in Brasov are highly rated regarding facilities?
Resortsfound in Brasov which is exceptionally rated with regards to facilities include Hotel Kolping, Grand Hotel Belvedere and UpperHouse Suites & More.
What are the best hotels around Brasov equipped with spas?
Verified visitors to Brasov have given top ratings concerning the spas at Kronwell Brasov Hotel and Hotel Aro Palace.
What's the best area for shopping in Brasov?
The best area for your shopping spree in Brasov is Brasov City Center.
What's the best destination for sightseeing in Brasov?
The best district with a variety of tourist destinations in Brasov is Brasov City Center.
When should I make a trip to Brasov?
Last year, Brasov garnered its most visitors during the month of July. In spite of this, make sure to consider other months during which there are less vacationers, as the most popular sights will be less jampacked.
Are international tourists allowed into Brasov?
International visitors are allowed into Brasov, based on our most current information. Due to changing restrictions, we advise you to browse here for further details.
Is quarantine needed for fully vaccinated tourists to enter Brasov?
Quarantine is not required for fully vaccinated visitors to enter Brasov from outside the country. For up-to-date and in depth information on travel restrictons, please check out the official websites of the travel authority or government of the country you wish to visit, or go to here.
Explore more travel vacation rentals
More about Brasov
Brasov is a lasting place for nature and outdoor travel. Tourists from all over the world travel to Brasov to try just about everything this place provides, which includes top nature attractions in Brasov, hotels near lakes in Brasov, and hotels with mountain views in Brasov. Visitors take maximum opportunity to check out the great number of golf resorts and spas in Brasov, Brasov center aquarium hotel packages, Brasov downtown accommodation, golf village area hotels in Brasov, and high-rise hotels with views in Brasov close by exceptional nature areas. Cuisine that can be found with the restaurants and bars in Brasov features choices for all types of preferences. Preferred nature areas in Brasov include Libearty Bear Sanctuary Zarnesti, Tampa, and Mount Tampa, which in totality give you a diversity of wildlife and hiking experiences and nature-based night activities. Accommodation choices in Brasov range between economical capsules in Brasov to high-end 5-star luxury hotel zoos in Brasov. You may also and more for travelers of all tastes and budgets. Keep in mind-- single-unit getaway rentals in Brasovare usually readily available for travelers and tourists with more particular holiday accommodation necessities, like multi-bedroom units near aquariums, spacious balconies with city views, as well as concierge assistance to help you locate the most remarkable outdoor experiences available on golf courses in Brasov. Some of the best mountain resort hotels in Brasov provide all convenient access by public transport to Libearty Bear Sanctuary Zarnesti, as well as restaurant choices with patio selections too. In addition, you can reserve top-rated places to stay near Tampa, or comfortable places to stay around Mount Tampa. The infrastructure of Brasov is in particular suited for forest hotels near Brasov, going for walks from your hotel near parks, or hotel accommodations in close proximity to excellent nature tour programs in Brasov.

Brasov is a unique location for art, culture, and history tourism. Individuals from around the world visit Brasov to savor just about everything this locale offers, in particular outstanding attractions in Brasov, monument hotels in Brasov, and famous historic hotels in Brasov. People coming in pre-book the various hotels near monuments in Brasov, Brasov center hotels near monuments, Brasov downtown accommodation, historical hotels in Brasov, and high-rise hotels with views in Brasov near monuments. Dining that is available with the eateries and bars in Brasov comprises of flavors for many preferences. Some of the most visited cultural regions in Brasov consist of White Tower, Weavers' Bastion Museum, and Tâmpa Cable Car, which altogether offer you a variety of sightseeing experiences and art-based night-time activities. Resort and room options in Brasov range from reasonably priced capsules in Brasov to top end 5-star luxury hotels near historical centers in Brasov. You can also choose great serviced bedrooms in Brasov, hostels in Brasov, and others for visitors of most preferences and budgets. Notably, individual-unit holiday rentals in Brasov are often readily available for travelers who have more esoteric hotel needs, such as multi-bedroom units near monuments, spacious balconies with city views, or concierge services to help experience the most suitable cultural activities at historical areas in Brasov. Top accommodation near museums in Brasov present simple and easy access with public transport to White Tower, and dining options with open air alternatives choices also. It's also possible to locate top accommodations close to Weavers' Bastion Museum, or practical hotels close to Tâmpa Cable Car. The design and roadways of Brasov are particularly ideal for museum hotels near Brasov, or taking walks from your accommodation to museums, or hotels near the best museum tour services in Brasov.

Brasov is a well-known location for travelers seeking urban exploration and shopping. Travelers from all over the world take trips to Brasov to try anything this area offers, which includes malls, shopping centers, and markets. Vacationers take advantage of the great number of downtown boutique hotels in Brasov, Brasov center hotels, Brasov downtown accommodation, market hotels in Brasov, and urban hotels in Brasov close to the best shopping areas--and the coffee shops and Brasov restaurants that serve local specialties as well as other favorites. Cuisine in Brasov includes choices for all sorts of preferences. Superb shopping centers in Brasov include Star Mall, Sică Alexandrescu Drama Theatre, and Puppet Theatre, which jointly provide you with a variety of shopping experiences and urban activities. Lodging alternatives in Brasov cover all bases from cost-effective capsules in Brasov to premium quality 5-star luxury hotels with shopping in Brasov. Additionally, you can pick fine serviced bedrooms in Brasov, hostels in Brasov, and more for travelers of most tastes and budgets. On top of that, single-unit holiday rentals might be possibilities for guests with more precise accommodation needs, like multiple-bedroom units, spacious terraces with city views, balconies with city views, or concierge services to make it easier to enjoy the best shopping experiences. The best hotels close to market centers in Brasov provide quick access by using public transport to Star Mall, plus restaurant options with high end setting as well. Additionally, you can locate some of the best places to stay around Sică Alexandrescu Drama Theatre, or convenient hotels close to Puppet Theatre. The map of Brasov is very favorable for city shopping activities, or simply browsing the shopping malls close to hotel zone in Brasov.