11 best hotels in Cefalu
Our top picks
Lowest price first
Nearest to
Best reviewed
Fast facts about Cefalu, Italy
| | |
| --- | --- |
| Accommodations | 999 properties |
| Popular hotel | Artemis Hotel |
| Popular area | Cefalu |
| Nightly rates from | $32 |
Discover the neighborhoods of Cefalu
---
4-star hotels in Cefalu
---
The Artemis Hotel was a perfect spot from which to explore beautiful Cefalu, two minute walk to the beach and 10 to the Old Town. Our room was very comfortable and spotless. The shower was a good size with great water pressure. The breakfast was outstanding and the staff very helpful. It is in the newer part of the city and a modern hotel.
---
The hotel is small but comfortable, room well-decorated, hotel staff attentive. The hotel is close to main attractions, all within walking distance, you can walk to the beach. If you arrive by driving, you can leave your car at the hotel's parking area outside the historical area, they will pick you up and send you to the hotel.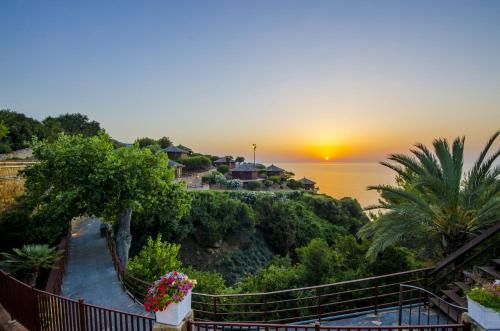 ---
Very welcoming staff to a wonderful hotel. The bungalows all have a fantastic view and are not on top of each other which gives privacy. The private beach is rocky like all Sicilian beaches but the water is so clear swimming is a must. Pack mosquitoe spray when in Sicily to avoid bites. Lovely breakfast with lots of meats to satisfy any carnivore. The Nutella crepes w...
---
this is an excellent hotel !
---
Staff were great, rooms clean, pool area very good and the sun area right next to the ocean was very good! The sea water is beautiful to swim in with some nice rock cliffs etc that you can swim around
---
We loved this place. It is on top of a hill and hard to reach unless you have a car. However once you get there it is very peaceful and the service is great. You feel at home right away. Dinner was delicious.
---
We spent first night there after we landed Palermo airport. We enjoyed the stay, great location. Basic buffet breakfast, can be better. Spacious room but towels are yellowish and look old. They should have a more noticeable parking entrance sign for the hotel guests with car.
---
Cefalu's best hotels with breakfast
---
Frequently asked questions
What are the most famous hotels in Cefalu?
A few of our most desirable hotels in Cefalu are Artemis Hotel, Hotel Tourist and Hotel Kalura.
What accommodations in Cefalu have the best views?
Verified travelers to Cefalu have given amazing evaluations for the views at Hotel Kalura, Villa Gaia Hotel and Hotel La Giara.
What's the best location in Cefalu to stay in?
Admired local communities among travelers staying in Cefalu include Cefalu, Mazzaforno and Sant'Ambrogio.
What accommodations found in Cefalu are very highly rated with respect to location?
Resortsaround Cefalu that is exceptionally rated for location include Villa Magara, Blue Bay and Cefalu in Blu.
What resorts found in Cefalu are highly rated for room comfort and quality?
Hotelslocated in Cefalu which is very highly rated with regards to room comfort and quality include Villa Santa Barbara, Kefa Holiday - Balcone sul Mare and Villa Gaia Hotel.
What are the prime wheelchair accessible properties in Cefalu?
Wheelchair-accessible accommodations found in Cefalu which are very highly rated include Hotel La Giara, Archimede Lounge, and Archimede Lounge.
What are some approaching holidays in Cefalu?
The aproaching holidays in city_name consist of Easter on 4/9/2023, Easter Monday on 4/10/2023, and Liberation Day on 4/25/2023.
When should I make a trip to Cefalu?
Last year, Cefalu received its most visitors during the month of September. Regardless, you may want to consider other months during which there are less visitors, as the most popular attractions will be less packed.
Are foreign tourists allowed into Cefalu?
International tourists are allowed into Cefalu, based on our most updated information. Due to evolving restrictions, we suggest you visit here for additional details.
Is quarantine expected for unvaccinated travelers to enter Cefalu?
Quarantine is not required for unvaccinated foreigners to enter Cefalu from outside the country. For updated and detailed information on travel restrictons, please pay a visit to the official websites of the travel authority or government of the country you wish to travel to, or go to here.
Explore more travel vacation rentals
More about Cefalu
Cefalu is a special locale for art, culture, and history travel. Travelers from around the world go to Cefalu to enjoy everything this location has got, especially fantastic attractions in Cefalu, monument hotels in Cefalu, and historic hotels in Cefalu. People arriving pre-book the great number of hotels near monuments in Cefalu, Cefalu center hotels near monuments, Cefalu downtown accommodation, historical area hotels in Cefalu, and high-rise hotels with views in Cefalu near monuments. Cusine which is feasible at the eateries and bars in Cefalu includes flavors for many preferences. Some of the most popular cultural locations in Cefalu consist of Duomo di Cefalù, Museo Mandralisca, and Osteria Magno, which together provide you with various sightseeing memories and art-based night-time activities. Accommodation and room options in Cefalu range between less expensive capsules in Cefalu to top end 5-star luxury hotels near galleries and monuments in Cefalu. Additionally, you can discover superb serviced suites in Cefalu, hostels in Cefalu, and many more for vacationers of all tastes and budgets. Remarkably, individual-unit holiday rentals in Cefalu are often available for guests who have extra esoteric hotel requirements, for instance multiple-bedroom units near monuments, spacious terraces with city views, or concierge support to help you locate top cultural activities at historical neighborhoods in Cefalu. The top accommodation near museums in Cefalu offer you comfortable and easy access by public transport to Duomo di Cefalù, as well as dining options with open-air options selections as well. It's also possible to locate some of the best properties around Museo Mandralisca, or suitable accommodations nearby Osteria Magno. The layout and roads of Cefalu are particularly ideal for museum hotels near Cefalu, or going for a walk from your accommodation to museums, or hotels near the best museum tour services in Cefalu.

Cefalu is a preferred vacation spot for tourists searching for urban exploration and shopping. Travelers from across the globe flock to Cefalu to try anything this locale provides, like malls, shopping centers, and markets. Guests make use of the large amount of city boutique hotels in Cefalu, Cefalu center hotels, Cefalu downtown accommodation, market hotels in Cefalu, and high-rise hotels in Cefalu close to the best shopping areas--and the coffee shops and Cefalu restaurants that serve regional specialties and various favorites. Cuisine in Cefalu includes choices for all tastes. Quality shopping centers in Cefalu include Teatro Arte Cuticchio, Gatta Gaetano, and Torrefazione, which together offer you a range of shopping experiences and urban activities. Accommodation options in Cefalu cover all bases from low-priced capsules in Cefalu to expensive 5-star luxurious hotels near shopping areas in Cefalu. You may also uncover incredible serviced bedrooms in Cefalu, hostels in Cefalu, and many more for visitors of most tastes and budgets. In addition, individual-unit holiday rentals might be opportunities for tourists who have more particular holiday accommodation needs, which includes multiple-bedroom units, spacious terraces with city views, terraces with urban views, or concierge assistance to allow you to discover the right shopping experiences. Top hotels near markets in Cefalu present comfortable access via public transport to Teatro Arte Cuticchio, plus restaurant options with high class setting also. It's also possible to locate top-rated places to stay close to Gatta Gaetano, or suitable accommodations around Torrefazione. The map of Cefalu is highly appealing regarding urban shopping activities, or just browsing the shopping malls near hotel zone in Cefalu.

Cefalu is an unforgettable locale for entertainment. Vacationers from across the globe choose Cefalu to delve into anything and everything this place provides, including the best casino hotels in Cefalu, hotels & casinos in Cefalu, and luxury casinos and spas in Cefalu. Arrivals take advantage of large amount of hotels near casinos in Cefalu, Cefalu casinos, hotels & theme parks, Cefalu water park hotels, theme hotels in Cefalu, and high-rise hotels with views in Cefalu close to the best water parks. Eating and drinking arrangements that is available with the bistros and bars in Cefalu cover a vast range of possibilities for a myriad of tastes. Excellent fun areas in Cefalu include Turismez Viaggi, Be Bop, and Le Petit Tonneau II, which jointly produce many different casino experiences and water park nighttime activities. Your property options in Cefalu cover anything from affordable capsules in Cefalu to high quality 5-star luxurious hotels near casinos and indoor water parks in Cefalu. You may also find theme packages in Cefalu, hostels in Cefalu, plus more for travelers of all preferences and budgets. Furthermore, single-unit vacation rentals in Cefalu are readily available for visitors with more tailored entertainment preferences, including multi-bedroom units near casinos, ample balconies with city views, or hotels with indoor water parks in Cefalu. Some of the best hotels near sports parks in Cefalu give direct access with public transport to Turismez Viaggi, and also food choices with open air food also. You can also locate top-rated properties nearby Be Bop, or suitable hotels close to Le Petit Tonneau II. The map of Cefalu is famously excellent for casino packages, sports holidays, and hotels and theme park packages near Cefalu, or going for a walk from your hotel to casinos, or accommodations close to the perfect water sports and indoor fun excursion services in Cefalu.