Hotels in Cork
Our top picks
Lowest price first
Nearest to
Best reviewed
Fast facts about Cork, Ireland
| | |
| --- | --- |
| Accommodations | 140 properties |
| Popular hotel | The Dean Cork |
| Popular area | Cork Airport |
| Nightly rates from | $26 |
| Airport | Cork Airport |
4-star hotels in Cork
---
Fantastic hotel in Cork that has really professional staff and a great restaurant. Highly recommended for all travelling in the area.
8.7 Excellent
Based on 25 reviews
---
Highly recommended if you are in Cork. The friendly crew of Lancaster will make you feel at home. The rooms are spacious and with beautiful views from the window. They have the best croissant I ever tasted! Everything interesting is walking distance especially the English Market and St. FinBarre Cathedral. :)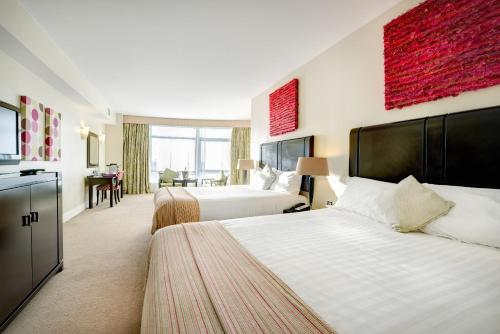 ---
Very very nice hotel. We were only there for the night before flying out. I didn't eat so I can't rate the food. Everything about the hotel was nice, luxurious, professional. It's not a great location for exploring Cork City without a car although the bus can be caught from the airport easily enough. Loved Cork and this was a great ending to a great trip.
8.5 Excellent
Based on 43 reviews
---
Really enjoyed our stay here! lovely hotel with very friendly staff. Our room was spacious and clean and everything waa very cute and Irish which was exactly what we wanted! The staff were so sweet they even left Easter eggs outside of all of the guest's rooms on Easter Sunday!!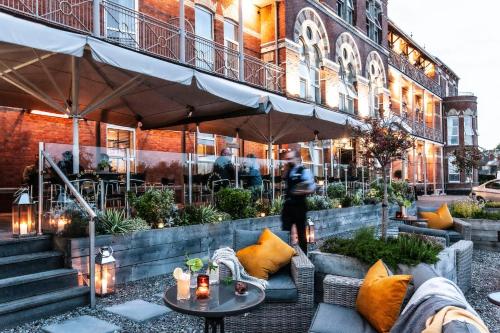 7.8 Very good
Based on 38 reviews
---
Nice old hotel nestled deep in the hills of cork. It's in great proximity to restauranta and nightlife by foot, but pretty scary to get to by car. Roads are extremely narrow. It took us no time to get to blarney castle and cobh in the same day! It was a great central location and i was very pleased by how friendly the staff was-would recommend!
8.8 Excellent
Based on 23 reviews
---
Of all the establishments that we stayed at during our Ireland trip this was perhaps the least recommendable. While it was not uncomfortable as such it was an older establishment that was becoming past its best. The facilities and presentation gave a really "tired" appearance. Luckily the weather was good and we were able to walk into town and around, however if t...
---
I was going away for the weekend 22nd to 23rd of May 2010 to Cork City with a friend. It was a spontaneous decision to go away so i booked this hotel. I had heard great things about the Clarion hotel group in general so decided to give them a try. I couldnt have been happier. The hotel is in a perfect location within 5 minutes walk from the central bus station along th...
8.4 Excellent
Based on 17 reviews
---
Our stay at The Montenotte was very comfortable. The room was clean (something many hotels can't seem to achieve) and well equipped. The bed was great. The view of Cork at the end of the day was nice; the grounds were beautiful. The staff gave me a fine tip - go see Kinsale. We had a good time there visiting Charles Fort and dining. The only suggestion I have is to off...
---
Luxury hotels in Cork
---
This is a top class hotel and the accomodation was superb, the service courteously flawless and the food exceptional. Every small detail was taken care of and nothing was too much trouble for the staff from the general manager down. It was a real pleasure to stay at Hayfield Manor and I am looking forward to my next stay.
---
Frequently asked questions
What are the top resorts in Cork near Cork Airport?
Verified vacationers to Cork who stayed near Cork Airport have given top rated reviews to Hayfield Manor, Cork International Hotel and Belvedere House Cork Guest House.
What hotels in Cork have the best breakfast?
Verified travelers to Cork have given top rated reviews for the breakfast at Creedons Traditional Irish Welcome Inn B&B, Belvedere Lodge and Maldron Hotel South Mall Cork City.
What are the prime accommodations located in Cork intended for single travelers?
Hotels found in Cork which are highly rated by individual travelers are Leonardo Hotel Cork, The Dean Cork and REZz Cork.
What resorts around Cork are very highly rated for hygiene?
Propertieslocated in Cork that is very highly rated with respect to cleanliness include Belvedere House Cork Guest House, Willowhill House and Berehaven Pods.
What accommodations around Cork are highly rated with respect to value for money?
Propertieslocated in Cork which is very highly rated with respect to value for money include Belvedere House Cork Guest House, shanagarry / Ballycotton Glamping pod and Kilmahon House, P25A973.
What places to stay in Cork are exceptionally rated with regards to room comfort and quality?
Resortsin Cork that is highly rated regarding room comfort and quality include Redclyffe Guesthouse, Hayfield Manor and Lancaster Lodge.
What resorts around Cork are highly rated for service?
Propertiesin Cork that is highly rated with regards to service include Belvedere House Cork Guest House, Hayfield Manor and Willowhill House.
What are top rated getaway rentals in Cork?
A getaway rental in Cork that is highly rated with regards to service is Cork centre city self catering apartments.
What are the prime hotels around Cork that have restaurants?
Properties that have restaurants in Cork that are well rated include Hayfield Manor, Hayfield Manor and Hayfield Manor.
Are international visitors allowed into Cork?
Foreign visitors are allowed into Cork, based on our most current information. Due to changing restrictions, we suggest you take a look at here for more information.
Is evidence of vaccination mandatory to enter Cork?
Proof of COVID-19 vaccination is not required to enter Cork from outside the country. For more details, please reach out to local authority or visit here.
Is pre-departure covid test mandatory for fully vaccinated visitors to enter Cork?
Proof of negative pre-departure COVID-19 test is not required to enter Cork. For updated and detailed information on travel restrictons, please go to the official websites of the travel authority or government of the country you wish to travel to, or go to here.
Explore more travel vacation rentals
More about Cork
Discovering Cork: Fun Facts and Reasons to Visit
Cork is a vibrant city located in the south of Ireland, known for its friendly people, beautiful landscapes, and rich history. The city is also home to some of the country's most iconic landmarks, including the Blarney Stone, which is said to give visitors the gift of gab, and the stunning St. Fin Barre's Cathedral. Cork is also a city of fun facts. Did you know that it was once the European Capital of Culture? Or that it's the second-largest city in Ireland after Dublin? Cork is also home to the oldest yacht club in the world, the Royal Cork Yacht Club, which was founded in 1720. One of the main reasons to visit Cork is its lively atmosphere. The city is full of pubs, restaurants, and shops, creating a bustling and exciting atmosphere that is perfect for travelers looking for a good time. Cork is also a great destination for history buffs, as it is home to a number of museums and galleries that showcase the city's rich cultural heritage.
Getting to Cork: Tips and Transportation Options
Cork is easily accessible by air, with Cork Airport located just 6km from the city center. The airport is serviced by a number of airlines, including Aer Lingus and Ryanair, making it easy to find affordable flights to Cork from destinations across Europe and beyond. If you prefer to travel by train, Cork is also well-connected to other major cities in Ireland, including Dublin and Limerick. The city's train station is located in the city center, making it easy to get around once you arrive. Once you're in Cork, there are a number of transportation options available to you. The city has an efficient bus system, with a number of routes that connect different parts of the city. Taxis are also readily available, and many of the city's attractions are within walking distance of each other.
Top Things to Do in Cork: A Guide for Travelers
Cork is a city that offers something for everyone. For history buffs, the Cork City Gaol is a must-visit attraction. This former prison is now a museum that tells the story of Cork's past, including its role in the Irish War of Independence. If you're looking for something a little more lighthearted, the English Market is a great place to explore. This indoor market is full of stalls selling fresh produce, meats, cheeses, and other local delicacies. It's a great place to grab a bite to eat and soak up the atmosphere of the city. For those who are looking for a little adventure, a trip to the nearby Blarney Castle is a must. The castle is home to the famous Blarney Stone, which is said to give visitors the gift of eloquence. Climbing to the top of the castle to kiss the stone is a must-do activity for anyone visiting Cork.
The Best Time to Visit Cork: Seasonal Travel Tips
Cork is a great destination to visit year-round, but the best time to visit depends on what you're looking for. If you're looking for warm weather and plenty of sunshine, the summer months of June through August are your best bet. During this time, the city is bustling with tourists and there are plenty of outdoor events and festivals to enjoy. If you're looking for a quieter and more affordable time to visit, the spring and fall months are a great option. During these times, the weather is mild and there are fewer crowds, making it easier to explore the city at your own pace. Winter is also a great time to visit Cork, especially if you're interested in holiday festivities. The city is full of Christmas markets and other seasonal events that are sure to get you in the holiday spirit.
Where to Stay in Cork: Hotels and Accommodations
Cork is home to a wide range of hotels and accommodations, making it easy to find something that suits your needs and budget. For those looking for a budget-friendly option, the Gabriel House Guesthouse is a great choice. This cozy guesthouse is located in a quiet residential area just a short walk from the city center, and offers comfortable rooms at affordable prices. If you're looking for something a little more upscale, the Hotel Isaacs Cork City is a great option. This boutique hotel is located in the heart of the city and offers stylish rooms and top-notch amenities, including an on-site restaurant and bar. Other great options for accommodations in Cork include the Shandon Bells Guest House, Lancaster Lodge, and the Cork International Hotel. No matter where you choose to stay, you're sure to find comfortable and convenient accommodations in Cork.
Cork Cuisine: What to Eat and Drink in Ireland's Foodie Capital
Cork is known as Ireland's foodie capital, and for good reason. The city is home to a wide range of restaurants and cafes that serve up everything from traditional Irish fare to international cuisine. One of the must-try dishes in Cork is the traditional Irish breakfast, which typically includes bacon, sausage, black and white pudding, eggs, and toast. For lunch or dinner, try a hearty bowl of Irish stew or a plate of fish and chips. Cork is also home to a number of breweries and distilleries, making it a great destination for beer and whiskey lovers. The Franciscan Well Brewery is a popular spot for beer enthusiasts, while the Jameson Distillery offers tours and tastings for whiskey lovers.
Exploring Cork: Tips for Travelers
When exploring Cork, be sure to take some time to wander the city's charming streets and soak up the local culture. Don't be afraid to strike up a conversation with a local, as the people of Cork are known for their friendliness and hospitality. If you're interested in learning more about the city's history, be sure to check out some of the museums and galleries, such as the Crawford Art Gallery and the Cork Butter Museum. Finally, be sure to take advantage of the city's proximity to the stunning Irish countryside. A day trip to nearby attractions such as the Cliffs of Moher or the Ring of Kerry is a great way to experience the natural beauty of Ireland. No matter what your interests, Cork is a destination that is sure to leave you with lasting memories. And with Agoda.com, finding the perfect hotel for your stay in Cork has never been easier.