10 best hotels in Da Nang
Our top picks
Lowest price first
Nearest to
Best reviewed
See all
Furama Resort Danang
Hoa Hai,Da Nang - View on map
"The good: very clean hotel, friendly staff 'on this, it deserves more than 5 star...' and very good restaurants. shuttle for hoi an '30 minute ride' are available twice a day or you can go by cab, close to marble mountain, 5-10 minutes away from the city center of da nang The bad: i can't really think of anything bad that relates to this hotel specifically. The area in the vicinity is more or less empty but you don't go to da nang or vietnam for that matter for the night life. there are several restaurants further down the road but i can't recommend any of them."
Show more
Avg price per night
$ 170
See all
Pullman Danang Beach Resort
Hoa Hai,Da Nang - View on map
"We were very happy with our stay here, we thought it was good value for the price. It is a little more pricey than some places in Da Nang, but you get what you pay for and we were very happy to have paid to stay here. The beach was lovely, private and not crowded at all (even with hotel guests). The hotel was very clean and the breakfast buffet also felt clean (very important for us!). You will need to get a taxi into Da Nang but it is probably less than 100,000 dong so not expensive to get around. It was our honeymoon, we would have liked a little something (eg. other places gave us some flowers or a fruit platter or little something) but nothing here, which is absolutely fine, it didnt change our experience."
Show more
Avg price per night
$ 154
See all
Furama Villas Danang
Hoa Hai,Da Nang - View on map
"We had a wonderful stay at the Furama Villa. It was a very relaxing stay, just as we wanted, and the villa was outstanding. We reserved, and expected, a 2 bedroom villa but when we arrived we had been upgraded to a 3 bedroom villa! The villa had more than enough room for the four of us and we made good use of the kitchen, dining area, living room and spacious bedrooms. The location of Furama is great and gave us easy access to Hoi An and Da Nang for our day outings. However, we still found time to enjoy the private pool each day of our stay. The room service food was acceptable but not outstanding. The highlight of the stay in the villa was the staff. From the moment we checked in with a cold towel and welcome drink, the staff took excellent care of us. The buggy service was always on time when needed, the cleaning service was fast and efficient and our butler, Trunz, was always available for us. We will stay at the Furama Villas again on our next stay in Da Nang."
Show more
Avg price per night
$ 318
See all
InterContinental Danang Sun Peninsula Resort
Tho Quang,Da Nang - View on map
"The best hotel to relax and enjoy the beautiful nature of Da Nang. Especially, the sea in the private beach is so transparent and totally differ the from the other beachs in Da Nang. The staffs are well trained and have a lot of hospitality. Ms.Kim who speaks Japanese fluently is so friendly and can be a perfect concierge for Japanese and Korean tourists. Also,at the airport, some staffs, Ms.Anh, Ms.Nhi, and Mr.Hien kindly took care of me for departure. If you want a perfect stay in Dang, I strongly recommend this hotel. "
Show more
Avg price per night
$ 761
See all
Hyatt Regency Danang Resort and Spa
Hoa Hai,Da Nang - View on map
"We were upgraded to an ocean view room and it was one of the nicest hotels we had ever stayed at. Loved the balcony chair/sofa, with a great view of the ocean and pools. The room itself was modernly designed and very comfortable. In addition, we had access to the Club Lounge, which had fabulous food and drinks during cocktail hour. We went both nights during our stay and loved it. The breakfast buffet was also tasty, although they tend to clear away plates pretty quickly. Marble Mountain was easily accessible, although we had trouble finding a taxi on the way back. It was a nice day, though, with nice views from the mountain top. After check-out, we went to Hoi An, which wasn't too far. We actually could have stayed one more night in Da Nang and just visited Hoi An instead of staying there (since this hotel was so nice!) but Hoi An at night was lovely, too."
Show more
Avg price per night
$ 237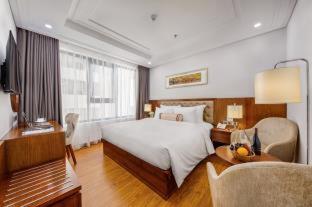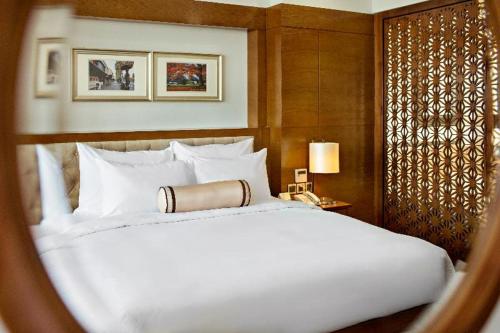 See all
Paris Deli Danang Beach Hotel
Phuoc My,Da Nang - View on map
"One of the best hotel in Da Nang. Clean, spacious rooms, delicious breakfast, just next to the beach and lots of seafood restaurants. The staff is so friendly, welcoming and smiling always specially Christin👍. Thanks for the hospitality, Would love to stay again. "
Show more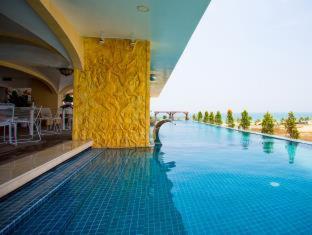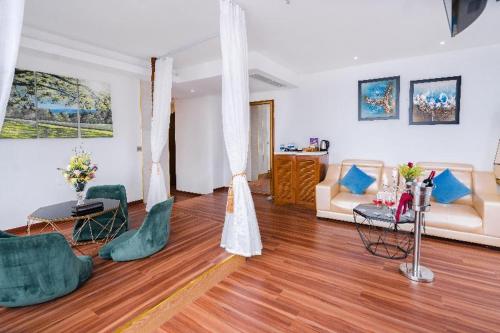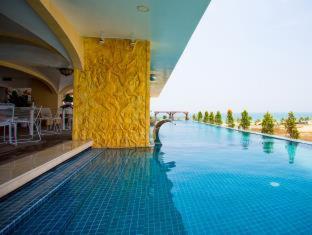 See all
Cicilia Danang Hotels & Spa
Phuoc My,Da Nang - View on map
"I had the King Hollywood Luxury room, which was very comfortable. It looked a little different on the pictures I found on the internet, but was still very good, with a nice ocean view. The staff was very friendly, especially the restaurant staff. The bar on the third floor was a bit disappointing, because after 8 pm it was practically impossible to get any drinks there. Seems like a wasted opportunity. During the day it's quite nice though, with a pool and swinging chairs. One problem in general with this area of Da Nang is that the infrastructure is not yet developed enough. They are constructing hotels left and right, but its a bit hard to find restaurants, stores, or other venues that attract tourists."
Show more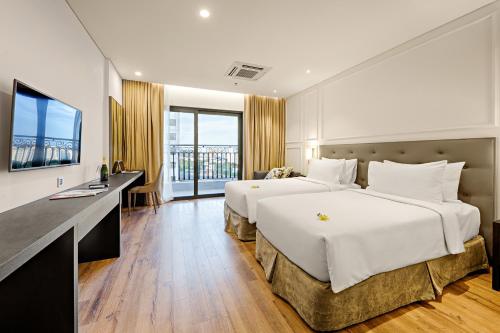 See all
Danang Golden Bay
Phuoc My,Da Nang - View on map
"Beautiful roof Top Swimmingpool on 29 floor , can view the whole da nang , very good breakfast also , New and one of the biggest hotel in da nang with almost 1000 room ."
Show more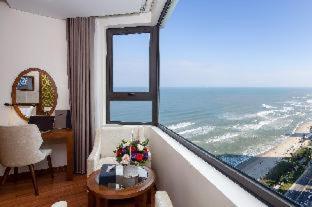 See all
Rosamia Da Nang Hotel
Phuoc My,Da Nang - View on map
"I stayed across 5 different hotels during my stay in Vietnam this time. Rosamia was by far the best one out of them all. It's a new hotel (built in 2018 I believe), so all the facilities were close to brand new when I was there. The pool was just fabulous - must try. The service was also up to the standard. Fresh cookies and fruits served upon my arrival. The only downside is the room being a little smaller than expected and only came with a shower. That said, still highly recommend anyone to stay at Rosamia when visiting Da Nang. "
Show more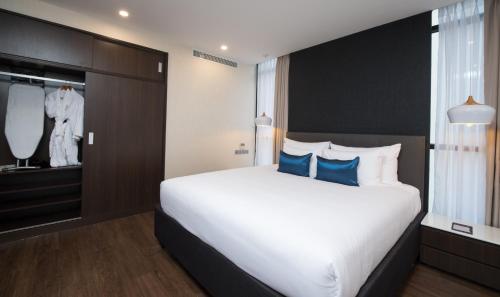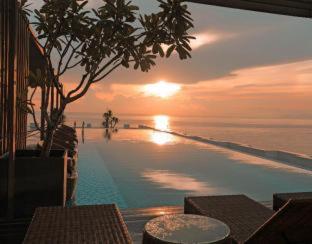 See all
HAIAN Beach Hotel & Spa
Phuoc My,Da Nang - View on map
"We generally liked the rooms and the breakfast had a big spread. But some of us require Halal meals/ or at least no pork which was a bit of challenge. Maybe the hotel could have separate no meat egg station as well as have signs to indicate if there is pork (for instance the sushi was unmarked and it wasn't obvious that there was meat in it on the second day we stayed). The afternoon tea spread was quickly depleted and was not replenished in time even though the complimentary afternoon tea hour had not ended. But good hotel for cleanliness, location and general attentiveness of staff. Nice lounge on 22nd floor and nice infinity pool and terrace area. May consider coming back again if we are in Da Nang in the future, for these reasons."
Show more
Fast facts about Da Nang, Vietnam
| | |
| --- | --- |
| Accommodations | 3,849 properties |
| Popular hotel | SALA DANANG BEACH HOTEL |
| Popular area | Phuoc My |
| Nightly rates from | $5 |
| Airport | Da Nang International Airport |
| Reasons to visit | Beaches, Sightseeing, Restaurants |
Discover the neighborhoods of Da Nang
---
Traveler impressions of Da Nang
This city is young and not so ancient and historical like Ha Noi or Hue. But he is very friendly. And the beach is very close - 15-20 min by taxi from the air port
In my opinion, Da Nang is probably the best big city in Vietnam. The traffic is not as crazy as in Saigon.
I have to say that while the beach was nice, the area is still rather underdeveloped so there isn't much to do other than a line of seafood restaurants.
It was a clean and orderly place, the traffic was not that bad compared to the bigger cities. Great place to enjoy the sea, beach and the nature.
A well planned modern city with many attractive landmarks, attractions and beaches. Captivating be it day or night.
Peaceful coastal city, friendly people, with nice river. Great seafood. Hoi An ancient Town is also a nice place to visit.
Da Nang is a beautiful city with famous places and delicious food. It is also a safe city. I love to stay here and really want to come back one day.
Da Nang is the third largest city in Viet Nam and seems to have an unfavourable image of being nondescript, but I found many intersting things there.
My first visit to Da Nang was more than 20 years ago. I am amzed to see the city has transformed into a mordern, clean and relaxing tourist destination today.
A good place. Not far from Bana hill and Hoi An. Bana hill is good for children. Da Nang is excellent because of Intercontinental Resort.
A slow paced town with nice and cheap spas. The sea is crystal blue, love it very much. Suitable for those who want a relaxing vacation.
Danang is one of the best cities in Vietnam. Not to big and not to small. It is close to both Hue and Ho an for cultural and history.
Since it's Viet Nam's 3rd largest city, it's quite big and busy, as you'd expect. The usual inordinate number of motor cycles and scooters, but no where near as bad as Hanoi or HCMC.
For a single white westerner I have found Vietnam a terrible place to visit and I have no idea why anyone would go to Da Nang.
I recommend you to rent a motorbike to get the opportunity to go around and get to know the city. Otherwise you would be limited just to the beach.
Amancio Manuel
, Macau SAR, China
Danang is a nice escape from the tourist route, as there are few to no hawkers around the river walk area when I visited in 2015.
Totally unsafe to be walking on the road, as there are no Traffic rules or regulations that apply . You just have to walk in the middle of the road and hope you survive.
Clean and not so hectic like Hanoi where it is swamped with motorcycles. Food is cheaper than Hanoi. Streets are more organised.
You will experience every single thing in there , and also having your money not spent so much , and better be , a quiet getaway place
Da Nang is worth the trip, white smooth sandy beaches and wide and flat enough for beach footballs and volley balls.
Danang and Hoi An are very interesting places. 5 days is not enough for me to explore the places. I definitely will come back again.
Gordon
, Hong Kong SAR, China
Da Nang is a lovely city free from the hustle and bustle of a normal city life like Saigon. The streets are pretty safe and traffic is very much bearable unlike the traffic jams that you will see in Hanoi or Saigon.
Great beach. Da Nang very europeanised and huge amounts of investment going on . Next big beach destinanation in the world I think
We stayed in Da Nang for 3 nights. We found it hard to fill our days as there is very little to do. We stayed at the beach area of Da Nang for 3 nights and there was less to do here.
A must city and beach to visit if you travel to VN. ~30' to HoiAn and marble moutain for hiking if you like.
Make sure you are on the right side of the river on Saturday night at 9 pm, you will get to enjoy the fire and water show from the dragon bridge.
The city is chaotic. Not really geared up for tourists. Probably a good place to stop for a couple of days when traveling from north to south or south to north.
Lots to see and lots to do definately well worth putting on the visit list it a world apart from Saigon.
It is a city of about one million residents. You do not feel the traffic of a big city. It is an ideal place to have a beach holiday while attending to other businesses.
People seem to forget Da Nang and head straight for Hoi An. I suggest that the riverside area of DN is worth a night or two.
---
Da Nang's best hotels with breakfast
---
Frequently asked questions
What's the average price of a hotel in Da Nang?
The average price for a 3-star hotel in Da Nang is 23 USD, the average price for a 4-star hotel in Da Nang is 55 USD, and the average price for a 5-star hotel in Da Nang is 138 USD.
What's the average price of a hotel in Da Nang this weekend?
The average price for a 3-star hotel in Da Nang this weekend is 25 USD, the average price for a 4-star hotel in Da Nang is 56 USD, and the average price for a 5-star hotel in Da Nang is 145 USD.
What's the average price of a hotel in Da Nang tonight?
The average price for a 3-star hotel in Da Nang tonight is 25 USD, the average price for a 4-star hotel in Da Nang is 61 USD, and the average price for a 5-star hotel in Da Nang is 152 USD.
What are the best hotels in Da Nang near Da Nang International Airport?
What are the best hotels in Da Nang near Bac My An Beach?
What are the best hotels in Da Nang near ?
What are the most popular hotels in Da Nang?
What are the best hotels in Da Nang for couples?
What are the best hotels in Da Nang for families?
What hotels in Da Nang have the best views?
What hotels in Da Nang have the best breakfast?
What's the best neighborhood in Da Nang to stay in?
Popular neighborhoods among travelers staying in Da Nang include Phuoc My, Hai Chau, and Hoa Hai.
Explore more travel vacation rentals
Find the Perfect Type of Accommodation
---
More about Da Nang
Da Nang is an important city in central Vietnam, serving as an economic and financial hub.
Da Nang Beach is a popular destination for travelers not only for the business interests, but because of the many beaches and attractions that travelers can explore, such as
Bac My An Beach
. It's far enough from the city center to provide a nice, sea-front escape from hustle and bustle of the city center.
This part of Vietnam was ruled by the Champa Kingdom thousands of years ago, and historically-important ruins can still be found in the countryside. There are several museums and cultural centers in Da Nang, one of them being
Cham Museum
, which features a comprehensive collection of ancient Cham artifacts. Along with the historic remains are a few Buddhist grottoes in the nearby Marble Mountains.
Da Nang is a growing city on the cusp of something great. As evidenced by the numerous beautification projects and business development, it's easy to see that the city is investing in itself in a big way. This is a great time to visit Da Nang, as hotels are still very affordable and there's a growing trend of major resorts building beach-front properties and other accommodations.
Da Nang Airport
is the third-busiest in Vietnam, making it an important hub for this region. The train route to Hué is especially scenic, and tourists usually fly into Da Nang and then travel the area by rail.
Learn more about the landmarks and must-see destinations around Da Nang as they're expertly outlined on the interactive map on this page.