10 best hotels in Davao City
Our top picks
Lowest price first
Nearest to
Best reviewed
See all
dusitD2 Davao
Buhangin,Davao City - View on map
"When we celebrated our 1st year wedding anniversary my wife and I booked at Dusit D2 Hotel in Davao City. We always looked for personal service in hotels and we were really happy with the small details made by Elbert; a concierge of the hotel. His attention to detail is impeccable and initiative beyond measure. Out of the hotels we stayed it is our first time to see our names posted in the tv screen and a was given a gift (purse) as a simple gesture for our stay vis a vis wedding anniversary. The food was topnotch and the gym class above first. Our room boasts of wide open space and amenities at par with the global standard. The best hotel not only in Davao but throughout Mindanao. Truly, a fourth tier of paradise!"
Show more
See all
See all
Park Inn by Radisson Davao
Agdao,Davao City - View on map
"If you have the money to experience high class excellence and royal comfort, Park Inn by Radisson is the perfect hotel for you in Davao City. Location-wise, it's amazing since it's literally 20 steps away from one of the newest and largest malls in the city - SM Lanang Premiere. They even have a walkway connected to the mall itself; you won't have to walk under the heat of the sun to get to the mall. Facility-wise, idk if it's a 5-star hotel but it certainly seems like it, based on all the other 5-star hotels I've stayed in. The bed, the carpet, the air-conditioning system, everything in the room screams 5-star! The pool though is dark blue; I'm not really a fan of pools with dark blue tiles, and it's a bit cramped into their poolside restaurant - it could be improved. And the price is something that ain't practical if you're just gonna go out and about in the city anyway. Park Inn is perfect for staycations in Davao City!"
Show more
See all
Seda Abreeza Hotel
Poblacion,Davao City - View on map
"Most preferred hotel in Davao City due to the convenience it Offers , I.e; close proximity to Abreeza mall and other establishments. Great staff and I would like to specially commend Staff Jayson for being so efficient , gracious and accommodating. Special thanks as well to all the front desk personnels and the guards . Thank you for making our stay a very pleasant one. "
Show more
See all
Blue Lotus Hotel
Ecoland,Davao City - View on map
"I booked the room for my husband who traveled from Pagadian City to Davao City, he arrived at the hotel at around 2am, for him to rest a little to travel again the following day to Davao del norte. To his dismay, my booking was not received by the front desk, he waited around 30 minutes just for them to check again. I received a call from my husband and told me what happened. So i emailed again the confirmation from agoda to their front desk, and was settled. The hotel is new so it is expected to be clean. Amenities was not used during the stay."
Show more
See all
Red Planet Davao
Agdao,Davao City - View on map
"I booked my stay around Kadayawan Festival Week. Extremely busy but I booked it ahead so it was a very good value for my money. Myself and my 2 teenage children shared the room although it was extremely small for 3 of us, yet we managed to organize our stuff around the room. Easier after staying in a much smaller room in Singapore. Beds and linens are in best form. Air conditioning system is excellent. Shower and toilet facilities are fully functional. No problem with plumbing system, as seen in most older hotels in Davao. The place is convenient for us with families living around the area. Easy exits Via Damosa-Buhangin-Airport Route and via Dumanlas if you want to avoid the traffic in J.P. Laureal Ave to go to downtown area. Family and friends enjoyed the Pthoto session in the lobby. Great to meet up and go and explore. Pleasant breakfast restaurant downstairs which could get too busy and have to wait a while to get a seat. Robinson's grocery shop next door was handy to pick up drinks and snacks, salad and fruit. Short taxi ride to SM Lanang, to Samal Island pump boat terminal, jeepneys to Abreeza and downtown. Will consider to stay in this hotel every time I come home to Davao. I have read previous reviews so I know what to expect from this property."
Show more
See all
Waterfront Insular Hotel Davao
Lanang,Davao City - View on map
"If you're in Davao City and want to spend quality time and need a place to stay that you will enjoy the atmosphere of the local people, Waterfront Insular Hotel is the place to be. I totally love the ambiance inside the hotel, it was really relaxing as if you want to stay here forever. On the negative side, the nonavailability of WIFI in each room in the hotel. So far you can only connect if you're outside the room. But overall my experienced was really great specially at breakfast time, I love the food, I hope they can showcase more the taste of local food in Davao as well. The staff were great and scenery is fantastic. Next time I visit Davao City, I will surely stay here again."
Show more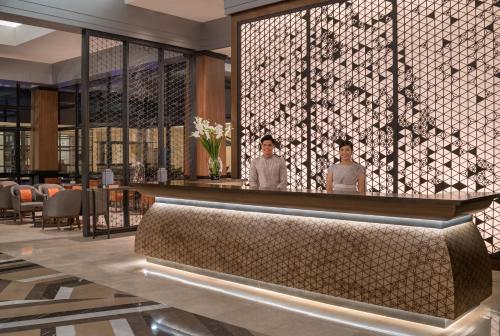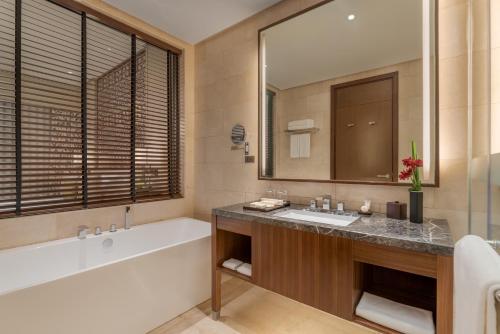 See all
See all
Red Knight Gardens Apartelle
Lanang,Davao City - View on map
"If you want a place wherein you feel like you are in a English bar, this place is surely a contender. I love seeing so much foreigner in such place in Davao City. The hotel being owned by a British national married to a local, the atmosphere was taken to a higher level. If you're looking to hooked up with a white guy or you just feel horny and want to try a different one. This place is the place to find your partner. You'll surely enjoy the fun, the drinks and sometimes the sex you will never forget. It was a fun place to be with and I will surely stay here again and again."
Show more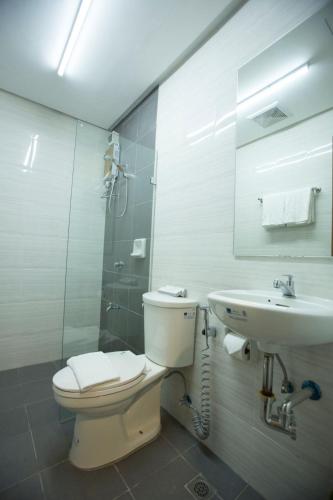 See all
The Lanang Suites
Agdao,Davao City - View on map
"Everytime you asked specifically lady receptionist in anything, there is no effort to do anything. No extra mile. As little as asking if they have a safety pin, which normally comes in most hotels free as part of the room, she automatically says none. And anything you asked, she is not helpful."
Show more
Fast facts about Davao City, Philippines
| | |
| --- | --- |
| Accommodations | 709 properties |
| Popular hotel | dusitD2 Davao |
| Popular area | Poblacion |
| Nightly rates from | $6 |
| Airport | Francisco Bangoy International Airport |
| Reasons to visit | Beaches, Nature, Restaurants |
5-star hotels in Davao City
---
we had a great time in pearl farm beach resort in davao city. we stayed in samal house, a cottage built on stilts above the tropical blue waters. we had the best view in pearl farm's coral-rich sea just below and the kids had fun feeding the school of fish...best of all, the food was really great!!!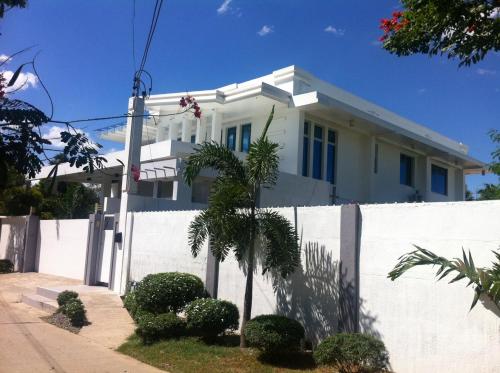 ---
Because place for cooking and. Family or friends
---
It's the first time I booked Agoda Homes and it did not disapppoint. Dhines' place was our home away from home in Davao. Host and her team gave detailed instructions so we could check in (esp when we arrived at 3am due to a super delayed flight!) smoothly. The unit is cosy, which we really liked. Location is in Davao's downtown area. Best part, it's just a stone's thro...
---
This apartment located in city . Every mall and other places were close with this apartment and the owner was really kind. I will stay at this apartment when i go back to davao too. The swimming pool is wide and so beautiful !!! I recommend this apartment!!!
---
If I have an opportunity to go back to Davao, I'll definitely book my stay in this property once again. First, the space is pretty clean. The caretaker is very accommodating and attentive to the needs of the guest. The facilities within the condominium ground are all accessible and can be viewed from the unit's window. The mall is just 5 minutes walk from the place, al...
---
I would recommend the place. Great for couple and family :) would love to stay here again :)
---
Had a wonderful time staying at the accomodation. The place was clean and being able to cook and watch netflix was an added bonus. The terrain of the condo home is optimal for walking and the pool is very nice and well maintained. Will definitely book for future trips and already recommended it to our families and friends. Thank you ma'am!
---
every time i visit davao city, i always stay at the marco polo davao hotel. i believe this is the only 5 star hotel in davao city. although it is over 10 years already but the hotel is well maintained and looks new. location is the key because it is situated in the city centre. only few blocks of walking and you are right in the chinatown area. the ateneo de davao univ...
---
Davao City's best hotels with breakfast
---
Explore more travel vacation rentals
Find the Perfect Type of Accommodation
---
More about Davao City
The city of Davao offers visitors a laidback experience that makes for an interesting visit. The most hassle-free way to enter is via the
Francisco Bangoy International Airport
with direct flights from Singapore. The local port operates ferry services from prominent destinations in the Philippines. Davao's city center offers some of the best accommodation, but there are also options around the airport for those on transit.
Eco-tourists enjoy trips to Davao thanks to Mount Apo. The tallest mountain in the Philippines boasts the Philippine Eagle Center, a sanctuary for one of the world's largest birds of prey.
Samal Island
is quite a draw itself. Although it doesn't compare to Boracay or Palawan, the island still offers a very relaxing stay. Accommodation on the island is available along the coast closest to the mainland, with fewer options at the further end of the island. These include all-inclusive resorts featuring a range of water sports and beach facilities.
Davao is not short on shopping opportunities with a list of malls and supermarkets.
SM City Davao
and
Victoria Plaza
are two of the most popular. Taxis provided the simplest way to navigate the city and are said to be operated by the most honest travelers in the Philippines – the kind that won't overcharge you for being a tourist. A cheaper and more local way to travel would be on a colorful jeepney. Car rentals, buses, and water taxis also move travelers about the city.
Find the most suitable accommodation for you by clicking on our interactive map and exploring Davao for hotels and must-see destinations.