11 best hotels in Dubrovnik
Our top picks
Lowest price first
Nearest to
Best reviewed
Fast facts about Dubrovnik, Croatia
| | |
| --- | --- |
| Accommodations | 3,514 properties |
| Popular hotel | Hotel Excelsior |
| Popular area | Lapad |
| Nightly rates from | $16 |
Discover the neighborhoods of Dubrovnik
---
5-star hotels in Dubrovnik
---
we had a wonderful stay at hotel more for my husband's 30th birthday. the room with a sea view was incredible and the views from the hotel were stunning. the location was great, outside the bustle and crowds of dubrovnik, but still easy to get to old town. the little private "beach" area was quite nice and rare apparently in dubrovnik. the food was also excellent a...
---
We were given a room in the annex - this was perfect. It was a large room with a very comfortable king size bed. The air conditioning was almost silent (never had that before), and all other features you'd expect of a five star hotel - an excellent room/bathroom design. The breakfast is among the best I've had in a hotel, with the unique feature of an "egg chef" pre...
Christopher
, United Kingdom
---
Start to finish superb: greeted by Jelena and a glass of sparkling wine at reception. It's my second visit to the Valamar President. Expect five star service and excellent amenities. I hope to return again soon. Multiple restaurants and bars, including beach side. Great atmosphere but plenty of space, even when the hotel is fully booked. Free indoor pool and spa a...
---
The balcony has a great view of the sea. Friendly staff. Downside is that its quite far from bus terminal and old dubrovnik. Other than that im still satisfied. Just need to walk and exercise abit.
---
The highlight of this hotel is the staff always hospitable and sincerely accommodating. Special mention goes to reception staffer Maja and level 2 housekeeping - awesome!! Thank you Ariston for a great Dubrovnik experience!!
---
I stayed here the last 4 nights of my honeymoon. We had a beautiful room with a perfect view. However, at 2 am the first night the air conditioning turned off and the room became so hot we could not sleep. We called the front desk who reset the air but just told us to open the door. We talked to the front desk in the morning and they said it would be fixed for our seco...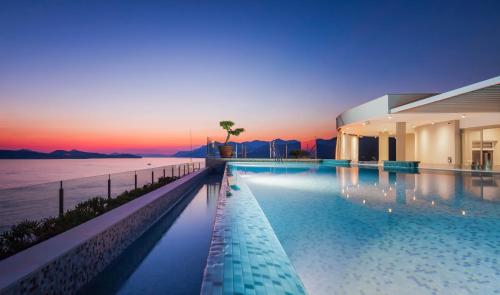 ---
Location slightly far from old town, but is very convenient...just take bus No.6 outside the hotel, straight to old town in 15mins. Room is very comfortable. Breakfast is good.
---
Wonderful location, so close to the old city and other major sites. Stunning views from the front deck was an added feature. The owners were extremely helpful and went out of their way to help us when any issues arose. The only small issues was the lack of kitchen implements when we wanted to cater for ourselves at home. Not a major problem overall but if the accommod...
---
Traveler impressions of Dubrovnik
Dubrovnik is surely one of the most beautiful city in euro. The great city wall would give you a "wow" when firstly see it at night.
tang kwan
, Hong Kong SAR, China
Its a beautiful little city, with lots to see and do it you like history and ancient architecture. Nice restaurants but be sure to check reviews first as there are some bad ones too.
We enjoyed walking through the walled old town, climbing along the wall walk, taking the tram to the top of the mountain, seeing the various museums, swimming and sunning by the sea and sea kayaking.
It is one of the most beautiful city I have ever been. Everything is perfect - the historical spots, the beautiful ocean, very well-preserved the city wall,the proud of the citizens, and the sunshine.
Dubrovnik is beautiful. Do the walk around the fort, walk aimlessly in the old city, eat till you drop and just absorb the beauty.
Amazing, so much history, such beautiful buildings, so much to see as well as lovely beaches to relax on
Still unspoilt! Definitely not a tourist traps. And no annoying sellers pushing wares on your face. A very interesting city.
---
Dubrovnik's best hotels with breakfast
---
Frequently asked questions
What are the best places to stay in Dubrovnik for two guests?
Accommodations in Dubrovnik that are highly ranked by couples include Hotel Excelsior, Hotel Lero and Hotel Dubrovnik Palace.
What's the best area in Dubrovnik to stay in?
Famous communities among foreigners staying in Dubrovnik include Lapad, Waterfront and Dubrovnik City Center.
What are the most suitable resorts in Dubrovnik for business visitors?
Hotels located in Dubrovnik that are highly rated by business travelers are Hotel Excelsior, Hotel Lero and Hotel Dubrovnik Palace.
What are some of the most suitable holiday rentals in Dubrovnik?
A getaway rental in Dubrovnik which is well rated regarding service is Villa Elly's Apartment NIKA.
What are the recommended accommodations in Dubrovnik that has complimentary parking?
Properties with complimentary parking found in Dubrovnik which are highly rated include Villa Boban Deluxe, DUBROVNIK PIER free parking and balcony and Gorgeous Ground Floor w/ Minipool & Patio.
What are the most suitable accommodations found in Dubrovnik with a private beach?
Hotels that have a private beach found in Dubrovnik which are well rated include Villa Rosary and Villa Casia.
What are the recommended wheelchair accessible places to stay in Dubrovnik?
Wheelchair-accessible properties in Dubrovnik which are exceptionally rated include Dubrovnik Retreat Apartment, Magellan Deluxe One, and Magellan Deluxe One.
What's the best neighborhood with nature getaway in Dubrovnik?
The finest nature getaway location in Dubrovnik is Ploce.
What's the best place for sightseeing in Dubrovnik?
The best neighborhood with a wide selection of tourist points of interest in Dubrovnik is Dubrovnik City Center.
When should I visit Dubrovnik?
Last year, Dubrovnik received its most visitors during the month of August. However, make sure to consider other months during which there are a fewer amount of tourists, as the most popular attractions will be less jampacked.
Is evidence of vaccination necessary to enter Dubrovnik?
Proof of COVID-19 vaccination is not required to enter Dubrovnik from outside the country. For further details, please reach out to local authority or visit here.
What vaccines are recognized in Dubrovnik?
All vaccination types are currently recognized and approved by the national health authority of the country that includes Dubrovnik.
Explore more travel vacation rentals
More about Dubrovnik
Dubrovnik is a perennial place for nature and outdoor traveling. Travelers from all over the world flock to Dubrovnik to try out just about everything this place provides, such as top-rated nature attractions in Dubrovnik, hotels near lakes in Dubrovnik, and hotels with mountain views in Dubrovnik. Visitors take full opportunity to experience the great deal of golf resorts and spas in Dubrovnik, Dubrovnik center aquarium hotel packages, Dubrovnik downtown accommodation, golf view hotels in Dubrovnik, and high-rise hotels with views in Dubrovnik close to top nature areas. Cuisine that can be found with the restaurants and bars in Dubrovnik offers choices for a wide range of tastes. Recommended nature areas in Dubrovnik include Mount Srdj Ropeway and Lokrum Island, which in totality offer a selection of wildlife and outdoors experiences and nature-based night activities. Room alternatives in Dubrovnik include low-cost capsules in Dubrovnik to high quality 5-star luxurious hotels close to zoos in Dubrovnik. It's also possible to and much more for vacationers of all preferences and budgets. Remember-- single-unit trip rentals in Dubrovnikwill be available for guests who have more particular hotel requirements, including multiple-bedroom units near aquariums, spacious balconies with city views, and concierge assistance to assist you to enjoy the most memorable outdoor experiences on golf courses in Dubrovnik. The best mountain resort hotels in Dubrovnik give all easy access using public transport to Mount Srdj Ropeway, as well as food choices with open air alternatives too. You could also reserve top-rated accommodations nearby Lokrum Island. The structure of Dubrovnik is incredibly excellent for forest hotels near Dubrovnik, taking walks from your hotel near parks, or resorts around the very best nature tour providers in Dubrovnik.

Dubrovnik is a popular place for travelers searching for an excellent holiday getaway at the beach. Tourists from across the globe come to Dubrovnik to enjoy everything this location has got, for instance water sports, sunbathing, and lovely rest. Tourists take advantage of the scores of top-rated hotels in Dubrovnik, Dubrovnik beach hotels, Dubrovnik beach resorts, villas in Dubrovnik, and hotels in Dubrovnik along or close to the seafront----and the coffee shops and Dubrovnik eateriesthat serve local seafood and other favorites. Cuisine in Dubrovnik offers options for all kinds of preferences. Preferred beaches in Dubrovnik include Lapad Beach, Banje Beach, and Plaža Lapad, which combined give you a great number of beach experiences and oceanfront activities. Accommodation selections in Dubrovnik vary from low-cost bungalows in Dubrovnik to higher-end 5-star luxurious hotels in Dubrovnik. Additionally, you can find exceptional serviced suites in Dubrovnik, hostels in Dubrovnik, and others for visitors of most preferences and budgets. Moreover, individual-unit trip rentals in Dubrovnik are readily available for travelers who have more specific holiday accommodation requirements, including multi-bedroom units, spacious balconies, or areas for water sports equipment or water-sports vehicles. The top hotels on the beach in Dubrovnik provide gorgeous views of the beach in close proximity to Lapad Beach, plus food options with oceanside environment as well. Additionally, you can discover top-rated accommodations near Banje Beach, or seaside view places to stay nearby Plaža Lapad. The weather conditions in Dubrovnik is notably accommodating with regards to ocean experiences, or simply just lounging around the sea in the ideal place.

Dubrovnik is an exceptional vacation spot for art, culture, and history tourism. People from all over the globe visit Dubrovnik to savor everything this locale can offer, especially top attractions in Dubrovnik, monument hotels in Dubrovnik, and historic hotels in Dubrovnik. People coming in book the multitude of hotels near monuments in Dubrovnik, Dubrovnik center hotels near monuments, Dubrovnik downtown accommodation, historical area hotels in Dubrovnik, and high-rise hotels with views in Dubrovnik near monuments. Dining that is feasible with the restaurants and bars in Dubrovnik consists of flavors for all tastes. Some of the most traveled to cultural locations in Dubrovnik include Cathedral of the Assumption of the Virgin, Dominican Monastery & Museum, and Dubrovnik Synagogue, which together provide you with a variety of sightseeing memories and art-based evening activities. Hotel and room selections in Dubrovnik cover anything from reasonable capsules in Dubrovnik to premium quality 5-star luxurious hotels near galleries and monuments in Dubrovnik. Additionally, you can search for outstanding serviced suites in Dubrovnik, hostels in Dubrovnik, and many more for vacationers of most preferences and budgets. Remarkably, single-unit holiday rentals in Dubrovnik will be readily available for tourists who have extra esoteric overnight accommodation needs, for instance multi-bedroom units near monuments, spacious balconies with city views, or concierge services to assist you discover excellent cultural activities at historical neighborhoods in Dubrovnik. The top hotels near famous buildings in Dubrovnik deliver fast access by means of public transport to Cathedral of the Assumption of the Virgin, as well as dining options with patio alternatives alternatives also. It's also possible to locate some of the best properties close to Dominican Monastery & Museum, or suitable properties close to Dubrovnik Synagogue. The layout and roads of Dubrovnik are particularly ideal for museum hotels near Dubrovnik, or going for a walk from your hotel to museums, or hotels near the best museum tour services in Dubrovnik.