11 best hotels in Ella
Our top picks
Lowest price first
Nearest to
Best reviewed
Fast facts about Ella, Sri Lanka
| | |
| --- | --- |
| Accommodations | 793 properties |
| Popular hotel | EKHO Ella |
| Popular area | Ella City |
| Nightly rates from | $5 |
Discover the neighborhoods of Ella
---
4-star hotels in Ella
---
This is a very new hotel, and they are only just getting the staff settled in. It is convienient to Ella train station, but due to the steep hill, I wouldn't recommend walking. The view is stunning, and looks across at a local waterfall from a number of rooms. There were no menus, and no prices for either the food or bar service, but we were very pleasantly surprised ...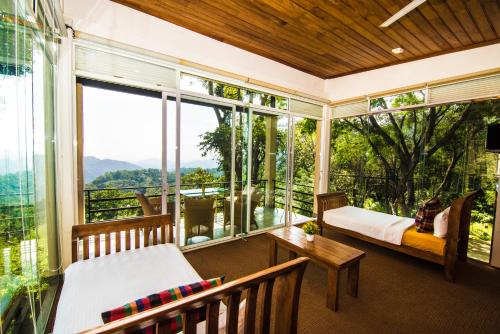 ---
We were pleasantly surprised when we arrived at Ella Planters. You'll need transport to get there but is well worth it when you do. Our bungalow ("blue") was lovely, well designed with a very large, beautifully-styled, modern bathroom. The bed was extremely comfortable. The breakfast was excellent with a variety of continental/Sri Lankan food. We thoroughly enjoyed ou...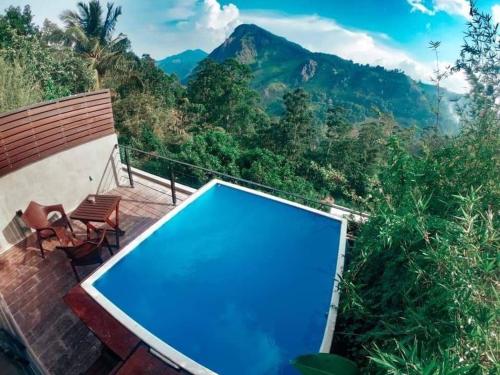 ---
Its our first visit to Ella Flower Garden Resort with our family we had 03 rooms reserved with them for two nights. We had a great welcome and rooms were given on time without any delay. Very clean and spacious rooms. The B/B option were very famous in Ella due to number of restaurant situated in Ella town plenty of places to dine out and good night life as well. Amazi...
---
We stayed here for one night in Feb and loved this property! The view from the whole place is just absolutely spectacular! Each of the rooms either has its own balcony or a courtyard to just sit and enjoy the view. The rooms and large and comfortable. The staff were great. There was a lovely hostess who greeted us and happily chatted away about Sri Lanka and the beaut...
---
We had a really good time and were well looked after by the superb staff. Our room had sweeping views down the valley and towards Ella town. The hotel is reached by a steep and narrow road which means that it is away from the traffic but still within walking distance of the railway station and the town.
---
The hostel is quite isolated from the city, but nothing that you cannot walk. Unless you also take holidays from staying bait healthy and wanna move around with overpriced, mafia-controlled tuk tuks. It is around 30-40 minutes walking to the city of Ella, but it is also walking distance to Little Adam's Peak and 9 Arch Bridge... or 7 Arch... anyways famous bridge. Ther...
---
the room was very clean and equipped. The stuff were very friendly and helped us a lot with food and transportation.
---
Single member staff quite helpful car parking adequate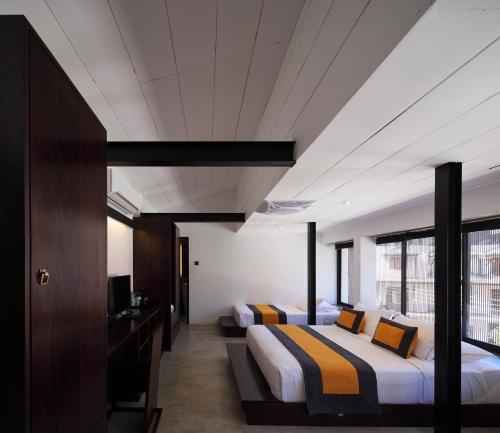 ---
This place was perfect for a few nights in Ella. Location was very good- it was a short 5 minute walk into the main area of the town (which is good as the main street can be a bit noisy with the traffic and bar music). The staff were very friendly and couldn't do enough to help us. The only room for improvement- the WIFI is very slow and temperamental- it was almost un...
---
5-star hotels in Ella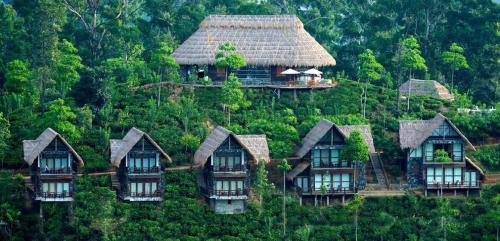 ---
We totally fell in love with this place the moment we stepped foot here. The views are incredible. The rooms are huge with balconies that overlook the tea plantations and mountains. It's right next to the trail up to Little Adam's Peak, which we did at sunrise. We also rented bikes from the resort and went cycling around the tea plantations and down to Nine Arches brid...
Becky
, Hong Kong SAR, China
---
It was a nice place to stay. The staff were very friendly and helpful. The room is big and clean. And they also prepared us breakfast everyday before we went to Little Adam's Peak and other places
Sin
, Hong Kong SAR, China
---
This place is a must. Ella Valley will stay with you forever. I guarantee thst. The views are exceptional, rooms are clean and comfortable, hospitality is 100% and breakfast are huge and very tasty. Coffee is also very good. just stay here and find out for yourself. My best stay in Sri Lanka.
---
Ella's best hotels with breakfast
---
Frequently asked questions
What's the average price of a resort in Ella this weekend?
The typical price for a 3-star property in Ella this weekend is USD 46. The average price for a 4-star resort in Ella this Friday and Saturday is USD 69. The average price for a 5-star hotel in Ella this Friday and Saturday is USD 117.
What are the most famous accommodations in Ella?
Some of our most recognized hotels in Ella are EKHO Ella, Heart of Ella and Morning Dew Boutique Hotel Ella.
What are the best properties in Ella for families?
Properties in Ella that are highly ranked by families include EKHO Ella, Oak Ray Ella Gap Hotel and Heart of Ella.
What's the top neighborhood in Ella to stay in?
Popular areas amongst tourists staying in Ella include Ella City, Haputale City and Karandagolla.
What are the ideal accommodations found in Ella for lone tourists?
Resorts around Ella that are very highly rated by individual travelers are Oak Ray Ella Gap Hotel, EKHO Ella and Heart of Ella.
What resorts located in Ella are exceptionally rated with regards to value for money?
Accommodationsaround Ella which is well rated with regards to value for money include Hillcrest Ella, Cozy Homestay and Broad view.
What are the prime resorts found in Ella that have swimming pools?
Verified vacationers to Ella have given out exceptional ratings with regard to the swimming pool at The View Ella Hotel.
What are the top resorts in Ella that has complimentary parking?
Resorts which has free parking around Ella that are highly rated include Winwood Ella and Dream Ville.
What are the preferred hotels around Ella that includes airport transfer?
Hotels with airport transfer found in Ella that are well rated include Eco zone ella, Winwood Ella and W1 Ella.
How long should I book my stay in Ella?
In the past 3 months, travelers spend time in Ella for 1 nights on average. The best length for your travel will be determined by what you want to see and do while there.
Are international visitors allowed into Ella?
International travelers are allowed into Ella, according to our most up-to-date information. Due to changing restrictions, we advise you to take a look at here for more information.
Is pre-departure covid test expected for unvaccinated foreigners to enter Ella?
Proof of negative pre-departure COVID-19 test is not required to enter Ella. For updated and in depth information on travel restrictons, remember to stop by the official websites of the travel authority or government of the country you wish to visit, or go to here.
Explore more travel vacation rentals
Other popular destinations in Sri Lanka
---
More about Ella
Ella is a lasting place for nature and outdoor travel. Travelers from across the world head to Ella to trial anything and everything this location can offer, like the best nature attractions in Ella, hotels near lakes in Ella, and mountain view hotels in Ella. Tourists take full opportunity to consider the numerous hotel golf clubs in Ella, Ella center aquarium hotels, Ella downtown accommodation, golf view hotels in Ella, and high-rise hotels with views in Ella nearby top-rated nature areas. Cuisine that can be found with the restaurants and bars in Ella includes alternatives for many preferences. Favorite nature areas in Ella include Ravana Falls, Little Adam's Peak, and Rawana Ella Cave, which in totality offer you a diversity of wildlife and camping experiences and nature-based evening activities. Accommodation choices in Ella range from reasonable capsules in Ella to premium quality 5-star luxury hotels near zoos in Ella. You may also and much more for visitors of most preferences and budgets. Bear in mind-- single-unit trip rentals in Ellaare often available for tourists with more particular hotel preferences, such as multi-bedroom units near aquariums, roomy balconies with city views, as well as concierge assistance to guide you to find the most remarkable outdoor experiences available at golf courses in Ella. Some of the best mountain resort hotels in Ella offer all effortless access by means of public transport to Ravana Falls, as well as food options with open-air picks too. It's also possible to book top places to stay close to Little Adam's Peak, or convenient hotels nearby Rawana Ella Cave. The infrastructure of Ella is highly excellent for forest hotels near Ella, taking walks from your hotel near parks, or hotel accommodations in the vicinity of the top nature tour services in Ella.

Ella is a favorite destination for visitors searching for urban exploration and shopping. Travelers from across the world go to Ella to try everything this locale provides, for instance malls, shopping centers, and markets. Vacationers exploit the several city traveler's hotels in Ella, Ella center hotels, Ella downtown accommodation, market street hotels in Ella, and high-rise hotels in Ella close to the best shopping areas--and the cafes and Ella eateries that serve local specialties and also other favorites. Cuisine in Ella comprises of selections for numerous tastes. The best shopping centers in Ella consist of R. M. S Antique And Brass Ware and Ella super, which together present you a great number of shopping experiences and urban activities. Hotel options in Ella cover all bases from very affordable capsules in Ella to top end 5-star luxurious hotels with shopping in Ella. You can also discover excellent serviced suites in Ella, hostels in Ella, and more for visitors of all preferences and budgets. Also, single-unit trip rentals may be possibilities for visitors who have extra specific holiday accommodation preferences, which includes multi-bedroom units, spacious terraces with city views, terraces with urban views, or concierge assistance to help you experience the ideal shopping experiences. Some of the best hotels near markets in Ella provide quick access via public transport to R. M. S Antique And Brass Ware, plus dining options with high class atmosphere as well. You can also discover top properties nearby Ella super. The map of Ella is in particular generous regarding city shopping activities, or simply browsing the shopping malls near hotel zone in Ella.

Ella is an extraordinary locale for art, culture, and history travel and leisure. Individuals from all over the globe go to Ella to relish anything and everything this place has got, especially outstanding attractions in Ella, monument hotels in Ella, and famous historic hotels in Ella. Those arriving book the great number of hotels near monuments in Ella, Ella center hotels near monuments, Ella downtown accommodation, historical area hotels in Ella, and high-rise hotels with views in Ella near monuments. Cusine that is available at the bistros and bars in Ella features flavors for all preferences. Some of the most traveled to cultural areas in Ella consist of Kinellan Tea Factory and Demodara Loop, which together provide you with numerous sightseeing memories and art-based night activities. Resort and room choices in Ella range from cheap capsules in Ella to premium quality 5-star luxury hotels near historical centers in Ella. You may also choose superb serviced rooms in Ella, hostels in Ella, and much more for tourists of most tastes and budgets. Notably, individual-unit trip rentals in Ella are often available for travelers and tourists who have more esoteric hotel necessities, including multi-bedroom units near monuments, spacious balconies with city views, or concierge support to help you discover the best possible cultural activities at historical places in Ella. The very best accommodation near museums in Ella are able to provide comfortable access by public transport to Kinellan Tea Factory, and dining options with outdoor alternatives options too. Additionally, you can find top accommodations near Demodara Loop. The layout and streets of Ella are particularly suitable for museum hotels near Ella, or taking walks from your hotel to museums, or hotels near the best museum tour services in Ella.