Fast facts about Fortaleza, Brazil
| | |
| --- | --- |
| Accommodations | 941 properties |
| Popular hotel | Sambura Praia Hotel |
| Popular area | Fortaleza Waterfront |
| Nightly rates from | $5 |
| Airport | Pinto Martins-Fortaleza International Airport |
4-star hotels in Fortaleza
---
This is a very busy hotel, with a nice compact sunbathing area near the swimming pool. The location is very central and you are only minutes away from the beach or shops ! I would recommend this place to older teenagers and young couples, though most of the guests I saw were elderly ! Food and drink prices were expensive for the quality.
---
It was good. Not a 10 though. I travel around and this hotel is more like a 8 or so.
---
Nothing wrong with this hotel if you are coming to Fortaleza to stay as cheaply as you can in a newish, clean, safe choice of hotel. Cheaper than anything similar, maybe because further from the beach than the competition. (or maybe because some noisy construction in progress.)Bed comfortable, good quiet AC, free cable internet, decent cable TV, pool and gym, routine b...
---
Good location, nice staff. No complaints.
---
frukosten var väldigt bra och läget vid stranden också väldigt bra, men personalen i reception var dålig, horor ringde fritt till rummet och chefen i reception bara bad om ursäkt.poolen var inte i så bra skick heller. Ponto do ingles bara 10 minuter att gå till.Bra hotell annars förutom receptionen.
---
Excellent hotel for a quiet and realxing holiday, no hassle, no noise, just a nice atmosphere
---
very easy acess, silent, pool, most atractive view of beach, very good breakfast and service room. Many options for visit other beachs in the Ceará. Good Localization, easy acess to city center and popular center.
---
Not a hotel I will recommend, nainly due to staffs arrogant attitude, 90 R$ for 2 towels (equal to 52 US$) they claimed I had made ireversibel dirty (I think the staff like to make easy money)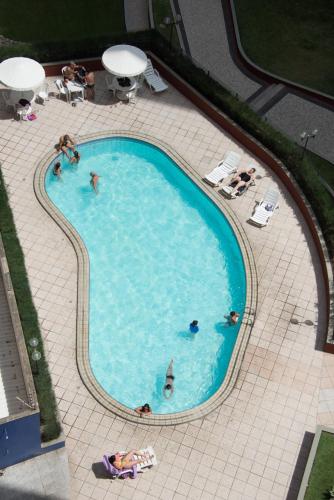 ---
We had a lot of fun because of the steady flow of people going in and out...;-)
---
Fortaleza's best hotels with breakfast
---
Good staff and an excellent breakfast. Window didn't lock which was a security issue and was the safe in the room that didn't lock. Couldn't sleep the first night to today Nearby road but the helpful staff moved my room after I mentioned it. Overall shabby. All in all the hotel was ok but horrendously over priced
---
This is a large hotel which needs updating. The bathroom in the appartment was small, old and in desperate need of an overhaul. That said, the main bedroom itself is large and airy with good air conditioning, albeit it loud. The hotel is a high building and the wind from the sea whips around the building and at times can keep you awake at night. Breakfast is typi...
---
fast and excellent work at the frontdesk. got good advice on restaurants. open wifi at the lobby, but hard to connect in the room, given pass not working. cannot rate the breakfast as i did not use it. room was clean and practical. i could keep car and lugagge in the hotel for some hours after checkout.
---
Explore more travel vacation rentals
Find the Perfect Type of Accommodation
---
More about Fortaleza
Fortaleza is one of the largest cities in Brazil and certainly one of the most vibrant, rivaling even Rio for its fantastic party scene.
Fortaleza's airport
is close to the city center, so travelers can catch one of the regular city bus services into the city to get to their hotel in downtown Fortaleza.
A vacation in Fortaleza is mainly about swimming, sunning, and partying. Well-known throughout Brazil for its magnificent beaches, most visitors to Fortaleza seek waterfront accommodation in close proximity to restaurants, cafés, and nightclubs. Each of Fortaleza's beaches are quite distinct from each other and attract different crowds – tourists head to Meireles, party people and bohemians hang out in Iracema where dolphins can sometimes be spotted, and Praia do Futuro is for swimming and surfing. Iracema is the most central to downtown Fortaleza and has the biggest choice of restaurants, clubs, and cafés.
Away from the beach, the city itself is worth exploring and visitors will find plenty of restored colonial-era buildings. For those seeking a higher form of culture, the
Dragão do Mar Center of Art and Culture
always has something worth seeing – from contemporary art exhibitions to folk history to star-gazing sessions at the center's planetarium.