4-star hotels in Fuengirola
---
Excellent location, very close to Los Boliches Renfe train station (less than 5 min. walk) and sea. Rooms in general need remodeling but the bed and bathroom were very good, which is important to me in a hotel room. Not a real 4 stars hotel but you get your money's worth. Waiting for the complete overhaul, but of course the prices won't stay the same. One of the best b...
---
I really enjoyed my stay at the Torreblanca. The staff are all really helpful and friendly. The room was clean and spacious with good air conditioning. I always had a fast connection on the free wifi, good enough to stream Netflix. I enjoyed the food at both breakfast and dinner (Half Board), there was always plenty of choice. The pools are well maintained with a life...
---
Great staff...they are friendly and work very hard...especially in the dining room..thank you. Food is tasty and plentiful...the dining room was quite hectic but it was peak season..and staff cleared tables quickly The hotel is very dated and not. 4 star experience...more like a 2.5 The worst thing was the walls in the room were so thin I could hear people talking g n...
---
Made a good impression upon entry which unfortunately was slightly ruined after arriving to the room. The room was spacious and clean, but the heating was bad and it felt cold. And it was not just an unfortunate occurrence for me as I met someone out who had stayed there before and whose first comment was the cold, even before I had commented on it. It's also worth men...
---
stayed here for 4nights on room only basis .Good immpresion when you arrive at the Hotel. We booked a triple room with the extra bed taken out,but it seemed quite small good bathroom ,large shower.We ate in the restaurant 1 evening,and were dissapointed inthe quality of the food ,we spoke to other people who thought it wasn't up to4 * standard. The location is the best...
---
Staff, hotel, food, entertainment all worthy of a 4 star hotel, fantastic hotel and holiday.
---
We stayed for three days at this hotel. Very good location at the beach and with walking distance (about 15 minutes) to Fuengirola center. We specially appreciated a very service minded and helpfull staff. Just some blocks away, we found small and very nice restaurants with excellent food. Breakfast was not the best, probobly due to all the charter guests, but OK.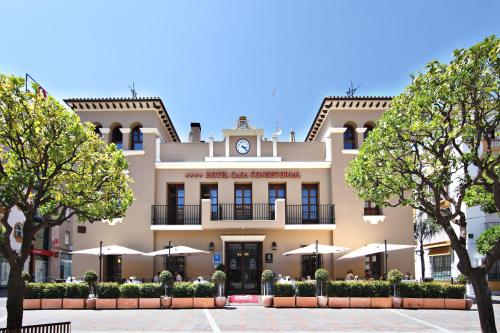 ---
Perfect location in old part of town. Feels much more authentic than hotels on the beachfront and is very quiet at night. Only 5 minute walk to the beach and 5 minute walk to train station. Staff were probably the best I've encountered in the past 5 years. They moved us straightaway on finding our room smelled of smoke. We did not have breakfast but it did look good. O...
---
Traveler impressions of Fuengirola
This is a very lively place in the summer. There are plenty of beaches for everyone, and a fairly long promenade, with many bars, cafes and shops.
It's a nice little city, close to the coast, with great beaches and lots of entertainment. Nice shopping area, and plenty of possibilities for food and drinks.
Fuengirola is standard for the Costa del Sol. It's got fairly good restaurants, a big stretch of beach, and lots of retirees walking about with their shirts off.
---
Discover the neighborhoods of Fuengirola
---
Find the Perfect Type of Accommodation
---
More about Fuengirola
Finding the cheapest price for top hotels in Fuengirola, Spain is easy with Agoda.com. Guests find many of the 844 hotels in Fuengirola an attraction in themselves. Many areas, each with a distinctive atmosphere, are just waiting to be discovered across the city. Fuengirola has many attractions to explore with its fascinating past, intriguing present and exciting future. There are so many things to do, you may want to stay an extra week or so to experience them all. If you're looking for a room in Fuengirola and don't want to pay too much, Agoda.com offers hundreds of fantastic deals which are updated daily.