Hotels in Hoedspruit
Our top picks
Lowest price first
Nearest to
Best reviewed
Fast facts about Hoedspruit, South Africa
| | |
| --- | --- |
| Accommodations | 265 properties |
| Popular hotel | Kapama River Lodge |
| Popular area | Hoedspruit |
| Nightly rates from | $16 |
| Airport | Air Force Base Hoedspruit |
Where to stay in Hoedspruit
---
4-star hotels in Hoedspruit
---
Staff is well trained, very efficient. Lovely people, everybody made us feel so welcome. The Chef's food was wonderful. The place is busy all the time, but somehow they keep the premises in tip top shape at all times. Don't know when the staff cleans, it's like fairies with magic wands. When you turn your back, its clean. Lost of wild animals to see. Had a lovely time...
---
This is a fantastic experience. It's more than a hotel - it's an holiday with a difference. The package includes two safari type trips around the game park (morning and afternoon), all your meals and accommodation. The accommodation is excellent. We were treated to a BBQ type meal in the evening, which was social. The staff did an African dance which was fun. All...
---
Excellent stay at Chisomo Safari Camp. Glamping in tent rooms with hot showers and a good spread of food at meal times. The guides were particularly helpful and damn good at their jobs. Do note that this is a private reserve and is next to Kruger National Park instead of being directly in it. The benefit of which there isn't too many people (and jeeps) on the trails at...
---
Very familiar & intemate location - we get a really "out of africa " feeling. Staff is very polite and friendly. The spot is lovely and the rooms are very nice.
---
We arrived late at umVangati House after our SAA Express flight was cancelled, but they still went out of their way to ensure we had a wonderful dinner! It was only the next morning when we fully realized just how fantastic the property and it's location is. The staff went out of their way during the 2 days we were there to make us feel at home and make the most of the...
---
A marvelous experience in South Africa. Everything is fantastic, nothing to complaint about.The food is great, you should have dinner in there.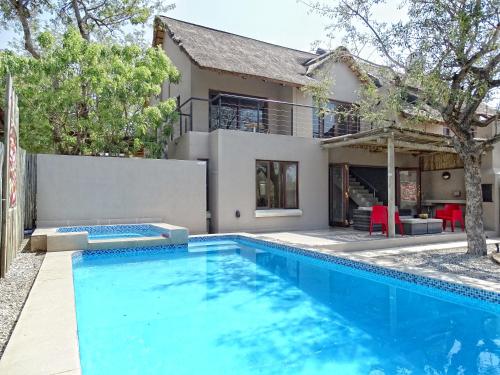 ---
this is a very nice place to stay when doing safari in kruger or exploring the blyde river canyon. the pool is definetly a plus! we were very happy with our stay here for 4 nights. Anita and Gerrie are very friendly, helpfull and informative hosts.
---
this place is underated, its has to be more than 5stars. if your looking for heaven in Hoedspruit, this is the place. the staff always wear a smile that will make you feel at home, they are accomodating and friendly. Yvette, the manager/owner of the place is the nicest person we've met in South Africa, she made our stay smooth, stress free and worth coming back. She o...
---
We felt the value for money, there is nice surrounding (bushes), birds singing in the mornings. Rooms cleans, staff very friendly even offered to assist with the young one while my husband and I were eating. Oh and the food, so homely! We both enjoyed it.
---
Luxury hotels in Hoedspruit
---
From start to finish, Pondoro went out of their way to make our holiday perfect. All of the staff are super friendly, helpful and professional. The location is stunning- overlooking the river and hippos. The suites are beautifully decorated and offer peace and seclusion whilst being looked after perfectly. The game drives were fantastic and we were fortunate enough t...
---
For an all-inclusive lodge, it was worth the price not having to be charged for every meal and all the snacks and drinks from the mini bar. The staff were really friendly and aimed to please the guests. I appreciate the additional game drive at another game reserve since this one admitted to not having the "Big 5". Its guide Colin was very knowledgeable and I learne...
---
On the first night game drive, the game ranger was unprepared, as he did not have a spotlight, which was essential considering we were going on a night drive. We waited around for 15 minutes to get a spot light. Eventually we met up with the head game ranger who gave us a spotlight only to find out later that it did not work and caught on fire. Thus had to return back ...
---
Hoedspruit hotels with breakfast
---
Frequently asked questions
What are the best hotels in Hoedspruit for couples?
Accommodations in Hoedspruit that are widely rated by couples include Kapama River Lodge, Little Kubu Lodge and Pondoro Game Lodge - All Inclusive.
What places to stay found in Hoedspruit are well rated for cleanliness?
Propertiesaround Hoedspruit which is very highly rated for hygiene include African Rock Lodge, Nyaleti Lodge and Ukuthula Bush Lodge.
What resorts found in Hoedspruit are exceptionally rated with regards to service?
Accommodationslocated in Hoedspruit which is very highly rated with respect to service include African Rock Lodge, Ukuthula Bush Lodge and Tshukudu Game Lodge.
What are the top rated properties around Hoedspruit that includes complimentary parking?
Hotels that has complimentary parking in Hoedspruit which are highly rated include African Flair Boutique Safari Lodge and Rafiki Bush Lodge.
What are the top rated wheelchair accessible places to stay around Hoedspruit?
Wheelchair-accessible places to stay around Hoedspruit that are very highly rated include Kubu Safari Lodge, Kapama River Lodge, and Kapama River Lodge.
Where can I book rooms in Hoedspruit that has free cancellation policy?
Yes, you'll find the majority of hotel rooms provide free cancellation rates, with which you can expect to receive a full refund if you cancel before the deadline. Filter your search by free cancellation to find flexible hotel deals in Hoedspruit.
When should I make a trip to Hoedspruit?
Last year, Hoedspruit garnered its most visitors during the month of September. However, make sure to consider other months during which there are a fewer amount of visitors, as the most popular destinations will be less jampacked.
How long should I spend my time in Hoedspruit?
In the past 3 months, travelers spend time in Hoedspruit for 2 nights on average. The optimal length for your visit will depend on what you're looking to see and do while there.
Is quarantine expected for fully vaccinated visitors to enter Hoedspruit?
Quarantine is not required for fully vaccinated tourists to enter Hoedspruit from outside the country. For updated and detailed information on travel restrictons, please take a look at the official websites of the travel authority or government of the country you wish to travel to, or go to here.
Is proof of vaccination required to enter Hoedspruit?
Proof of COVID-19 vaccination is not required to enter Hoedspruit from outside the country. For further details, please make contact with local authority or go to here.
Is pre-departure covid test mandatory for fully vaccinated foreigners to enter Hoedspruit?
Proof of negative pre-departure COVID-19 test is not required to enter Hoedspruit. For updated and detailed information on travel restrictons, please visit the official websites of the travel authority or government of the country you wish to travel to, or go to here.
What vaccines are recognized in Hoedspruit?
All vaccination types are currently acknowledged and approved by the national health authority of the country that includes Hoedspruit.
Explore more travel vacation rentals
More about Hoedspruit
Discover the Best Time to Visit Hoedspruit for Your Next Adventure
Hoedspruit is a small town located in the Limpopo Province of South Africa. It is known for its proximity to the Kruger National Park and the Blyde River Canyon Nature Reserve. The best time to visit Hoedspruit is during the dry season, which runs from May to September. During this time, the weather is mild, and the wildlife is easier to spot as they gather around water sources.
Unforgettable Things to Do in Hoedspruit: A Traveler's Guide
Hoedspruit is a nature lover's paradise, with plenty of outdoor activities to enjoy. One of the most popular activities is going on a safari in the Kruger National Park. The park is home to the Big Five (lion, leopard, elephant, buffalo, and rhino) and many other species of animals. Another must-visit attraction is the Blyde River Canyon Nature Reserve, which is known for its stunning views and hiking trails. For a unique experience, visitors can go on a hot air balloon ride and enjoy panoramic views of the area.
Hoedspruit Travel Tips: How to Make the Most of Your Trip
If you're planning a trip to Hoedspruit, here are some travel tips to help you make the most of your visit. First, make sure you pack comfortable clothing and shoes suitable for outdoor activities. Don't forget to bring sunscreen, insect repellent, and a hat to protect yourself from the sun. It's also a good idea to bring binoculars for wildlife spotting. If you're traveling during the peak season, make sure to book your accommodation and activities well in advance. Finally, be respectful of the wildlife and follow the rules of the national parks and reserves.
Where to Stay in Hoedspruit: Top Hotel Picks on Agoda.com
Agoda.com offers a variety of accommodation options in Hoedspruit, ranging from budget-friendly guesthouses to luxurious lodges. Here are some of the top hotel picks in the area: 1. African Rock Lodge - This 5-star lodge is located in the heart of the African bush and offers luxurious accommodation and personalized service. The lodge has a swimming pool, spa, and restaurant. 2. Nyaleti Lodge - This boutique lodge is situated on a private reserve and offers guests an intimate and exclusive safari experience. The lodge has a swimming pool, spa, and restaurant. 3. Swadini, A Forever Resort - This family-friendly resort is located on the banks of the Blyde River and offers a range of accommodation options, including chalets and campsites. The resort has a swimming pool, restaurant, and activities such as hiking and fishing. 4. Loerie Guesthouse - This guesthouse offers affordable accommodation in a peaceful setting. The rooms are comfortable and well-equipped, and the guesthouse has a swimming pool and barbecue facilities. 5. Ukuthula Bush Lodge - This lodge is located in a private game reserve and offers guests an authentic African bush experience. The lodge has a swimming pool, restaurant, and activities such as game drives and bush walks.
Exploring Hoedspruit: How to Get Around the City
The best way to explore Hoedspruit and the surrounding areas is by car. Car rental is available at the airport and in the town center. If you're not comfortable driving, you can also book a guided tour or transfer service. Many of the lodges and resorts offer shuttle services to and from the airport and local attractions.
Hoedspruit Food Guide: Must-Try Dishes for Foodies
Hoedspruit is a great destination for foodies, with plenty of local dishes to try. One of the most popular dishes is biltong, a type of dried meat that is similar to beef jerky. Another must-try dish is boerewors, a type of sausage that is usually grilled and served with pap (a type of porridge) and chakalaka (a spicy relish). For a sweet treat, try koeksisters, a type of fried dough that is dipped in syrup.
Why Agoda.com is the Best Choice for Booking Your Hoedspruit Accommodation
Agoda.com is the best choice for booking your Hoedspruit accommodation because it offers a wide range of options to suit every budget and preference. The website is user-friendly and easy to navigate, and the booking process is straightforward. Agoda.com also offers competitive prices and frequent promotions, making it an affordable option for travelers. Additionally, the website has a 24/7 customer service team that is available to assist with any questions or concerns.
Getting to Hoedspruit: Your Ultimate Travel Guide
Hoedspruit is accessible by air and road. The nearest airport is the Eastgate Airport, which is located in Hoedspruit and offers flights from Johannesburg and Cape Town. Alternatively, you can drive to Hoedspruit from Johannesburg or Pretoria, which takes approximately 5-6 hours. If you're driving, make sure to take the necessary precautions, such as filling up your gas tank and bringing enough water and snacks for the journey.
Reasons to Visit Hoedspruit, South Africa: A Hidden Gem for Adventurers
Hoedspruit is a hidden gem in South Africa that offers a unique and unforgettable travel experience. The town is surrounded by stunning natural scenery and wildlife, making it a great destination for outdoor enthusiasts. Whether you're going on a safari, hiking in the Blyde River Canyon, or simply relaxing by the pool, Hoedspruit has something for everyone. Plus, with its affordable accommodation options and friendly locals, it's a great destination for budget-conscious travelers.