4-star hotels in Interlaken
---
Everything was perfect in Interlaken Hotel! Just rated 4 stars on value for money as overall price is high in Switzerland. Staffs were very kind, breakfast was good, shared shower was very clean and the hotel restaurant at ground floor was great. We were touched when the staff arranged to prepare breakfast bag to go when we said that we need to check out early in the n...
---
Stayed 3 nights during June summer in this hotel. It is about 10-15 mins walk from Interlaken OST station. There is a bus which you can take for just one stop but the frequency is 30 mins interval. Room is a little small but has free minibar for the first day which is recommendable. The hotel has no air con so the room gets a little stuffy and hot every time we return...
---
This is our second trip to interlaken and we again having the same nice experience in the hotel, being a couple our demands is simple to a nice cossy bed , good condition facilities and swim in early morning. The breakfast having lots of varieties and the hotel hospitality is so amazing. Locationwise, close to train station "interlaken west" and the hotel provides a ...
---
Since I was in Switzerland for work and had the weekend - and it was November - not prime tourism time in Switzerland - I was very torn as to where to go for the weekend. After much research and truly wanting to see the beauty of the Berner Oberland but being afraid of too many places closing - I went for Interlaken. Despite people saying it's too touristy I found it t...
---
We absolutely LOVE Interlaken! Staying at Hotel Metropole was the perfect location, right on the strip. We stayed on the 13th floor which for the best view on the city and made nights very quiet! We appreciated the staff being very helpful in giving us recommendations for what to see, where to eat, etc. Hotel Parking was no hassle to find very cheap, (8CHF/night). Over...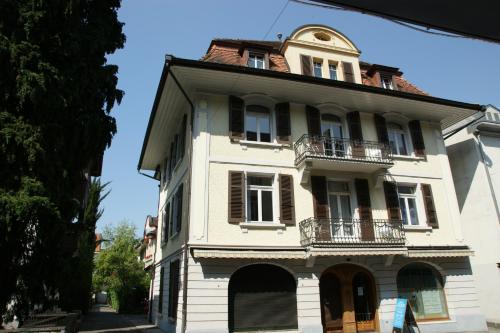 ---
The only thing that I feel needs to be improved is the check-in time. 4pm is too late. It's like check-in and will not be able to do any activity anymore for the day (especially we came in winter where the sun set was fast). We came early so we need to bother the staff to open the counter for us. At least to leave our bags. The girl staff/caretaker was really helpful....
---
It's a very short walk (5 min) from the Interlaken West Train Station, you just need to follow the path right next to the railway track. I booked for a family of 7 people but 2 couldn't make it. It can sleep 11 people so it was indeed very spacious. It was very clean, well kempt on arrival. TV quite small but didn't really matter as we were out most of the time. There ...
---
5-star hotels in Interlaken
---
Although many reviewers had recommended staying at one of the smaller car free villages we are really glad we chose to base ourselves at Victoria Jungfrau in Interlaken especially as we were travelling with large suitcases. The hotel is an excellent location within walking distance to both Train stations making it very easy to visit Jungfraujoch, Schilthorn or any of t...
---
Explore more travel vacation rentals
Find the Perfect Type of Accommodation
---
More about Interlaken
Interlaken has been a vacation favorite for several decades, being ideally located in the Bernese Oberland region, which is well connected by rail to major ski resorts and popular vacation destinations. The best way to access Interlaken is by rain from cities such as Geneva, Zurich, or via the airport some 50 kilometers away in Bern, then taking a train into Interlaken for those so inclined.
Tourism has been a major industry in Interlaken since the 1800s. The city offers relaxing summers by the waterfront, and exciting skiing in the winter, so people arrive in Interlaken all year-round. The
Interlaken City Center
is a great base from which to explore the rest of this city, and much of its sights are easy enough to reach. Among the impressive ancient sights is the
Tourist Museum
, which is housed in a heritage 17th-century home and located within easy reach of a stunning 12th-century Augustinian Monastery and Castle overlooking the stunning Interlaken country side.
A few kilometers outside of the city center is the popular
Mystery Park
, which is full of reconstructed Mayan and Egyptian ruins, giving this place a unique atmosphere by combining these otherworldly ruins in the midst of the Interlaken scenery.
Hotels in Interlaken range from exclusive stays at historic heritage homes to thrifty hostels to grand 5-star accommodations. There's bound to be something to suit almost every traveler's needs.
There's a lot more to see and do in Interlaken, and the best way to discover what else this city has to offer in terms of attractions, landmarks, and hotels is by exploring the interactive map on this page.