Hotels in Jerusalem
Our top picks
Lowest price first
Nearest to
Best reviewed
Fast facts about Jerusalem, Israel
| | |
| --- | --- |
| Accommodations | 1,385 properties |
| Popular hotel | ibis Jerusalem City Center |
| Popular area | City Center |
| Nightly rates from | $20 |
| Reasons to visit | Culture, Sightseeing, Museum & arts |
4-star hotels in Jerusalem
---
It was great and awesome a night to remember for days on. I spent plenty of timejust wLking around and seeing the differsnt features of the plaza and it wasnt my first time being there or second. Check in wAs quick and easy after booking with agoda. The elevatoris very convenient and runs quick and swift. The rooms are nicewith a great stunning veiw. Nice selection of ...
---
We stayed at the Prima Royale Hotel in Jerusalem in late April 2018. Very nice facility and great location. Very convenient to many bus routes, walking distance to the Old City. Hotel was clean and service was mostly very good. Only part of staff that was lacking was the front desk staff (several people), who didn't really seem engaged or interested in helping. Fortun...
---
Everyone needs to know how wonderful the Leonardo Hotel is. We had a very tiring day traveling and when we arrived at the front desk, Nour and Abrahem were exceptional. They were professional, friendly and went ABOVE AND BEYOND our expectations. This hotel has it all: copious rooms, strong wifi, free international home calls, delicious buffet breakfast, 24 hour gym, an...
---
Although I had stayed in several Jerusalem hotels before, I was concerned about staying in this one. It is close to the Central Bus Station, an area with which I was unfamiliar, and it used to be a run-down looking place. I was very pleasantly surprised to find a clean room and a desk clerk who was able and willing to answer all my questions in Hebrew, Russian and En...
---
THE STAFF, AND FACILITIES ARE EXTREMELY HELPFUL, COURTOUS, PLEASENT, UNDERSTANDING AND WILL GO OUT OF THEIR WAY TO SEE THAT YOUR STAY WILL BE COMFORTABLE AND RELAXING,AND AS WELL REWARDING FOR YOUR STAY IN JERUSALEM, ISRAEL. I WILL GIVE THIS HOTEL JERUSALEN GOLD A 12 STARS UPWARD.
---
The hotel was an excellent find. I have stayed several times in Jerusalem but this was the first time at this hotel and I'd cetainly stay again. The location is very convenient, 5 minutes by car or a 15 minute walk to the Old City, a few minutes more to the centre of town. The hotel is clean, modern and the bedrooms somewhat larger than comparable hotels in Jerusalem. ...
---
Our stay at Hotel Yehudah was amazing! The room was spectacular with a beautiful view. The staff were very friendly. The breakfast buffet was like if we had gone to a five star restaurant. And their Judaica/souvenir store in the lobby was fool of the most beautiful merchandise with very decent prices. We had a very pleasant, long chat with the gentleman who was working...
---
Luxury hotels in Jerusalem
---
The legacy and tradition of Waldorf Astoria implemented in the heritage of Jerusalem. The combination of the most modern hotel facilities in a building that preserves the styles of the multicultural heritage of ancient Jerusalem is a unique and marvelous experience.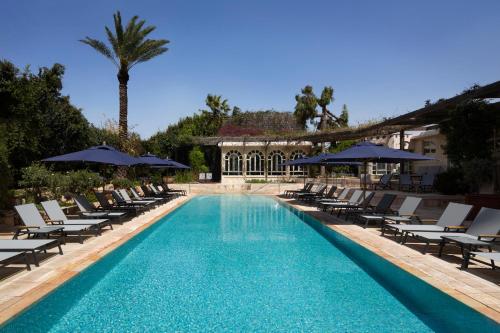 ---
Stayed here with my parents for our last two nights in Jerusalem- what a beautiful charming hotel full of character, such a change from the large corporate hotels we had stayed in on our group tour of Israel. As my Mum said staying at this hotel really made her feel like she was in the Middle East as opposite to the international hotels where we felt we could have been...
---
I reserved the hotel through Agoda whose website gave no indication that it is a strict Jewish establishment and heavily frequented by Orthodox Jewish families. I arrived mid-morning on a Saturday (Shabbat) and was required to complete the formalities in some strange back room as, apparently, the sight of Reception staff using computers would have been offensive to so...
---
Great hotel we always return to year after year. Superb staff. Very helpful. Best breakfast in Israel! An institution that has retained is reputation as a 5 star hotel. Lots of new hotels in Jerusalem, but the KD is in a category by itself.
---
Real reviews for hotels
A really old city with various cultural and religious flavours. There are many lesser known but equally captivating sites like The Garden Tomb in East Jerusalem.
Jerusalem is very interesting city for Australia, because Jerusalem has many history areas to learn, very nature, many of religious interest place, very good restaurants surround Jerusalem and very good eplace for sightseeing.
Fantastic city with everything you could want. Sightseeing, restaurants, religious and historic places to visit.
Jerusalem has all interesting categories: nightlife, romance, sights, shopping..... you will find anything you search for easily.
Been to the place 3 times and will always take another opportunity to visit as time allows. Such a blessing to visit the holy land.
it's a real experience, but try to avoid the Old citya nd Jeruslaem during Jewish and Christian religious events, Friday evening and most importand whole Saturday,beautiful,expensive, but worth to be seen
The Old City is a must see, and requires several visits to truly appreciate its magnificence. The Israel Museum has a world class collection.
Pot of cultures and religions, it is a charming city full of history with a lot of street life. Very good places to eat.
Jeruzalem, a spiritual city of love and hate. People love their own religion and hate each others. Too bad, but interesting to see.
The best place to travel in israel. As much as you visit jerusalem, you will find new places and atrections.
Everybody can find something interesting in Jerusalem: historical places of the Old city, eastern markets, restaurants, parks and museums.
I think there is plenty to see here in 3 days and most of the historical sites are quite close together so you can just walk everywhere.
Love the city, lots of things to do and attractions to visit. I love the Israel Museum - highly recommended! Would love to go back in the summer time!
Cleo
, Hong Kong SAR, China
City of great variety for all religions. Walking through the old city was an amazing experience both with the buildings of great charm and history centuries old.
nearly all the people are very nice and helpful in this city, including tourist. It may because of the culture and religious of the people.
Joanne
, Hong Kong SAR, China
---
Jerusalem hotels with breakfast
---
Frequently asked questions
What are the top hotels in Jerusalem next to Old City of Jerusalem?
Verified tourists to Jerusalem who stayed in close proximity to Old City of Jerusalem have given top rated assessments to The Templer Inn, Tzefania Hotel and מצודת המלכים- The Citadel of the Kings.
What properties in Jerusalem have the best views?
Verified vacationers to Jerusalem have given exceptional testimonials for the views at Hashimi Hotel, YMCA Three Arches Hotel and St Andrews Guest House.
What are the best properties around Jerusalem for group travelers?
Accommodations found in Jerusalem which are exceptionally rated by group travelers are ibis Jerusalem City Center, The Post Hostel and Brown Machne Yehuda, a member of Brown Hotels.
What hotels around Jerusalem are well rated with regards to facilities?
Resortslocated in Jerusalem that is highly rated for amenities include HolySuite Even Israel, Molho 2BR for 6 guests and White Moon Inn.
What accommodations in Jerusalem are well rated regarding room comfort and quality?
Resortsin Jerusalem which is highly rated for room comfort and quality include Hotel Yehuda, Colony Suites Jerusalem - 3 Hananya and Beit Avital Apart-hotel.
What are the prime hotels in Jerusalem with fitness center?
Accommodations which have a fitness center around Jerusalem that are exceptionally rated include Zimmer Baktana and Zimmer Baktana.
What's the best location with nature getaway in Jerusalem?
A top nature getaway area in Jerusalem is East Mountainside.
What's the best neighborhood for shopping in Jerusalem?
Top areas for your shopping spree in Jerusalem are Old City, City Center and Mamilla / King David.
How long should I plan my stay in Jerusalem?
In the past 3 months, vacationers plan their stay in Jerusalem for 1 nights on average. The best length for your travel will be determined by what you'd like to see and explore while there.
Are international travelers allowed into Jerusalem?
International visitors are allowed into Jerusalem, based on our most current information. Due to changing restrictions, we suggest you take a look at here for more information.
Is quarantine expected for fully vaccinated foreigners to enter Jerusalem?
Quarantine is not required for fully vaccinated tourists to enter Jerusalem from outside the country. For up-to-date and in depth information on travel restrictons, please check out the official websites of the travel authority or government of the country you wish to travel to, or go to here.
Is pre-departure covid test mandatory for unvaccinated travelers to enter Jerusalem?
Proof of negative pre-departure COVID-19 test may be required to enter Jerusalem. For updated and in depth information on travel restrictons, be sure to visit the official websites of the travel authority or government of the country you wish to visit, or go to here.
Explore more travel vacation rentals
More about Jerusalem
Discover the Best Time to Visit Jerusalem: A Guide to Seasonal Travel
Jerusalem is a city that can be visited any time of the year, but the best time to go depends on your preferences. The high season is from June to August, when the weather is warm and sunny, and the city is bustling with tourists. However, this is also the most expensive time to visit, and the crowds can be overwhelming. If you prefer cooler temperatures and smaller crowds, consider visiting in the shoulder seasons: April to May or September to November. During these months, the weather is mild, and the crowds are smaller, making it easier to explore the city's attractions. Winter in Jerusalem, from December to February, is the low season, and the city is less crowded. The temperatures can be chilly, but it's still a great time to visit if you don't mind bundling up. Plus, the holiday season brings festive decorations and celebrations to the city.
Unforgettable Things to Do in Jerusalem: Top Activities for Tourists
Jerusalem is a city rich in history and culture, with countless attractions to explore. One of the most popular sites is the Old City, a UNESCO World Heritage site that is home to the Western Wall, the Church of the Holy Sepulchre, and the Dome of the Rock. Another must-see attraction is the Yad Vashem Holocaust Museum, which is dedicated to the memory of the six million Jews who were killed during the Holocaust. The museum is a moving tribute to the victims and survivors of this tragic event. For a taste of modern Jerusalem, head to the Mahane Yehuda Market, a bustling marketplace that is a feast for the senses. Here, you can sample local cuisine, shop for souvenirs, and soak up the vibrant atmosphere of the city.
Where to Stay in Jerusalem: A Guide to the Best Neighborhoods
Jerusalem has a range of neighborhoods to suit every traveler's needs. The Old City is the most popular area for tourists, with its historic sites and winding streets. However, it can be crowded and noisy, so if you're looking for a quieter experience, consider staying in one of the city's other neighborhoods. The German Colony is a charming neighborhood with tree-lined streets, cafes, and boutique shops. It's a great place to stay if you want to be close to the city center but away from the crowds. If you're looking for a luxury experience, the Mamilla neighborhood is home to some of the city's most upscale hotels, including the Mamilla Hotel and the Waldorf Astoria Jerusalem. For a more budget-friendly option, the Talpiot neighborhood has a range of affordable hotels, including the Agripas Boutique Hotel and the Hillel 11 Hotel.
Why Agoda.com is the Best Way to Book Your Jerusalem Hotel
When it comes to booking your Jerusalem hotel, Agoda.com is the best option. With a wide range of hotels to choose from, you're sure to find the perfect accommodation for your needs and budget. Agoda.com also offers competitive prices and exclusive deals, so you can save money on your stay. Plus, their easy-to-use website makes it simple to compare hotels and make a reservation. And if you have any questions or concerns, Agoda.com's customer service team is available 24/7 to assist you.
Jerusalem Travel Tips: What to Know Before You Go
Before you travel to Jerusalem, there are a few things you should know. First and foremost, dress modestly when visiting religious sites. This means covering your shoulders and knees, and avoiding revealing clothing. It's also important to be respectful of the local culture and customs. For example, avoid eating or drinking in public during Ramadan, and refrain from smoking in public places. Finally, be prepared for security measures when visiting certain sites, such as the Western Wall. There may be bag checks and metal detectors, so plan accordingly.
Exploring Jerusalem's Culinary Delights: What to Eat and Where to Find It
Jerusalem is a foodie's paradise, with a range of delicious cuisine to sample. One of the most popular dishes is falafel, a deep-fried ball made from chickpeas and spices. You can find falafel stands all over the city, but some of the best are in the Mahane Yehuda Market. Another must-try dish is shakshuka, a breakfast dish made from eggs, tomatoes, and spices. You can find it at many cafes and restaurants throughout the city. For a sweet treat, try halva, a sesame-based candy that comes in a variety of flavors. You can find it at the Halva Kingdom in the Mahane Yehuda Market.
Getting to Jerusalem: A Guide to Transportation Options
Jerusalem is easily accessible by public transportation. If you're arriving by air, the Ben Gurion Airport is located about 50 minutes from the city center. From there, you can take a train or bus to Jerusalem. Once you're in the city, the best way to get around is by public transportation. The light rail system is a convenient and affordable option, with stops at many of the city's attractions. Taxis are also available, but they can be expensive.
Experience the Magic of Jerusalem: Top Reasons to Visit
There are countless reasons to visit Jerusalem, from its rich history and culture to its vibrant food scene and modern attractions. Whether you're interested in exploring religious sites, sampling local cuisine, or simply soaking up the atmosphere of this unique city, there is something for everyone in Jerusalem.
Jerusalem on a Budget: Tips for Affordable Travel
While Jerusalem can be an expensive city to visit, there are ways to save money on your trip. One of the best ways is to visit during the low season, when prices are lower and crowds are smaller. Another way to save money is to stay in a budget-friendly hotel, such as the Paamonim Hotel Jerusalem or the Bat Sheva Jerusalem by Jacob Hotels. Finally, consider eating at local markets and street vendors, which offer delicious food at affordable prices. With a little planning, you can enjoy all that Jerusalem has to offer without breaking the bank.