Discover the neighborhoods of Koror Island
---
4-star hotels in Koror Island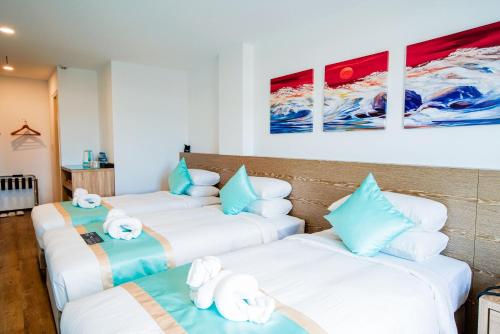 ---
fine location, with the supermarket right across the hotel, and good restaurants within the vicinity. the room and public spaces are quite clean, but can be improved (especially the smell of the bathroom). the helpful staff are the hotel's best asset.
---
A little bit far from downtown but close to several famous dive shops within walking distance. Only have wifi in public place, and very very slow. Overpriced.
---
we booked this for a nap and shower after a day tour out in the sea and before our flight to Guam at 2am. hotel is conveniently located in the city centre, walking distance to a few good resto.
---
Traveler impressions of Koror Island
If you're not here for SCUBA, don't come to Palau. The city is quite tragic and food is almost entirely inedible.
Not uch to see on this isle, but good hub for snoekeling and diving at surrounding seashores. Basic living cost is rather high except for alcoholic things.
---
Explore more travel vacation rentals
Find the Perfect Type of Accommodation
---
Other popular destinations in Palau
---
More about Koror Island
The largest city and commercial center of the country, Koror is most often where most visitors to Palau begin their journey into the rest of this spectacular region. Koror can be accessed via Koror Airport, which is located in a neighboring island and most hotels in Koror arrange for shuttle transfer services for their guests.
Water-based activities are of course the main attraction for the majority of visitors to Palau. Koror Island is the perfect gateway for some of the most incredible dives on this island, as well as being the perfect place to take part in unique activities such as mud baths at Milky Way or swimming with Jellyfish in the Rock Islands. Additionally, tourists can enjoy swimming with dolphins at
Dolphins Pacific
, which is the largest dolphin research facility in the world.
When not taking part in Koror's endless water activities, take a trip to
Koror Jail
to at least look at the traditional Palauan storyboards that have been made by inmates. This is one of the most unique places to buy a storyboard, although there are other conventional places to look at these hand carved wooden storyboards. Over the past decade, the prison has quickly become the most popular destination for tourists looking to take back a storyboard as a reminder of their time in Palau. It's important to note that one should always check their country's rules regarding importing items made with prison labor before making the final purchase. Either way, this is a unique and interesting way to do one's souvenir shopping, and one that has proven to be a huge favorite among many tourists. There's of course much more to do and see around Koror Island, and a lot of it is found underwater or at the neighboring islands.
Find out where the rest of Koror Island's hotels, attractions, and must-see destinations are located by exploring the interactive map on this page.