Hotels in Kotor
Our top picks
Lowest price first
Nearest to
Best reviewed
Fast facts about Kotor, Montenegro
| | |
| --- | --- |
| Accommodations | 1,590 properties |
| Popular hotel | Historic boutique hotel Cattaro |
| Popular area | Dobrota |
| Nightly rates from | $20 |
Luxury hotels in Kotor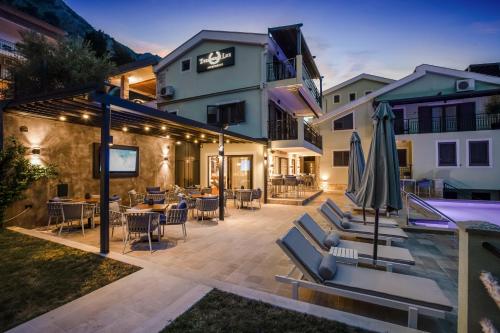 9.6 Exceptional
Based on 2 reviews
---
We had a wonderful stay at this appartment. The scenery is seconded to known and although it took us 15 minutes to walk into the Old Town it was a very pleasant walk along the bay. Douro the owner is a charming host and very hospitable host. We loved our stay here and although we decided not to hire a car but we saw many other areas of the coastline by bus which is...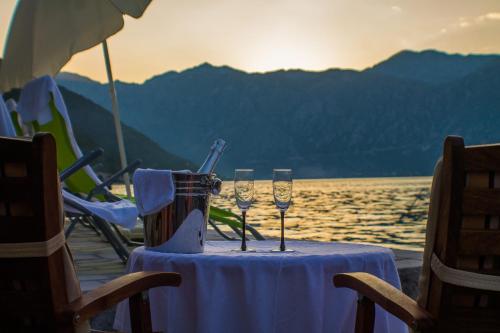 10 Exceptional
Based on 1 reviews
---
perfect, a very good moment, with very kind people We advice this place
---
Real reviews for hotels
Lovely old town, good restaurants, breathtaking view. I'd recommend a trip to the fortress, it's not an easy climb, but sigths are worth it.
---
Frequently asked questions
What's the normal price of a hotel in Kotor?
The typical price for a 3-star hotel in Kotor is USD 53. The average price for a 4-star hotel in Kotor is USD 95. The average price for a 5-star resort in Kotor is USD 316.
What's the average price of a resort in Kotor this evening?
The typical price for a 3-star hotel in Kotor this evening is USD 48. The average price for a 4-star resort in Kotor tonight is USD 93. The typical price for a 5-star resort in Kotor this evening is USD 66.
What are the best properties in Kotor for couples?
Accommodations in Kotor that are exceptionally rated by couples include HOSTEL PUPA, Hyatt Regency Kotor Bay Resort and Historic boutique hotel Cattaro.
What are the best properties in Kotor for families?
Hotels in Kotor that are significantly ranked by families include HOSTEL PUPA, Hyatt Regency Kotor Bay Resort and Historic boutique hotel Cattaro.
What's the top area in Kotor to stay in?
Favorite communities among vacationers staying in Kotor include Kotor Old Town, Dobrota and Skaljari.
What are the recommended places to stay around Kotor for group visitors?
Hotels located in Kotor which are highly rated by group travelers are HOSTEL PUPA, Hyatt Regency Kotor Bay Resort and Historic boutique hotel Cattaro.
What accommodations in Kotor are very highly rated with regards to facilities?
Resortsfound in Kotor that is exceptionally rated with regards to amenities include Apartments Residence Portofino, Apartments Simun and Apartments Castello.
What are the top rated resorts located in Kotor with airport transfer?
Resorts which has airport transfer found in Kotor that are exceptionally rated include Villa Forest & Blue, Old House Morinj and Old House Morinj.
What are the very best hotels in Kotor with fitness center?
Accommodations that have fitness center around Kotor that are highly rated include Villa 177, Villa Banicevic and Apartment OAZA.
Where can I find rooms in Kotor which has free cancellation policy?
Yes, you'll find most hotel rooms offer free cancellation rates, in which you will receive a full refund if you cancel prior to the deadline. Filter your search by free cancellation to find flexible hotel deals in Kotor.
Are international visitors allowed into Kotor?
International travelers are allowed into Kotor, according to our most updated information. Due to changing restrictions, we suggest you have a look at here for more details.
Is pre-departure covid test expected for unvaccinated foreigners to enter Kotor?
Proof of negative pre-departure COVID-19 test is not required to enter Kotor. For updated and in depth information on travel restrictons, remember to take a look at the official websites of the travel authority or government of the country you wish to visit, or go to here.
Explore more travel vacation rentals
More about Kotor
Discover the Hidden Gems of Kotor, Montenegro
Nestled in the heart of the Adriatic Sea, Kotor is a charming coastal town in Montenegro that boasts stunning views of the surrounding mountains and crystal-clear waters. The town is a UNESCO World Heritage Site and is known for its well-preserved medieval architecture, including the impressive Kotor Fortress that dates back to the 6th century. Aside from its historical sites, Kotor is also home to several hidden gems that are worth exploring. One of these is the charming village of Perast, located just a short drive from the town center. Here, you can find the beautiful Our Lady of the Rocks church, which sits on a small island in the middle of the bay. Another must-visit spot is the Blue Cave, a natural wonder that can be accessed by boat and is known for its glowing blue waters.
Uncover the Best Time to Visit Kotor and Why
The best time to visit Kotor is from May to September, when the weather is warm and sunny, and the sea is perfect for swimming. During this time, the town comes alive with festivals and events, including the Kotor International Summer Carnival and the KotorArt Don Branko's Music Days. While summer is the peak season, it is also the busiest and most expensive time to visit. If you want to avoid the crowds and save some money, consider visiting in the shoulder season, which is from April to May and September to October. During these months, the weather is still pleasant, and you can enjoy the town's attractions without the crowds.
Explore the Top Things to Do in Kotor, Montenegro
There are plenty of things to do in Kotor, whether you're interested in history, culture, or outdoor activities. One of the top attractions is the Kotor Fortress, which offers panoramic views of the town and the surrounding bay. The hike to the top is steep, but the views are well worth the effort. Another must-visit spot is the Maritime Museum, which is housed in a 17th-century palace and showcases the town's rich maritime history. For a more cultural experience, head to the St. Tryphon Cathedral, which is a stunning example of Romanesque architecture and is home to several impressive works of art. If you're looking for outdoor activities, Kotor has plenty to offer. You can rent a kayak or paddleboard and explore the bay, or take a boat tour to some of the nearby islands. For a more challenging adventure, consider hiking the nearby Vrmac Mountain, which offers stunning views of the bay and the surrounding mountains.
Travel Tips for Your Next Trip to Kotor, Montenegro
If you're planning a trip to Kotor, there are a few things to keep in mind. First, the town is quite small, so you can easily explore it on foot. However, the streets can be steep and narrow, so be sure to wear comfortable shoes and be prepared to climb some stairs. Another thing to keep in mind is that the town can get quite crowded during the peak season, so be prepared for long lines and wait times. To avoid the crowds, consider visiting early in the morning or late in the afternoon. Finally, be sure to try some of the local cuisine while you're in Kotor. The town is known for its fresh seafood and Mediterranean-inspired dishes, including grilled fish, octopus salad, and black risotto.
Where to Stay in Kotor: Your Ultimate Accommodation Guide
When it comes to choosing accommodation in Kotor, there are plenty of options to suit every budget and travel style. For budget travelers, there are several hostels and guesthouses in the town center, including the Old Town Youth Hostel and Montenegro Hostel B&B Kotor. If you're looking for something more luxurious, there are several high-end hotels and resorts in the area. One of the top options is the Blue Kotor Bay Premium Spa Resort, which offers stunning views of the bay and a range of amenities, including a spa, fitness center, and several restaurants. For those who want to experience local life, consider staying in an apartment or guesthouse outside of the town center. Apartments Đukic is a great option, as it is located in a quiet residential area just a short walk from the town center.
Indulge in the Best Food and Drinks in Kotor, Montenegro
Kotor is a food lover's paradise, with plenty of delicious local dishes and drinks to try. One of the must-try dishes is the black risotto, which gets its distinctive color from the squid ink that is used to make it. Another popular dish is the grilled fish, which is often served with a side of fresh salad and homemade bread. To wash down your meal, be sure to try some of the local wines and spirits. Montenegro is known for its rakija, a fruit brandy that is often served as an aperitif or digestif. Another popular drink is the local wine, which is made from the Vranac grape and has a rich, full-bodied flavor.
Why Book Your Kotor Hotel with Agoda.com?
When it comes to booking your hotel in Kotor, Agoda.com is the best choice. With a wide range of options to suit every budget and travel style, you're sure to find the perfect accommodation for your trip. Agoda.com also offers great deals and discounts on hotels in Kotor, so you can save money while still enjoying all that the town has to offer. Plus, with 24/7 customer support and a user-friendly website, booking your hotel with Agoda.com is easy and hassle-free.
How to Get to Kotor, Montenegro: Your Ultimate Guide
Getting to Kotor is easy, thanks to its convenient location and several transportation options. If you're coming from abroad, the closest airport is Tivat Airport, which is located just 7 kilometers from the town center. You can also fly into Dubrovnik Airport, which is about 90 kilometers away. Once you arrive, you can take a taxi or shuttle bus to Kotor, or rent a car and drive yourself. Another option is to take the bus, which runs regularly from major cities in Montenegro and neighboring countries.
Discover the Best Ways to Travel Around Kotor, Montenegro
While Kotor is a small town, there are still several ways to get around and explore the surrounding area. One of the best ways is to rent a car, which gives you the freedom to explore at your own pace. You can also take a taxi or use public transportation, including buses and ferries. If you're interested in exploring the bay, consider taking a boat tour or renting a kayak or paddleboard. This is a great way to see some of the hidden gems of Kotor and get a different perspective on the town and its surroundings.