Hotels in Kuching
Our top picks
Lowest price first
Nearest to
Best reviewed
See all
Astana Wing - Riverside Majestic Hotel
Kuching City Center,Kuching - View on map
Free Wi-Fi
Free parking
Restaurant
Bar
24-hour room service
Breakfast
Kitchen
Luggage storage
"ROOM IS CLEAN. THE BED IS VERY COMFY. STAFF ALSO GIVE GOOD HOSPITALITY TO US. THE HOTEL JUST IN FRONT OF WATERFRONT SO YOU CAN WALK BY TO SEE THE SHOW. THIS HOTEL ALSO NEAR THE KUCHING STATUE. EVERYTHING IS GOOD ABOUT THIS HOTEL. WILL PLAN TO STAY HERE SOON. THANK YOU SO MUCH TO ALL MANAGEMENT AND STAFF. THUMBS UP!"
Show more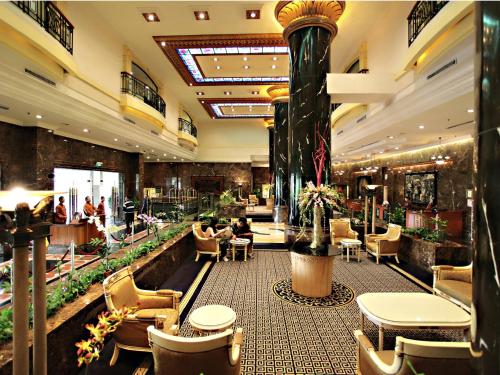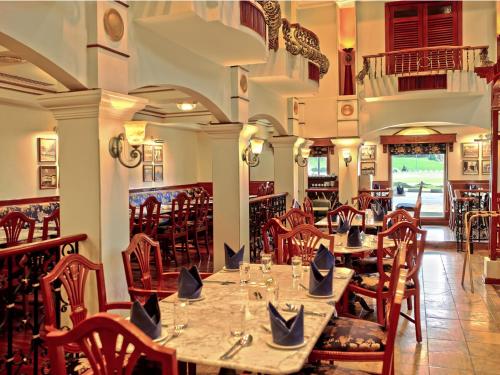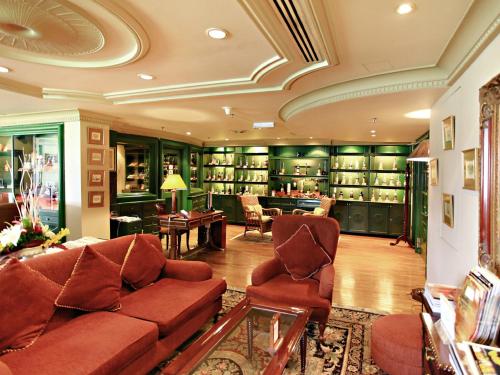 See all
Merdeka Palace Hotel & Suites
Kuching City Center,Kuching - View on map
Free Wi-Fi
Swimming pool
Free parking
Restaurant
Family room
24-hour room service
Breakfast
Luggage storage
"Perfect location.it is located at the centre of Kuching town. I stayed at 3 rooms apartment. The apartment are big and kids are enjoy playing at hall.swimming pool are a bit small but okay for small kids The only problem with this apartment is the rooms are extremely cool.We closed the aircondition but still cool. Cannot control temp Aircond temperature. Overall this is the BEST hotel in Kuching. Highly recommended. "
Show more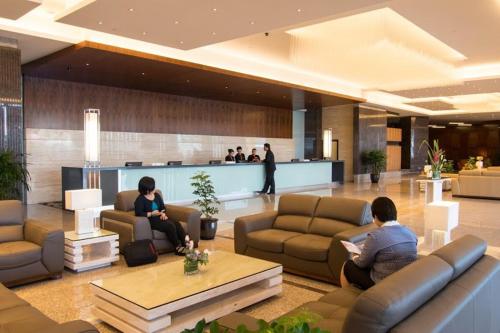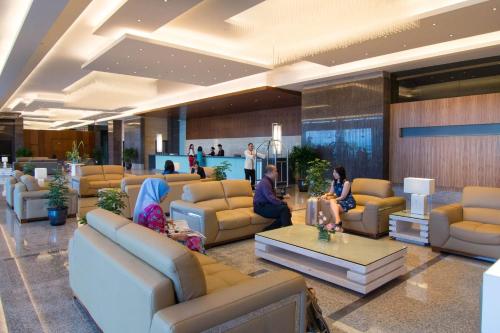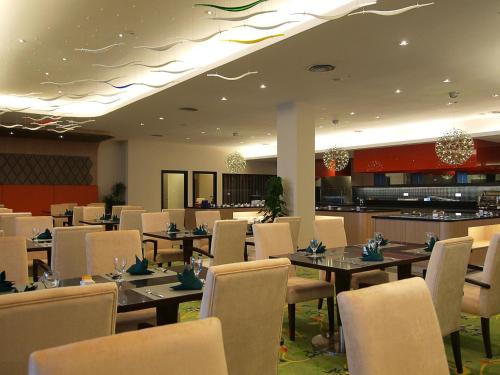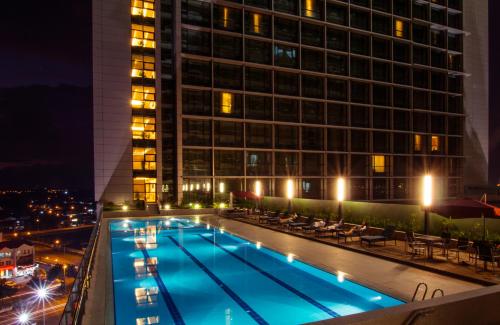 See all
Imperial Hotel
Kuching City Center,Kuching - View on map
Free Wi-Fi
Pool with view
Free parking
Fitness center
Restaurant
Massage
Sauna
Steamroom
"It has been a very wonderful experience to stay in this newly opened hotel in Kuching on my 2014 Christmas holidays with my family members. 1. The room is very cosy and spacious, particularly the bathroom!! 2. Buffet breakfast are served in wide varieties of food choices, among that, nasi lemak is a must try!! 3. The new modernized Boulevard shopping mall located adjacent to the hotel is an added pleasure for shopping spree. Everything is definitely worth for value and for sure, the hotel is highly recommended for every traveller, no matter whether you are on holidays or official trip."
Show more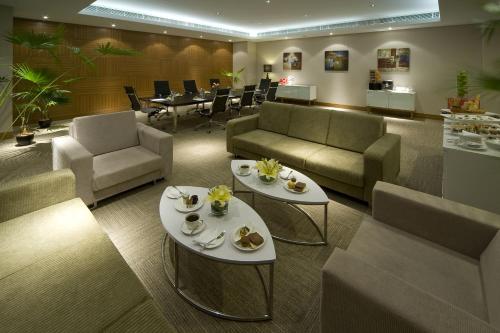 See all
Pullman Kuching Hotel
Kuching City Center,Kuching - View on map
Free Wi-Fi
Pool with view
Car parking
Fitness center
Restaurant
Spa
Massage
Sauna
"I have been staying in many different hotels in Kuching for the past many years whenever I visited the Cat City. This time, after a fantastic experience staying in Pullman Montparnasse (Paris), I decided to give Pullman Kuching a try. I must say the 2 night stay in Pullman Kuching did not disappoint me at all. With my husband and two little kids, we stayed there for 3 days 2 nights. And using the Agoda online booking, we got a rather good deal. The hotel is new, and elegant. I like the room with no carpet, instead just the parquet wooden floor. In the long run, it will definitely prevent the room being smelling soggy and bad odour, especially in Malaysia's humid weather. I particularly like the toilet which is big and spacious, and the water pressure is good. A shower hose in a cubicle is good when bathing my two little kids, instead of the usual fixed shower head or bath tub. The king sized bed is nice and firm. The staff at the counter are courteous and helpful. Though, I must say the glass roof concept occasionally make the lobby area feel hot and warm, especially in the afternoon. All in all, I highly recommend this hotel for tourists traveling to Kuching."
Show more
Avg price per night
$ 110
See all
56 Hotel
Kuching City Center,Kuching - View on map
Free Wi-Fi
Free parking
Restaurant
Garden
Room service
Breakfast
Airport transfer
Shuttle service
"It was my second time staying in this hotel. This hotel is very convenient; free wifi, free breakfast, free airport pick up (but you need to book through Agoda and key in that info in the agoda booking page, otherwise you will be charged RM 18 for airport pick up), very comfortable room, not too small, but with comfortable bed... It is very affordable and value for what you could get compared to other hotels in Kuching. "
Show more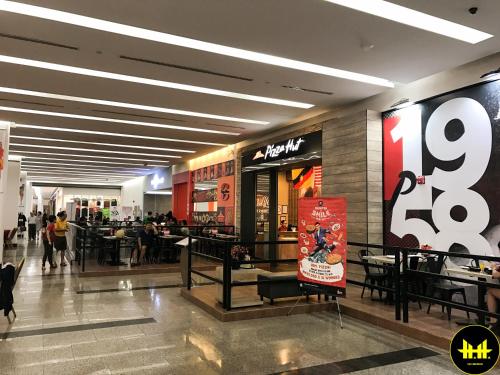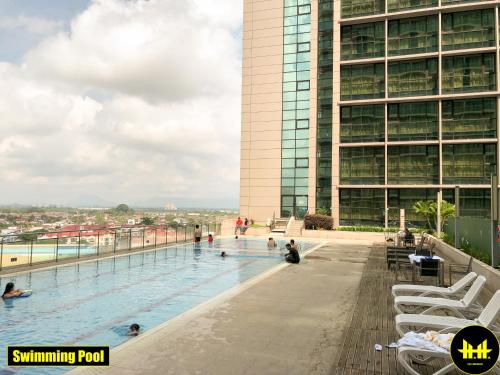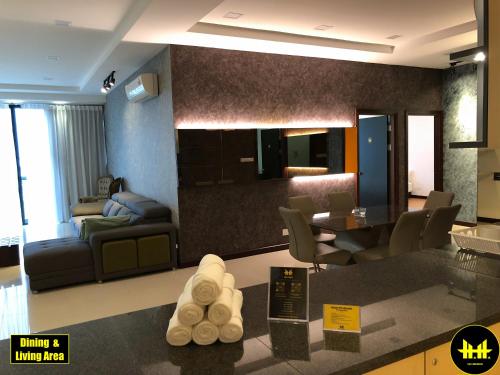 See all
Apartments @ Imperial Suites Kuching
Kuching City Center,Kuching - View on map
Pool with view
Free parking
Fitness center
Restaurant
Spa
Massage
Sauna
Steamroom
"Pls consider abt this apartment if u are travelling to kuching and staying in kuching area. This apartment really big for a family. Its come with 3 bedroom, suitable for 6 adults. The house is clean and fully furnish. You can even cook if u wish too. Somemore the environment is peaceful even next to a shopping mall. Will book the apartment again next time!"
Show more
See all
Grand Margherita Hotel
Kuching City Center,Kuching - View on map
Free Wi-Fi
Free parking
Fitness center
Restaurant
Bar
Pool (kids)
Family room
Poolside bar
"I chose Margherita Hotel for my experience in Rain Forest Musical Event was due to best online promotion room rates among the hotels in Kuching. Our experience with the hotel hospitality was when we requested for room change and the attention given was superb. We were granted and lead to the ideal room that we requested. We were also elated as we found out that Margherita Hotel would be the 1st pick up point for shuttle bus to the Rain Forest Event and more is also the 1st drop off point after the event over. In other words, we gets the best seat that we wish on the way to Sarawak Cultural Village and able to rest early once the event over. As this was our 1st trip to Kuching, staying in Margherita Hotel helps us to save lots of time to do our shopping and enjoy the town scenery as the location of the hotel have easy access and nearby to many attraction places. Thank you Agoda and Margherita Hotel. "
Show more
See all
Puteri Wing - Riverside Majestic Hotel
Kuching City Center,Kuching - View on map
Free Wi-Fi
Swimming pool
Free parking
Fitness center
Restaurant
Bar
Pool (kids)
Salon
"I was in Kuching for a 3D2N business trip. Everyone was very friendly and I definitely liked it here. Riverside Majestic Hotel is locates at the centerpoint of downtown Kuching. Short walking distance to various amenities. For example, there are 7-11 and Gloria Jeans Cafe right across the street. Cinema is available just next to the hotel, on the 4th floor. Lots of great and scrumptious local delights worth explore (day and night). Topspot Food Court serves cheap but fresh seafood, Kolo Mee and Sarawak Laksa are available within 2km radius. I definitely enjoy various night lights along the riverfront which has numerous spot (e.g. city mosque and Astana) where you can stop and soak it all in. Overall it was a pleasant trip in Kuching. Hotel staff were very efficient and amicable, they smile all the time and be ready to assist travellers always."
Show more
Avg price per night
$ 107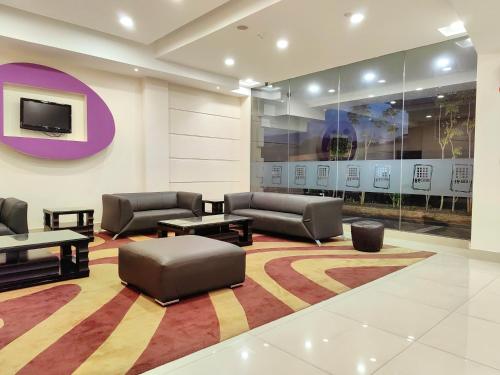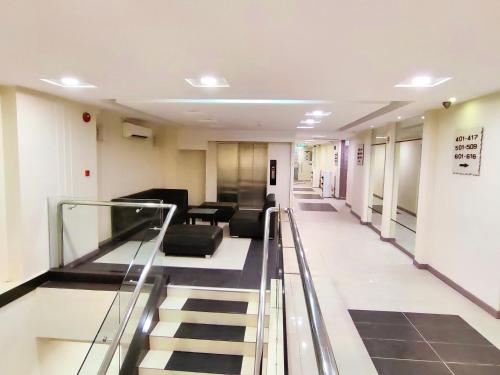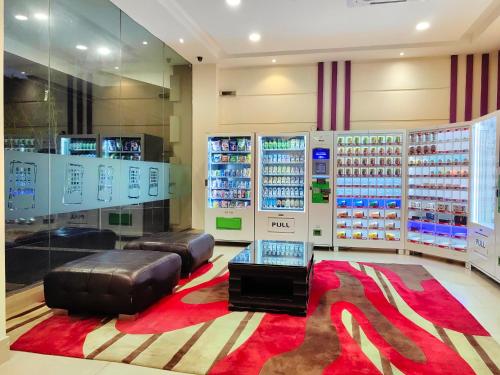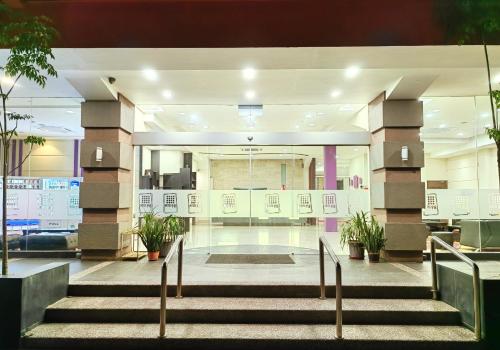 See all
Hotel 98
Kuching City Center,Kuching - View on map
Free Wi-Fi
Free parking
Family room
Tours
Luggage storage
Front desk [24-hour]
Laundry service
Safety deposit boxes
"Well, obviously for the price paid and the service provided (the hotel provides pick up and drop off at airport for a minimal fee), this is the best value hotel in Kuching. Bed is rather comfortable, good shower, the hotel itself is very presentable. I had stayed at numerous hotels of different classes around the world, so for the price and the services you get, I would really recommend this hotel. Full credit is given to Allen Tan, the Manager who was very efficient in email correspondence, for his professionalism. Cheers! Definitely will stay at this hotel when I visit Kuching again."
Show more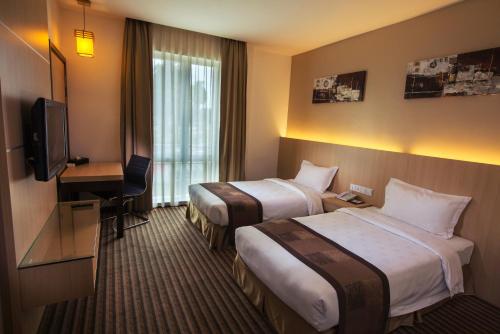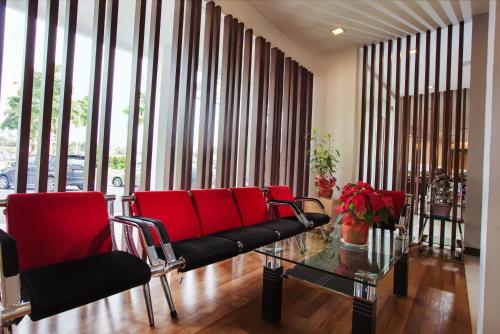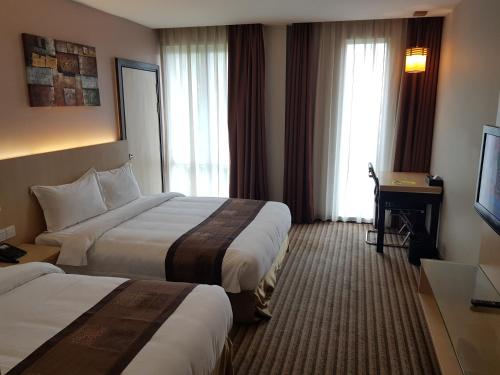 See all
DeHome Boutique Hotel
Kuching City Center,Kuching - View on map
Free Wi-Fi
Free parking
Restaurant
Family room
Salon
Room service
Breakfast
Luggage storage
"we stayed in this hotel on our very first trip to sarawak. our room for 3 was spacious,clean and quiet with all the usual amenities. we got clean towels every day and the cleaning staff always replenished our bottles of water when they cleaned up the room. the location of this hotel is wonderful, because of the proximity to the city centre without being noisy as it is just outside the central area. the staff was extremely helpful and friendly,helping us locate a good spa and even haggling for the best priced offers for us.they also called taxis whenever we needed them, making our trip highly convenient and enjoyable. the breakfast served here is local fare, consisting of rice and noodle dishes alongside white bread with a couple spreads, local cakes and seasonal fruits. the cafe staff ensure that the food is replenished as soon as the trays are emptied. this is all good, but the hotel wouldn't go wrong with an addition of more western options such as scrambled eggs, fried tomatoes and cereal, which might appeal to international travellers as well. all in all, this new hotel has great value for money and i'm sure will be popular with all kinds of travellers as it grows."
Show more
Fast facts about Kuching, Malaysia
| | |
| --- | --- |
| Accommodations | 1,465 properties |
| Popular hotel | Merdeka Palace Hotel & Suites |
| Popular area | Kuching City Center |
| Nightly rates from | $5 |
| Airport | Kuching International Airport |
| Reasons to visit | Culture, Sightseeing, Nature |
Frequently asked questions
What are the best resorts in Kuching for couples?
Places to stay in Kuching that are significantly rated by couples include Merdeka Palace Hotel & Suites, Imperial Hotel and Raia Hotel Convention Centre Kuching.
What resorts in Kuching have the best breakfast?
Verified vacationers to Kuching have given remarkable reviews for the breakfast at SPOT ON 89904 Marco Polo's, Check In Lodge and Imperial Hotel.
What are the most appropriate properties found in Kuching for lone vacationers?
Hotels around Kuching which are exceptionally rated by individual tourists are Merdeka Palace Hotel & Suites, Imperial Hotel and Raia Hotel Convention Centre Kuching.
What are the preferred properties found in Kuching with swimming pools?
Verified visitors to Kuching have given excellent ratings for the swimming pools at The Village House, UCSI Hotel Kuching and Pullman Kuching Hotel.
What are the most appropriate places to stay around Kuching that have restaurants?
Accommodations which have restaurants located Kuching which are very highly rated include Nick Homestay @Boulevard imperial suites (3bedroom and Nick Homestay @Boulevard imperial suites (3bedroom.
What are the most suitable properties in Kuching that have a private beach?
Hotels with a private beach found in Kuching that are highly rated include Damai Lagoon Resort, Damai Lagoon Resort and Damai Lagoon Resort.
What are some upcoming holidays in Kuching?
Holidays that are coming up in city_name consist of Christmas Day on 12/25/2023, Chinese New Year on 2/10/2024, and Chinese New Year, Day 2 on 2/11/2024.
Are foreign visitors allowed into Kuching?
International travelers are allowed into Kuching, based on our most current information. Due to changing restrictions, we advise you to check out here for further details.
Is evidence of vaccination necessary to enter Kuching?
Proof of COVID-19 vaccination is not required to enter Kuching from outside the country. For further details, please reach out to local authority or go to here.
Is pre-departure covid test necessary for unvaccinated travelers to enter Kuching?
Proof of negative pre-departure COVID-19 test may be required to enter Kuching. For up-to-date and in depth information on travel restrictons, make sure you visit the official websites of the travel authority or government of the country you wish to visit, or go to here.
What vaccines are accepted in Kuching?
Moderna, Pfizer/BioNTech, CanSinoBIO, Janssen (Johnson & Johnson), Oxford/AstraZeneca, Sinopharm/BIBP, Sinovac are currently acknowledged and accepted by the national health authority of the country that includes Kuching.
Explore more travel vacation rentals
More about Kuching
Discovering the Fun Facts of Kuching, Malaysia
Kuching, the capital city of Sarawak, is one of the most beautiful cities in Malaysia. The name Kuching means "cat" in Malay, and the city is famous for its cat statues, which can be found all around the city. The city has a rich history and is home to many museums, including the Sarawak Museum, which is one of the oldest museums in Southeast Asia. Kuching is also known for its vibrant arts scene, and visitors can enjoy live performances, exhibitions, and cultural events throughout the year. Additionally, Kuching is a city that is proud of its heritage, and it is home to many traditional crafts such as pottery, weaving, and woodcarving.
Reasons Why Kuching Should Be Your Next Travel Destination
Kuching is a city that has something to offer everyone. If you are a nature lover, you can explore the Bako National Park, which is home to a diverse range of wildlife, including proboscis monkeys, bearded pigs, and monitor lizards. If you are interested in history, you can visit the Sarawak Cultural Village, which showcases the cultural heritage of Sarawak's various ethnic groups. If you are a foodie, you can indulge in the delicious local cuisine, which includes dishes such as laksa Sarawak, kolo mee, and Sarawak pepper steak. Kuching is also a great destination for families, as there are many family-friendly activities, such as visiting the Kuching Waterfront, which is a popular spot for picnics and strolls.
How to Get to Kuching: Your Ultimate Travel Guide
Kuching is easily accessible by air, with Kuching International Airport serving as the main gateway to the city. There are direct flights to Kuching from major cities in Malaysia, as well as from Singapore, Brunei, and Indonesia. Once you arrive at the airport, you can take a taxi or a bus to the city center. Alternatively, you can also take a ferry from the nearby town of Sibu, which is located on the island of Borneo.
Top Fun Things to Do in Kuching for an Unforgettable Trip
There are many fun things to do in Kuching that will make your trip unforgettable. One of the top attractions in the city is the Kuching Waterfront, which is a scenic promenade that offers stunning views of the Sarawak River. Visitors can enjoy a leisurely stroll along the waterfront, take a river cruise, or enjoy a meal at one of the many restaurants and cafes that line the promenade. Another must-visit attraction is the Semenggoh Wildlife Centre, which is a sanctuary for orangutans that have been rescued from captivity. Visitors can observe the orangutans in their natural habitat and learn about the conservation efforts that are being undertaken to protect these endangered primates.
Why Book Your Kuching Hotel with Agoda.com
When it comes to booking your Kuching hotel, Agoda.com is the best choice. Agoda.com offers a wide range of hotels in Kuching, from budget-friendly options to luxurious five-star properties. With Agoda.com, you can easily find the perfect hotel that meets your needs and budget. Additionally, Agoda.com offers great deals and promotions on Kuching hotels, so you can save money on your accommodation and have more to spend on sightseeing and activities.
The Best Time to Visit Kuching: A Traveler's Guide
The best time to visit Kuching is between March and October, which is the dry season. During this time, the weather is sunny and pleasant, with temperatures averaging around 30°C. The rainy season in Kuching is between November and February, and while it can still be a great time to visit, you should be prepared for occasional showers. If you are planning to visit Kuching during the rainy season, make sure to bring an umbrella or raincoat.
10 Essential Tips for Travelers Visiting Kuching
If you are planning a trip to Kuching, there are a few things that you should keep in mind to ensure that your trip is enjoyable and hassle-free. First, make sure to pack comfortable shoes, as there are many attractions in Kuching that require a lot of walking. Second, make sure to bring insect repellent, as there are mosquitoes in Kuching that can carry dengue fever. Third, be respectful of the local culture, and dress modestly when visiting religious sites. Fourth, try the local cuisine, as Kuching is known for its delicious food. Fifth, be prepared for the heat, and bring sunscreen and a hat. Sixth, learn a few basic Malay phrases, as it can be helpful when communicating with locals. Seventh, be aware of your surroundings, and take precautions to ensure your safety. Eighth, bring a camera, as there are many beautiful sights in Kuching that are worth capturing. Ninth, visit the local markets, as they offer a glimpse into the daily life of the locals. Tenth, book your Kuching hotel with Agoda.com to ensure that you get the best deal on your accommodation.
Where to Stay in Kuching: A Comprehensive Guide
Kuching offers a wide range of accommodation options, from budget-friendly guesthouses to luxurious five-star hotels. If you are looking for a budget-friendly option, there are many guesthouses and hostels in the city that offer clean and comfortable rooms at affordable prices. If you are looking for a mid-range option, there are many three- and four-star hotels in Kuching that offer great value for money. For those who are looking for a luxurious experience, there are many five-star hotels in Kuching that offer world-class amenities and services. Some of the top hotels in Kuching include the Imperial Hotel, the Grand Margherita Hotel, the Pullman Kuching Hotel, the Merdeka Palace Hotel & Suites, and the Puteri Wing - Riverside Majestic Hotel.
What to Eat in Kuching: A Foodie's Guide to Sarawak Cuisine
Kuching is known for its delicious cuisine, which is a fusion of Chinese, Malay, and indigenous flavors. One of the must-try dishes in Kuching is laksa Sarawak, which is a spicy noodle soup that is made with a rich, coconut-based broth. Another popular dish is kolo mee, which is a dry noodle dish that is topped with minced pork, meatballs, and crispy fried onions. If you are a fan of seafood, make sure to try the Sarawak pepper crab, which is a local specialty that is made with black pepper and other spices. For dessert, try the ABC, which is a shaved ice dessert that is topped with sweet corn, red beans, and syrup.
Getting Around Kuching: A Transportation Guide for Travelers
Kuching is a relatively small city, and it is easy to get around on foot or by taxi. Taxis in Kuching are relatively cheap, and they are a convenient way to get around the city. Alternatively, you can also take the local buses, which are operated by the Kuching City Public Transportation Company. The buses are clean and comfortable, and they offer a cheap way to get around the city. If you are planning to explore the surrounding areas, you can also rent a car or a motorbike, which will give you more freedom and flexibility.