Fast facts about Labuan Bajo, Indonesia
| | |
| --- | --- |
| Accommodations | 188 properties |
| Popular hotel | Eco Tree O'tel |
| Popular area | Labuan Bajo |
| Nightly rates from | $6 |
| Airport | Komodo Airport |
Discover the neighborhoods of Labuan Bajo
---
4-star hotels in Labuan Bajo
---
Very nice hotel close to town. Beautiful garden with big pool and a small private beach. The room is simple but equipped with everything you need. The bed was comfortable. Breakfast was included and had an Asian touch, which was nothing negative for us. The quality of the food was delicious, as well for dinner. A very good value for money. Very friendly staff in the ...
---
Although a discount, we paid the price for a quite high quality standard (160 Euros/night for a couple incl. breakfast) but we got very poor services. It was a scam. Food (lunch and diners) are to be avoid but you need to take the boat escort to reach Labuan Bajo and they make the fee expensive. We are used to travel a lot and this is the first time we see such a poor ...
---
We loved our stay here, although we didn't use the restaurant - the prices seemed insanely high (e.g. 91,000 for a big Bintang when service charge and tax is taken into consideration). Room had a fridge though, so it was easy enough to buy beers in town and store them in our room. A scooter is useful for easy and convenient transportation to Labuan Bajo (5-10 minutes d...
---
There were some troubles about my next day hotel booking, so I need to make local phone call immediately. Micheal, the manager, took one hour to help me to top up up my SIM card. This is the best manager I'd met in my years of traveling. The room is clean and food is delicious. I'll recommend this hotel!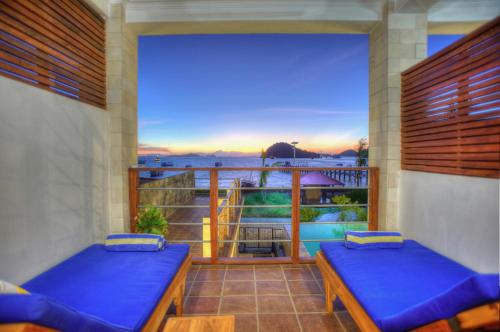 ---
Labuan Bajo is not a town that you would want to visit as a destination unless you plan to trek or dive in Komodo National Park in my honest opinion. Blue Marlin handles the acomodations and diving side expertly. The hotel accommodations are excellent, the rooms are clean and modern with outstanding views of the picturesque harbor and beyond. The deluxe room features a...
---
My wife and I celebrated our wedding anniversary and spent 4 nights at the Seraya Resort. The bungalow we stayed in was beautiful and the white sand beach was one of the nicest of anywhere we have been and we've been traveling the world for 30+ years. The snorkeling was wonderful and there were all kinds of fish. We saw a baby shark, sea snake, lion fish, parrot fish,...
---
5-star hotels in Labuan Bajo
---
this hotel might not look like much from the outside but it makes up for that in every other way. the pool is amazing, the beach is a stones throw away, the rooms are luxury... basically if i have nothing bad to say about it. i suppose one thing is that it is the furthest hotel (in that area) from labuan bajo but it is still only a 5-10min drive and they give you a ...
---
From the moment I arrived at Plataran Komodo, it was just perfect. Anton, the duty manager, instantly makes you feel at ease and looks after any issues or questions you might have. The place itself is situated outside of Labuan Bajo on Waicecu Beach. It's a 15 minute boat ride from Labuan Bajo, or you can take a car (however it s quite bumpy road.) I arranged a day tri...
---
18 months ago my girlfriend and I stepped foot on Kanawa for the first time. 18 months ago this simple little island stole our hearts and became my favourite place on earth. So much so that I planned a wedding there, 50 guests, white sandy beaches, life, love and simplicity, it would have been perfect. Having loved Kanawa so much we decided to return last week, thi...
---
Labuan Bajo's best hotels with breakfast
---
Explore more travel vacation rentals
Find the Perfect Type of Accommodation
---
More about Labuan Bajo
Labuan Bajo is located in Flores, on the western region of Indonesia's East Nusa Tenggara Province. The city is served by
Komodo Airport
, which is located just a couple of kilometers outside of town and is served by several of the local airlines and some regional carriers as well.
This small city is a favorite destination among tourists, especially those traveling to the popular Komodo Island, which is a fantastic and very popular vacation destination for those looking to spend a few days basking in the sun, sand, and water activities of the beach. Since Labuan Bajo is the most common starting point for most of the surrounding islands, it's relatively easy to get a ferry or boat departing several times a day for islands such as Komodo Island and others. There are several hotels near the
Ferry Port
, so travelers who are going to Labuan Bajo specifically for this reason can enjoy a large selection of accommodations all within easy reach of the terminal.
Of course, most travelers to Labuan Bajo are eager to see the komodo dragons, so a visit to the Komodo National Park is certainly on most itineraries. There are several ways to reach the national park, and one of the easier ways may be to first go to
Kanawa Island
, then organize a tour of the national park through a local tour group or directly through the hotel. Either way, it's sure to be a spectacular experience and not one to be missed while exploring the wonders of Labuan Bajo.
There's much more to see and do around this small and interesting city, and the interactive map on this page is a great way to start planning the perfect vacation in Labuan Bajo.