10 best hotels in Laguna
Our top picks
Lowest price first
Nearest to
Best reviewed
See all
Seda Nuvali - Staycation Hotel
Santa Rosa,Laguna - View on map
"It was the best trip i had since i got back in Laguna. Seda has exceeded my expectations. The staff first and foremost were really nice. The guy at the front desk when i checked in (forgot his name) has been really nice. The girls who attended during the breakfast is excellent as well. Always with a beautiful smile. I was travelling with my french friend and i am proud to say that we were both highly satisfied with our stay. I am definitely going back and will definitely be having Seda as my favorite Hotel whenever i am in Laguna. Hope it can be maintained, service and room condition wise. Cheers !!"
Show more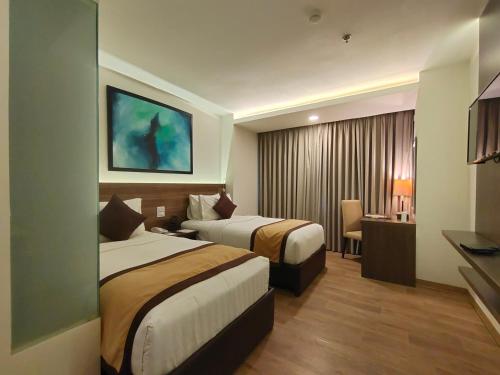 See all
Hotel Marciano
Calamba,Laguna - View on map
"I was so speechless with the experience I had with this hotel. First off.... The location is easy to find, it's along the main road. Though it's quite far from my location but the hotel has nothing to do with that lol. As soon as I entered the lobby, right there and then, I know all the money we spent was worth it. The hotel itself is not crowded, very solemn and peaceful, I personally perfer that as I am ambivert. Hehe. Then I approached the front desk who is Mac Mac and he was very accomodating. By the way, note that their swimming pool is by reservation which is a good thing as this will ensure that only you and your company are the ones using the pool from the time being. Guard/staff were also accommodating, helped us carry our luggages to our room, and yeaaah! They have bell carts, amazing right?? So we went to the room, and we were really really amazed!! Linens and beds are luxurious. Comforters were very think as well as the bed! Ughhh. I want to sleep there forever. Room was very clean, smells and looks like one of the luxurious hotels Ive seen! They were generous when it comes to soap, shampoos and conditioners. Hope they automatically provide toothbrush and toothpaste hehe, but I think we couldve asked for one, we just didnt. Swimming pool is wonderful as well, specially at night, it has disco lights underwater. Hotel is surrounded of resto and food stalls as well. I have so many to say about our amazing experience, so many that I think I forgot the rest as I write this hehe. Commendation to Paul and Mac Mac, these two were very accomodating and really have a pleasing personality 😍 Suggestion: It'd be cool if they would provide indoor sleepers. I'd definitely go back next year, sinabi ko na ngayon palang sa jowa kong nasa abroad na balik kami paguwi nya hehe. Yun lang byeee. "
Show more
See all
El Cielito Hotel Sta. Rosa
Santa Rosa,Laguna - View on map
" This is a good place to stay if you are traveling in the area. The room was spacious and comfortable. The morning breakfast was very good. The hotel staff was excellent and helpful. We able to get a ride on the shuttle to the transportation terminal in Balibago. I would advise booking as early as possible so that you can request a room on an upper floor in the rear away from the karaoke bar. Our room was on the side of the hotel entrance and it sounded like the bar was right under us. This was on a Sunday. The desk told us that it closed at 10:00nPM but it stayed open until 10:30. After that it was quiet. There were no wash cloths in the restroom and you had to buzz the desk for toiletries. But, overall, it is the best value in the area."
Show more
See all
Caliraya Ecoville Recreation Farm & Resort
Lumban,Laguna - View on map
"Caliraya Ecoville is situated in Cavinti Road, Lumban, Laguna. Total travel time from Makati to Caliraya Ecoville is more or less 3 hours without traffic and stopovers🙂. We booked 2 rooms, 1 dormitory type and 1 trio room. The dormitory type room has a capacity of 6 double deck bed with a bath towel and a super comfy blanket each, 1 table and 1 chair, equipped with shower and heater and cool Air Conditioning unit. We had a little difficulty locating our room because it does not have a number nevertheless along the corridor they provided a water dispenser free for the guests to use. As for the trio room, it's perfect for a small family of 4(parents and 2 kids). It has 1 queen bed, 1 single bed, tv with remote(I'm not sure if it has cable though), it has shower and water heater. Caliraya Ecoville offers a lot of activities best for families. The in house restaurant serves breakfast, lunch and dinner."
Show more
See all
Sol Y Viento Mountain Hot Springs Resort
Calamba,Laguna - View on map
"The place is so nice. My kids really enjoyed the hot spring especially the kiddie pool. They really enjoyed swimming until 9pm. The place is so relaxing and good for medidation. The overlooking scenery is the one that makes it atop from the rest. I didn't expect that there is a place like this in Laguna. Overall our stay here is really unforgettable. Thank you Sol Y Viento!"
Show more
See all
See all
Hannah's Garden Resort and Events Place
Calamba,Laguna - View on map
"This resort is a perfect place to destress. It's peaceful, serene and "naturesome". Staff are courteous, generous and very accommodating. Foods taste great and worth the price. Rooms are small but clean. The resort is located a bit far from restaurants and stores so we have to drive for 40mins to reach SM Calamba. Good thing there's pool, table tennis, billiards and basketball court. Over all i rate the resort 5/5 stars. "
Show more
Avg price per night
$ 162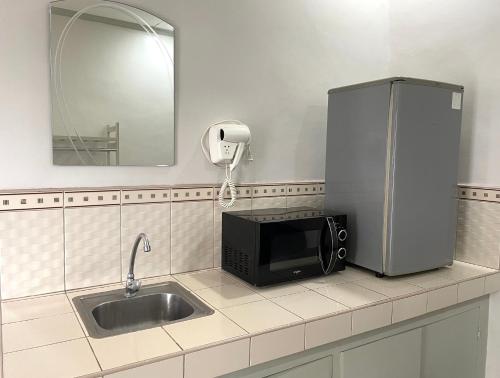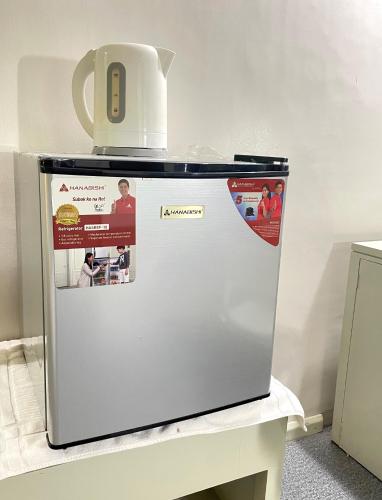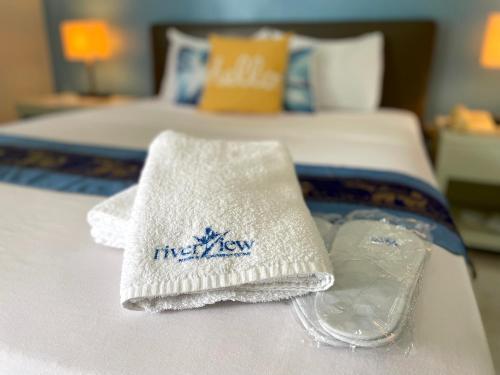 See all
Riverview Resort and Conference Center
Calamba,Laguna - View on map
"Service + Fast check in and fast check out + Receptionists and waiters are attentive. *My friend left some of her clothes in the bathroom. We were informed when we we checked out. We were about to go back, but we were told that the their staff is already on the way so we can just wait for it. Value + Got a really good deal for 3 rooms at agoda, inclusive of breakfast. Sleep Quality + Really cool aircon and comfy bed. - There were mosquitos inside the room. Cleanliness + New sheets and towels. + Room and Bathroom were clean. Location + Near SM Calamba. + Very accessible. Rooms + It is average. Do not expect a 3 or 5 star hotel! Good choice if you are in a tight budget. *If you are looking for a quiet, peaceful and private place, this may not be the best venue for you. There were a lot of day/night guests when we went here. *Food taste/quality is a little bit above average. It will not disappoint. But the set breakfast is really expensive. *Their pool is big, maybe about 1/3 of an olympic size pool."
Show more
See all
Sulyap Bed & Breakfast – Casa de Obando Boutique Hotel
San Pablo City,Laguna - View on map
"Booked a ground floor room in Casa Obando. We loved the old Philippine style deco of the place. The pool has a small jacuzzi and the place houses a free museum tour for those interested to have a glimpse of the past. The only downside is probably that we could hear the other parties in the rooms beside and on top of us. All things considered, we would book here again."
Show more
See all
The Green Glass Boutique Hotel
Calamba,Laguna - View on map
"Unfortunately the area of Calamba Laguna has very few options and The Green Glass is the best one. I think it is slightly overpriced. They do have a # of room options and I suggest getting a better room. The location is in the heart of town so getting around is easy. The best part of The Green Glass is the extremely youthful staff whom are the NICEST I have encountered in over one hundred Philippine stays! You as a guest will always be taken care of immediately by the helpful staff!!!!"
Show more
Fast facts about Laguna, Philippines
| | |
| --- | --- |
| Accommodations | 278 properties |
| Popular hotel | Seda Nuvali - Staycation Hotel |
| Popular area | Calamba |
| Nightly rates from | $9 |
Discover the neighborhoods of Laguna
---
4-star hotels in Laguna
---
It was the best trip i had since i got back in Laguna. Seda has exceeded my expectations. The staff first and foremost were really nice. The guy at the front desk when i checked in (forgot his name) has been really nice. The girls who attended during the breakfast is excellent as well. Always with a beautiful smile. I was travelling with my french friend and i am proud...
---
I brought my 4-year old daughter and mother to Laguna last weekend (Oct 13-14, 2018) primarily to visit Enchanted Kingdom. Thinking that we would need to stay for the night to maximize our visit to EK, I booked this hotel because of the nice pics shown in Agoda. Below are the details of my feedback for this hotel: Pros - easy to find location - spacious ro...
---
We surely enjoyed our stay. This was the first time we actually experienced an excellent customer service in Laguna. We are already planning going back. Thanks, Technopark!
---
5-star hotels in Laguna
---
The place is clean. The rooms are big, very spacious. Easy to find. Our stay would have been better if both burners of the stove are working and if there are complete cookwares. Water is also not free. We had to pay 70 pesos for each container.
---
There was only one bathroom in the house, and only one bedroom was air-conditioned. The house itself was also very difficult to find and the roads are very narrow, but if you only need somewhere to stay for a night while traveling to Laguna, this place is adequate.
---
Comforter is itchy. With many mite eggs stuck on curtains. Not recommended for a family with young children.
---
Traveler impressions of Laguna
The best thing about it is it is so close to Manila, just an hour's drive from the airport. It is well known for cultural, historical and natural significance.
Maria Estrellita
, Philippines
Lots of historical and cultural places to visit. Nice hot springs and resorts for family reunions and holidays.
I like the city of Sta. Rosa more than the other cities in Laguna. In other cities there are major heavy traffic and kind of polluted.
Mary Therese
, Philippines
Laguna is definitely worth visiting, there are lots of good food delicacies and many places to visit whether for relaxation or adventure
Los Banos has some hot spring "resorts". A retreat for Manila's working class. Terrible traffic. Visited friends there.
Trycicle drivers and local people will try to boost up costs for tourists as they seem to look at us all as ATM machines which is normal anywhere you travel in Asia.
under 2 hours by air conditioned coach from Manila the area has a lot to offer a traveler, check local guide information for your particular interests and book accordingly.
Its a typical small Phili city - some noise and pollution, reasonably busy traffic, etc, but it felt quite safe and fine.
---
Laguna's best hotels with breakfast
---
Explore more travel vacation rentals
Find the Perfect Type of Accommodation
---
More about Laguna
Agoda.com features accommodation options from all over town. From high end international chain hotels to family run guesthouses, demands of all travelers are met. Choose from our selection of over 199 hotels. We offer lots of promotions such as early bird offers and last minute deals. The city is appreciated by visitors for its versatility and multiple points of interests such as Alligator Lake, SM City Sta Rosa, Pook Ni Mariang Makiling. Enjoy the history and beauty of Laguna by visiting one of 6 monuments around town. Many monuments such as Rizal Shrine are regarded as the city's heritage. Whatever your plans are, do not miss these things to do: Max's Restaurant, Kanin Club, Jomau Hotspring. If you're looking for a room in Laguna and don't want to pay too much, Agoda.com offers hundreds of fantastic deals which are updated daily.