Hotels in Lakes Entrance
Our top picks
Lowest price first
Nearest to
Best reviewed
Fast facts about Lakes Entrance, Australia
| | |
| --- | --- |
| Accommodations | 153 properties |
| Popular hotel | Comfort Inn & Suites Lakes Entrance |
| Popular area | Lakes Entrance |
| Nightly rates from | $54 |
Where to stay in Lakes Entrance
---
4-star hotels in Lakes Entrance
---
This place was great, and we regret having only stayed there one night. It's in a beautiful forested area. The cabins are well-secluded and beautifully landscaped. They have a parrot feeding in the morning, and tons of other birds and wildlife live about the area. It was very cozy, with a good fireplace and plenty of wood provided. It was a little bit away from the mai...
---
Read a lot of bad review of the apartment, was planning for the worst. However, stay turn out to be alright. The room was dated but clean. Amenities like bath foam, shampoo etc was provided. Room was set up with extra bed and pull out bed. Request for side by side room but was not provided. Check in and out was easy and staff was friendly. Location was good, though en...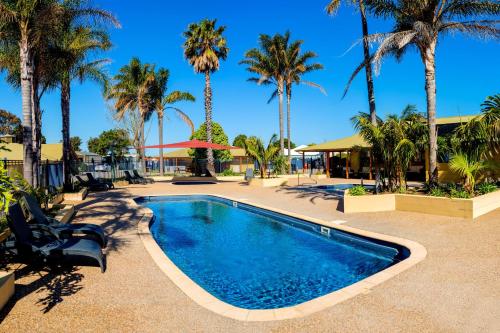 ---
Nothing really special Pools were 3 small ones, good for young children not so good for adults or older children Cabings were Ok clean Check out as in all Australia is 10 am which is very early for holiday traveler People were polite but again the service as in most places in Australia was basic
---
Booked this based on reviews I had read. And found it to be a great and friendly motel. As in the reviews, yes a bit 80's in style, but it suits the location. And large room, very pleasant. Nice easy walk to the restaurant part of Lakes. So yes very happy with experience.
---
The Lakes apartments are set in a quiet area but conveniently close to all amenities. Each apartment has its own private garage which makes unloading extremely easy. The facilities are superb - lovely separate utility room, & modern, well equipped kitchen. The sitting & dining area is very spacious with comfortable, leather settees. The bedrooms have lovely big comfor...
---
Real reviews for hotels
It is very relaxing are with lots of beautiful outdoor areas and recreation facilities. The Lonsdale Eco cruise is the best value 3 hour tour to see as much of the lake and area and birdlife and the freshly baked scones are fantastic!
Great place to visit. Beautiful walks along the beach and river. Great shopping at quaint little shops and excellent cafes.
Beautiful scenery and abundant birdlife. Amazing contrast with the surf beach and the lakes behind. More beautiful than we had imagined.
Lakes Entrance is excellent for people who enjoy fishing and boating. If you want to go fishing it would be better if you had a boat to access the many waterways available here.
Very beautiful little beach town, so quiet and relaxing, excellent place for weekened relaxation and family fun esp with kids.
A spectacularly situated coastal community in SE Victoria. Excellent boating and and fishing opportunities.
---
Lakes Entrance hotels with breakfast
---
My room had an extremely comfortable bed, a table and chairs, a case rack and storage and the television worked well.
---
The place is very comfortable and clean.
---
We will definitely come back again.
---
Frequently asked questions
What are the top properties in Lakes Entrance for families?
Hotels in Lakes Entrance that are highly rated by families include Ocean Views Motel Lakes Entrance, The Esplanade Motel and The Esplanade Resort And Spa.
What accommodations in Lakes Entrance offers the best views?
Verified visitors to Lakes Entrance have given remarkable reviews for the views at The Esplanade Resort And Spa, Banjo Paterson Motor Inn and Bellevue On The Lakes..
What accommodations in Lakes Entrance have the best breakfast?
Verified travelers to Lakes Entrance have given top rated reviews for the breakfast at Bamboo Motor Inn, The Esplanade Resort And Spa and Bellevue On The Lakes..
What's the best community in Lakes Entrance to stay in?
Famous local communities among vacationers staying in Lakes Entrance include Lakes Entrance, Kalimna and Swan Reach.
What are the most suitable properties located in Lakes Entrance intended for solo tourists?
Accommodations located in Lakes Entrance which are highly rated by single tourists are Ocean Views Motel Lakes Entrance, The Esplanade Motel and The Esplanade Resort And Spa.
What are the very best hotels found in Lakes Entrance for group vacationers?
Accommodations found in Lakes Entrance which are very highly rated by group visitors are Ocean Views Motel Lakes Entrance, The Esplanade Motel and The Esplanade Resort And Spa.
What accommodations found in Lakes Entrance are very highly rated regarding room comfort and quality?
Hotelsin Lakes Entrance that is exceptionally rated with regards to room comfort and quality include Coastal Waters Motor Inn, Araluen Park Cottages and Kalimna Woods Cottages.
What accommodations in Lakes Entrance are exceptionally rated with respect to service?
Hotelsfound in Lakes Entrance which is exceptionally rated with regards to service include Unit 9 Bellevue, Lazy Acre Log Cabins and North Arm Tourist Park.
What are most suitable getaway rentals in Lakes Entrance?
A vacation rental in Lakes Entrance that is highly rated with regards to service is Castle stay at lakes entrance.
What are the very best resorts located in Lakes Entrance that has free parking?
An accommodation with free parking around Lakes Entrance which is well rated is anchorage holiday units 欢迎您 pet friendly, must inform and pay.
When should I make a trip to Lakes Entrance?
Last year, Lakes Entrance gained its most visitors during the month of December. In spite of this, you may want to consider other months during which there are less visitors, as the most popular destinations will be less crowded.
What vaccines are accepted in Lakes Entrance?
All vaccination types are currently acknowledged and accepted by the national health authority of the country that includes Lakes Entrance.
Explore more travel vacation rentals
More about Lakes Entrance
Top Reasons to Visit Lakes Entrance, Australia
Lakes Entrance is a picturesque coastal town located in the Gippsland region of Victoria, Australia. Known for its stunning natural beauty, the town is situated on the edge of Ninety Mile Beach and is surrounded by the Gippsland Lakes. There are many reasons why you should consider visiting Lakes Entrance, including its breathtaking scenery, abundant wildlife, and wide range of outdoor activities. Whether you're looking to relax on the beach, go fishing or hiking, or simply enjoy the local cuisine, Lakes Entrance has something to offer everyone.
Discovering the Hidden Gems of Lakes Entrance, Australia
While Lakes Entrance is a popular tourist destination, there are still many hidden gems to discover in the town and surrounding areas. One such gem is Buchan Caves, a series of limestone caves located about 45 minutes from Lakes Entrance. The caves are home to an array of stunning rock formations and are a must-see for anyone interested in geology. Another hidden gem is the Gippsland Lakes Coastal Park, a beautiful nature reserve that offers hiking trails, fishing spots, and stunning views of the coast.
Exploring Lakes Entrance: Fun Things to Do
Lakes Entrance offers a wide range of activities for visitors of all ages. For nature lovers, the Gippsland Lakes are a must-see. The lakes are home to a diverse range of wildlife, including dolphins, seals, and a variety of bird species. Visitors can take a boat tour of the lakes or go kayaking to get up close and personal with the local wildlife. For those looking for a more relaxed experience, Ninety Mile Beach is the perfect place to unwind and soak up the sun. The beach is one of the longest in the world and offers plenty of space to spread out and enjoy the sand and surf.
Where to Stay in Lakes Entrance: Your Ultimate Guide
When it comes to choosing a place to stay in Lakes Entrance, there are plenty of options to suit every budget and preference. Some of the most popular hotels in the area include The Esplanade Motel, Ocean Views Motel Lakes Entrance, Lakeside Motel Waterfront, Coastal Waters Motor Inn, and The Central Hotel Motel Lakes Entrance. These hotels offer a range of amenities, including swimming pools, on-site restaurants, and easy access to the beach and other local attractions. For those looking for a more budget-friendly option, there are also several backpacker hostels and campgrounds in the area.
Lakes Entrance Travel Guide: Best Time to Visit
The best time to visit Lakes Entrance depends on your personal preferences and what you want to do while you're there. The summer months (December to February) are the most popular time to visit, as the weather is warm and the beach is at its best. However, this is also the busiest time of year, so be prepared for crowds and higher prices. If you're looking for a quieter experience, consider visiting in the shoulder seasons of spring (September to November) or autumn (March to May). The weather is still pleasant during these times, and you'll have a better chance of finding accommodation and activities at a lower price.
Lakes Entrance Travel Guide: Getting There and Around
Lakes Entrance is located about 320 kilometers east of Melbourne and is easily accessible by car or bus. If you're driving, take the Princes Highway east from Melbourne and follow the signs to Lakes Entrance. If you're taking public transport, there are several buses that run from Melbourne to Lakes Entrance, with a journey time of around 4-5 hours. Once you're in Lakes Entrance, the town is small enough to explore on foot, but there are also several bike rental shops and car rental companies if you want to venture further afield.
Indulging in Lakes Entrance's Local Cuisine
Lakes Entrance is known for its fresh seafood, and there are plenty of restaurants in the town that specialize in seafood dishes. Some of the most popular seafood restaurants in the area include The Floating Dragon Dockside Restaurant, Fisherman's Co-op, and The Esplanade Resort and Spa. In addition to seafood, there are also plenty of other local specialties to try, including Gippsland beef and lamb, artisan cheeses, and local wines and beers.
Booking a Hotel in Lakes Entrance with Agoda.com
If you're looking for the best deals on hotels in Lakes Entrance, look no further than Agoda.com. With a wide range of hotels to choose from, including budget-friendly options and luxury resorts, Agoda.com has something to suit every traveler's needs and preferences. Plus, with Agoda.com's easy-to-use booking system and 24/7 customer service, booking your next trip to Lakes Entrance has never been easier.
Traveling to Lakes Entrance: Tips and Tricks
Before you embark on your trip to Lakes Entrance, there are a few things to keep in mind. First and foremost, be sure to pack sunscreen and insect repellent, as the sun can be strong and the mosquitoes can be plentiful. Additionally, if you're planning on taking a boat tour of the Gippsland Lakes, be sure to bring a warm jacket or sweater, as it can get chilly out on the water. Finally, be sure to check the weather forecast before you go, as conditions can change quickly in this part of the world.