Fast facts about Luxembourg, Luxembourg
| | |
| --- | --- |
| Accommodations | 323 properties |
| Popular hotel | Hotel Le Royal |
| Popular area | Canach |
| Nightly rates from | $31 |
| Airport | Luxembourg Findel Airport |
Discover the neighborhoods of Luxembourg
---
4-star hotels in Luxembourg
---
hotel very quiet and comfortable, good for rest. good facilities for relax. the hotel staffs are friendly and helpful. they served with smiles and welcome cookie were served while waiting for hotel check-in. the room was clean and comfortable. definitely recommend this hotel to friends when they are plan to luxembourg.
---
The room is nice and clear, just the location is not very near to the Central station and main tourist spots. But just only 15 mins walk. Overall it is worthwhile to live. Breakfast is quite expensive (21euro) comparing to Belgium, but other restaurants in Luxembourg are expensive too.
Yung
, Hong Kong SAR, China
---
Stopped over while touring Europe with family Rooms are spacious , very comfortable with divisions to accommodate young family comfotably Exceptionally clean and tidy Few minors are the awkward position of the toilet which the designer didn't managed to accommodate near the main bathroom and the short timing of the parking exit ticket till you load your bags ( wher...
---
The hotel is not far from the old city (less than 5 minutes by car). You can also travel to the old city by bus but since parking in Luxembourg is cheap we never bothered taking the bus. Parking was free during our stay, but I think this was because of the reconstructions in the area. The hotel itself is old, but the rooms are nice and clean.
---
All service provided by the staff made this an above average stay. They were polite, spoke well in English, German, and French, and made their very best effort for us, or anyone asking for us to feel well. The location is very good for anyone wanting to see the city and not spend a fortune. However, I was disappointed in the rooms being bland, and that our view was of ...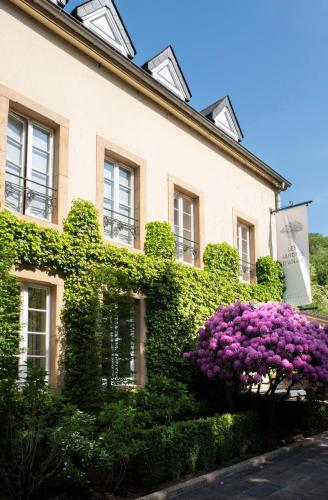 ---
Traveling with two friends. We loved the spaciousness, charm and elegance of our suite, Parking was convenient. It was a bit of a walk up the hill into the town center, but well worth it for the beautiful views. We highly recommend dinner and breakfast here. This hotel is a real gem, an excellent value for the price and we will definitively stay here again.
---
Our stay in Luxembourg was enhanced by our choice of the Hotel Grand Cravat. It was easy to find, had wonderful views and everything was in walking distance to have days filled with new discoveries. The Grund is spectacular and can be viewed from just across the road from the hotel. There is a beautiful church just behind the hotel and we were able to walk to and from ...
---
This hotel is located on the edge of central Luxembourg City. The surrounding are beautiful, the hotel in tactful and great, and the staff are helpful and friendly. It was my first time in Luxembourg and I am extremely pleased with this hotel choice. It is perfect for any looking to relax in subtle comfort and luxury. It is good for couple as well as families. Fo...
---
5-star hotels in Luxembourg
---
Staff was very helpful and friendly. The hotel is in good condition, though not the newest. The location is a good 20-30min walk from the city center as it is located in the new business center with nothing else around. So if you are there for seeing the old city center rather than business you should be aware of that. If you have a car, its just little more than 5min ...
---
This hotel is exceptional!From the moment I checked in I was treated as a valued guest. Staff are friendly and knowledgeable. The rooms are beautiful and quiet and there is attention to detail-like macaroons on the pillow- to make you feel very special. My stay was so wonderful it was hard to leave the room to do sight-seeing. I will always stay here when in Luxembou...
---
Traveler impressions of Luxembourg
It's a small but charmy city. You can stay there for 1 night and take your time walking around to see the whole city.
good launch pad to visit neighbouring countries like france, belgium and Germany. around the city few historical locations to visit.
if you are planning to visit luxemburg, make it as early as possible, one of the view of the Aldolph Bridge is blocking by a new bridge, will finish in 2014, so if you enjoy taking photo while sight-seeing, go earlier.
Old Luxembourg centre is very nice and beautiful, full of very attractive and old buildings, very good restaurants.
Old part of Luxembourg is very pretty and beautiful. Lovely old buildings and streets, very good restaurants.
City with peaceful atmosphere. Walking path was a bit complicated with so much up and down hill. Great location to visit if you like to see castles.
---
Luxembourg's best hotels with breakfast
---
Explore more travel vacation rentals
Find the Perfect Type of Accommodation
---
More about Luxembourg
Luxembourg is a little nugget in Europe made up of history, culture, and charm. The city serves as the capital of the country with the same name and is conveniently accessible via the
Luxembourg-Findel International Airport
. Luxembourg has its own train station as well, with trains departing from cities such as Paris, Metz, and Brussels. Beautiful terrain, period architecture, and an enchanting atmosphere make this an exciting and rewarding travel destination for both business and leisure.
Getting from place to place in Luxembourg is convenient and pleasant. There is a public transportation system, but getting around on foot is the truest way to explore the city and get the most appreciation for it. Its compact size means it isn't a taxing way to explore, and the scenery along the way will surely distract from any fatigue. Such sites include the
Bock Casemates
, a UNESCO World Heritage site and impressive fort built into the cliff, and the Grund, a spectacular area of the Ville Basse district. Beautiful architecture can be seen throughout the city, with the
Grand Ducal Palace
and Notre Dame Cathedral showcasing some of the finest. Both business and leisure travelers can enjoy time spent in the Kirchberg area, home to a number of banks as well as most of the country's European institutions. Kirchberg, Gare, Ville Basse, and Ville Haute are some of the finest areas to stay when visiting Luxembourg.
Be sure to check out the interactive map of Luxembourg for information on hotel locations, attractions, and must-see destinations.