11 best hotels in Luzern
Our top picks
Lowest price first
Nearest to
Best reviewed
Fast facts about Luzern, Switzerland
| | |
| --- | --- |
| Accommodations | 244 properties |
| Popular hotel | AMERON Luzern Hotel Flora |
| Popular area | Luzern Lakefront |
| Nightly rates from | $33 |
4-star hotels in Luzern
---
The hotel was located close to the train station and the city center of luzern. I had an upgraded room with view of the mountains and loved it. The staff was very helpful and nice, the room was clean and spacious. The mini bar was free of charge. They served cold and hot breakfast too. They gave us free one day tranportion pass, free bike renting and also gym for us to...
---
The hotel is 4 stars hotel with full facility and services. This hotel is in a very good location, just opposite the Luzern train station. Therefore, it is so convenient and safe time in travelling throughout Switzerland. The rooms were ok but the staff were very friendly and helpful. They will try their best to assist us on whatever we asked for. The surrounding resta...
---
Though, it was raining for all 3 days that we stayed at the hotel.. but we did have a good restful timing at the hotel. The lake view at the front of the balcony is so quiet and peaceful. Plus, stay in the hotel is very relax.. as there are sauna + steam bath + sonarlium and thermo-lava cabin.. which you could enjoy the whole day there.. with free coffee and tea...
---
I stayed in a double room with city view on the 4th floor and it was fantastic :) I could see the courtyard below. My room was beautifully furnished and my bathroom was very chic. This boutique hotel is on the lake and you can walk straight out into the old town or the river side and walk along the bank and on the bridges. This hotel is located very near all the exciti...
---
I arrived from Geneva late at 11pm so all i need was to quickly get to the hotel. Hotel Astoria is about 7mins walk from the train station! Continental breakfast was not the best but very sufficient. The hotel is only 5mins walk from the famous Chapel Bridge, 7mins walk to the markets, 10mins walk to the shopping area near Chapel Bridge, and also very convenient for u...
---
The location was really nice as it was close to the Luzern train station. Just a straight road down from the train station and you can find the place. We were given a room right across the lift so I thought it was a little noisy at times, but it was okay. Staff was very friendly and helpful with directions and giving suggestions on where to go. The room interior was v...
---
This is a nice hotel to stay if you prefer a quite scenic place. It is above mountain and Luzarne lake is clearly visible from room with wide range of Mt. Alps. Location is 15 mins. drive from Luzerne train station. Hotel has their own transport which runs between hotel and station every half an hour. Only minus point is that the transport ends from station around 5:45...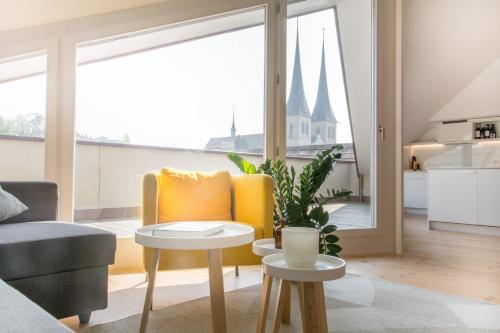 ---
We absolutely love the place, it was huge. The kitchen was very neat and stylish. The apartment itself may house up to 6 people so if you are looking for a place where your family can be together in an apartment, James's place is the one.
---
5-star hotels in Luzern
---
we had a nice stay at The Hotel. It is very close to the station and the old Luzern, you can go everywhere by foot. The view from the 5th floor is nice. The rooms are small and our "suite" was just a simple room for two!!! The bathroom (shower only) was not too big either and the hotel is not too generous with soaps, shampoos etc. Breakfast is expensive but very good. ...
---
we've been to luzern many times, staying in different hotels each time. this is the best hotel by far. the experience right from check-in to check-out is magnificent! the staff are really courteous, friendly, helpful and attentive! the hotel is situated in front of the lake, within walking distance to every attraction or shops in luzern. the hotel and rooms are ...
---
What I liked about the hotel is that it is located in a very prime location in downtown Lucerne and having a serene view of the Lake. An indoor swimming pool is a surprise feature of this hotel and the room we book is very spacious considering we our young child with us. I liked the idea of having the room service menu on an in-room tablet and can be ordered online....
Khalid
, United Arab Emirates
---
Traveler impressions of Luzern
Basically it a big city with lots of nature attraction nearby. We would highly recommend tourist to go to Mt Rigi.
Beautiful city with Mount Pilatus looming behind the picturesque Chapel Bridge. Would take a day trip out to Mount Pilatus as well as the Swiss Museum of Transportation.
All must visit places will be brief by tourist information counter in Train station. They did a good job on it.
Very toursity town. Probably too much has been said by everyone else about Luzern as it is rather well known city.
Area around the train station seems to be a bit messy with some gangsters. Anyway, it is a good place for relaxation.
CHUN FAI
, Hong Kong SAR, China
Luzern was beautiful. Best way to get around is by the bus (or foot if your hotel is around the lake area).
Beautiful city, the lake is amazing. You can see mountains from your hotel window. Fresh air, amazing city!
As tourists with heavy luggage on our first trip by train, we were impressed with the train station facilities and the tourist information centre located within the train station.
Beautiful city in the Swiss Alps that gives you the closeness of nature and the convenience of the city.
It is not bad at all i have been stayed in this hotel many time i visit luzern All you need it around you and close
Beautiful view for sightseeing, amazing mountain view. food wise, if u like pizza and kebab,congrats, roadside full of pizz and kebab restaurant.
In general, everything was fine. If you want to buy the pocket knives, buy them in Lucerne. Many shops provide engraving service.
Yun Yu
, Hong Kong SAR, China
Very lively city with lots of nice bridges and houses. Great city view is possible from the city wall.
Beautiful city but also the most expensive that we visited in Switzerland. Restaurants are really overpriced and some staff were not especially friendly to tourists.
Go to Titlis mountain via Engelberg. Also go to take Glacier Express by changing train in Andermatt.
unfortunately we could stay but one night and Lucerne. While that gave us sufficient time to experience the old city, on our return we will stay longer to allow us to do several sidetrips.
I've had the pleasure to visit Luzern twice. It is a beautiful, relaxing city as all of switzerland are.
Lucern is a great city having almost everything. Great for sightseeing, beautiful lake and mountains.
Luzern is a must come city of Switzerland. If you want to buy Rolex watches in Switzerland, Luzern is the must place for you as Bucherer's headquarter is here where you can get the rare models that you cannot buy from other cities in Switzerland.
---
Luzern's best hotels with breakfast
---
Frequently asked questions
What are the best properties in Luzern for families?
Hotels in Luzern that are highly scored by families include AMERON Luzern Hotel Flora, Ibis Budget Luzern City and Holiday Inn Express Luzern - Kriens.
What's the top community in Luzern to stay in?
Popular communities among travelers staying in Luzern include Luzern Metro Area, Old Town and Messe.
What hotels around Luzern are very highly rated regarding location?
Propertiesfound in Luzern which is very highly rated for location include KoBi Apartments Hirschenplatz, Hotel Ristorante Schlossli and BOUTIQUE Hotel by Continental Park.
What hotels around Luzern are well rated for room comfort and quality?
Accommodationsfound in Luzern which is exceptionally rated regarding room comfort and quality include Kurhotel Sonnmatt Luzern, Hotel Schweizerhof Luzern and The Hotel Lucerne, Autograph Collection.
What are the preferred hotels in Luzern with spas?
Verified visitors to Luzern have given exceptional reviews regarding the spas at Rigi Kaltbad Swiss Quality Hotel and Ibis Budget Luzern City.
What are the best hotels found in Luzern with restaurants?
An accommodation that has restaurants located in Luzern that is exceptionally rated is Hotel Hofgarten Luzern.
What are the very best hotels in Luzern with fitness center?
Accommodations that has a fitness center around Luzern which are well rated include Boutique Guesthouse Villa Pescheria B&B and See & Wellnesshotel Gerbi.
What's the best neighborhood for nightlife in Luzern?
Top destinations for nightlife in Luzern are Old Town and Luzern Metro Area.
When should I visit Luzern?
Last year, Luzern garnered its most visitors during the month of October. Nevertheless, make sure to consider other months during which there are fewer vacationers, as the most popular attractions will be less packed.
Is pre-departure covid test required for fully vaccinated tourists to enter Luzern?
Proof of negative pre-departure COVID-19 test results is not required is currently mandatory to enter Luzern. For updated and in depth information on travel restrictons, please head over to the official websites of the travel authority or government of the country you wish to travel to, or go to here.
Is pre-departure covid test expected for unvaccinated tourists to enter Luzern?
Proof of negative pre-departure COVID-19 test results is not required is currently needed to enter Luzern. For up-to-date and in depth information on travel restrictons, please be sure to check out the official websites of the travel authority or government of the country you wish to visit, or go to here.
What vaccines are accepted in Luzern?
Pfizer/BioNTech, Janssen (Johnson & Johnson), Moderna Spikevax, AstraZeneca (Vaxzevria), Covishield, Sinovac, Sinopharm/BIBP, Nuvaxovid (Novavax) are currently recognized and approved by the national health authority of the country that includes Luzern.
Explore more travel vacation rentals
More about Luzern
Luzern is a perennial place for nature and outdoor tourism. Vacationers from across the globe travel to Luzern to trial anything and everything this locale offers, including the finest resort hotels in Luzern, hotels near lakes in Luzern, and mountain view hotels in Luzern. Guests take maximum opportunity to explore the great deal of hotel golf clubs in Luzern, Luzern center aquarium hotels, Luzern downtown accommodation, golf village area hotels in Luzern, and high-rise hotels with views in Luzern in the vicinity of the perfect nature areas. Cuisine that can be found with the restaurants and bars in Luzern comprises of alternatives for all types of tastes. The best nature areas in Luzern include Camping International Lido Luzern, Brutinsel, and Seeclub Luzern, which in totality offer a range of wildlife and outdoors experiences and nature-based night activities. Hotel room alternatives in Luzern cover anything from reasonably priced capsules in Luzern to high quality 5-star luxurious hotel zoos in Luzern. Additionally, you can plus more for travelers of most tastes and budgets. Bear in mind-- individual-unit getaway rentals in Luzernare usually available for tourists who have more particular overnight accommodation preferences, for example multi-bedroom units near aquariums, ample terraces with city views, and even concierge services to assist you to find the most outstanding outdoors activities available at golf courses in Luzern. The best hotels near nature in Luzern provide all comfortable access with public transport to Camping International Lido Luzern, and also dining choices with outdoors selections too. Additionally, you can reserve top-rated accommodations close to Brutinsel, or suitable properties around Seeclub Luzern. The structure of Luzern is incredibly ideal for forest hotels near Luzern, going for a walk from your hotel near parks, or hotel accommodations nearby exceptional nature tour offerings in Luzern.

Luzern is a special getaway for art, culture, and history travel. Individuals from around the world visit Luzern to experience anything this area has to offer, specifically top attractions in Luzern, monument hotels in Luzern, and historic hotels in Luzern. Individuals coming in pre-book the variety of hotels near monuments in Luzern, Luzern center hotels near monuments, Luzern downtown accommodation, historical area hotels in Luzern, and high-rise hotels with views in Luzern close to the best historical areas. Cusine that is possible with the bistros and bars in Luzern consists of flavors for all kinds of tastes. The most visited cultural regions in Luzern include Kultur und Kongresszentrum & Kunstmuseum, Picasso Museum, and Town Library, which altogether offer a wide range of sightseeing memories and art-based night-time activities. Hotel and room selections in Luzern include cost-effective capsules in Luzern to high quality 5-star luxury hotels near historical centers in Luzern. Additionally, you can find great serviced bedrooms in Luzern, hostels in Luzern, and more for travelers of most tastes and budgets. Notably, single-unit getaway rentals in Luzern are usually available for travelers and tourists who have more esoteric lodging necessities, for example multi-bedroom units near monuments, spacious balconies with city views, or concierge support to help you discover the top cultural experiences at historical zones in Luzern. The very best hotels near famous buildings in Luzern offer very easy access with public transport to Kultur und Kongresszentrum & Kunstmuseum, and food options with patio options options as well. It's also possible to find some of the best properties close to Picasso Museum, or suitable places to stay nearby Town Library. The layout and roads of Luzern are particularly suited for museum hotels near Luzern, or taking walks from your accommodation to museums, or hotels near the best museum tour services in Luzern.

Luzern is a well-known destination for travelers seeking urban exploration and shopping. Travelers from around the world travel to Luzern to sample anything and everything this location can offer, including malls, shopping centers, and markets. Travelers make use of the wide range of urban boutique hotels in Luzern, Luzern center hotels, Luzern downtown accommodation, market street hotels in Luzern, and urban hotels in Luzern close to the best shopping areas--not to mention the coffee shops and Luzern eateries that serve regional specialties and various other favorites. Food in Luzern offers options for a wide range of preferences. Top shopping centers in Luzern include IMAX Cinema, Bucherer, and Flea Market, which combined give you a selection of shopping experiences and urban activities. Hotel options in Luzern cover all bases from affordable capsules in Luzern to premium quality 5-star luxury hotels near shopping areas in Luzern. You can also get a hold of fabulous serviced rooms in Luzern, hostels in Luzern, and others for travelers of all tastes and budgets. On top of that, individual-unit trip rentals may be options for guests with extra specific holiday accommodation necessities, such as multi-bedroom units, spacious terraces with city views, terraces with downtown views, or concierge assistance to allow you to locate the perfect shopping experiences. Top hotels close to market centers in Luzern deliver stress-free access by means of public transport to IMAX Cinema, and dining options with high class atmosphere also. You can also find some of the best hotels nearby Bucherer, or comfortable accommodations around Flea Market. The map of Luzern is notably ample for downtown shopping experiences, or simply just browsing the shopping malls near hotel zone in Luzern.