4-star hotels in Luzern
---
The hotel was located close to the train station and the city center of luzern. I had an upgraded room with view of the mountains and loved it. The staff was very helpful and nice, the room was clean and spacious. The mini bar was free of charge. They served cold and hot breakfast too. They gave us free one day tranportion pass, free bike renting and also gym for us to...
---
The hotel is 4 stars hotel with full facility and services. This hotel is in a very good location, just opposite the Luzern train station. Therefore, it is so convenient and safe time in travelling throughout Switzerland. The rooms were ok but the staff were very friendly and helpful. They will try their best to assist us on whatever we asked for. The surrounding resta...
---
Though, it was raining for all 3 days that we stayed at the hotel.. but we did have a good restful timing at the hotel. The lake view at the front of the balcony is so quiet and peaceful. Plus, stay in the hotel is very relax.. as there are sauna + steam bath + sonarlium and thermo-lava cabin.. which you could enjoy the whole day there.. with free coffee and tea...
---
I stayed in a double room with city view on the 4th floor and it was fantastic :) I could see the courtyard below. My room was beautifully furnished and my bathroom was very chic. This boutique hotel is on the lake and you can walk straight out into the old town or the river side and walk along the bank and on the bridges. This hotel is located very near all the exciti...
---
I needed a hotel in Luzern with non-smoking rooms and close proximity to the train station.. It is only a few minutes' walk from the train station; even with two big suitcases and a baby stroller it was no problem. The rooms were great, fairly spacious for Europe, and they had our non-smoking rooms available as requested. The staff was friendly and helpful. Good ...
---
Booked one room from online. Came to the hotel at 7:00pm on 29th of June. The reception ladies were exceptional nice. The room was really nice and clean. Regarding the TV in the room, I never see such a good picture qualtiy. I wonder whether it is the quality of the TV set ifself or the signal quality. Another thing worth of mentioning is that the hotel provides the e...
---
I arrived from Geneva late at 11pm so all i need was to quickly get to the hotel. Hotel Astoria is about 7mins walk from the train station! Continental breakfast was not the best but very sufficient. The hotel is only 5mins walk from the famous Chapel Bridge, 7mins walk to the markets, 10mins walk to the shopping area near Chapel Bridge, and also very convenient for u...
---
This is a nice hotel to stay if you prefer a quite scenic place. It is above mountain and Luzarne lake is clearly visible from room with wide range of Mt. Alps. Location is 15 mins. drive from Luzerne train station. Hotel has their own transport which runs between hotel and station every half an hour. Only minus point is that the transport ends from station around 5:45...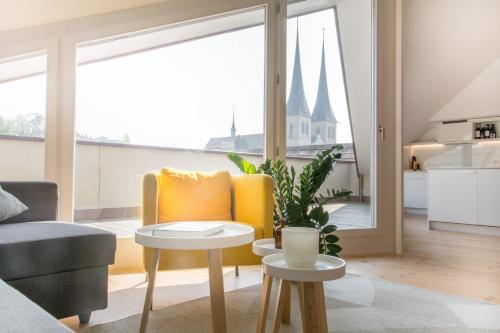 ---
We absolutely love the place, it was huge. The kitchen was very neat and stylish. The apartment itself may house up to 6 people so if you are looking for a place where your family can be together in an apartment, James's place is the one.
---
5-star hotels in Luzern
---
we had a nice stay at The Hotel. It is very close to the station and the old Luzern, you can go everywhere by foot. The view from the 5th floor is nice. The rooms are small and our "suite" was just a simple room for two!!! The bathroom (shower only) was not too big either and the hotel is not too generous with soaps, shampoos etc. Breakfast is expensive but very good. ...
---
we've been to luzern many times, staying in different hotels each time. this is the best hotel by far. the experience right from check-in to check-out is magnificent! the staff are really courteous, friendly, helpful and attentive! the hotel is situated in front of the lake, within walking distance to every attraction or shops in luzern. the hotel and rooms are ...
---
What I liked about the hotel is that it is located in a very prime location in downtown Lucerne and having a serene view of the Lake. An indoor swimming pool is a surprise feature of this hotel and the room we book is very spacious considering we our young child with us. I liked the idea of having the room service menu on an in-room tablet and can be ordered online....
Khalid
, United Arab Emirates
---
Traveler impressions of Luzern
Basically it a big city with lots of nature attraction nearby. We would highly recommend tourist to go to Mt Rigi.
Beautiful city with Mount Pilatus looming behind the picturesque Chapel Bridge. Would take a day trip out to Mount Pilatus as well as the Swiss Museum of Transportation.
All must visit places will be brief by tourist information counter in Train station. They did a good job on it.
Very toursity town. Probably too much has been said by everyone else about Luzern as it is rather well known city.
Area around the train station seems to be a bit messy with some gangsters. Anyway, it is a good place for relaxation.
Luzern was beautiful. Best way to get around is by the bus (or foot if your hotel is around the lake area).
Beautiful city, the lake is amazing. You can see mountains from your hotel window. Fresh air, amazing city!
As tourists with heavy luggage on our first trip by train, we were impressed with the train station facilities and the tourist information centre located within the train station.
Beautiful city in the Swiss Alps that gives you the closeness of nature and the convenience of the city.
It is not bad at all i have been stayed in this hotel many time i visit luzern All you need it around you and close
Beautiful view for sightseeing, amazing mountain view. food wise, if u like pizza and kebab,congrats, roadside full of pizz and kebab restaurant.
In general, everything was fine. If you want to buy the pocket knives, buy them in Lucerne. Many shops provide engraving service.
Very lively city with lots of nice bridges and houses. Great city view is possible from the city wall.
Beautiful city but also the most expensive that we visited in Switzerland. Restaurants are really overpriced and some staff were not especially friendly to tourists.
Go to Titlis mountain via Engelberg. Also go to take Glacier Express by changing train in Andermatt.
unfortunately we could stay but one night and Lucerne. While that gave us sufficient time to experience the old city, on our return we will stay longer to allow us to do several sidetrips.
I've had the pleasure to visit Luzern twice. It is a beautiful, relaxing city as all of switzerland are.
Lucern is a great city having almost everything. Great for sightseeing, beautiful lake and mountains.
Luzern is a must come city of Switzerland. If you want to buy Rolex watches in Switzerland, Luzern is the must place for you as Bucherer's headquarter is here where you can get the rare models that you cannot buy from other cities in Switzerland.
---
Find the Perfect Type of Accommodation
---
More about Luzern
Located right in the center of Switzerland, Lucerne is not only a beautiful city worth experiencing, it's also a great base from which to explore the rest of Switzerland as the city is very well connected to the rest of the country by an efficient railway system. Needless to say, the best way to access Lucerne is via rail, arriving at
Lucerne Railway Station
which is conveniently located within the Lucerne metro area and within reach of several hotels.
One of the most famous landmarks of Lucerne is the
Chapel Bridge
, which was built in the 14th century and is said to be the oldest bridge of its kind in Europe. As it's a popular landmark, there are several tour groups that take tourists on a walking tour of the bridge, complete with stories and pictures of medieval life in Lucerne. The other popular landmark of Lucerne is undoubtedly the
Dying Lion of Lucerne
, built after the French Revolution to commemorate the Swiss Guards who gave up their lives during the war. Quite a moving tribute, and a popular monument that's frequented by nearly all visitors to Lucerne.
The
Lucerne Lakefront
district is where to be if looking for some waterfront views, or looking to enjoy the scenery and relaxation at
Lido Beach
.
There's a lot more to see and do in Lucerne, and the best way to discover what else this city has to offer in terms of attractions, landmarks, and hotels is by exploring the interactive map on this page.