Discover the neighborhoods of Makarska
---
4-star hotels in Makarska
---
It's right on the sea. They have a nice Spa to use. They have nice bar and restaurant on the property.
---
The apartment was excellent. We loved the sea view, we do also love the balcony and the staff was very welcomming. The room's standard was also great and the hygiene was good. The one thing that wasn't so good was the kitchens inventory. We had to buy a bread knife and a wine opener that we left behind for the next visitors. Other then that they had everything we need...
---
We loved the clean, comfortable and spacious rooms. It was wonderful doing yoga on the balcony above the nice, walled-in pool area, in the morning sun. The staff was very friendly and personal which we appreciated. "Nothing is impossible" was their attitude! The location of the hotel is perfect with the proximity to a small, secluded beach, to the lovely walking paths ...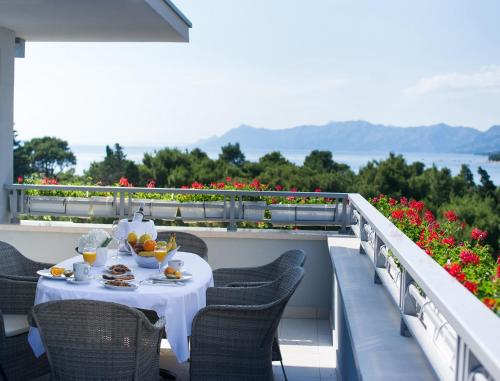 ---
Loved everything about this hotel. The location was perfect, great facilities and lovely staff.
---
Hotel Biokovo is right on the harbour street so it is very close to all the restaurants and 5 minutes from the beach. The personell is very nice and helpful. The only problem we had was that the beds were unconfortable.
---
A very nice, well equipped apartment with friendly and accommodating staff. Ideal for younger couples. Shops, restaurants and bars are all easily accessable, and the beach is only 5-10 mins walk away. Noise from bars can be loud at night, but shutting the windows and turning on the air condition solves the problem.
---
Loved this hotel. Clean, big and comfortable rooms. The staff was very helpful and they gave us restaurant recommendations. Views were to die for. Walking distance to all restaurants and beaches.
---
Location of hostel is easy walking distance between main bus station and old town. Hostel reception was kind enough to allow me to check in an hour later than stipulated time. Also gives you a big map showing and explaining to you the sights of Makarska. Super helpful. Hostel building itself is very big and has many common areas. Was put in a 6 man room. Towels, rel...
---
More about Makarska
Agoda.com offers a great choice of accommodation in Makarska to suit every budget. Guests find many of the 2522 hotels in Makarska an attraction in themselves. Many areas, each with a distinctive atmosphere, are just waiting to be discovered across the city. Makarska has many attractions to explore with its fascinating past, intriguing present and exciting future. If you wish to pray or contemplate amazing architecture, 1 places of worship await you. If you're looking for a room in Makarska and don't want to pay too much, Agoda.com offers hundreds of fantastic deals which are updated daily.