Discover the neighborhoods of Nessebar
---
Best hotels & accommodations in Nessebar
Cheapest hotels in Nessebar
4-star hotels in Nessebar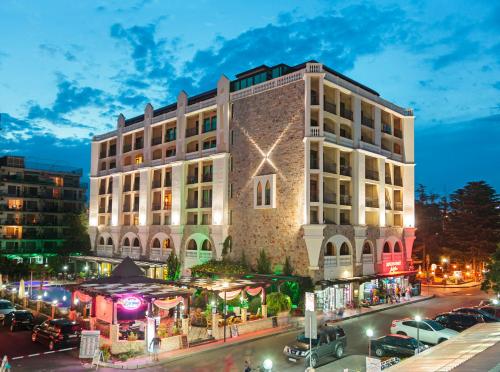 Babylon Hotel
"If you like quiet time at the pool, relaxing bed, beautiful rooms, no need for a stable wi -fi, a clean place to stay, if you don't need 3 kinds of bread in the morning, then this hotel can be the best chose you have in Sunny Beach!"
Show more
Smartline Meridian Hotel
"I have mixed feelings about this hotel, I love to get great value for my money and I definitely got it with this hotel but it has a few things that annoy me so much that if fixed could make this hotel awesome therefore I can't recommend it or come back. Breakfast has decent options but is pretty low quality, dinner was hit and miss, ridiculous elevators the restaurant is on the top floor which is amazing for the view but with just 2 elevators guests in all 10 floors are fighting to get to the restaurant very painful, the reception staff is definitely the rudest I have seen and I travel quite a bit (50+ nights a year), there suppose to be animation staff I saw a girl playing with the kids in the pool and that was about it. Now for the good stuff, truly great views from the restaurant, I got half board but still alcohol was quite cheap 2.5 lev for a great 500 ml beer awesome, pool was pretty good and clean, no complains with the room good and clean and as I mentioned is definitely good value for money but I guess that may be true in all Bulgaria"
Show more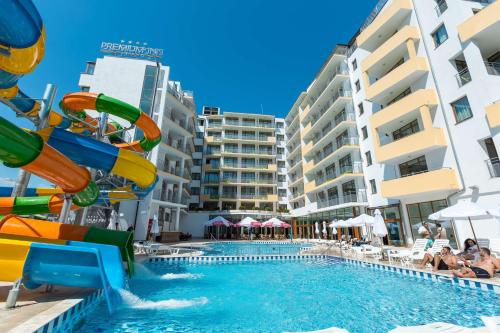 The Mill Hotel / Melnicata
"This is a great new hotel with all up to date amenities and room extras. Location is hard to beat: minutes walk from the old town; minutes walk to the new town beach,; perfect outlet to Sunny Beach; with the most amazing view to all of those mentioned and the sea."
Show more
MPM Hotel Arsena - Ultra All Inclusive
"Mitt opphold her var bra men jeg mener å kunne forlange at betjeningen i restauranter og barer snakker engelsk og ikke bare sitt eget språk. Mange misforståelser kunne da vært unn-gått. "
Show more
5-star hotels in Nessebar
Barcelo Royal Beach Hotel
"The hotel is pretty nice, the outside swimming pool is very good with great staffs. Large good looking rooms with a nice outside view of the swimming pool and the area surrounded by other hotels and buildings. No breakfast alone- HB or nothing. Breakfast was very good, dinner was less good(meat was mostly very dry). Breakfast includes water and juices but dinner not, you must pay for drinks even for a tap water from a cooler is not given. It is not possible to eat without drinking that means you must pay additional charge for water or other drinks which can be annoying."
Show more
Hotel Residence Dune - Free Beach Access
"- cheap decoration of the hotel was disappointing , all is made from fake materials e.g. plastic , even the bathroom's black tiles are made from plastic! - hotel's territory is small - the reception is at all not helpful, seems they do not know anything about the city or attractions - hotel's located in a noisy place - balconies are all open space, so you can not relax in private on the balcony"
Show more
Just viewed by other Agoda travelers
More about Nessebar
From opulent luxury hotels to kitschy boutique hotels, you can book your hotel room in Nessebar at the lowest rate guaranteed on Agoda.com. Choose from our selection of over 2290 hotels. We offer lots of promotions such as early bird offers and last minute deals. Many areas, each with a distinctive atmosphere, are just waiting to be discovered across the city. Nessebar has many attractions to explore with its fascinating past, intriguing present and exciting future. Although there's plenty of pleasure to be had simply walking around the city, there are 3 museums and galleries in Nessebar that deserve some of your time. Don't delay and book today to get the best hotel deals in Nessebar!