Hotels in Newquay
Our top picks
Lowest price first
Nearest to
Best reviewed
Fast facts about Newquay, United Kingdom
| | |
| --- | --- |
| Accommodations | 919 properties |
| Popular hotel | Newquay Beach Hotel |
| Popular area | Newquay Harbor |
| Nightly rates from | $15 |
| Airport | Newquay Airport |
4-star hotels in Newquay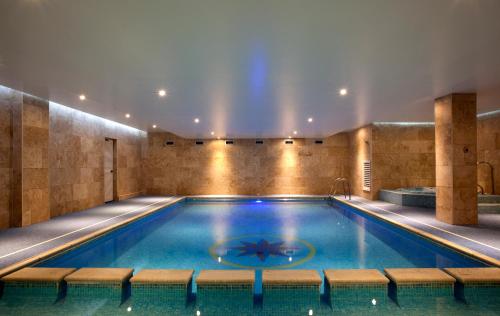 9 Exceptional
Based on 17 reviews
---
We love this hotel, All the staff are very kind and helpful, The surrounding scenery is very breathtaking and our entire stay was very relaxed, We've stayed here many times and will definitely be returning again soon Many thanks
9.7 Exceptional
Based on 23 reviews
---
A great little hotel close to the Newquay beach and town centre. Upon arrival, the host gave us an intro on how to get around Newquay. The reservation arrangements between the hotel and the third party wasn't efficient enough as I ended up with a standard double room upon arrival, having booked the one with a balcony on Agoda. Neither the hotel nor the reservation prov...
7.4 Very good
Based on 3 reviews
---
Lovely relaxed weekend. location near the beach just across the road. Not far to walk into Newquay. Staff was very friendly and helpful making our stay very pleasant. Thank you for a lovely weekend.
10 Exceptional
Based on 1 reviews
---
Awesome! Could not have been happier! Great food, awesome location, room was fabulous
7.1 Very good
Based on 7 reviews
---
We booked on line and had good communications. The Staff on our arrival and during the stay were always courteous and friendly. The Hotel is well resourced and is situated in a commanding and strategic position for views of the sea and walks around the coast. We really enjoyed our stay and the new 'Massage or Knot' service offers a breath to the relaxing facilities an...
9.1 Exceptional
Based on 4 reviews
---
quiet, calm, friendly, lovely staff and dog friendly. The wild restaurant serves excellent, simple local ingredients with clever spices cooked to perfection. This is is a delightful hotel with a colourfull sense of style
10 Exceptional
Based on 1 reviews
---
Great pub and beautiful and large rooms
---
Real reviews for hotels
The town caters well for all types of clientele and has excellent beaches, and ample room to relax both on the beaches and on the coast.
---
Frequently asked questions
What's the typical price of a property in Newquay this Friday and Saturday?
The average price for a 3-star hotel in Newquay this Friday and Saturday is USD 61. The typical price for a 4-star hotel in Newquay this Friday and Saturday is USD 194. The typical price for a 5-star hotel in Newquay this weekend is USD 169.
What are the top resorts in Newquay near Newquay Airport?
Verified vacationers to Newquay who stayed close to Newquay Airport have given top rated reviews to Penwyth House, Porth Beach Hotel and Haven Lodge Newquay.
What are the top hotels in Newquay for families?
Accommodations in Newquay that are remarkably rated by families include Newquay Beach Hotel, Pentire Hotel and The Smugglers Inn.
What hotels in Newquay offers the best views?
Verified visitors to Newquay have given amazing reviews for the views at OYO Minerva Guesthouse, The Quies Hotel and Porth Beach Hotel.
What hotels in Newquay have the best breakfast?
Verified tourists to Newquay have given remarkable reviews for the breakfast at The Lyncroft, Rolling Waves and St Bernards Guesthouse.
What hotels found in Newquay are well rated for value for money?
Resortslocated in Newquay that is well rated regarding value for money include The Plume of Feathers, The Trelinda Guest House and Newquay Bay Resort.
What hotels around Newquay are highly rated with respect to service?
Accommodationsfound in Newquay which is very highly rated with regards to service include Oceanside Lifestyle Hotel, The Headland Hotel and Spa and The Plume of Feathers.
What are the ideal resorts located in Newquay that have bars?
Resorts that have bars in Newquay that are exceptionally rated include St Bernards Guesthouse and White Acre's Holiday Park, 602 Sycamore Forest.
What are the ideal wheelchair accessible resorts around Newquay?
Wheelchair-accessible properties around Newquay which are very highly rated include The Burrow at Woodlands, The Burrow at Woodlands, and The Burrow at Woodlands.
When should I make a trip to Newquay?
Last year, Newquay gained its most visitors during the month of August. Nevertheless, make sure to consider other months during which there are a fewer amount of visitors, as the most popular sights will be less packed.
Is proof of vaccination necessary to enter Newquay?
Proof of COVID-19 vaccination is not required to enter Newquay from outside the country. For more information, please reach out to local authority or check out here.
Is pre-departure covid test mandatory for fully vaccinated tourists to enter Newquay?
Proof of negative pre-departure COVID-19 test may be required to enter Newquay. For recent and in depth information on travel restrictons, please go to the official websites of the travel authority or government of the country you wish to visit, or go to here.
Explore more travel vacation rentals
More about Newquay
Discover the Best Time to Visit Newquay for an Unforgettable Experience
Newquay is a seaside town located on the north coast of Cornwall, United Kingdom. It is known for its stunning beaches, vibrant nightlife, and adventurous water sports. The best time to visit Newquay is during the summer months from June to August when the weather is warm and sunny. This is also the peak tourist season, so expect higher hotel rates and crowded beaches. If you prefer a quieter and more peaceful atmosphere, visit during the shoulder season in May or September. The weather is still pleasant, and hotel rates are more affordable.
Explore the Top Fun Things to Do in Newquay for an Exciting Getaway
Newquay offers a wide range of fun activities for travelers of all ages. The town is famous for its surfing, and there are several surf schools where you can learn to ride the waves. If you prefer a more relaxing beach experience, head to Fistral Beach, one of the most popular beaches in Newquay. You can also take a stroll along the South West Coast Path, which offers breathtaking views of the coastline. For a more adventurous experience, try coasteering, a thrilling activity that involves climbing, swimming, and jumping off cliffs into the sea. Newquay also has several adventure parks, such as Holywell Bay Fun Park and Dairyland Farm World, which are perfect for families with children. If you are interested in history and culture, visit the Newquay Heritage Archive and Museum, which showcases the town's rich history and heritage. You can also take a trip to the nearby Tintagel Castle, which is said to be the birthplace of King Arthur.
Why Agoda.com is the Best Place to Book Your Newquay Accommodation
Agoda.com is the best place to book your Newquay accommodation because it offers a wide range of hotels to choose from, including the Legacy Hotel Victoria, Great Western, Pentire Hotel, Esplanade Hotel, and Oceanside Lifestyle Hotel. These hotels offer comfortable and affordable accommodation, and are located close to the town's top attractions. When you book your accommodation through Agoda.com, you can take advantage of special deals and discounts, which can help you save money on your trip. You can also read reviews from other travelers to help you make an informed decision about where to stay.
A Traveler's Guide to Getting to Newquay with Ease
Newquay is easily accessible by car, train, or plane. If you are driving, take the M5 motorway to Exeter, then follow the A30 to Newquay. If you prefer to travel by train, there are direct trains from London Paddington to Newquay, which take around 5 hours. The nearest airport is Newquay Cornwall Airport, which has regular flights from London and other major UK cities. Once you arrive in Newquay, you can easily get around by foot, bike, or bus. There are several bus routes that connect the town with other parts of Cornwall, such as Truro and St Ives.
Indulge in the Delicious Flavors of Newquay: What to Eat During Your Stay
Newquay is known for its fresh seafood, and there are several restaurants that serve delicious fish and chips, crab, and lobster. The Fish House Fistral is a popular seafood restaurant that offers stunning views of the beach. If you prefer something more casual, head to The Stable, which serves delicious pizzas and ciders. For a taste of traditional Cornish pasties, visit The Cornish Bakery, which has several branches in Newquay. You can also try the famous Cornish ice cream at Jelbert's, which has been serving ice cream since 1932.
Where to Stay in Newquay: A Guide to the Best Neighborhoods and Hotels
Newquay has several neighborhoods that offer different experiences for travelers. If you want to be close to the beach and nightlife, stay in the town center, which is home to several bars, restaurants, and nightclubs. The Legacy Hotel Victoria is a great option for travelers who want to be in the heart of the action. If you prefer a quieter and more peaceful atmosphere, stay in the Pentire neighborhood, which is located on a headland overlooking Fistral Beach. The Pentire Hotel is a great option for travelers who want to enjoy stunning sea views and a more relaxed atmosphere.
Uncover the Fascinating Fun Facts About Newquay, United Kingdom
Newquay has several fun facts that make it a unique and interesting destination. The town is home to the UK's first artificial surfing reef, which was built in 2010 to improve the quality of the waves at Fistral Beach. Newquay is also known for its vibrant nightlife, and has been named the "surfing capital of the UK." If you are a fan of the TV show Poldark, you may be interested to know that several scenes were filmed in and around Newquay. The town is also home to the Blue Reef Aquarium, which has a variety of marine life, including sharks, rays, and sea turtles.
Expert Tips for a Memorable Trip to Newquay, United Kingdom
To make the most of your trip to Newquay, here are some expert tips to keep in mind: - Book your accommodation in advance to ensure availability and get the best rates. - Bring warm clothes and a raincoat, as the weather can be unpredictable. - Try the local seafood and Cornish pasties for a taste of the region's cuisine. - Take a surfing lesson or try coasteering for an adventurous experience. - Visit during the shoulder season to avoid crowds and save money on your trip.
How to Travel Around Newquay and Make the Most of Your Visit
Newquay is a small town, and most of the top attractions are within walking distance of each other. If you want to explore further afield, there are several bus routes that connect the town with other parts of Cornwall. If you prefer to explore on two wheels, you can rent a bike from one of the several bike rental shops in Newquay. Cycling is a great way to explore the town's beautiful coastline and countryside. Overall, Newquay is a fantastic destination for travelers looking for a seaside getaway. With its stunning beaches, vibrant nightlife, and wide range of activities, there is something for everyone in this charming town. Book your accommodation through Agoda.com to ensure a comfortable and affordable stay.