Hotels in Oamaru
Our top picks
Lowest price first
Nearest to
Best reviewed
Fast facts about Oamaru, New Zealand
| | |
| --- | --- |
| Accommodations | 80 properties |
| Popular hotel | Brydone Hotel Oamaru |
| Popular area | South Hill |
| Nightly rates from | $21 |
4-star hotels in Oamaru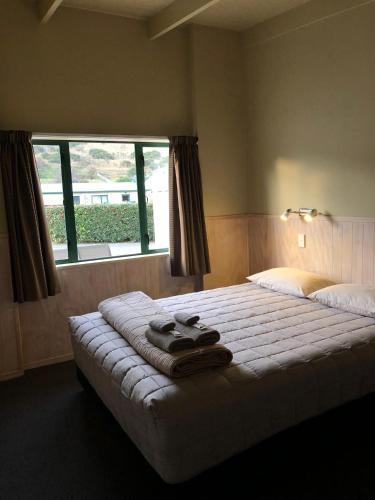 8.7 Excellent
Based on 96 reviews
---
First thing first. The staff was friendly, and was very helpful booking the blue penguin tour tickets for us. The location was acceptable, and we could quickly drove to the town center and the blue penguin observatory. That's pretty much the good side I would say about this place. The "deluxe" room was a bit small, and we could especially feel the pressure when we t...
---
when booking I had thought it was overpriced for Oamaru - but when I checked in I was extremely pleased with the sizable space and facilities. The host provided a basket of home baked muffins upon check-in. and was a great source of information regarding the penguin shows.
---
When we arrived there was a problem with our booking which was immediately sorted by the staff finding alternative accommodation in the town centre. We were welcomed back the following day with chocolates and wine as compensation. The staff could not have been more apologetic or contrite;they did all they could to make us welcome. The room was large, well furnished, cl...
7.7 Very good
Based on 100 reviews
---
Lovely. We've stayed there before and we'll stay there again next time we go to Oamaru. Free wifi, reasonably priced rooms, everything is clean and in good condition. They have a nice common area with free tea, coffee and hot chocolate (also available in the rooms). The views are stunning, as the hotel is on top of a hill. The hill can be the only downside if you ...
8.2 Excellent
Based on 94 reviews
---
There's a Macdonalds and petrol station just next to the motel and a KFC opposite. A number of other eateries can also be found near the vincity of the motel. Room was just nice for 2 pax with heated blankets for winter!!! The motel staff was all smile despite us checking in at 8pm. The only down side was that it was really difficult to the entrance of the motel. We ma...
---
AAA Thames Court Motel is a very modern and new motel and the city of Oamaru. The facilities are well maintained and we enjoyed our stay very much.
---
Real reviews for hotels
You must go see Steampunk HQ, an ancient home to curious machines, steam powered aetheric devices from other worlds, portals unexplainable mysterious dimensions and unusual sights to fascinate and delight!Steampunk HQ is a very mysterious building on the edge of Oamaru's Historic Precinct.
---
Frequently asked questions
What's the average price of a hotel in Oamaru?
The typical price for a 3-star hotel in Oamaru is USD 97. The average price for a 4-star hotel in Oamaru is USD 83. The average price for a 5-star resort in Oamaru is USD 221.
What are the recommended hotels located in Oamaru intended for single visitors?
Hotels located in Oamaru which are well rated by single visitors are AAA Thames Court Motel, Oamaru Backpackers and Empire Hotel Backpackers.
What are the prime resorts in Oamaru for business travelers?
Accommodations located in Oamaru which are exceptionally rated by business travelers are AAA Thames Court Motel, Oamaru Backpackers and Empire Hotel Backpackers.
What hotels around Oamaru are highly rated regarding location?
Propertiesaround Oamaru which is very highly rated with respect to location include Accommodation at Lakeside, The Old Confectionery and The Vicarage Boutique Bed and Breakfast Oamaru.
What hotels in Oamaru are very highly rated with respect to room comfort and quality?
Propertiesfound in Oamaru that is highly rated with respect to room comfort and quality include Coastal Accommodation, ASURE Ambassador Motor Lodge and Northstar Motel.
What resorts found in Oamaru are highly rated with regards to service?
Propertieslocated in Oamaru which is well rated for service include Affordable On Arun, Accommodation at Lakeside and The Old Confectionery.
What are the most appropriate hotels found in Oamaru which have restaurants?
Properties which have restaurants located Oamaru that are well rated include Oamaru House Bed and Breakfast, Casa Nova House and Casa Nova House.
What are the preferred places to stay in Oamaru which have bars?
Hotels which have bars around Oamaru that are exceptionally rated include Makikihi Country Hotel, Makikihi Country Hotel and Makikihi Country Hotel.
Where can I book rooms in Oamaru that has free cancellation policy?
Yes, you'll find most hotel rooms provide free cancellation rates, in which you will receive a full refund if you cancel prior to the deadline. Filter your search by free cancellation to find flexible hotel deals in Oamaru.
When should I visit Oamaru?
Last year, Oamaru received its most visitors during the month of November. In spite of this, make sure to consider other months during which there are fewer guests, as the most popular destinations will be less crowded.
How long should I plan my stay in Oamaru?
In the past 3 months, vacationers spend time in Oamaru for 1 nights on average. The optimal length for your travel will be determined by what you want to see and explore while there.
Is quarantine expected for unvaccinated visitors to enter Oamaru?
Quarantine may be required for unvaccinated foreigners to enter Oamaru from outside the country. For updated and in depth information on travel restrictons, please check out the official websites of the travel authority or government of the country you wish to travel to, or go to here.
Explore more travel vacation rentals
More about Oamaru
Discover the Hidden Gems: Fun Facts About Oamaru, New Zealand
Oamaru is a charming town located on the South Island of New Zealand, known for its picturesque Victorian architecture, stunning coastline, and unique attractions. But did you know that Oamaru is also home to the world's smallest penguin species, the Little Blue Penguin? Visitors can watch these cute creatures waddle up the beach at dusk from a specially built viewing platform. Another fun fact about Oamaru is that it is the Steampunk capital of New Zealand, with a vibrant and creative community that celebrates the Victorian era with a futuristic twist.
Top Reasons to Visit Oamaru: A Must-See Destination in New Zealand
Oamaru is a must-see destination for travelers visiting New Zealand. The town is a perfect blend of history, culture, and natural beauty. Visitors can explore the historic precinct, which is home to some of the best-preserved Victorian buildings in New Zealand, including the Oamaru Opera House and the Forrester Gallery. The Steampunk HQ is another unique attraction that showcases the creativity and ingenuity of the local community. Oamaru is also a gateway to some of the most spectacular scenery in New Zealand, including the Moeraki Boulders and the Otago Peninsula.
How to Get to Oamaru: Your Ultimate Travel Guide
Oamaru is easily accessible by road, rail, and air. The town is located on State Highway 1, which runs the length of the South Island, making it easy to reach by car or bus. The nearest airport is Dunedin International Airport, which is approximately one hour's drive from Oamaru. Visitors can also take the scenic Taieri Gorge Railway from Dunedin to Oamaru, which is a popular tourist attraction in its own right.
Unleash Your Inner Explorer: Fun Things to Do in Oamaru
There are plenty of fun things to do in Oamaru, whether you're a history buff, a nature lover, or an adventure seeker. The historic precinct is a great place to start, with its beautifully preserved Victorian architecture and fascinating museums. Visitors can also take a tour of the town's many art galleries and studios, or explore the Steampunk HQ for a taste of the town's creative side. For nature lovers, the Oamaru Blue Penguin Colony is a must-visit, as is the nearby Moeraki Boulders, a collection of massive spherical rocks that have been eroded into strange and fascinating shapes by the sea.
Why Book with Agoda.com: The Best Hotels in Oamaru
Agoda.com offers a wide range of hotels in Oamaru to suit every budget and preference. Whether you're looking for a luxury boutique hotel or a budget-friendly hostel, Agoda.com has got you covered. Some of the top-rated hotels in Oamaru include THE MEWS Oamaru, Oamaru Backpackers, Poshtel, Oamaru Motor Lodge, and Alma Motel. These hotels offer comfortable and stylish accommodation, as well as a range of amenities and services to make your stay in Oamaru as enjoyable as possible.
The Best Time to Visit Oamaru: A Seasonal Guide
The best time to visit Oamaru depends on your interests and preferences. The summer months (December to February) are the busiest and most popular time to visit, with warm temperatures and plenty of sunshine. This is a great time to explore the town's many outdoor attractions, such as the Oamaru Blue Penguin Colony and the Moeraki Boulders. The autumn months (March to May) are also a great time to visit, with cooler temperatures and beautiful fall foliage. The winter months (June to August) can be chilly, but they offer a unique opportunity to see the Little Blue Penguins in their natural habitat. The spring months (September to November) are a great time to visit if you want to see the town's gardens and parks in bloom.
Expert Tips for Travelers: How to Make the Most Out of Your Oamaru Trip
To make the most out of your Oamaru trip, it's important to plan ahead and do your research. Some of the top tips for travelers include booking your accommodation in advance to ensure availability, packing warm clothing if you're visiting in the winter months, and bringing a good camera to capture the stunning scenery. It's also a good idea to book your activities and tours in advance to avoid disappointment, especially during the busy summer months. Finally, be sure to sample some of the local cuisine, such as fresh seafood and artisanal cheeses, which are a highlight of the region.
Where to Stay in Oamaru: Accommodation Options for Every Budget
Oamaru offers a range of accommodation options to suit every budget and preference. For budget-conscious travelers, the Oamaru Backpackers and Poshtel offer affordable and comfortable dormitory-style accommodation. For those looking for a bit more luxury, the Alma Motel and Oamaru Motor Lodge offer stylish and modern rooms with a range of amenities and services. THE MEWS Oamaru is a popular choice for travelers who want to stay in a historic building with plenty of character and charm.
Taste the Flavors of Oamaru: What to Eat in this Charming New Zealand Town
Oamaru is a foodie's paradise, with plenty of delicious and unique culinary experiences to be had. Visitors can sample fresh seafood, including crayfish, salmon, and blue cod, which are caught locally and prepared to perfection. Artisanal cheeses are also a highlight of the region, with several local cheese factories offering tastings and tours. For a sweet treat, be sure to try the famous Whitestone Cheese ice cream, which is made with locally sourced ingredients and is a favorite among locals and visitors alike.
Getting Around Oamaru: Transportation Options for Tourists
Oamaru is a small town that is easy to explore on foot. However, if you want to venture further afield, there are several transportation options available. Rental cars and bicycles are available for hire in the town, and there are several local tour operators that offer guided tours of the region. The Taieri Gorge Railway is a popular tourist attraction that offers a scenic and historic journey from Dunedin to Oamaru, and there are also regular bus services that connect Oamaru to other towns and cities in the region.