5-star hotels in Panama City
---
My family's stay at the Westin was very relaxing and comfortable. It's a great hotel that is away from the city and offers a lot of leisure activities for those with children or not. If you want to walk around the city I recommend not staying here because it is about a fifteen minute drive to the edge of the city, and not the heart of Panama City where most tourists wo...
---
Pros: friendly, bilingual staff; big, clean rooms; amazing views from room and rooftop pool; good food at the restaurant; well kept gym and sauna; great location. I don't really have anything bad to say about the hotel. Our stay was amazing and we'll be back next time we're in Panama City!
---
Waldorf Astoria Panama is a real jem! Very high level service, unbelievable rooms, classy restaurants and a fantastic swimming pool and spa! The hotel is situated in the financial centre and it is located 30 minutes ride from the airport. Don't waste time taste Panama and stay at Waldorf Astoria a really new experience is waiting for you!
---
Hotel is in the middle of city with too many casinos around. Also there are lots of restaurants serving different kinds of food. Panama City is an expensive city compared to other South American cities and ther is not much to see.It does not worth to spend money and go there for sightseeing.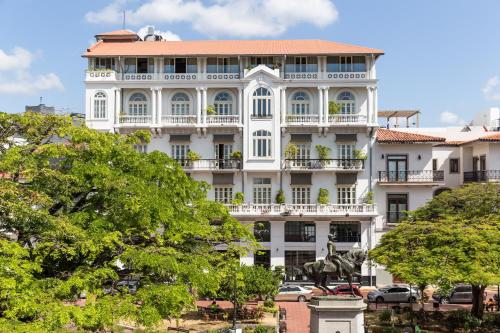 ---
Amazing location in the Casco Viejo. Very clean, well equipped, with a sense of detail and attention to maintain a retro style (light switches, bathroom, wooden floor, bedside lights,...) Some issues with the staff follow-ups - we struggled with airport transfer, canal visit booking, restaurant and jazz club bookings - and for the price they charge, you would expect th...
---
We do have a great stay in Continental Hotel & Casino . Totally we stay 5 nights in this hotel .The room we have was big and nice .If we are again in Panama City and we would like to stay at this Hotel . Only one matter is this hotel have not free WIFI in the room . The rest was good .
---
Nice hotel, casino is best in Panama City, service was good, attentive staff, food was very good, I would stay here again.
---
Great view from the balcony, clean rooms, well designed. Attentive staffs, quality service.
---
Nice Hotel but room was very damp and smelt musty. Room was so damp that when the aircon was used a film of water was generated which lay on the floor and made the floor slippy. Great friendly staff and OK meals but would not stay again
---
Traveler impressions of Panama City
It is a modern city with a very good public transportation system. It has the largest shopping mall in Latin America (Albrook Mall).
Reynold
, Trinidad & Tobago
My friends who stayed in Panama city told me there was not much to see, yet I really loved it. Its skyline is phenomenal, people are great, there are a number of things to see and activities, shopping possibilities etc.
Panama City surprised both my boyfriend and I. We were shocked by how much there was to do here, how safe we felt, how friendly everyone was, all of the sight seeing and gorgeous scenery.
It is beautiful, breathtaking, architecturally rich, the cultural experience through the eyes of a Panamanian friend we met has enlighten our experience of Panama City.
If you are a North American expect to pay double or triple the local rate. Expect the Panamanian to try and rip you off.
Explore the old and new, which is joined by a wonderful waterfront pathway. Go to the Panama Canal, Casco Viejo, Financial District, and participate in various physical activities on the waterfront.
I am sorry not to be able to tell too much about Panama City. I was on a business trip. The city looks very modern with new highrise buildings and a very nice waterfront.
The city can be explored in about 3-4 days. Good location to book trips, e.g. Gamboa Rainforest or Canal Tour.
---
Panama City's best hotels with breakfast
---
Explore more travel vacation rentals
Find the Perfect Type of Accommodation
---
More about Panama City
The capital city of Panama and of the Panama Province, Panama City is a sprawling metropolis and a widely popular tourist destination. The city is served by
Tocumen International Airport
, which is located just outside of the city center.
Of course, the most popular attraction in Panama City is the
Panama Canal
, an impressive canal system that connects the Caribbean Sea to the Pacific Ocean. This canal has been very important for international trade in that region, as well as a tourist destination complete with a dedicated museum and visitor's center.
The
Museo de la Biodiversidad
was designed by the famed architect Frank Gehry, and it's a beautiful building worth exploring over the course of a relaxed afternoon. As the museum is located on the Amador Causeway, it's a great location in which to get a sense for all the different components of the city while enjoying a great view of the city's skyline.
Find out where the rest of Panama City's hotels, attractions, and must-see destinations are located by exploring the interactive map on this page.