Hotels in Pecs
Our top picks
Lowest price first
Nearest to
Best reviewed
Fast facts about Pecs, Hungary
| | |
| --- | --- |
| Accommodations | 302 properties |
| Popular hotel | Boutique Hotel Sopianae |
| Popular area | Pecs Downtown |
| Nightly rates from | $29 |
| Airport | Pécs-Pogány International Airport |
4-star hotels in Pecs
---
First thing, get off at the main railway station rather than the OTHER station which looks closer on the map like I did, because that was an out-of-the-way stop closer to the tobacco factory. You can hop in a cab or drag your luggage about ten minutes, and the hotel is right on the intersection on the edge of the historic center and neighbors the famous Pecs University...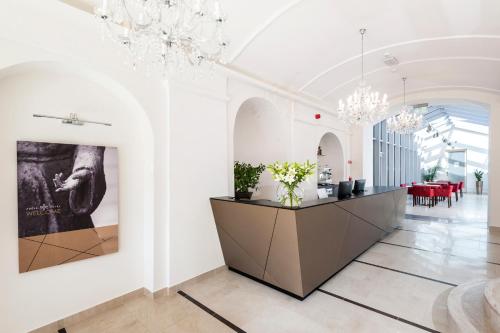 8.3 Excellent
Based on 3 reviews
---
Refreshing change from chain hotels, staff was very friendly
---
the room i had was located in the further regions of the hotel. i had to go through the main building, go outside cross the field and then my room was there. the room locations can get a little scary at night time because i returned from uni at around 8/9 ish and the lights were all off and i had to find my door in pitch black literally. not a nice feeling. the wal...
7.9 Very good
Based on 13 reviews
---
The city itself didn't impress me much, as the public transport is designed to rip people off and treat tourists very unfairly. I wish I never left the room. The room and the hotel were absolutely amazing, next time I go to Hungary I might go back to this city just for the hotel. The staff was wonderful, very helpful, flexible, attentive. My room was spacious, they gav...
---
The hotel is located in the mid-level of Pecs where you could enjoy a mountain view. The room is spacisous with a balcony and a bathtub. Everything is clean, neat and new. The hotel offers nice breakfast. The staff are polite and helpful.
---
Real reviews for hotels
Beware of public transport as employees at the bus company will do their best to rip u off. When you get on the bus make sure you have an unused ticket, and you validate it immediately as soon as u get on board the bus, otherwise they'll fine you.
Pecs is a nice little town. Unfortunately, I went there in January and many things were closed or closed early.
Apart from the many beautiful monuments such as the Bishop's Palace and St. Peter & Paul Cathedral, there are many splendid historical houses, museums and gardens.
---
Frequently asked questions
What are the most famous hotels in Pecs?
Some of our most popular accommodations in Pecs are Corso Hotel Pecs, Boutique Hotel Sopianae and Hotel Makar Sport & Wellness.
What are the top hotels in Pecs for families?
Accommodations in Pecs that are widely ranked by families include Corso Hotel Pecs, Boutique Hotel Sopianae and Hotel Makar Sport & Wellness.
What resorts in Pecs offers the best views?
Verified visitors to Pecs have given top evaluations for the views at Bagoly Pincesor Fogado, Fonix Hotel and Hotel Therapia.
What properties around Pecs are highly rated for location?
Hotelslocated in Pecs which is well rated with respect to location include Joker Panzio, Minaret Residence & Relax Pecs and Palatinus Boutique Hotel.
What hotels in Pecs are exceptionally rated for service?
Hotelslocated in Pecs that is exceptionally rated for service include Minaret Residence & Relax Pecs, Hungaria Apartments and Ciszterci Szallas Pecs.
What are most suitable getaway rentals in Pecs?
A holiday rental in Pecs which is well rated with regards to service is FIBULA Residence Apartment with 1 bedroom.
What are the most appropriate places to stay around Pecs that has complimentary parking?
A property that includes complimentary parking found in Pecs that is highly rated is family apartman (four person).
What are the best hotels in Pecs which has airport transfer?
Properties offering airport transfer around Pecs that are well rated include Kiraly Str Apartman with free parking, Kiraly Str Apartman with free parking and Kiraly Str Apartman with free parking.
What are the top wheelchair accessible resorts found in Pecs?
Wheelchair-accessible accommodations around Pecs which are exceptionally rated include Inci apartman, Inci apartman, and Inci apartman.
What are the preferred hotels in Pecs with fitness center?
Accommodations that have fitness center located in Pecs that are well rated include Minaret Residence & Relax Pecs, Minaret Residence & Relax Pecs and Minaret Residence & Relax Pecs.
What are some forthcoming holidays in Pecs?
The forthcoming holidays in city_name include Christmas Day on 12/25/2023, Second Day of Christmas on 12/26/2023, and New Year's Day on 1/1/2024.
Is quarantine expected for unvaccinated travelers to enter Pecs?
Quarantine is not required for unvaccinated visitors to enter Pecs from outside the country. For up-to-date and in depth information on travel restrictons, please visit the official websites of the travel authority or government of the country you wish to visit, or go to here.
Explore more travel vacation rentals
More about Pecs
Discovering the Hidden Gems of Pecs, Hungary
Pecs is a hidden gem in Hungary that is often overlooked by tourists. This charming city is located in the southwest part of the country and is known for its rich history, cultural heritage, and stunning architecture. One of the most interesting facts about Pecs is that it was founded by the Romans over 2,000 years ago, and it has been inhabited ever since. Today, Pecs is a vibrant city that offers visitors a unique blend of old-world charm and modern amenities.
Top Reasons Why Pecs Should Be Your Next Travel Destination
There are many reasons why Pecs should be your next travel destination. First and foremost, the city is home to some of the most stunning architecture in Hungary, including the UNESCO World Heritage Site, the Early Christian Necropolis. This site features a collection of underground tombs and burial chambers that date back to the 4th century. Another must-visit attraction in Pecs is the Zsolnay Cultural Quarter, which is a complex of museums, galleries, and workshops that showcase the famous Zsolnay ceramics. Aside from its cultural attractions, Pecs is also a great destination for outdoor enthusiasts. The city is surrounded by beautiful hills and forests that offer hiking and biking trails for visitors to explore. Additionally, there are several thermal baths and spas in the area where visitors can relax and unwind after a long day of sightseeing.
Traveling to Pecs: Your Ultimate Guide
Getting to Pecs is easy, as the city is well-connected by train and bus to other major cities in Hungary. The nearest airport is in Budapest, which is approximately a two-hour drive from Pecs. Once you arrive in Pecs, the best way to get around is on foot or by public transportation. The city has an excellent bus system that connects all of the major attractions and neighborhoods. When it comes to accommodation, there are several options available to suit every budget and preference. Some of the most popular hotels in Pecs include the Corso Hotel Pecs, Szinbad Hotel, Hotel Central, Konig Hotel, and Bagolyvar Panzio. These hotels offer a range of amenities, from budget-friendly rooms to luxurious suites, and are located in convenient locations throughout the city.
10 Fun Things to Do in Pecs, Hungary
1. Visit the Early Christian Necropolis, a UNESCO World Heritage Site 2. Explore the Zsolnay Cultural Quarter and admire the famous Zsolnay ceramics 3. Take a stroll through the historic city center and admire the stunning architecture 4. Visit the Mosque of Pasha Qasim, which is one of the few remaining Ottoman-era buildings in Hungary 5. Take a dip in one of the city's thermal baths, such as the Szechenyi Thermal Bath or the Gellert Thermal Bath 6. Hike or bike through the surrounding hills and forests 7. Visit the Pecs Cathedral, which dates back to the 11th century 8. Explore the Pecs Zoo, which is home to over 500 animals 9. Take a guided tour of the city and learn about its rich history and culture 10. Enjoy a traditional Hungarian meal at one of the city's many restaurants and cafes.
Why Agoda.com is the Best Choice for Booking Your Pecs Hotel
If you're planning a trip to Pecs, then Agoda.com is the best choice for booking your hotel. Agoda.com offers a wide range of hotels in Pecs, from budget-friendly options to luxurious suites, and allows you to compare prices and amenities to find the perfect hotel for your needs. Additionally, Agoda.com offers a best price guarantee, so you can be sure that you're getting the best deal possible.
The Best Time to Visit Pecs: A Seasonal Guide
The best time to visit Pecs depends on your personal preferences and interests. If you're interested in outdoor activities like hiking and biking, then the best time to visit is during the spring or fall when the weather is mild and the foliage is beautiful. If you're interested in cultural events and festivals, then the summer months are the best time to visit, as there are several events and festivals that take place during this time.
Expert Tips for Traveling to Pecs, Hungary
When traveling to Pecs, it's important to keep a few things in mind. First, be sure to pack comfortable walking shoes, as the city is best explored on foot. Additionally, be sure to bring a camera, as there are many beautiful photo opportunities throughout the city. Finally, be sure to try some of the local cuisine, such as goulash, chimney cake, and Hungarian wines.
Where to Stay in Pecs: A Guide to the Best Neighborhoods
There are several neighborhoods in Pecs that offer great accommodation options. The historic city center is a popular choice, as it is home to many of the city's top attractions and restaurants. Another popular neighborhood is the Belvaros-Lipotvaros district, which is known for its beautiful architecture and vibrant nightlife. If you're looking for a quieter neighborhood, then the Terezvaros district is a great choice, as it is located on the outskirts of the city and offers a peaceful retreat.
What to Eat in Pecs: A Foodie's Guide to Hungarian Cuisine
Hungarian cuisine is rich and flavorful, and Pecs is no exception. Some of the must-try dishes in Pecs include goulash, which is a hearty stew made with beef, potatoes, and paprika, chimney cake, which is a sweet pastry that is cooked over an open flame, and Hungarian wines, which are known for their rich flavor and complexity. Additionally, there are many great restaurants and cafes throughout the city that offer a range of Hungarian and international cuisine.
Getting Around Pecs: A Guide to Transportation Options
Getting around Pecs is easy, as the city has an excellent public transportation system. The bus system is the most popular mode of transportation, and tickets can be purchased at kiosks throughout the city. Additionally, taxis are readily available and can be hailed on the street or ordered by phone. If you prefer to explore the city on foot, then be sure to wear comfortable walking shoes, as many of the city's top attractions are located within walking distance of each other.