5-star hotels in Phillip Island
---
We received a very warm welcome after a long journey, settled in briefly before whizzing off to the Penguin Safari. Our room was very clean and well appointed and the breakfast was fantastic. My wife is gluten intolerant and this was not a problem for the chef. Our only regret was that we couldn't stay longer.
---
Great location and beautiful apartment, would definately recommend. The only disappointment was with the sliding door not being able to lock.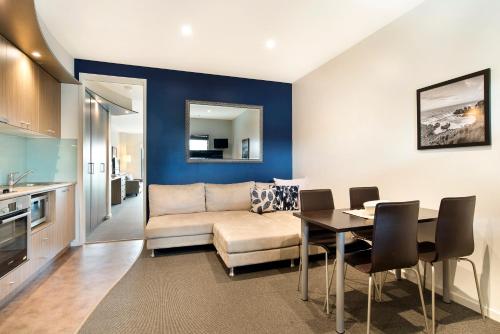 ---
Everything was close by-the beach, shops, the attractions. Bed wasn't comfortable enough for us. Didn't bother us but for the price you're paying a WiFi should be a standard amenity.
---
Quiet, spacious and very comfortable king size bed! Bathroom is spa-like with soaking tub with jets and wonderful breakfast bar for coffee/tea, yogurt, toast, cereal. Hosts Ann and Peter were very helpful on checkin. Large windows with access to large deck with sea views and living room with larger TV. Room also has TV with movie channels, etc. We had dinner at Sherwoo...
---
Discover the neighborhoods of Phillip Island
---
Find the Perfect Type of Accommodation
---
More about Phillip Island
Phillip Island is a popular weekend tourist destination thanks to its close proximity to Melbourne. There are a few small towns that dot the island which is easily accessible via a bridge. From Melbourne, Phillip Island is about an hour and a half away via the highway. There is also the option to take the ferry or to visit the island on a tour.
The main town of Phillip Island is
Cowes
, and smaller towns include Rhyll, Cape Woolamai, Ventnor, and Newhaven. Motorsports are very popular here, and the annual Australian Grand Prix is held at the
Phillip Island Grand Prix Circuit
. The biggest attraction, however, goes to the Penguin Parade. At Summerland Beach, the penguins take the cue from the sunset and head from the sea to their nests, making for quite a sight and an unmissable moment on Phillip Island. Rhyll is a small and peaceful fishing village as well as a feeding and breeding area for resident and migratory birds, and at Cape Woolamai are several walking tracks. There is, of course, a number of beaches to visit, and scuba diving is said to be spectacular here. Those with a sweet tooth must be sure to check out the Phillip Island Chocolate Factory, and animal lovers will enjoy a trip to the
Koala Conservation Center
.
Find the most suitable accommodation for you by clicking on our interactive map and exploring Phillip Island for hotels and must-see destinations.