Discover the neighborhoods of Port Alfred
---
Best hotels & accommodations in Port Alfred
Cheapest hotels in Port Alfred
4-star hotels in Port Alfred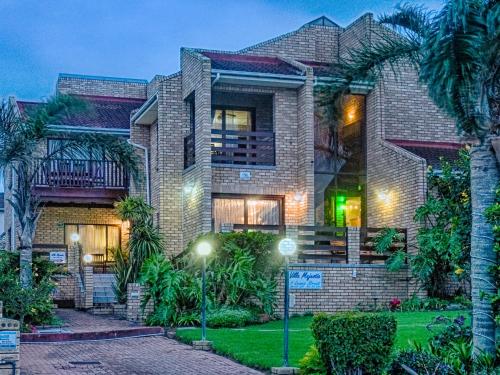 Villa Majestic for Exclusive Accommodation
"Compliments to the owner for giving me the executive room as my booked room was tiny. The new room was spacious, neat and tidy. Free WIFI. Negatives - The establishment is situated on a poor gravel road (you have to drive a 100meters on the road). Cars park on the road and the establishment is about 5 - 10 minutes in off the main road. No credit card facilities and had to use zapper to pay. Breakfasts were not that great. Dog barking till the late hours of the night. Being fair, there is better accommodation in Port Alfred."
Show more
5-star hotels in Port Alfred
Just booked
Just viewed by other Agoda travelers
Port Alfred's best hotels with breakfast
Breakfast option
MyPond Hotel
"Located right on the rivers edge and within walking distance of all the great restaurants Unfortunately the hotel did not have the room available that we had booked ( due to a water leak ) but managed to find us alternative rooms Staff were friendly and helpful Not quite sure of it should still be rated a 4 * - but still excellent value. Wifi was temperamental at best!"
Show more
Breakfast option
The Halyards Hotel and Spa
"The hotel room was large, clean and opened up onto the river. Very nice view. Had a quick breakfast the next morning and cant really comment. The negatives were that the gym is closed down - the hotel should remove this of their site as it was one of the reasons why I booked. Also WIFI is an added extra (in this day and age). Length paperwork to be completed on check-in (Why? When you already have all my details via the booking site)"
Show more
Breakfast option
Explore more travel vacation rentals
More about Port Alfred
Port Alfred is a small town in South Africa known for its kilometers of beaches. At the mouth of the Kowie River, the town is halfway between Port Elizabeth and East London. Several roads lead to Port Alfred, some being drives along the coast from Port Elizabeth or East London. Leaving the car behind while exploring won't be a problem here as the entire area can be easily covered on foot.

With the sun and sea at your fingertips, there will be no shortage of excitement while in Port Alfred. The area can be a fisherman's delight with opportunities to enjoy reef, river, estuary, deep sea, or coastal fishing. Divers can also get their fill among the soft coral reefs, numerous shipwrecks, and a crayfish breeding grown known as Lunar Landing. Staples of the South African experience include nature reserves, hiking trails, and horse riding – all of which can be enjoyed while in Port Alfred.

A range of accommodation is available for those looking to take in the offerings of Port Alfred. Bed and breakfast establishments, guest houses, and cottages are but a few ways you can stay. Whether it be in the town, along the coast, or away from it all, you are sure to find the right place. Find the most suitable accommodation for you by clicking on our interactive map and exploring Port Alfred for hotels and must-see destinations.