Hotels in Rhodes
Our top picks
Lowest price first
Nearest to
Best reviewed
Fast facts about Rhodes, Greece
| | |
| --- | --- |
| Accommodations | 4,294 properties |
| Popular hotel | Esperos Village Blue & Spa - Adults Only |
| Popular area | Rhodes City |
| Nightly rates from | $8 |
| Airport | Rhodes International Airport |
Luxury hotels in Rhodes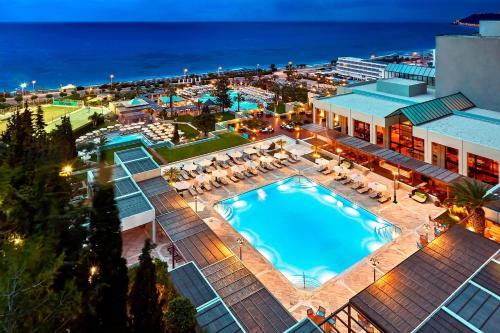 8.3 Excellent
Based on 21 reviews
---
Beautifully appointed hotel. Well maintained. Like the architecture and the pools scattered around. Plenty of lounge chairs and tables Con: location bit of a walk to town however catching a cab was no problem €10
9.1 Exceptional
Based on 23 reviews
---
The location of the Resort is 20 mins out from Rhodes old city a bus stop is located at the front of the resort for convenience. The rooms are spacious and clean, the pools are fantastic as is the beach. The buffet breakfast is superb and the staff are friendly and helpful.
8.3 Excellent
Based on 23 reviews
---
After reading a lot of good reviews about Amathus Beach Hotel Rhodes my expectations were very high. My expectations were however not met during our stay. Let's start with the bad stuff. We stayed in Bungalow 1, which was perfectly situated on the top floor with a big balcony. The room standard was not great though, the bathroom door did not close and our double bed wa...
7.7 Very good
Based on 23 reviews
---
A group of five stayed at the ixain grand , two rms . There were only king beds in all rooms, we need twin so had to use fold out couch , which was comfortable . The other room was triple they had to use king fold out couch and rollaway so a little cramped. Were expecting single beds in all rooms . As almost every where you go in Europe that is standard , either a doub...
10 Exceptional
Based on 5 reviews
---
Every single detail in the hotel is worth for your attentions!! We were looked after very very well by their hotel staffs, not just the receptionist, even the cleaner who also paid attention to details and served us a piece of chocolate with a stalk of beautiful rose after their room service. Our most delighted breakfast and serving during our entire honeymoon trips, m...
9 Excellent
Based on 49 reviews
---
We had a fantastic holiday in Rhodes, the room was clean and comfortable, the staff were outstanding and the food was excellent. If I was to make a small criticism it would be that some of the evening entertainment was not as good as it could be.
8.9 Excellent
Based on 12 reviews
---
We stayed here due to a wedding it was our first holiday with our 9 month old we booked a superior room but got told apon arrival we had been upgraded to a family Room (room 2121) which was very spacious it was a great pool view and a corner balcony which meant we had the sun all day my only complaint about the room was that we had 2 single beds pushed together it anno...
8.2 Excellent
Based on 10 reviews
---
The darker tiled area around pool is too hot to walk on with bare feet. Children's pool is under shade which is great, but water is freezing cold! Housekeeping not good at, had to ask for toiletries- toilet rolls and towels- water only available in the mini bar every other day? Come on!! Staff in royal bar area were rude and unpleasant-to be fair this is the only bar ...
8.7 Excellent
Based on 64 reviews
---
This is a very large modern hotel, the only reason I say it's not a 5* is the restaurants are all buffet style. There are 4 so called a la carte restaurants but it is a set menu, no choice, also hotel should really have sky / sky sports. Location is good about 4/5 kms from rhodes old town / harbour which is a must do. €8 each way in a taxi. This is a huge hotel, pay f...
---
Real reviews for hotels
this city is a kind of amazing place, full of old and historical buildings, churches, cosy cafe bars and small shops, very friendly inhabitants and of course amazing food, good choice for those who dont like to spend your vacation only on the beach.
in beginning people told it's a transfer island for go to santorini. But I found Rhodes is a very nice and beautiful place, worth for you to stay at least 3 nights, I love the old town.
chen
, Hong Kong SAR, China
---
Frequently asked questions
What's the typical price of a hotel in Rhodes?
The average price for a 3-star resort in Rhodes is USD 63. The average price for a 4-star resort in Rhodes is USD 108. The typical price for a 5-star property in Rhodes is USD 160.
What are the most popular places to stay in Rhodes?
Several of our most popular places to stay in Rhodes are Mitsis Alila Resort & Spa, Esperos Village Blue & Spa - Adults Only and Mitsis Grand Hotel.
What are the best properties in Rhodes for families?
Properties in Rhodes that are remarkably ranked by families include Mitsis Alila Resort & Spa, Esperos Village Blue & Spa - Adults Only and Mitsis Grand Hotel.
What accommodations in Rhodes offers the best views?
Verified travelers to Rhodes have given remarkable reviews for the views at Xenones Lindos, Ibiscus Hotel and Esperos Village Blue & Spa - Adults Only.
What properties in Rhodes have the best breakfast?
Verified visitors to Rhodes have given amazing reviews for the breakfast at Esperia City Hotel, Evdokia Hotel and Ibiscus Hotel.
What are the recommended accommodations located in Rhodes for business travelers?
Hotels around Rhodes that are exceptionally rated by business tourists are Mitsis Alila Resort & Spa, Esperos Village Blue & Spa - Adults Only and Mitsis Grand Hotel.
What hotels in Rhodes are very highly rated with respect to sanitation?
Hotelsfound in Rhodes which is well rated regarding cleanliness include George Beach Studios, Florida Hotel-Adults Only and Rodian Gallery Hotel Apartments.
What properties located in Rhodes are well rated regarding room comfort and quality?
Propertieslocated in Rhodes which is well rated with respect to room comfort and quality include Oktober Downtown Boutique Hotel, Hotel Riviera and Hotel Anastasia.
What are some upcoming holidays in Rhodes?
Holidays that are coming up in city_name include Christmas Day (Christougenna) on 12/25/2023, Second Day of Christmas on 12/26/2023, and New Year's Day on 1/1/2024.
When should I travel to Rhodes?
Last year, Rhodes gained its most visitors during the month of September. In spite of this, you may want to consider other months during which there are fewer travelers, as the most popular sights will be less jampacked.
How long should I remain in Rhodes?
In the past 3 months, visitors stayed in Rhodes for 1 nights on average. The optimal length for your travel will be determined by what you're looking to see and do while there.
Are international travelers allowed into Rhodes?
Foreign tourists are allowed into Rhodes, according to our most updated information. Due to evolving restrictions, we suggest you have a look at here for additional details.
Explore more travel vacation rentals
More about Rhodes
Discovering Rhodes: Fun Facts and Reasons to Visit
Rhodes is one of the most popular destinations in Greece, located in the Aegean Sea. It is the largest island of the Dodecanese and has a rich history that dates back to ancient times. The island is known for its beautiful beaches, crystal-clear waters, and stunning landscapes. Rhodes is also a UNESCO World Heritage Site, recognized for its cultural significance. One of the most interesting facts about Rhodes is that it is said to be the birthplace of the Greek god of the sun, Helios. This makes it a perfect place to visit if you want to bask in the sun and enjoy the beauty of nature. There are many reasons to visit Rhodes. The island has something to offer for everyone, from history buffs to adventure seekers. The Old Town of Rhodes is a must-visit, as it is one of the best-preserved medieval towns in Europe. It is surrounded by a massive wall and has a labyrinth of narrow streets and alleys that are perfect for exploring. The Palace of the Grand Master of the Knights of Rhodes is also located in the Old Town, and it is a great place to learn about the island's history. Rhodes is also a great destination for beach lovers. The island has some of the most beautiful beaches in Greece, such as Faliraki, Lindos, and Tsambika. These beaches are perfect for swimming, sunbathing, and water sports. If you are looking for something more adventurous, you can also try scuba diving or snorkeling in the crystal-clear waters of the Aegean Sea.
How to Travel to Rhodes: Tips and Best Season to Visit
Rhodes is easily accessible by air and sea. The island has an international airport that receives flights from major European cities, as well as domestic flights from Athens. If you are traveling from Athens, you can also take a ferry to Rhodes. The ferry ride takes about 12 hours, but it is a great way to see the Greek islands along the way. The best time to visit Rhodes is from May to October when the weather is warm and sunny. The peak season is from July to August, so if you want to avoid the crowds, it is best to visit in May, June, or September.
Exploring Rhodes: Fun Things to Do and Where to Stay
There are many fun things to do in Rhodes. If you are interested in history, you can visit the Acropolis of Lindos, the Ancient Kamiros, or the Valley of the Butterflies. If you are looking for adventure, you can go hiking in the mountains or try windsurfing in Prasonisi. When it comes to accommodation, Rhodes has a wide range of options to suit all budgets. If you are looking for a luxury experience, you can stay at The Ixian Grand & All Suites - Adults Only Hotel. This hotel is located on the beachfront and has a spa, outdoor pool, and a restaurant that serves Mediterranean cuisine. Another great option is the Oktober Downtown Boutique Hotel, which is located in the heart of Rhodes Town and has stylish rooms and a rooftop terrace with panoramic views of the city. For those who are looking for a more affordable option, the Svea Hotel is a great choice. This hotel is located in the center of Rhodes Town and has comfortable rooms, a bar, and a rooftop terrace. The Lydia Hotel and Hotel Hermes are also great options for budget-conscious travelers.
Tasting Rhodes: What to Eat and How to Travel Around
Rhodes has a rich culinary tradition that is influenced by Greek, Turkish, and Italian cuisine. Some of the must-try dishes include moussaka, souvlaki, and tzatziki. If you are looking for something sweet, you can try loukoumades, which are small doughnuts covered in honey and cinnamon. To get around Rhodes, you can rent a car, take a taxi, or use public transportation. The island has a good bus network that connects the major towns and villages. If you want to explore the island at your own pace, it is best to rent a car.
Booking with Agoda: Why Choose Us for Your Rhodes Hotel
Agoda.com is the perfect website to book your hotel in Rhodes. We offer a wide range of accommodation options to suit all budgets and preferences. Our website is easy to use, and you can easily compare prices and read reviews from other travelers. Booking with Agoda.com is also a great way to save money on your hotel. We offer exclusive deals and discounts that you won't find anywhere else. Plus, our customer service team is available 24/7 to assist you with any questions or concerns you may have.
Traveler's Guide to Rhodes: Tips for a Hassle-Free Vacation
To make the most of your trip to Rhodes, here are some tips to keep in mind. First, make sure to bring sunscreen, a hat, and sunglasses, as the sun can be quite strong during the summer months. Second, make sure to bring comfortable shoes if you plan on exploring the Old Town, as the streets can be quite steep and uneven. Third, make sure to try the local cuisine, as it is one of the highlights of the island. Fourth, make sure to pack a swimsuit, as there are many beautiful beaches to explore. Finally, make sure to book your hotel with Agoda.com to get the best deals and discounts.