Discover the neighborhoods of Rovaniemi
---
4-star hotels in Rovaniemi
---
We travel in Rovaniemi very comfortably because of the location of the hotel. It is just ten-minute walk from the city center. The staff is really helpful and the breakfast is very good.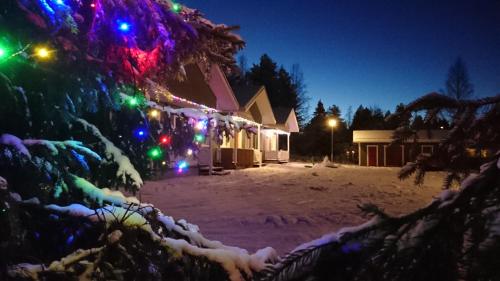 ---
The house was so spacious and conveniently close to the ski slopes. My kids had fun playing with snow in the front yard daily. We will still choose this house if we go back to Rovaniemi.
---
Traveler impressions of Rovaniemi
Besides Santa Claus Village, nothing attracted to come here. Don't need to spend too much time to stay here.
Its a small northern city which has a few museums and a ski hill. The main attraction is Santa's Village which is mediocre.
If you arrive this city by train with big luggage, I suggest you take a taxi to the hotel especially if you are staying next to the river.
---
Find the Perfect Type of Accommodation
---
More about Rovaniemi
Rovaniemi is the cultural and business center, as well as capital city of Finnish Lapland. More importantly, Rovaniemi is considered to be the official hometown of Santa Claus.
The city is served by
Rovaniemi Airport
, which is located just north of the center of the city. As the city is also the terminus of many trains, it's easily accessible by rail.
As the official hometown of Santa Claus, it's easy to guess how popular Rovaniemi can be among travelers, especially during the winter months and days leading up to the Christmas season. Many visitors flock to
Santa Claus Village
, which is located right in the middle of the Arctic Circle. The village is complete with many tourist attractions, including sledding for kids and many
Arctic Safaris
.
Rovaniemi is also a great place in which to see the stunning Northern Lights, which can be seen for several months beginning in early fall and end of winter. During the summer, it's possible to see the midnight sun, the period when the sun can be seen shinning for nearly 24 hours. Whatever the season, Rovaniemi is sure to be a breathtaking place to visit.
There's much more to see and do in Rovaniemi, and the interactive map on this page is a great way to explore where the attractions and hotels can be found in this exciting city.