Hotels in Shimla
Our top picks
Lowest price first
Nearest to
Best reviewed
Fast facts about Shimla, India
| | |
| --- | --- |
| Accommodations | 2,076 properties |
| Popular hotel | Snow Valley Resorts Shimla |
| Popular area | Shimla City Center |
| Nightly rates from | $5 |
| Airport | Shimla Airport |
Luxury hotels in Shimla
7.4 Very good
Based on 42 reviews
---
-very nice and clean hotel - Awsome staff service and food - perfect location and very nice views from room.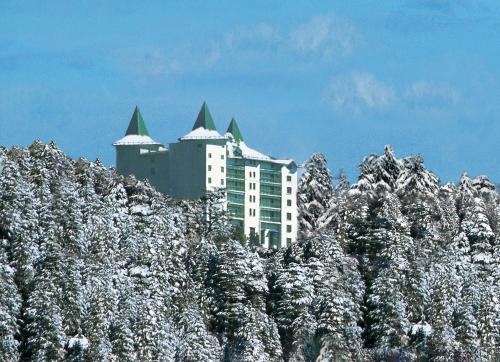 9.3 Exceptional
Based on 71 reviews
---
This could probably be the best honeymoon hotel in Shimla. Excellent location, amazing sunset views from balcony. Grand king sized bed and amazing toilet with tub. Was offered a cake and tub was decorated with petals and fragrance as me and my wife were on a honeymoon trip. Great location, just 15 mins walk to mall road where all things happen. In-room service has got...
9.2 Exceptional
Based on 73 reviews
---
Wildflower Hall Shimla Hotel is a wonderful property by Oberoi group. We stayed for 3 nights in the hotel & it was pure bliss. Hospitality at the hotel was amazing & GM Mr. Sharma made sure that we had the best of everything. Breakfast & Food was excellent, activities like nature walks, mountain biking, archery, tennis were amazing & fun. Spa & Massages pamper you & is...
---
Real reviews for hotels
Capital of Himachal Pradesh. Wonderful city with a long history. Beautiful scenery and a hill-way of life to experience.
Stay only one full day. Move on to Kufri or Naldehra or Manali as soon as possible. Very dirty, no waste management plan in place.
Shimla is beautiful. Especially the toy train journey from kalka. When you go to kufri, unfortunately it is not well looked after and the locals do not take pride in its appearance.
If you like a cold place in HOT INDIA this is it.Be prepared for the time it takes to get there add at least 1/2 hour to an hour whatever time the tour guide or driver tells you.
Shimla is replete in history.The sight and sounds are interesting,the Mall is overrun by tourists who often believe they are the only people in the Mall and has a lot of people with nothing to do but stare.
One must try the toy train from Kalka to Shimla. The city has awesome landscape and mountain views however the roads are bit congested and often are of not good quality.
Quite busy & commercialized city. Its more a city than a hill station. Too much population & traffic.
Viceroy lodge is great. Bird park is rubbish. Gulub jamun is delicious there. Hire a porter if the hills are too much for you and your luggage (only about 50 rupees) taxi is 150 minimum.
few places we liked, mall road is main attraction, tara devi mandir is another very good place to see, breath taking views of hills are good place for photography
it is good to avoid during summer holidays . Toy train ride is must. In fact this can be built in for one leg of journey to/from shimla.
We were quite sure we were not visiting temples and do the typically boring stuff, where you just travel in a car and reach a point, look around have a snack and go on to another site.
Overall visitng Shimla was a good experience. Good historical connection, state museum was worth watching.
A brilliant contrast to any other part of India. The cooler climate was welcome after the oppressive heat of Delhi .
---
Frequently asked questions
What's the normal price of a hotel in Shimla?
The typical price for a 3-star resort in Shimla is USD 31. The average price for a 4-star hotel in Shimla is USD 61. The average price for a 5-star hotel in Shimla is USD 80.
What's the best community in Shimla to stay in?
Popular local neighborhoods among foreigners staying in Shimla include Shimla City Center, Mashobra and Kufri.
What are the best places to stay found in Shimla for single travelers?
Properties in Shimla which are exceptionally rated by lone visitors are Snow Valley Resorts Shimla, The Grand Welcome Hotel and Snow Valley Heights.
What are the ideal accommodations around Shimla for group travelers?
Resorts found in Shimla that are highly rated by group tourists are Snow Valley Resorts Shimla, The Grand Welcome Hotel and Snow Valley Heights.
What hotels located in Shimla are well rated with regards to value for money?
Hotelsfound in Shimla which is highly rated regarding value for money include Trimurti Pine Valley Resort, Jungle Stays and Neha Homestay.
What places to stay located in Shimla are exceptionally rated with respect to service?
Resortsfound in Shimla that is well rated regarding service include Jungle Stays, Neha Homestay and The Thistle Lodge.
What are the ideal properties located in Shimla with restaurants?
Hotels with restaurants located Shimla which are well rated include The Stone Age (B&B) and Cross Winds West.
What's the best rated hotel in Shimla next to a golf course?
Highly rated hotels located in Shimla near golf course include Zu-Zu Hostel, New mehdudia B & B and Chadwick valley view Home stay.
Where can I book rooms in Shimla that has free cancellation policy?
Yes, you'll find most hotel rooms provide free cancellation rates, with which you can expect to receive a full refund if you cancel prior to the deadline. Filter your search by free cancellation to find flexible hotel deals in Shimla.
What are some forthcoming holidays in Shimla?
Holidays that are coming up in city_name include Republic Day (National Day) on 1/26/2024, Independence Day on 8/15/2024, and Mahatma Gandhi's Birthday on 10/2/2024.
Is quarantine expected for unvaccinated travelers to enter Shimla?
Quarantine may be required for unvaccinated visitors to enter Shimla from outside the country. For up-to-date and detailed information on travel restrictons, please go to the official websites of the travel authority or government of the country you wish to travel to, or go to here.
Is covid test upon arrival needed for fully vaccinated travelers to enter Shimla?
COVID-19 test may be required on arrival when entering Shimla from outside the country. For updated and in depth information on travel restrictons, please be sure to take a look at the official websites of the travel authority or government of the country you hope to visit, or go to here.
Explore more travel vacation rentals
More about Shimla
Discovering Shimla: Fun Facts and Reasons to Visit
Located in the northern part of India, Shimla is a charming hill station that has been attracting visitors for over a century. The city was once the summer capital of the British Raj and still retains much of its colonial charm, with its Victorian architecture, lush greenery, and scenic views. Shimla is also known as the "Queen of Hill Stations" and is a popular destination for travelers looking for a break from the heat and hustle of city life. One of the most interesting facts about Shimla is that it is home to the oldest golf course in India, the Naldehra Golf Club, which was built in 1920. The city is also famous for its toy trains, which have been running since the early 1900s and are now a UNESCO World Heritage Site. Another unique feature of Shimla is its bustling bazaars, where visitors can find everything from traditional handicrafts to modern fashion. There are many reasons to visit Shimla, including its pleasant climate, stunning natural beauty, and rich cultural heritage. The city is surrounded by snow-capped mountains, dense forests, and picturesque valleys, making it an ideal destination for nature lovers and adventure seekers. Shimla is also home to several temples and shrines, including the Jakhu Temple, which is dedicated to the Hindu god Hanuman.
Getting to Shimla: Travel Tips and Best Seasons to Go
Shimla is easily accessible by road, rail, and air. The nearest airport is located in Chandigarh, which is about 120 km away from Shimla. From there, visitors can take a taxi or bus to reach the city. Shimla is also well-connected by rail, with several trains running from Delhi and other major cities. The Kalka-Shimla Railway, which is a narrow-gauge railway, is a popular way to reach Shimla and offers stunning views of the surrounding mountains. The best time to visit Shimla is between March and June, when the weather is pleasant and the flowers are in full bloom. This is also the peak tourist season, so visitors should book their hotels in advance to avoid any last-minute hassles. The monsoon season, which lasts from July to September, can be unpredictable and may cause landslides and roadblocks. The winter season, which lasts from November to February, can be quite chilly, with temperatures dropping below freezing point.
Exploring Shimla: Fun Things to Do and Where to Stay
There are plenty of fun things to do in Shimla, whether you're traveling solo or with family and friends. One of the most popular activities is to take a stroll along the Mall Road, which is the main shopping and dining area in the city. Visitors can also take a guided tour of the Viceregal Lodge, which was once the summer residence of the British Viceroy. For adventure seekers, Shimla offers several trekking and hiking trails, including the famous Ridge Walk, which offers stunning views of the Himalayas. Visitors can also go mountain biking, paragliding, and river rafting in nearby areas. Those looking for a more relaxed experience can visit the many temples and shrines in and around Shimla, including the Kali Bari Temple and the Tara Devi Temple. When it comes to accommodation, Shimla offers a wide range of options to suit all budgets and preferences. Some of the best hotels in Shimla include the Snow Valley Resorts Shimla, Marigold Sarovar Portico Shimla, Dhanlaxmi Apartments, Taj Theog Resort & Spa Shimla, and HOTEL THE LEGACY SHIMLA. These hotels offer comfortable rooms, excellent amenities, and great views of the surrounding mountains.
Taste of Shimla: What to Eat and Where to Find It
Shimla is known for its delicious food, which is a blend of traditional Himachali cuisine and modern dishes. Some of the must-try dishes in Shimla include the Channa Madra, which is a spicy chickpea curry, the Tudkiya Bhath, which is a fragrant rice dish, and the Babru, which is a deep-fried bread stuffed with spiced lentils. Visitors can also try the local street food, including the famous Shimla chaat, which is a spicy snack made with boiled potatoes, chickpeas, and tamarind chutney. There are several restaurants and cafes in Shimla that serve a variety of cuisines, including Indian, Chinese, and Continental. Some of the best places to eat in Shimla include the Indian Coffee House, which is a popular spot for breakfast and snacks, the Café Sol, which offers a range of international dishes, and the Hide Out Café, which is known for its delicious cakes and pastries.
Booking with Agoda: Hassle-Free Hotel Reservations in Shimla
Booking a hotel in Shimla has never been easier, thanks to Agoda.com. Agoda offers a wide range of hotels in Shimla, from budget-friendly options to luxurious resorts. Visitors can choose from a variety of amenities, including free Wi-Fi, swimming pools, and spa services. Agoda also offers excellent customer service and 24/7 support, ensuring that visitors have a hassle-free experience. One of the biggest advantages of booking with Agoda is the ease of use of its website and mobile app. Visitors can easily search for hotels based on their preferences, including location, price range, and amenities. Agoda also offers exclusive deals and discounts on hotels in Shimla, allowing visitors to save money on their accommodation.
Traveling Around Shimla: Tips for a Smooth Experience
Traveling around Shimla is easy and convenient, thanks to the city's well-developed transportation system. Visitors can take local buses, taxis, or auto-rickshaws to reach their destination. The city also offers several walking trails, including the famous Heritage Walk, which takes visitors through the colonial-era buildings and landmarks in the city. Visitors should keep in mind that Shimla is a hilly region and may require some physical exertion. It is recommended to wear comfortable shoes and clothing and carry a water bottle and sunscreen. Visitors should also be aware of the local customs and traditions and dress modestly when visiting temples and shrines. In conclusion, Shimla is a beautiful and charming hill station that offers something for everyone. From its stunning natural beauty to its rich cultural heritage, Shimla is a destination that should not be missed. With its excellent hotels, delicious food, and easy transportation system, visitors can have a hassle-free experience and create unforgettable memories.