Fast facts about Sofia, Bulgaria
| | |
| --- | --- |
| Accommodations | 1,367 properties |
| Popular hotel | Hotel Marinela Sofia |
| Popular area | Sofia City Center |
| Nightly rates from | $6 |
| Airport | Sofia Airport |
5-star hotels in Sofia
---
Difficult to think about a better hotel in Sofia. Centrally located, within walking distance from all main attractions in town. The suite I took was simply wonderful, with at least 60 sq meters and with a suberb view of the cathedral.
---
Stay in Hilton Sofia was lovely. We stayed at the executive room on floor 8 and got a big room and city view. We had booked a standard room for 80 Eur per night but receptionist recommended an upgrade for 40 Eur to executive floor which included breakfast (20 Eur pp) and free internet (10 Eur). We also had access to the executive lounge on the first floor. Parking was ...
---
The hotel is located directly at the City and you can walk from there to the most interesting places. Check In was very professional . If you book a room with twin beds than you will NOT have a view at all and you have to face only another house or wall.The other rooms are with a perfect view to the Cathedral.Breakfast variety is ok and we wished there was more tradit...
---
This is the best place where business people can stay in Sofia city. Central location nera to subway station. New building with elevator, very clean room with comfortable bed. Nice balcony with good view where can stay smooking people. Pleasant warm room during cold winter season. I will stay here again when i come next time in Sofia.
---
They had Hotel construction work at the time of my stay witch it was very annoying couldn't sleep. other than that the hotel was nice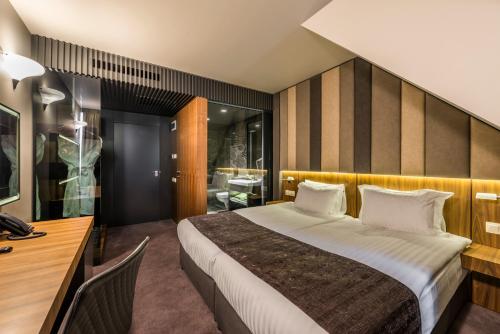 ---
First time at this hotel and it will not be my last.... it was really really good... the view was so good... mountains.... see the city of Sofia above...... it was peaceful, breathing fresh air.... good staff helpful.... tasty food.... good breakfast....... my friend and I were in single rooms absolutely super clean, all the amenities you need.....play area in the hote...
---
We booked 2 days for this hotel but it is so comfortable, we extended our stay and when we came back from Romania, we booked this hotel again. The food in the hotel is nice and inexpensive. The icon Cathedral is within walking distance. One can join the famous local tour (free) easily. There are quite a lot of good local restaurants either within walking distance o...
Chung
, Hong Kong SAR, China
---
First time using this hotel and what a lovely welcome helpful..... we were only staying for one night and the standard room was good...so clean... restaurant good.... food tasty..... staff excellent.... Breakfast brilliant again the staff could not do enough...... fabulous......
---
Traveler impressions of Sofia
Sofia is a city with long history. You may need at least 3 nights to enjoy it and its nearby spots. There are many events you can do, a city walk tour (this one is always my favorite, because you are shown around the city by a local person), a day-trip outside Sofia (there are many choices, depends on what you like), or just wondering around the city by yourself and discover interesting things or just taking photos.
Rooftop bar in 4star Sense hotel was great - sometimes Sense hotel is almost as cheap to stay in as some 3stars!
Do the Free Sofia tour. Definetely a highlight and the tourguides are very professional. It is free but do tip the guide! There are some interesting restaurants in Sofia and worth a visit.
There are a few sightseeing spots in the city, but Rila Monastery (outside Sofia) is the must-see. In general, we found the food good and nightlife quite vibrant.
Kendrick
, Hong Kong SAR, China
Just ignore the miserable locals. Enjoy the cheap prices. Bulgarians do little to be happy a bunch of depressives.
My God i loved this country i loved Bulgarian people ..It was my first trip to Bulgaria and i was not sure if im going to enjoy it but after i left i wished to return back i loved the nice hospitality and lovely people , nice weather , very tasty food , quite and lovely city i can write a book about this beautiful city and lovely country , i shall plan my holidays to visit every year .
---
Sofia's best hotels with breakfast
---
Explore more travel vacation rentals
Find the Perfect Type of Accommodation
---
More about Sofia
Sofia is a beautifully historic city and one of few that can boast beautiful scenery and a developed ski resort. With the city motto It Grows but Does Not Age, Sofia mixes thousands of years of history with the modern age. Served by
Sofia Airport
, travelers to this Bulgarian capital have convenient access to the city, and a convenient public transport system ensures easy access to city sites.
Sofia's history takes a noticeable stance with its stunning display of buildings. None stand out greater than the cultural wonder of the Hagia Sophia Church, but the
Banya Bashi Mosque
and St. Alexander Nevsky Cathedral both put up strong competition. A number of monuments and sites such as the Amphitheater of Serdica beautifully bookmark important milestones in the city's long and colorful history. In terms of leisurely pastimes, hot and cold mineral springs have drawn visitors for centuries with the lure of healing waters. Spas both old and new are dotted throughout the city, and a number of recreational areas provide cooling respite from the summer heat. Opportunities to go shopping and dining are abundant. Vitosha Boulevard is the main commercial street, and The Mall is the country's largest and contains a department store, cinema, and a range of restaurants. For souvenirs, sites such as
Ethnographic Museum
and Alexander Nevski square offer great memorabilia.
Find the most suitable accommodation for you by clicking on our interactive map and exploring Sofia for hotels and must-see destinations.