11 best hotels in Split
Our top picks
Lowest price first
Nearest to
Best reviewed
Fast facts about Split, Croatia
| | |
| --- | --- |
| Accommodations | 4,743 properties |
| Popular hotel | Cornaro Hotel |
| Popular area | Split City Center |
| Nightly rates from | $11 |
| Airport | Split Airport |
Discover the neighborhoods of Split
---
5-star hotels in Split
---
I took my wife to Split as part of her 40th birthday celebrations and picked this hotel off trip adviser. It was perfect. Don't need to say much more about it. Great location nice breakfast nice staff, you get the idea. We loved it. Thanks cornara hotel.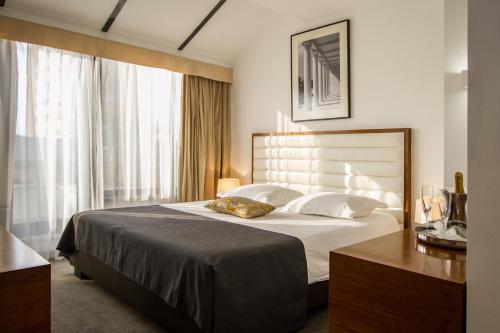 ---
this is the second time i have been to split for business. i heard of this wonderful hotel through others that had been there. was not disappointed by anything. i enjoy waking up and having a cup of coffee to greet the day. this is satisfied with the chairs out front, the wonderful breakfast buffet and friendly staff. i greeted each day with hearty good morning. ...
---
Great hotel, Splits oldest, excellent terrace for breakfast and dining, excellent service Rooms was nothing special - quite average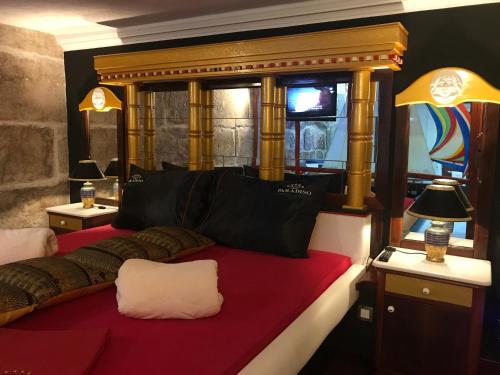 ---
Nicely situated in an historic building - recently renovated and cleverly makes efficient use of the available space - friendly staff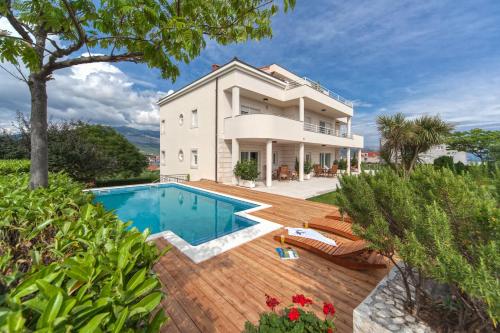 ---
It was more than 5 star accomodation other than the distance from the city center. Other than that it could not be better than the money we paid. The experience during our stay exeeded our expectation. Onwer put lots of attention to details everywhere in the house. House was exceptionally comfortable and pleaant. Breakfast was great. I would definately come back...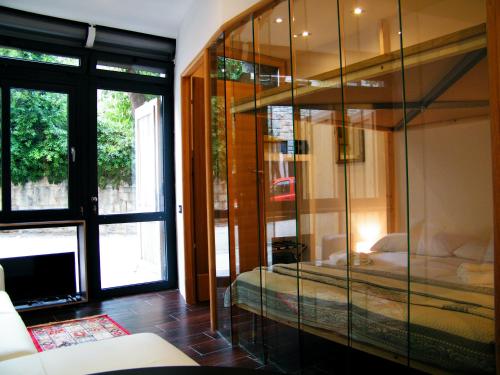 ---
This is an apartment about 15 minutes walk to the old town area. There is no staff and no hotel facilities. The hotel which provides the billing is owned by the same family but is in Zagreb. The apartment is poorly renovated and at street level with limited security. There are no curtains, and, the street and neighbours can see into bathroom, bedroom and lounge. This i...
---
Traveler impressions of Split
The town is a great place to just relax with the water & beaches very close. We did a day trip to Hvar & the blue & green caves which was excellent.
Food and drink here are very affordable. Wandering the limestone paved alleyways of Old Town and having a drink at the waterfront are addictive.
great place to stay. very interesting history and sights to see - especially the Diocletian palace built early roman times.
Split is amazing, great weather and plenty to do. The markets around the marina are also amazing and there are some great buys there too.
beautiful place, very clean and i felt extremely safe there, especially when i was walking around as a women by myself, with or without my boyfriend which was so nice seen as its a very bustling social place.
Split is a beautiful city and a good base to explore nearby islands & Dubrovnik. I took the bus at 8:00 in the morning from Split to Dubrovnik , and came back Split in the evening.
---
Split's best hotels with breakfast
---
Frequently asked questions
What are the most well-known properties in Split?
A few of our most in demand hotels in Split are Cornaro Hotel, Amphora Hotel and Guesthouse Villa Scalaria.
What are the most suitable accommodations in Split for business travelers?
Accommodations around Split which are very highly rated by business tourists are Cornaro Hotel, Amphora Hotel and Guesthouse Villa Scalaria.
What accommodations located in Split are exceptionally rated regarding cleanliness?
Hotelslocated in Split which is well rated regarding hygiene include Riva Luxury Rooms, Apartments Korta and Centro di Centri Rooms.
What hotels around Split are very highly rated with regards to value for money?
Accommodationslocated in Split that is very highly rated for value for money include Apartments Korta, Centro di Centri Rooms and Hostel BB.
What accommodations located in Split are exceptionally rated with regards to room comfort and quality?
Resortsfound in Split that is well rated regarding room comfort and quality include A&M Apartment and Rooms, Hotel Villa Diana and Hotel Globo.
What are best getaway rentals in Split?
A holiday rental in Split which is exceptionally rated for service is V Luxury Apartment-Stay in the heart of Split.
What are the recommended resorts located in Split offering complimentary parking?
Resorts that has free parking around Split that are well rated include Luxury apartment Mirage Split, OSIRIS Luxury Apartment and Villa Storija.
What's the best area for sightseeing in Split?
A top neighborhood with plenty of tourist points of interest in Split is Split Old Town.
How long should I book my stay in Split?
In the past 3 months, tourists spend time in Split for 1 nights on average. The ideal length for your stay will depend on what you would like to see and do while there.
Are international travelers allowed into Split?
Foreign travelers are allowed into Split, based on our most current information. Due to changing restrictions, we suggest you have a look at here for more information.
Is evidence of vaccination mandatory to enter Split?
Proof of COVID-19 vaccination is not required to enter Split from outside the country. For additional details, please speak to local authority or visit here.
Is pre-departure covid test expected for unvaccinated travelers to enter Split?
Proof of negative pre-departure COVID-19 test is not required to enter Split. For updated and detailed information on travel restrictons, please make sure to stop by the official websites of the travel authority or government of the country you wish to visit, or go to here.
Explore more travel vacation rentals
More about Split
Split is a perennial choice for nature and outdoor tourism. Travelers from around the world flock to Split to try just about everything this locale offers, for instance outstanding resort hotels in Split, hotels near lakes in Split, and mountain view hotels in Split. Travelers take full opportunity to check out the wide range of hotel golf clubs in Split, Split center aquarium hotel packages, Split downtown accommodation, golf village area hotels in Split, and high-rise hotels with views in Split near top nature areas. Cuisine that can be found with the restaurants and bars in Split features choices for a wide range of tastes. Favored nature areas in Split include Marjan Hill and Split Outdoor Adventure, which in totality produce a great number of wildlife and outdoor experiences and nature-based night-time activities. Accommodation choices in Split include cheap capsules in Split to high-end 5-star luxury hotels near zoos in Split. It's also possible to and many more for travelers of all preferences and budgets. Keep in mind-- single-unit getaway rentals in Splitare available for visitors with more particular lodging requirements, such as multiple-bedroom units near aquariums, spacious balconies with city views, and even concierge services to help experience the most wonderful outdoor experiences at golf courses in Split. The top hotels near nature in Split provide all convenient access with public transport to Marjan Hill, as well as restaurant options with outdoor picks too. You can also reserve top hotels nearby Split Outdoor Adventure. The infrastructure of Split is certainly suited for forest hotels near Split, going for walks from your hotel near parks, or rental accommodations in close proximity to exceptional nature tour offerings in Split.

Split is a fantastic holiday location for art, culture, and history tourism. Visitors from around the world go to Split to relish everything this area has to offer, especially the best attractions in Split, hotels near monuments in Split, and famous historic hotels in Split. People coming in pre-book the great deal of hotels near monuments in Split, Split center hotels near monuments, Split downtown accommodation, historical hotels in Split, and high-rise hotels with views in Split close to the best historical areas. Cusine that is possible at the eateries and bars in Split consists of flavors for all kinds of tastes. The most frequented cultural neighborhoods in Split consist of Alliance Française, Cathedral of St Domnius, and Ethnographic Museum, which altogether give many sightseeing memories and art-based night-time activities. Hotel and room options in Split vary from very affordable capsules in Split to top of the range 5-star luxurious hotels near historical centers in Split. Additionally, you can search for remarkable serviced suites in Split, hostels in Split, and more for tourists of all preferences and budgets. Notably, individual-unit trip rentals in Split are often readily available for visitors who have extra esoteric lodging preferences, including multiple-bedroom units near monuments, spacious terraces with city views, or concierge support to help you enjoy the best quality cultural activities at historical places in Split. The very best hotels near famous buildings in Split deliver very easy access by means of public transport to Alliance Française, plus food options with open-air possibilities alternatives as well. It's also possible to discover top-rated accommodations nearby Cathedral of St Domnius, or convenient properties close to Ethnographic Museum. The design and city roads of Split are particularly ideal for museum hotels near Split, or walking from your property to museums, or hotels near the best museum tour services in Split.

Split is a cherished locale for tourists seeking urban exploration and shopping. Travelers from across the globe flock to Split to sample anything this place provides, which includes malls, shopping centers, and markets. Tourists make use of the several downtown boutique hotels in Split, Split center hotels, Split downtown accommodation, market street hotels in Split, and high-rise hotels in Split close to the best shopping areas--and also the coffee shops and Split eateries that serve local specialties and various favorites. Cuisine in Split takes into account choices for a wide range of preferences. Excellent shopping centers in Split include Croatian National Theatre, Kino Bačvice, and Algoritam, which altogether offer a diversity of shopping experiences and urban activities. Accommodation selections in Split cover all bases from relatively low-cost capsules in Split to top quality 5-star luxurious hotels with shopping in Split. It's also possible to choose remarkable serviced bedrooms in Split, hostels in Split, plus more for travelers of all preferences and budgets. In addition, individual-unit getaway rentals may be options for travelers and tourists with more exact hotel preferences, such as multi-bedroom units, spacious terraces with city views, terraces with downtown views, or concierge assistance to allow you to locate the ideal shopping activities. The best hotels near market centers in Split provide you with quick and easy access by public transport to Croatian National Theatre, as well as food choices with luxury setting as well. It's also possible to discover some of the best accommodations near Kino Bačvice, or suitable properties near Algoritam. The map of Split is particularly appealing regarding city shopping activities, or simply browsing the shopping malls near hotel zone in Split.