Discover the neighborhoods of Storms River
---
4-star hotels in Storms River
---
This was probably the best place we ever visited. The service of the staff was extra ordinary and out of this world!! It was my husband's 50th Birthday and my daughter's 18th Birthday. They baked 2 birthday cakes and gave us a bottle of bubbly as well. They upgraded us to the most luxurious units on arrival and we just want to thank them for the most unforgettable ...
---
The staff was extremely friendly and helpful. We had a wonderful stay and would definitely go there again. Would definitely recommend staying there wether you're traveling through the Tsitsikamma area or wether you're looking for a weekend away.
---
Pros-excellent staff and restaurant on site. Quirky environment. Large room. Cons-Our room (Essenhout) was 'tired' and the bathroom was a big let down. Apparently the bathrooms are going to be updated and this is much needed. The room was distinctly damp. The disappointment was that this was our most expensive accommodation in South Africa but it didn't live up to th...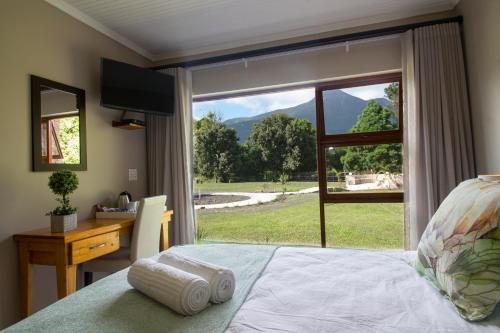 ---
My husband and I drove and stayed here one night. The compound is safe with an electric gate and fence and our room had a space to park outside. The room itself was warm and cosy and very clean. Only thing is we took forever to get hot water in the shower (only to find out that the H & C were swapped after I tried moving the lever to C and waiting! - so much for trying...
---
Explore more travel vacation rentals
Find the Perfect Type of Accommodation
---
More about Storms River
Winding through the Tsitsikamma Mountain Range and into the Indian Ocean, Storms River is a key attraction in the Garden Route of South Africa. Travelers come here for the incredible natural beauty as well as the adventure sports. The village of Storm River is popular to backpackers and camping enthusiasts. The area is situated midway between Plettenberg Bay and Jeffreys Bay.
Visitors to Storm River have the chance to take in some excellent views, explore wildlife, and take part in adrenaline-fueled activities. Tsitsikamma National park and Storms River Mouth are top spots for breathtaking views. Hiking is inevitable, and for those that are going all out, Otter Trail offers a five-day excursion. Canopy tours and bungee jumping from the
Bloukrans Bridge
are available for the thrill seekers, and fishing excursions and star gazing appeal to the more leisurely traveler. Langkloof Valley,
Bloukrans Pass
, and whale watching are but a few more destinations and activities that can be enjoyed in Storm River.
Find the most suitable accommodation for you by clicking on our interactive map and exploring Storm River for hotels and must-see destinations.