Hotels in Thessaloniki
Our top picks
Lowest price first
Nearest to
Best reviewed
Fast facts about Thessaloniki, Greece
| | |
| --- | --- |
| Accommodations | 2,650 properties |
| Popular hotel | City Hotel Thessaloniki |
| Popular area | Thessaloniki Downtown |
| Nightly rates from | $12 |
| Airport | Thessaloniki International Airport |
Luxury hotels in Thessaloniki
8.3 Excellent
Based on 120 reviews
---
We had stayed in this hotel for 5 nights and the rooms interior are excellent. It even have a balcony where you will have a good view. You can also go up to their highest level at 7 whereby you have a good 360 degree view of the city. Breakfast is standard whereby you will have the same food everyday, not a slight change.
8.3 Excellent
Based on 16 reviews
---
Stayed one night before my flight. The location was not too bad, but I felt farer than it looks in the map. The lobby is nice and spacious, so as the room. The room has a nice work desk so it's perfect for the-last-minute work before your flight. I ordered a red house wine and pasta from room service, They were just so good. I did not have time to experience the swimmi...
8.3 Excellent
Based on 89 reviews
---
We loved every minute of our stay at The Met. Will sure be back here when we return th Thessaloniki. Clean hotel, great pool with even better view, the staff were very prompt when required and the loved the kids, especially Dimitri the pool life guard. Location is five minutes from the main hub by taxi which was only a €4 either way plus the hotel has a transfer servi...
8.6 Excellent
Based on 20 reviews
---
Great location to visit the city. It's a convenient luxury hotel.
7.7 Very good
Based on 37 reviews
---
Holiday inn Thessaloniki is so called 5 star hotel, but it is actually not. it is not located right in the center of down town but is reachable by foot. my wife and i stayed there for 2 nights and the hotel can fulfill our basic needs. one incident happened which i think it is worth sharing. I could not locked the window so I called Housekeeping to help. A man c...
8.5 Excellent
Based on 16 reviews
---
Hotel rooms are clean and spacious. Hotel staff polite and efficient and breakfast quite good. However, all thought the hotel is far from the city centre there is no frequent free suttle bus. There was no iron inside the room -which most 5 star hotel offer- and if you asked for one not only they did not provide but suggested you use a paid service.
9.2 Exceptional
Based on 55 reviews
---
luxury boutique hotel in thessaloniki center stylish and modern polite staff excellent service comfortable bed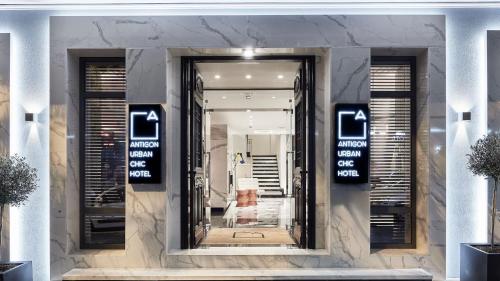 9 Exceptional
Based on 32 reviews
---
Everything was delightful: the room and amenities, the fabulous breakfast, and most of all, the helpfulness of the staff. An enthusiastic thumbs-up for this hotel.
---
Real reviews for hotels
It is a very nice city with excellent view, good people and good food, especially if you stay in the city centre like City Hotel.
Thessaloniki is a small town, all tourist sights are within walking distance. Loeforos Nikis is a great place to have a coffee (or beer) break along the sea.
Lovely place lovely Greek people has a big heart knows to respect the tourists. A lot of good restaurants in Thessaloniki good atmosphere Clubs Cafes Shops views
A city with very ggod food and excellent night life. The sea front is full of small and beautiful bar and caffes.
We spent actually 1 ful day for the sightseeing in Thessaloniki. It is enough for looking around the city center and visit 1 or 2 museum.
wai yan
, Hong Kong SAR, China
Very hot in July and August so it is better to visit it from the March to June and from September to November.
easy to communication in English. People are willing to help. taxi drivers are trust worthy. if you are energetic enough, 2 days 1 night at Thessaloniki is just good enough.
---
Frequently asked questions
What's the typical price of a hotel in Thessaloniki?
The typical price for a 3-star property in Thessaloniki is USD 72. The average price for a 4-star property in Thessaloniki is USD 106. The typical price for a 5-star resort in Thessaloniki is USD 141.
What's the typical price of a property in Thessaloniki this weekend?
The typical price for a 3-star resort in Thessaloniki this Friday and Saturday is USD 67. The typical price for a 4-star property in Thessaloniki this Friday and Saturday is USD 94. The average price for a 5-star property in Thessaloniki this weekend is USD 135.
What's the top district in Thessaloniki to stay in?
Favorite local neighborhoods among visitors staying in Thessaloniki include Thessaloniki Downtown, Vardaris-Dikastiria District and Asklipiou.
What are the very best hotels found in Thessaloniki intended for single tourists?
Resorts located in Thessaloniki which are highly rated by lone visitors are Stay Hybrid Hostel, S Hotel Boutique Thessaloniki and Astoria Hotel.
What are the preferred places to stay in Thessaloniki for business visitors?
Hotels located in Thessaloniki that are well rated by business visitors are Stay Hybrid Hostel, S Hotel Boutique Thessaloniki and Astoria Hotel.
What hotels found in Thessaloniki are very highly rated regarding location?
Resortsfound in Thessaloniki which is highly rated with regards to location include Noa Hotel, Gatto Perso Luxury Studio Apartments and Q Luxury Rooms.
What resorts located in Thessaloniki are highly rated for room comfort and quality?
Propertieslocated in Thessaloniki that is very highly rated with respect to room comfort and quality include Amalia, Athina Airport Hotel and Zaliki Boutique Hotel.
What are the best accommodations located in Thessaloniki that includes complimentary parking?
Accommodations which has complimentary parking in Thessaloniki which are exceptionally rated include Casa Stellina, Villa Filarety Luxury House and Villa Filarety Luxury House.
What's the best place for sightseeing in Thessaloniki?
The best area with plenty of tourist points of interest in Thessaloniki is Thessaloniki Downtown.
Are international travelers allowed into Thessaloniki?
Foreign tourists are allowed into Thessaloniki, based on our most up-to-date information. Due to evolving restrictions, we strongly recommend that you check out here for additional information.
Is quarantine required for unvaccinated foreigners to enter Thessaloniki?
Quarantine is not required for unvaccinated travelers to enter Thessaloniki from outside the country. For updated and in depth information on travel restrictons, please head over to the official websites of the travel authority or government of the country you wish to travel to, or go to here.
Explore more travel vacation rentals
More about Thessaloniki
Top Fun Facts About Thessaloniki, Greece that Will Amaze You
Thessaloniki is the second-largest city in Greece and is full of fascinating history and culture. Did you know that it was founded in 315 BC by King Cassander of Macedon and named after his wife, Thessalonike? The city has been inhabited for over 2,300 years and has been ruled by the Romans, Byzantines, and Ottomans, among others. Thessaloniki is also home to the White Tower, a famous landmark that was once a prison and is now a museum.
Reasons Why You Should Visit Thessaloniki Soon
Thessaloniki is a city that has something to offer everyone. Whether you're interested in history, culture, or food, you'll find plenty to see and do here. The city is full of ancient ruins, museums, and galleries, including the Archaeological Museum of Thessaloniki, which houses artifacts from the city's ancient past. Thessaloniki is also known for its vibrant nightlife and delicious cuisine. The city is famous for its traditional dishes, such as moussaka and souvlaki, and its many restaurants and cafes offer a wide range of international cuisine.
Discover the Best Season to Visit Thessaloniki and How to Travel Around
Thessaloniki has a Mediterranean climate, with hot summers and mild winters. The best time to visit the city is from May to October, when the weather is warm and sunny. During the summer months, the city can get quite crowded, so it's best to book your hotel in advance. If you're looking for a quieter time to visit, consider coming in the spring or fall when the crowds are smaller. Thessaloniki is easy to get around on foot, but there are also buses and taxis available. The city also has a bike-sharing system, which is a great way to explore the city.
Explore the Best Things to Do in Thessaloniki and Where to Stay
There are plenty of things to see and do in Thessaloniki. The city is home to many ancient ruins, including the Roman Forum and the Arch of Galerius. The White Tower is a must-see attraction, and the Museum of Byzantine Culture is also worth a visit. If you're interested in art, be sure to check out the Macedonian Museum of Contemporary Art. Thessaloniki is also known for its vibrant nightlife, with many bars and clubs to choose from. When it comes to finding a place to stay in Thessaloniki, there are plenty of options to choose from. The Blue Bottle Boutique Hotel is a great choice for those looking for a luxurious stay, while the Orestias Kastorias offers a more budget-friendly option. The Antigon Urban Chic Hotel - The Leading Hotels of the World is another great choice for those looking for a stylish and modern hotel. For a more traditional Greek experience, consider staying at the Pella or Aegeon Hotel.
How to Go to Thessaloniki: Tips for Travelers
Thessaloniki is easily accessible by air, with many airlines offering flights to Thessaloniki International Airport. If you're traveling from Athens, you can also take a train or bus to Thessaloniki. Once you arrive in the city, it's easy to get around on foot or by public transportation. If you're planning to rent a car, be aware that parking can be difficult to find in the city center.
Experience the Best of Thessaloniki's Cuisine: What to Eat in Thessaloniki
Thessaloniki is known for its delicious cuisine, and there are plenty of traditional dishes to try during your visit. Moussaka is a classic Greek dish made with layers of eggplant, potatoes, and ground beef, topped with a creamy bechamel sauce. Souvlaki is another popular dish, made with skewered meat and vegetables. For something sweet, try loukoumades, which are small doughnuts drizzled with honey and sprinkled with cinnamon.
Why Use Agoda.com to Book Your Hotel in Thessaloniki
Agoda.com is the perfect place to book your hotel in Thessaloniki. With a wide range of hotels to choose from, you're sure to find the perfect place to stay. Agoda.com also offers great deals and discounts, so you can save money on your trip. Plus, with Agoda.com's easy-to-use booking system, you can quickly and easily find the perfect hotel for your needs.
Expert Tips for Travelers Planning to Visit Thessaloniki
If you're planning a trip to Thessaloniki, here are a few expert tips to keep in mind. First, be sure to book your hotel in advance, especially if you're traveling during the summer months. Second, be prepared for the heat if you're visiting in the summer. Be sure to bring plenty of water and sunscreen. Third, be sure to try the local cuisine, which is some of the best in Greece. Finally, don't forget to explore the city's many ancient ruins and museums, which offer a fascinating glimpse into Thessaloniki's rich history and culture.