Discover the neighborhoods of Thimphu
---
4-star hotels in Thimphu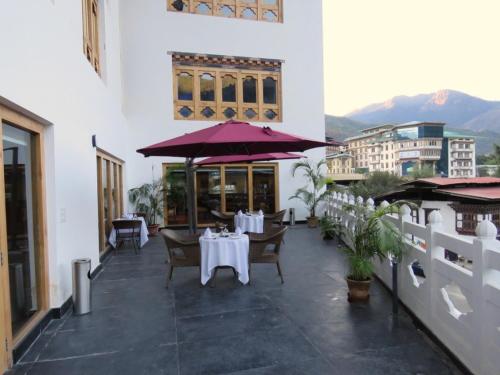 ---
In the cold weather that it is now in bhutan(end of Dec2017) we were introduced to a room that had been kept warm in advance.That was the niche treatment by the hotel that really impressed me.In addition the staff was extremely helpful and courteous.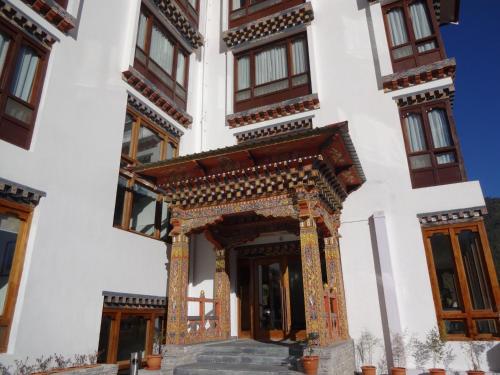 ---
It's absolutely the best hotel in thimphu, the staff is very kind and helpful. We had stayed in deluxe rooms which were clean with a great view.
---
The hotel is perfect considering the high cost around the town. Breakfast is very nice specially French fries and cheese omelette. staff members are Very very helpful and courteous. Rooms are big and have heaters and nice furnished room. Also they have kitchen and can be used for cooking small items like maggi. They helped us with the permit and also arranged car on r...
---
5-star hotels in Thimphu
---
It is definitely a nice hotel but is already starting to look a bit run-down on the outside. Room was spacious and comfortable but even for 500 dollars per night ridiculously no wifi in the room! Indoor swimming pool includes jacuzzi but is rather small. Dinner was good but not cheap: 10-15 dollars per glass of wine. As the rest of Bhutan this hotel is on the pricey si...
---
Look no further, book this beautiful property for your visit to Thimku. Everything is beyond perfection here. Thanks Terma Linca.
---
Explore more travel vacation rentals
Find the Perfect Type of Accommodation
---
Other popular destinations in Bhutan
---
More about Thimphu
Agoda.com features accommodation options from all over town. From high end international chain hotels to family run guesthouses, demands of all travelers are met. Whether traveling for business or leisure, Thimphu is an outstanding city to visit with over 99 hotels to choose from. Many areas, each with a distinctive atmosphere, are just waiting to be discovered across the city. Thimphu has many attractions to explore with its fascinating past, intriguing present and exciting future. There are so many things to do, you may want to stay an extra week or so to experience them all. If you're looking for a room in Thimphu and don't want to pay too much, Agoda.com offers hundreds of fantastic deals which are updated daily.