Discover the neighborhoods of Toledo
---
4-star hotels in Toledo
---
Most nation-owned hotels in Spain are both historic and great hotels. But this one simply brings it to another level. Located on the hill opposite to the historic old town, you can overlook the town during the day and sunset. The rooms are clean and well decorated with historic items and furnitures just like living in a castle. Highly recommend this hotel, would defini...
---
I got an excellent deal for this hotel and I enjoyed it very much. I was traveling with my mother, who found it very comfortable and nice. The hotel is within walking distance of all the major attractions in Toledo. One of the highest points was drinking coffee (which is provided for free in the room, unlike many other hotels in Spain) in the balcony, enjoying the ...
---
We had a 3 night stay here and were both very happy with our choice. Although a short , 10min, walk outside the city walls of Toledo this hotel was in perfect location and much cheaper than those within the city walls. Well worth walking the 10 minutes. Excellent breakfast buffet with great choice of foods, teas and coffees. Very friendly staff. Would stay here again...
---
My partner and I stayed at the Eurostars Toledo Hotel and we can't fault it. We had a car so there was ease of access to the surrounding areas as well as a secure parking lot in the hotel. I'd recommend this hotel to anyone.
---
We booked a quad room for ourselves and two 12 year old boys.Upon our arrival by car,as this hotel is located outside the town,we were appalled at the very soiled carpets.We were given a new room with laminated wooden floors,which was much better.The swimming pool could only be used after 12PM,which was not acceptable as it was close to 39 degrees during our stay.The B...
---
the hotel is located in the centre of the old town. we can reach all the tourist attractions in walking distance. hotel room is very big with a king sized bed and also a single bed beside. the facility is quite clean and new and the decoration of the hotel is so nice too. the frontline staff is very helpful and pro-actively give us a city of the town and circled th...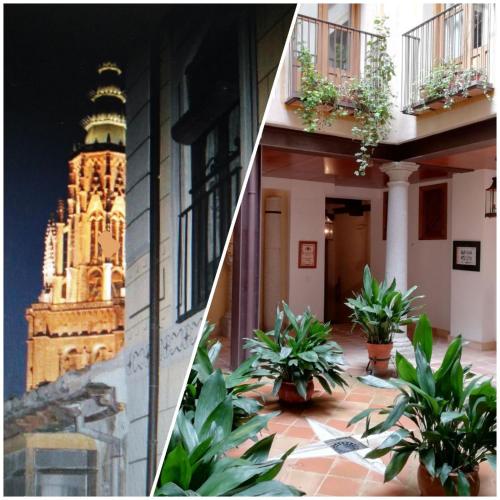 ---
Very very friendly and helpful host .Apartment just locates in the heart of old town. It's amazing place and amazing apartment.
---
5-star hotels in Toledo
---
Great room. Away from city. Pool closed and very hot. Convenient shuttle to take to old town. No restaurants nearby. Hotel overpriced. Have to pay for Internet in room overpriced. Everything costs money in hotel. Good room. Very quiet. Hotel located on highway though. Would stay closer to town if stay again. 2 days in Toledo sufficient as too many tourists. ...
---
This hotel situated close to the Toledo city, you can either take a bus ride of 5-10 min from city centre, or walk to the hotel. the hotel special design is worth every dollar. Our room has direct access to the common garden which is huge, and have the best view of the city. The bathroom is extremely spacious, with both bath tub and shower in separated space. the de...
---
Couldn't have been better. The best possible choice for staying in Toledo.
---
Traveler impressions of Toledo
The city is magnificent and we recommended to stay for 2-3 nights in order to get to know the city. It will be too rush if you only have a day trip.
Toledo has a very nice old town, and the Cathedral is magnificient. The El Greco museum was a bit disappointing paintingwise, but it is built in an El Greco contemporary environment.
Toledo is an open air museum that lives almost exclusively on tourism. There is an overabundance of shops catering to tourists with the schlockiest of merchandise.
---
Explore more travel vacation rentals
More about Toledo
Agoda.com offers a great choice of accommodation in Toledo to suit every budget. With over 374 different establishments, there is a great variety to choose from. The vibrant city plays host to some of the country's most famous landmarks such as Toledo Cathedral, Jewish Quarter, Monasterio de San Juan de los Reyes. Enjoy the history and beauty of Toledo by visiting one of 55 monuments around town. Many monuments such as Jewish Quarter, Plaza de Zocodover, Monasterio de San Juan de los Reyes are regarded as the city's heritage. Although there's plenty of pleasure to be had simply walking around the city, there are 10 museums and galleries in Toledo that deserve some of your time. Don't delay and book today to get the best hotel deals in Toledo!