11 best hotels in Trincomalee
Our top picks
Lowest price first
Nearest to
Best reviewed
Fast facts about Trincomalee, Sri Lanka
| | |
| --- | --- |
| Accommodations | 318 properties |
| Popular hotel | Cardamon Hotel Nilaveli |
| Popular area | Trincomalee Beach front |
| Nightly rates from | $5 |
| Airport | China Bay Airport |
Discover the neighborhoods of Trincomalee
---
4-star hotels in Trincomalee
---
The staff were very attentive, friendly and efficient. We were two friends having a short break and enjoyed the relaxing time we had there. The sea eagles were a sight to see when the fish were being hauled in. Whilst there was a bit of a swell to the waves the sea was basically safe for swimming for those able to do so. The food was very good and with the option of ...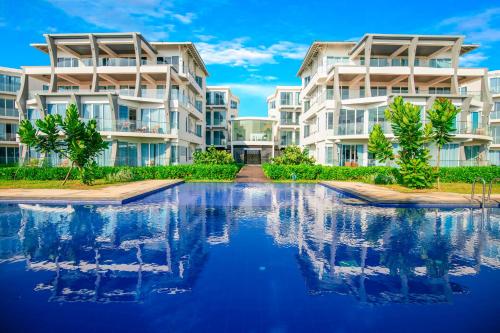 ---
Spanking new apartments. Clean and well maintained. The staffs are really welcoming. The location is awesome, right on the beach. And the beach is totally unspoilt, never crowded, clear water, not too deep, very good for swim. The pigeon island is a stone throw away. All in all amazing place for relaxing holiday.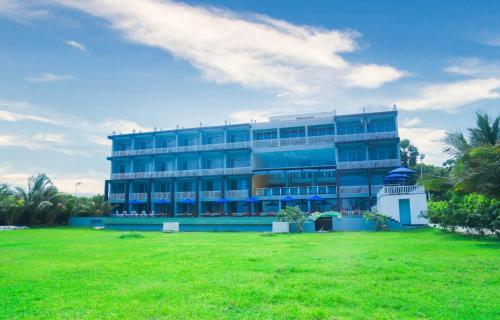 ---
Great place, excellent view and very clean room. All staff members are friendly, specially restaurant services and foods are excellent, the man who worked at the hotel resturent which my day, he is the excellent service provider which I met. Special thanks to him. Highly recommend the place for your journey .!
---
This was our favourite hotel on our whole trip around Sri Lanka. If you need a couple of days to simply relax and recharge, then this has to be the place. The hotel is simply lovely, the rooms are spacious, stylish and well appointed. The pool is magnificent as is the beach which is right at the end of the grounds. Staff were great and the food excellent. Be warne...
---
Calm clean apartment. Friendly service from staff.
---
5-star hotels in Trincomalee
---
We have visited the hotel in early August and it was one of the best places in Sri Lanka. The hotel is new and modern, there are 2 excellent swimming pools and great outdoor terrace for breakfast and dinner. Having said that, our stay has not been without problems. We have booked a sea view room, but we got a room on 1st floor with an ugly view to the roof on the adjac...
---
We were staying in this hotel for 5 nights at the end of trip around Sri Lanka. We decided that we rather choose 5 stars hotel in Trincomalee instead of going for the same price on Maldives in hotel 3 stars. Everything was excellent. Rooms are big, clean, staff is cleaning the room 3 times in day. Food was delicious and very nice prepared. Especially breakfast - a...
---
Had a good stay, location is great on the lagoon, not far from a good beach and a side road with lots of restaurants and bars. Room was very good, we had a junior suite, but think there are better value options in Sri Lanka (although not in Trinco, hence why we stayed here). Overall would recommend if you have the cash
---
New building (2yrs old) with nice build offering good value. 15 minute walk up the beach to the main bars/restaurants. Close to supermarket, pharmacy, bank. Manager is helpful to organise rides/cars. Excellent AC and hot shower, which is more than can be said for many places in Trinco.
---
Traveler impressions of Trincomalee
In addition to the nice beaches one can visit Fort Fredrick situated near the Dutch bay with turquoise waters.
This is a busy port town with plenty of shops, a fish market and generally pretty place. cargills supermarket is there , great place just to wander round and look, lovers leap was a bit disappointing but the temple where people hang little baby cots on the trees to wish for pregnancy interesting, the dodol sweet on the way up to it the best, go there take a walk and enjoy yourself
We visited out of season so very few tourists around. Walking around the city did not feel comfortable at all.
I thought it was a great place, but I did not enjoy the town. Only pacifying thing was the Beach and great sea like a quiet pool.
It is a military zone, former, but it is... All details remind you that some years ago there was a war.
The city is very Poor looks like the Tsunami hit it 24 hours ago. But the beach is seriously not to be missed the Pigeon Island is a Must go location and the cows walking freely in the village at night is a funny show .
A Beautiful place, we unfortunatly went in October when there was still some rain, so diving or snokeling on the coral reef was not really possible.
Large city without proper development.There are no good places for eating or shopping.Beach is very beautiful but most of the people here are poor.
Quaint and Historical. Many stories about strive by survivors from the war and tsunami. Beautiful beaches and friendly people.
---
Trincomalee's best hotels with breakfast
---
Frequently asked questions
What are the best properties in Trincomalee for families?
Places to stay in Trincomalee that are highly ranked by families include Trinco Blu by Cinnamon, Jkab Beach Resort and Cardamon Hotel Nilaveli.
What's the best community in Trincomalee to stay in?
Popular local communities amongst foreigners staying in Trincomalee include Trincomalee Beach front, Nilaveli Beach front and Trincomalee City.
What are the top rated accommodations in Trincomalee for group travelers?
Resorts found in Trincomalee that are very highly rated by group tourists are Trinco Blu by Cinnamon, Jkab Beach Resort and Cardamon Hotel Nilaveli.
What accommodations located in Trincomalee are well rated for hygiene?
Resortsaround Trincomalee that is highly rated regarding sanitation include Crescent Sea Resort, Mithra Paradise Beach Hotel and C Beyond Nilaveli.
What properties located in Trincomalee are exceptionally rated for value for money?
Hotelsaround Trincomalee that is exceptionally rated with respect to value for money include Trincomalee Beach Resort & Spa, Mithra Paradise Beach Hotel and French Garden Resort.
What accommodations found in Trincomalee are highly rated regarding room comfort and quality?
Hotelsaround Trincomalee that is well rated regarding room comfort and quality include Villa Nilaveli Cabana, Amaranthe Bay Resort & Spa and Trinco Beach Hotel.
What are the prime accommodations around Trincomalee equipped with spas?
Verified tourists to Trincomalee have given out excellent reviews concerning the spa at Amaranthe Bay Resort & Spa.
What are the best hotels around Trincomalee which have a private beach?
Resorts which have a private beach in Trincomalee that are very highly rated include Uppuveli Beach Inn and Beach Front Villa Nilaveli.
What are the prime wheelchair accessible properties in Trincomalee?
Wheelchair-accessible accommodations found in Trincomalee that are highly rated include BEACH HAVEN NILAVELI, BEACH HAVEN NILAVELI, and Nature Beach Huts.
How long should I remain in Trincomalee?
In the past 3 months, tourists plan their stay in Trincomalee for 1 nights on average. The perfect duration for your trip will be determined by what you'd be interested to see and do while there.
Are international visitors allowed into Trincomalee?
International visitors are allowed into Trincomalee, according to our most up-to-date information. Due to changing restrictions, we strongly recommend that you browse here for additional information.
Is pre-departure covid test required for fully vaccinated tourists to enter Trincomalee?
Proof of negative pre-departure COVID-19 test is not required to enter Trincomalee. For up-to-date and in depth information on travel restrictons, please go to the official websites of the travel authority or government of the country you wish to visit, or go to here.
Explore more travel vacation rentals
Other popular destinations in Sri Lanka
---
More about Trincomalee
Trincomalee is a renowned place for tourists looking for an ideal holiday retreat at the beach. Travelers from all over the world come to Trincomalee to relish everything this place can offer, like water sports, sunbathing, and scenic relaxation. Vacationers take full advantage of the countless remarkable hotels in Trincomalee, Trincomalee beach hotels, Trincomalee beach hotels and spas, villas in Trincomalee, and resorts in Trincomalee along or close to the seafront----plus the coffee shops and Trincomalee restaurantsthat serve local seafood along with other favorites. Food in Trincomalee features options for numerous preferences. Most popular beaches in Trincomalee consist of Nilaveli Beach, The Dutch Bay, and Manayaweli Cove, which altogether supply a diversity of beach experiences and oceanfront activities. Hotel options in Trincomalee cover anything from relatively low-cost bungalows in Trincomalee to expensive 5-star luxurious hotels at the beach in Trincomalee. It's also possible to come across incredible serviced suites in Trincomalee, hostels in Trincomalee, and others for vacationers of all preferences and budgets. Additionally, single-unit trip rentals in Trincomalee will be available for guests with more specific accommodation needs, such as multi-bedroom units, spacious terraces, or areas for water sports equipment or water-sports vehicles. Some of the best hotels by the beach in Trincomalee offer you exceptional views of the beach in the proximity of Nilaveli Beach, and food choices with seaside setting as well. You can also find top accommodations nearby The Dutch Bay, or coastal view properties around Manayaweli Cove. The environment in Trincomalee is particularly accommodating regarding ocean adventures, or just simply relaxing on the ocean in the ideal area.

Trincomalee is a lasting holiday location for nature and outdoor travel and leisure. Visitors from across the world head to Trincomalee to try everything this area has to offer, such as the top nature attractions in Trincomalee, hotels near lakes in Trincomalee, and hotels with mountain views in Trincomalee. Guests take full advantage to pick the scores of hotel golf clubs in Trincomalee, Trincomalee center aquarium hotels, Trincomalee downtown accommodation, golf view hotels in Trincomalee, and high-rise hotels with views in Trincomalee close by superb nature areas. Cuisine that can be found with the restaurants and bars in Trincomalee comprises of selections for a myriad of preferences. The preferred beach in Trincomalee is Pigeon Island National Park, which produces a diversity of wildlife and outdoor experiences and nature-based night activities. Accommodation selections in Trincomalee range from reasonably priced capsules in Trincomalee to expensive 5-star luxury hotels closest to zoos in Trincomalee. You may also and more for vacationers of all tastes and budgets. Remember-- single-unit getaway rentals in Trincomaleeare usually available for guests with more particular hotel preferences, which includes multiple-bedroom units near aquariums, sizeable balconies with city views, or concierge assistance to make it easier to enjoy the most remarkable open-air experiences on golf courses in Trincomalee. Top-rated mountain resort hotels in Trincomalee give all trouble-free access by means of public transport to Pigeon Island National Park, and also restaurant choices with open-air selections as well. The infrastructure of Trincomalee is very suitable for forest hotels near Trincomalee, walking from your hotel near parks, or lodging close to exceptional nature tour offerings in Trincomalee.

Trincomalee is an exciting holiday location for entertainment. Vacationers from all over the world visit Trincomalee to take advantage of just about everything this place offers, like top casino hotels in Trincomalee, hotels & casinos in Trincomalee, and luxury casinos and spas in Trincomalee. Arrivals make use of great many hotels near casinos in Trincomalee, Trincomalee casino center hotels near entertainment, Trincomalee luxury resorts, theme hotels in Trincomalee, and high-rise hotels with views in Trincomalee near theme parks. Eating arrangements that comes along with the restaurants and bars in Trincomalee include a variety of possibilities for all types of interests. Renowned fun areas in Trincomalee include Lover's Leap, Hatton National Bank, and Pillayar Kovil, which jointly offer you several casino experiences and water park nighttime activities. Your property alternatives in Trincomalee include low-priced capsules in Trincomalee to expensive 5-star luxurious hotels near casinos and indoor water parks in Trincomalee. It's also possible to locate theme packages in Trincomalee, hostels in Trincomalee, and much more for tourists of most tastes and budgets. Not to mention, single-unit vacation rentals in Trincomalee are an option for guests with more specific entertainment needs, which includes multiple-bedroom units near casinos, spacious balconies with city views, or hotels with indoor water parks in Trincomalee. Top hotels near sports parks in Trincomalee give direct access by means of public transport to Lover's Leap, and dining choices with outdoor food too. You may also discover some of the best accommodations nearby Hatton National Bank, or practical places to stay nearby Pillayar Kovil. The map of Trincomalee is famously suited for casino packages, sports holidays, and hotels and theme park packages near Trincomalee, or going for walks from your resort to casinos, or properties near the very best water sports and indoor fun trip services in Trincomalee.