Discover the neighborhoods of Udaipur
---
Best hotels & accommodations in Udaipur
Cheapest hotels in Udaipur
Just viewed by other Agoda travelers
Udaipur Hotels near Maharana Pratap Airport
Near airport
Hotel The Rising
"we stayed here with 3 children and booked 3 rooms for 2 days but in winter season also there was not hot water facility. poor food quality and costliest hotel. location is also very far from the city. pictures of hotel is good on Agoda but service,quality of staff , cleanliness is very poor. totally nonprofessional attitude by hotel. compare to other hotels rates are very high. room and bathrooms wete very dirty."
Show more
Near airport
Near airport
Near airport
Near airport
Near airport
Near airport
Tree of Life Vantara Resort, Udaipur
"This is a resort hotel about 30 minutes off the heavy traffic of center of Udaipur, totally secluded from motocycle, tuk tuk, automobile constant beeping noise Udaipur, except the narrow whining, part of the section toward the hotel is just dirt road. After a whole day wandering photographing the street, allays, people, a welcome to get away from everything. No problem to commute as we have hired a bus transportation for our Indian trip, but would better prepare future travelers that they need to make arrangement for transportation, otherwise it is very difficult to find your way back to the hotel at night where there is no road lights."
Show more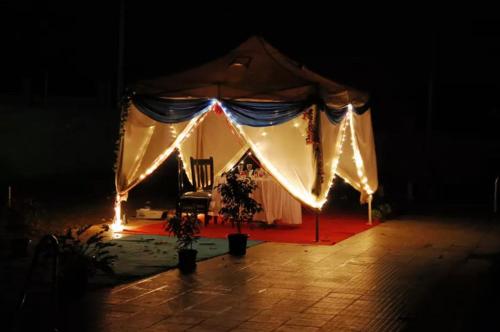 Near airport
Near airport
Find the Perfect Type of Accommodation
---
More about Udaipur
Udaipur is a beautiful city of while marble palaces and architecture that is reminiscent of fairytales. The lakes and islands that surround Udaipur make it not only a popular destination among international travelers but also a favorite location for Bollywood movies. Udaipur was once the capital of India's ancient Mewar Kingdom, and was home to a succession of royals who built the resplendent and opulent white Rajput castles on the islands of Lake Pichola.
Located in the deserts of Rajasthan state, Udaipur is a picturesque old city of cobblestone roads and whitewashed townhouses. However, the majority of the main attractions such as
City Palace
and
Lake Garden Palace
can be found around the lake. The palaces are made from white marble and feature interior courtyards, mosaics, and elaborate masonry. Most of them have now been converted into luxury hotels, as well as housing museums, shops, and gardens. While Udaipur features many luxury hotels, budget accommodations are also readily available in downtown.
Udaipur is accessible by domestic flights landing at Udaipur Airport, 12 kilometers from the city center. Trains also link to New Delhi and regular bus services connect Udaipur with neighboring cities. There's much more to see and learn about Udaipur, and the interactive map located on this page is a great way to find out where the attractions and hotels can be found in this stunning city.