Fast facts about Ulaanbaatar, Mongolia
| | |
| --- | --- |
| Accommodations | 172 properties |
| Popular hotel | The Blue Sky Hotel and Tower |
| Popular area | Sukhbaatar |
| Nightly rates from | $7 |
| Airport | Ulan Bator Airport |
Discover the neighborhoods of Ulaanbaatar
---
5-star hotels in Ulaanbaatar
---
Everything you'd expect from a Shangri-La. Staff is very service oriented and go out of their way to serve you. I needed some medicine and they went to the pharmacy for me and brought to my room. Hotel is very new and nicely decorated - only open a month. Rooms are spacious and have standard amenities for a 5 star. Had been traveling in the countryside and the splurge ...
---
A comfortable and enjoyable stay after a week camping in the desert. It is listed as a 5*, honestly, probably a strong 4*, however it is your best option in Ulaanbaatar. All staff, from Reception, to Room Service, to Butlers and Bell hops are polite and helpful. They gave our bags a clean as requested before sending them up to the room, and later, we took advantage of...
---
New hotel with excellent facilities. Not the most centrally-located of hotels, but it is not far from the city centre (20 minute taxi ride). The rooms are beautiful and clean. Feels like a 5-star hotel, but with an affordable price.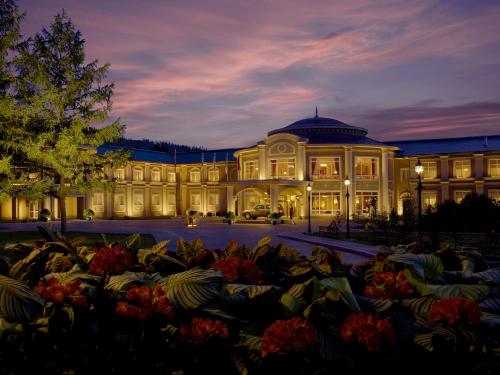 ---
We stayed at this hotel twice a year, for the last 4 years, and everytime look forward to coming back. This year, the breakfast was greatly improved offering wide selection of buffet as compared set menu in the previous years.
---
This is a spa center that happens to also have 7 hotel rooms. The room we stayed in was massive and had many amenities not typically found in UB hotels (Japanese toilet, fully stocked minibar, big screen TV, in-room breakfast) and at very reasonable prices. After spending 2 weeks in different ger camps every night, this was a welcome respite. And I haven't even mention...
---
Traveler impressions of Ulaanbaatar
Fairly good city but with very heavy and chaotic traffic. Alone a foreigner should not venture out late evening.
Ulaanbaatar has some nice buildings that look very Russian. There are some good museums such as the National Museum of Mongolia and there is also good shopping.
Great City with lots of exciting historical perspectives. Very good from the point of view of climate.
---
Ulaanbaatar's best hotels with breakfast
---
Explore more travel vacation rentals
Other popular destinations in Mongolia
---
More about Ulaanbaatar
This capital of Mongolia is also the largest city, with a population reaching over one million people. Mongolia is a country with a very long history, and Ulaanbaatar has certainly been at the center of most of this history. Most visitors to Ulaanbaatar arrive by air to Chinggis Khaan International Airport, also known as
Ulan Bator Airport
and located just under 20 kilometers outside of the city. The Trans-Siberian Railway also operates a few lines from Moscow and Beijing, for those willing to take the long and scenic train journey into Mongolia.
While the rest of Mongolia's scenery is, at the very least, completely stunning, Ulaanbaatar remains a largely monochrome city without any special touches to make it stand out. Therefore, a lot of the walking around the city to see unique architecture may not yield the best results. It's best to see what's been curated in the city's many museums and galleries, such as the
Zanabazar Museum of Fine Arts
. There are several hotels near the museum, and staff at most hotels are very knowledgeable about the city and willing to help newcomers carve out the perfect plan to see everything that Ulaanbaatar has to offer.
It goes without saying that one of Mongolia's most famous citizens will certainly have to be Chinggis Khaan, whose history is still very much relevant in the country, as evidenced by the popularity of the
Chinggis Khaan Statue
in the center of town. After a couple of days in the city, it is absolutely imperative to venture out to the mountains and plains of this breathtaking country, and see everything that it has to offer.
Find out where the rest of Ulaanbaatar's hotels, attractions, and must-see destinations are located by exploring the interactive map on this page.