Fast facts about Venice, Italy
| | |
| --- | --- |
| Accommodations | 5,125 properties |
| Popular hotel | a&o Venezia Mestre |
| Popular area | Castello |
| Nightly rates from | $12 |
| Airport | Venice Marco Polo Airport |
| Reasons to visit | Romance, Sightseeing, Culture |
Traveler impressions of Venice
Very nice and great place for every type of travelers. Travelling by boat and gondolas are quite an experience.
Marie Jocelyn
, Philippines
Love the canals. I could spend hours just sitting at a restaurant and stares at the boats going back and forth across the canal.
Angelina Sandra
, Indonesia
Go for a gondola ride, visit the doge's palace, wander round the city and then leave. Only stay for one night because there isn't much to do.
One of the best legs of my honeymoon. We both love the chill factor of Venice and it is one of the prettiest places to visit.
Venice is a very beautiful and romance city for sightseeing. The scenery and view are very nice. The first time I take the Gondora and feel very excited.
so far only in the movies I saw in the Venetian canals ... they are really real:)) that was fantastic!!!
A very unique city. Although it is crowded and sometimes flooded in part of areas, it is worthy to visit again
Venice is beautiful but taxi fare is very high. Local authorities/ Government should not slap tax/ duty on the tourists.
Always nice to visit Venice (for the 8th time or more...). Too bad they only now started to build ramps over the bridges so that strollers can travel easily in the city.
Venice is a very beautiful place for holidays specially for sightseeing on the different Islands. I visited Murano Island and it's worth seeing it.
A perfect place for a coupes! I find it extremely romantic with a magic and unique touch you can't find anywhere else.
A romantic place, i have a great time there. You will be impress to the historical building and the build on the water.
good place to relax but not worth to stay cos hotel is very expensive and not meet the standard. and the road is very messy and difficult to find
Hot and crowded. If you have never tried being packed in a hot, crowded and humid water taxi my suggestion is don't! Best thing to do is to avoid Venice in summer!
It;s a famous City in the World but not all people the same it;s a different taste sure but i advice to visit and each one by himself decide
Venice is a true historical gem, which makes everyone want to descend upon it. It seems to be the Disneyland for adults, and is filled with more tourists than locals.
A scenic city with a picturesque view at every corner. The squid ink pasta is a must-try! Take a Gondola ride to complete the experience.
Try to walk around Santa Lucia to San Marco, enjoy the view, sooo many bridges, beautiful and exhausted, but fun! U can always rest once in a while and enjoy scoops of Gelato.
expensive food.. too many tourists. Bus travelled frequently (10-15 minutes) from Mestre (city outside the island) to/from the island.
beautiful city in a canal, take the boat out of the canal and see other parts of venice you find yourself in another beautiful world.
All recommendations from tourist guidebooks and internet don't work there... follow your noise and the crowd of local people (not tourist), you may find some good restaurants.
Very touristy, evidenced by stupid prices (even the public toilets are one euro fifty a pee,) unpleasant locals, and a real lack of urban spirit.
Alot of nice historical building. You can find alot of Murano glass arts sold throughout the island.
The buildings look rather rundown but then again it's a very old city. The food is delicious and the people there are friendly.
Venice is crowded and tourists walk routes are easily marked out. For those not marked.. they are for residents and do not venture, for they often ended up in a dead end.
Venice is awesome, place to go for sightseeing, romance, shopping. Last but not least, its also a place so easy to get lost in.
Nice to explore on foot. Do try out the Venetian specialties and Spirtz. Not quite the romantic place everyone says.
From the hotel we obtained a 24-hr transport ticket which covered the bus to Vienna (7 mins) and for a vaporetta (ferry) which you can hop on an hop off at various stages, including visiting Lido and Murano, two nearby islands.
Nice, beware of some restaurant they have a hidding cost "caperto charge". not fix and some charge euro 5 :( mojority i find venice people are more friendly.
Venice was everything I thought it would be and more. 5 days wasn't enough! Getting lost in alleys, eating chiccetti with locals, drinking aperol in the afternoon sun.
---
Venice's best hotels with breakfast
---
Explore more travel vacation rentals
Find the Perfect Type of Accommodation
---
10 best hotels in Venice
Our top picks
Lowest price first
Nearest to
Best reviewed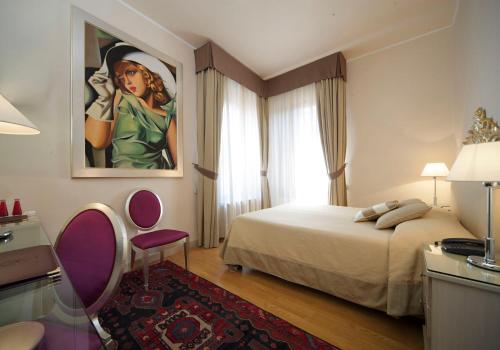 See all
Liassidi Palace Hotel
Castello,Venice - View on map
"I didnt like the old style hotels in venice so i booked this one because its the most modern i could find. Booked a classic doubke room but they upgraded our room to a junior suite! Love this hotel! Book this you wont regret it"
Show more
See all
Hotel Plaza
Mestre,Venice - View on map
"It's the best hotel we stayed in our European tour. The rooms are very clean and comfortable. The hotel is just in front of the Train Station and yet very quiet. Very convenient to stay outside Venice island and transport is easy by train to the island. Highly recommended than to stay with Venice hotels at the island which are very hard to find and to transport into the place. "
Show more
See all
Hotel Agli Artisti
Cannaregio,Venice - View on map
"Perfect location, super close to the train station so you don't have to carry all of your luggage through Venice but still so close to everything you would want to see in Venice! Very clean modern room, good breakfast with yogurt, eggs, bread, pastries, real coffee, super friendly staff serving it. Would recommend this hotel to anyone."
Show more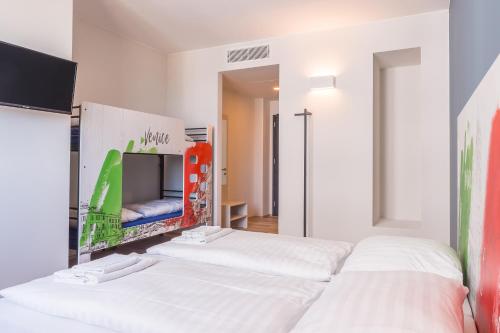 See all
a&o Venezia Mestre
Mestre,Venice - View on map
"Best thing about it was the location to the train/bus station(2 mins walk). Takes you to the St Lucia which is the main station for Venice. From there you can walk to the main attractions inside Venice. Hotel is so facilitated.bar open 24hours. You can just chill down at the lobby not just bound in your room. There's a pizzeria near by and it's worth every penny. Lovely staff. Had a very amazing time !! "
Show more
See all
Venice Times Hotel
Cannaregio,Venice - View on map
"I was attracted by this hotel's photos when choosing hotel for my stay. You may realize that most of the hotels in Venice are quite old or just not the style of a hotel that we usually see. This hotel stood out with its excellent interior design and atmosphere. This hotel is very easy to find, and it's just besides the train station, which is very convenient for those who will be leaving by trains. Staff members were very friendly and helpful, giving us a lot of useful information and assistance. The room was very spacious, even with a balcony. It provided all the utensils needed and everything was perfect. If I have to comment on something, the bathroom does not have a door so it's kinda embarrassing when showering while your friend is outside, which is fine to me. The hotel provides simple breakfast with adequate choices, giving me a good start of the day. I don't know if I will go to Venice again in the future. But to be honest, if I do, this hotel will be my only choice."
Show more
See all
Canal Grande Hotel
Santa Croce,Venice - View on map
"Coming from a Florence bnb I was delighted to check into Canal Grande hotel. Right from the start before my arrival I had emailed to the hotel asking about transport options to and from Venice train station and airport and the staff had been v responsive and provided clear directions. That had left me with a good first impression (I didn't get any response from another Venice hotel I had shortlisted). Upon arrival at the hotel I introduced my first name and asked if they needed my booking details. The lady surprised me by greeting me with my full name without looking at anything for reference. The staff obviously had done some clear homework on their guests arrival. I was really pleased, it later proved to be a v hassle free check in with the staff providing a map and recommendations on getting around. Room was fabulous with bath robes, good space area, comfortable bed and breakfast was fantastic with a wide selection of bread and ham. There is no doubt that this hotel is one of the finest in Venice and that I will certainly revisit again. "
Show more
See all
Hotel Nani Mocenigo Palace
Dorsoduro,Venice - View on map
"Hotel Nani Moncenigo exceeded our expectations. From the moment we walked in, I knew we would be taken care of very well. We were greeted by friendly staff, then shown to our wonderful room, a good size and plenty of space, usual for Venice. The room was very clean and housekeeping did a wonderful job during our stay, with turndown service every evening. Breakfast was great, everything you could want, a good variety, one of the best. Staff were ALWAYS courteous, friendly and helpful. We did avail of the free tour the hotel suggested, to a glass workshop, it was good. We had drinks at the bar, a good variety of cocktails. The hotel itself is presented very well, decor is in keeping and the garden is pretty, a nice place to sip Prosecco. The location is fabulous, also close to a Gondola service. Great bars and restaurants close by. Staying at this hotel added to our Venice experience. Book it now, you won't be disappointed."
Show more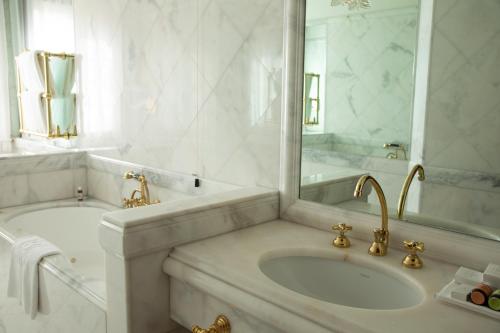 See all
Bauer Palazzo
San Marco,Venice - View on map
"Bauer Palazzo is the the most endearing and positive hotel in Venice these days!!! And the most Italian and authentic except maybe Daniele. THE Venice hotel"
Show more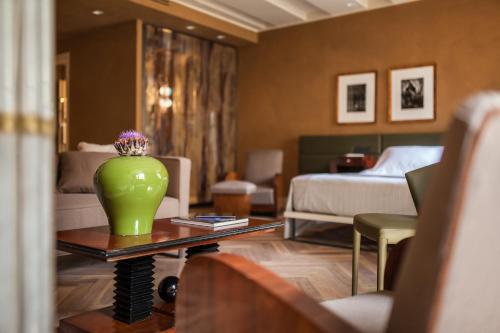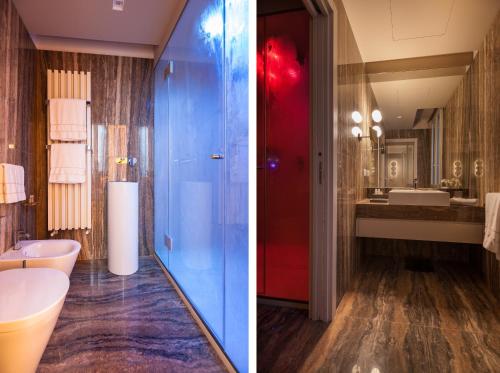 See all
Liassidi Wellness Suites
Castello,Venice - View on map
"It was v hard for me to choose accommodation in Venice as I'm not into old gothic looking Venetian style rooms. When I came across this new (3 yr old) modern style room (which was v rare), I knew I had to book it! The staff was very responsive over emails. They were also very helpful and friendly. Alicia in particular was v helpful and attended well to our needs. Breakfast was great and best of all served in room. The location was fantastic. It's in a quiet neighborhood yet close enough to all the sights eg San Marco and Rialto bridge. A lot of the popular hotels are right smack in the busy narrow streets which we do not quite like. It's related to Liassidi Palace which is 1 min walk away. It's a boutique hotel with only 5 rooms, hence no facilities to speak of. For private dock, you can use that of Liassidi Palace. For the public water bus, nearest stop is San Zaccaria which is around 8min walk. "
Show more
See all
Splendid Venice Venezia – Starhotels Collezione
San Marco,Venice - View on map
"The room is clean, wide, well-decorated, high standard.The location is near St. Marco and main shopping and restaurant area. The breakfast is perfect. The special price is really "bargain" for everybody. the staffs are kind. The lobby and the salon are also confortable. this hotel will be one of the best hotels in Venice, I believe."
Show more
More about Venice
Virtually unchanged for the last 600 years, Venice is one of the most charming destinations in the world. Built on a network of 118 islands in the Venetian Lagoon, Venice was once a prosperous city that had total control over Mediterranean sea trade, armed with a formidable navy. Today, this UNESCO Heritage-listed port city derives most of its income from tourism, with a reported fifty thousand tourists visiting every day.
Venice is famous for its gondolas, canals, and historic architecture. While gondolas still ply the city's waterways, water buses – vaporetti – are now the preferred form of transport for getting from point to point. For exploring the inner part of Venice – the Rialtine Islands – the best method is to walk. Wandering aimlessly through Venice's winding alleyways is an invaluable travel experience and a few hours lost in the back streets will provide as authentic a snapshot of Venice as any guided tour.
Venice's architecture spans several centuries, from 12th-century Byzantine to 17th-century Baroque. The most famous structure in the city is the immense St. Mark's Basilica, situated on the grandiose St. Mark's Square. The Gothic Doge's Palace nearby is also a hotspot for tourists, connected to the prison next door by the famous Bridge of Sighs.
Outside the Rialtine Islands is the
Lido
– Venice's beach getaway. A short vaporetto ride from
St. Mark's Square
, Lido is a narrow sandbar, one side of which serves as a private beachfront for hotels, with public beaches at either end of the island. Lido is the location of the Venice Film Festival and where many tourists base themselves to get away from the crowds of the inner islands when their sightseeing is done.