11 best hotels in Warsaw
Our top picks
Lowest price first
Nearest to
Best reviewed
Fast facts about Warsaw, Poland
| | |
| --- | --- |
| Accommodations | 5,002 properties |
| Popular hotel | Hotel Metropol |
| Popular area | Warsaw City Center |
| Nightly rates from | $9 |
| Airport | Warsaw Chopin Airport (Okęcie Airport) |
| Reasons to visit | Sightseeing, Museum & arts, Shopping |
5-star hotels in Warsaw
---
Hotel Intercontinental has got to be the best hotel in warsaw. The swimming pool is the greatest draw and it did not fail to impress even after us seeing the photos online so many times before the trip. The view overlooks the palace of culture and science as well as the national stadium. The facilities were also great with pool, jacuzzi, steam bath, sauna and gym all i...
---
Our favorite place to stay in Warsaw. Excellent central location, great staff, really good food in the in-house restaurant and some other great eateries within walking distance. Rooms are spacious and well decorated. Kitchenette facilities were in the room each time we stayed here (there maybe rooms without them). Fresh tasty breakfast available for purchase. Depend...
---
Had a wonderful stay. Staff very helpful and courteous as always. Great location for virtually everything in Warsaw. Hotel room service is awesome! A bit limited on choice, but what do you expect at 5am LOL. Hit the spot anyway. Would return to this lovely place :)
---
The Western Warsaw is accessible to any transportation and walking distance in the metro.. but the food at the restaurant is expensive.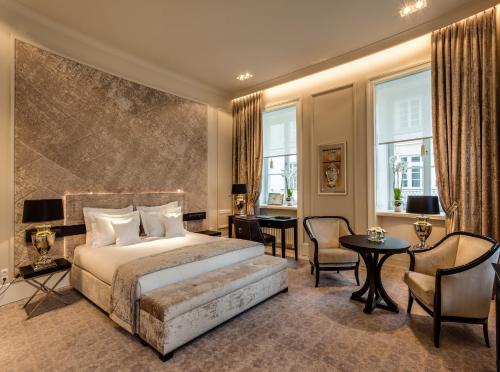 ---
It is very close to the old town. Pretty room. I wish I can spend more days if I have a chance to Warsaw again.
---
We loved our stay at the Sheraton! We paid for an upgrade which was recommended to us at check in and were glad that it had been suggested. The rooms are not cheap but the comfort and size and amenities are totally worth it. The Club lounge which we did use a few times was very good and the staff are very hospitable and friendly. The Asian restaurant and the Sports Ba...
---
Nobody will doubt that this is the best location might be in Warshar while the hotel facilities were quite disappointing. First thing that was unbelievable in Europe's 5* hotel was no free wifi in the rooms, only in common areas! Swimming pool zone was not like in the pictures and reminded old school sanatorium, but far away from luxury hotel spa zone.
---
My stay at the Warsaw Airport Renaissance a most pleasurable experience and one I will most definitely repeat and would recommend wholeheartedly to friends and strangers reading hotel reviews as part of their decision making process. 1. The convenient location to the airport 2. The very professional, friendly, multi-lingual, and helpful hotel staff... specifically rec...
---
Traveler impressions of Warsaw
Shopping is cheap, clothes, food, alcohol. Taxi drivers are the usual lot with not wanting to give change if the money you give them is a bit over.
We stayed in a central location for 2 nights. The weather was good although showery. We walked to the old centre, along the river, visited the Copernicus Science centre which I would highly recommend.
Warsaw is a nice city and it is affordable to travel, things are not expensive and the sightseeing attraction places are very compact especially the old town area.
I have joined the free walking tour, you will get to know more about the history and also some interesting stories about the city, especially the culture and history about world war II.
Good city planning, clear street sighs, very easy to go around Many museums and galleries The old town is very cute and many unique sovenior shops A ice skiing place in the old town
WING YEE
, Hong Kong SAR, China
Warsaw is a beautiful city, sadly underrated from the biased western media. People should realize that Eastern Europe is beautiful, the people are warm-hearted and helpful.
Warsaw is really really great! I personally think that it is often underrated and forgotten. It's not exactly beautiful city like Venice, Rome, or Madrid, but it is very rich of history and lots of place to visit.
rich culture and history background. however the people here are not as friendly as the other European countries.
Upon arrival via flight the journey has been very easy. The public transport is easy to use and clean being bus to metro/train.
A very safe , clean and beautiful city , shopping is the best things you can do when you see the price is so attractive compare with other EU countries.
The Old Town is culturally beautiful - very similar to usual European cities like Prague etc. The people are quite well versed in English and German which are the two languages I speak.
Many people would think that the culture and history is in warsaw and that is untrue. There are some sights to see but I would not recommend spending more then 3 days there and rather go to krakao where there are more things to see and history to learn and where you can access the concentration camp auschwitz.
An increasingly modernized city, with good facilities for both cultural pleasures and business events.
Warszaw has a relative small towncentre. You can easily walt from centrum via the parede street nowy swiat to the old town.
Very interesting. The parts of old and new town have plenty of historical sites and places of interest to keep you busy.
There's so much to do in Warsaw. Perfect for the historically cultured traveller. A very rich history with good museums, galleries, and food.
Charlotte
, United Kingdom
Was there for 2 nights so it was quite a rush, didnt have time to see alot of the attractions. The attraction we managed to visit were of good quality and informative.
the shopping is great, the City centre + Old Town are very much worth exploring, but you really need to have your own car, or study the public transport to be able to explore the City at greater lengths
I was there late july and it was uncommonly hot, over 30 degress C. The business center is a clean and safe area.
Warsaw was ruined during World War II and then rebuild again. You can really see two faces of the city.
one of the world heritage sights, old city. re constructed after the WW ll, to the cracks of the walls still makes you think the pride of the polish people.
I appreciate the development of the city, but traditionally the renovated Old Centre/Rynek is the best
---
Warsaw's best hotels with breakfast
---
Frequently asked questions
What's the typical price of a resort in Warsaw this evening?
The typical price for a 3-star resort in Warsaw tonight is USD 78. The average price for a 4-star resort in Warsaw tonight is USD 99. The typical price for a 5-star property in Warsaw this evening is USD 191.
What are the best accommodations in Warsaw for two guests?
Places to stay in Warsaw that are exceptionally rated by couples include a&o Warsaw Wola, Airport Hotel Okecie and Hotel Gromada Warszawa Centrum.
What hotels in Warsaw have the best views?
Verified tourists to Warsaw have given top testimonials for the views at NYX Hotel Warsaw by Leonardo Hotels, InterContinental Warszawa and Hotel MDM City Centre.
What are the top rated properties around Warsaw for business travelers?
Hotels in Warsaw which are exceptionally rated by business tourists are a&o Warsaw Wola, Hotel Gromada Warszawa Centrum and Airport Hotel Okecie.
What are the prime places to stay around Warsaw for group tourists?
Resorts in Warsaw that are well rated by group tourists are a&o Warsaw Wola, Hotel Gromada Warszawa Centrum and Airport Hotel Okecie.
What are the most suitable properties around Warsaw that includes airport transfer?
Resorts that includes airport transfer found in Warsaw that are well rated include White Park Inn Batorego 18 Niepodleglosci Mokotow Centrum Downtown WIFI free smartTV II, Apartament Skarbka and Uroczy apartament z miejscem na auto w garazu.
What are the top rated hotels found in Warsaw that have restaurants?
Hotels that have restaurants in Warsaw which are exceptionally rated include Bielany Apart Joanny przy metrze and Raffles Europejski Warsaw.
What destination should I explore when I'm traveling to Warsaw?
Top attractions in Warsaw include Warsaw Old Town, Lazienki Krolewskie w Warszawie, and Muzeum Powstania Warszawskiego.
What's the best neighborhood for sightseeing in Warsaw?
Top areas with a variety of tourist attractions in Warsaw are Warsaw City Center, Ursus and Mokotów.
Are international travelers allowed into Warsaw?
International travelers are allowed into Warsaw, based on our most current information. Due to changing restrictions, we strongly recommend that you take a look at here for additional information.
Is quarantine mandatory for unvaccinated visitors to enter Warsaw?
Quarantine is not required for unvaccinated tourists to enter Warsaw from outside the country. For updated and detailed information on travel restrictons, please visit the official websites of the travel authority or government of the country you wish to travel to, or go to here.
Is pre-departure covid test expected for unvaccinated tourists to enter Warsaw?
Proof of negative pre-departure COVID-19 test is not required to enter Warsaw. For up-to-date and in depth information on travel restrictons, please be sure to check out the official websites of the travel authority or government of the country you wish to visit, or go to here.
Explore more travel vacation rentals
More about Warsaw
Warsaw is a perennial holiday location for nature and outdoor traveling. Travelers from all over the world flock to Warsaw to trial anything this area can offer, which includes excellent resort hotels in Warsaw, hotels and resorts near lakes in Warsaw, and mountain view hotels in Warsaw. Visitors take full opportunity to experience the great number of golf resorts and spas in Warsaw, Warsaw center aquarium hotels, Warsaw downtown accommodation, golf view hotels in Warsaw, and high-rise hotels with views in Warsaw in the proximity of wonderful nature areas. Cuisine that can be found with the restaurants and bars in Warsaw comprises of choices for many tastes. Favorite nature areas in Warsaw include Lazienki Royal Park, Botanical Gardens, and Water Reservoir, which in totality offer a assortment of wildlife and outdoor experiences and nature-based evening activities. Hotel room alternatives in Warsaw vary from affordable capsules in Warsaw to top end 5-star luxurious hotel zoos in Warsaw. It's also possible to and others for vacationers of all tastes and budgets. Remember-- individual-unit trip rentals in Warsaware almost always available for travelers who have more specific hotel necessities, such as multi-bedroom units near aquariums, large terraces with city views, and even concierge services to help you experience the most outstanding open-air activities found on golf courses in Warsaw. The best mountain resort hotels in Warsaw provide all simple and easy access with public transport to Lazienki Royal Park, plus restaurant choices with patio selections as well. You can also book top hotels close to Botanical Gardens, or practical hotels nearby Water Reservoir. The structure of Warsaw is in particular ideal for forest villas in Warsaw, taking walks from your hotel near parks, or accommodations nearby exceptional nature tour providers in Warsaw.

Warsaw is a favorite choice for skiing and snow experiences. Visitors from all over the world visit Warsaw to enjoy just about everything this area can offer, like the finest snowboarding attractions in Warsaw, hotels near ski resorts in Warsaw, and luxury ski hotels in Warsaw. Visiting tourists dive into the great number of hotels near skiing in Warsaw, Warsaw ski resort hotels, Warsaw luxury ski resorts, ski area hotels in Warsaw, and ski resorts and accomodation in Warsaw near ski areas. Eating and drinking that is available along with the eateries and bars in Warsaw consists of alternatives for all types of desires. Some of the most in-demand ski places in Warsaw include Szczesliwice Ski Slope and Gorka Szczesliwicka, which jointly offer you a large list of snow experiences and ski-based night activities. Room and board selections in Warsaw cover anything from low-priced capsules in Warsaw to higher-end 5-star luxurious hotels near ski resorts and snow in Warsaw. There are also ski packages in Warsaw, hostels in Warsaw, and more for travelers of most tastes and budgets. Moreover, single-unit holiday rentals in Warsaw are almost always readily available for tourists who have more high-end or specialized skiing necessities, which includes multiple-bedroom units near ski resorts, spacious balconies with downtown views, or ski-in and ski-out lodging and hotels in Warsaw. The most highly-rated 5-star skiing resorts in Warsaw present efficient access via public transport to Szczesliwice Ski Slope, and and also dining choices with patio picks also. You can also discover some of the best places to stay nearby Gorka Szczesliwicka. The spacing of Warsaw is undoubtedly ideal for ski packages, ski holidays, and ski hotels near Warsaw, or walking from your resort to ski lifts, or hotels nearby the best snow activities and winter fun tour services in Warsaw.

Warsaw is a fashionable locale for travelers seeking a perfect vacation at the beach. Vacationers from across the world visit Warsaw to savor just about everything this location offers, including water sports, sunbathing, and lovely relaxation. Vacationers make the most of the many exceptional hotels in Warsaw, Warsaw hotels on the beach, Warsaw beach resorts, sea view hotels in Warsaw, and resorts in Warsaw along or close to the beach----combined with the coffee shops and Warsaw bistrosthat serve regional seafood and also other favorites. Cuisine in Warsaw offers selections for all kinds of tastes. Popular beaches in Warsaw include Vistula River Beach and Port Praski, which combined give you a great number of beach experiences and oceanfront activities. Accommodation alternatives in Warsaw cover anything from reasonably priced bungalows in Warsaw to top quality 5-star luxury hotels at the beach in Warsaw. You may also pick fantastic serviced rooms in Warsaw, hostels in Warsaw, and others for tourists of most tastes and budgets. On top of that, single-unit vacation rentals in Warsaw will be available for travelers and tourists who have more specific accommodation requirements, which includes multi-bedroom units, spacious balconies, or areas for water sports devices or water-sports vehicles. Some of the best hotels by the beach in Warsaw give you stunning views of the sea close to Vistula River Beach, plus food choices with oceanside environment as well. It's also possible to seek top properties nearby Port Praski. The weather in Warsaw is incredibly accommodating for sea outings, or simply just lounging around the beach in the ideal location.