Hotels in Wollongong
Our top picks
Lowest price first
Nearest to
Best reviewed
Fast facts about Wollongong, Australia
| | |
| --- | --- |
| Accommodations | 70 properties |
| Popular hotel | Sage Hotel Wollongong |
| Popular area | Wollongong City Center |
| Nightly rates from | $74 |
| Airport | Illawarra Regional Airport |
Where to stay in Wollongong
---
4-star hotels in Wollongong
---
the hotel was a real gem in wollongong. i believe the hotel is recently opened, thus all amenities are close to brand new. service was great, on my second day me n boyfriend decided to stay in and make our own meal using the kitchen. however there was no foil or baking paper, called reception and spoke to the girl at the front desk. she was very enthusiastic and helpfu...
---
This is probably the best hotel in Wollongong. Big Spacious room, sofa cum bed for children. Lovely balcony & great view.5 star hotel at a price of 3 star!!!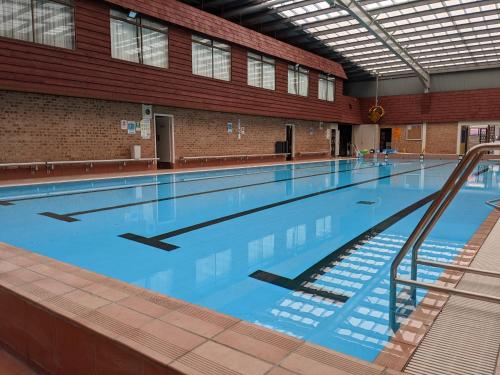 ---
Enjoyed the stay very much. The tennis courts could have been better surfaced and the putt putt golf course swept clean from leaves and cones. Everything else was great. Hence the 4 stars for 1,3 & 5.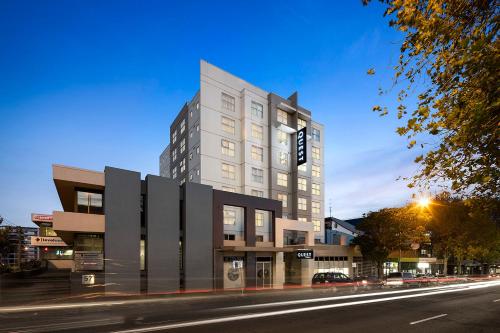 ---
Hmmm not to impressed. No balcony not the best quest I've stayed at better options in the area on offer.
---
Hotel is part of Wollongong Golf Course, great location on South Beach...and excellent walks along beach front
---
So the serious part of this review is that the hotel was very nice. The room was more like a mini-apartment. It was massive! It had a kitchen and lounge - it was almost the same size as the apartment I live in. The staff were really friendly, the hotel was nice and quiet and relaxing and close to all the amenities needed. I would definitely recommend it and stay there ...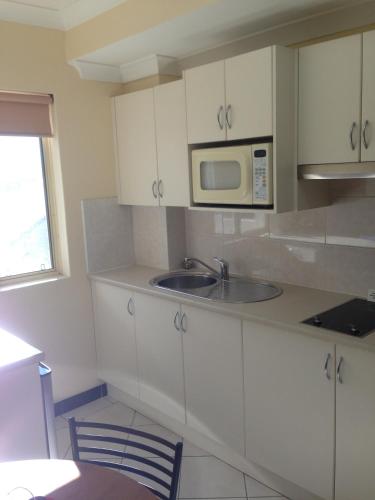 ---
Liked the place. Good base with enough facilities to be self catering for longer stays. Not so upmarket but excellent for the price.I travel to Wollongong for business a lot and normally stay a week. I have found my new home there. Have already booked for my next stays there. Manager is great. Could not do enough to help. Made you feel welcome as an individual not jus...
---
Amazing!!! Really enjoyed our selves. Arrived on a Thursday night after hours and greeted by the most friendly bar staff and very helpful manager. Room was gorgeous!!! Huge and with everything you need! We could have stayed a week, easily and with all the conforts of home. Including washer, dryer, dishwasher, oven, stove and HEATED towel rack!!! Loved the private alfre...
---
Real reviews for hotels
Good Beach town, not far from Sydney. Good Surf, lots of activities and shopping. Worth a visit for Australians and Overseas tourists.
Good place for explorers and beach lovers. the sceneary around the area is awesome and have many good beaches that are serene and quiet with awesome surf.
Si Feng Chester
, Singapore
Wollongong is a beautiful coastal city. It has a wide variety of dining options to suit all tastes. It is located right on the beach, so is a perfect location to spend your summer days.
Wollongong had a lot to keep one occupied - Shopping, eating, sightseeing. I enjoyed the markets on the Friday morning, although only happened upon these so maybe a bit more advertisement for those not local.
A humble city, not much of skyscrapers. Near to Sydney the main city of Australia, as compared to Wollongong, its just a city with good facilities and great infrastructures, lower noise pollution.
Spend the day lazying away on the beach and then head to one of the many beach facing restaurants to enjoy lovely Australian fusion cuisine.
The Blowhole is value to have a look. However, people should bring along their jackets as the wind there is great.
YUET
, Hong Kong SAR, China
city center has everything in walking distance and looks similar to town center in England..very attractive.
the area is surrounded by beaches , restaurants, cafes and shopping. there are many spas available, sports activities.
---
Wollongong hotels with breakfast
---
Frequently asked questions
What's the typical price of a hotel in Wollongong tonight?
The typical price for a 3-star resort in Wollongong tonight is USD 116. The typical price for a 4-star hotel in Wollongong this evening is USD 155.
What are the best hotels in Wollongong for two guests?
Properties in Wollongong that are exceptionally ranked by couples include Sage Hotel Wollongong, Novotel Wollongong Northbeach and Coniston Hotel Wollongong.
What's the best local neighborhood in Wollongong to stay in?
Popular local communities amongst tourists staying in Wollongong include Wollongong City Center, Coniston and Austinmer.
What places to stay found in Wollongong are highly rated regarding facilities?
Accommodationsaround Wollongong that is exceptionally rated with regards to facilities include East Woonona Sea Esta Apartment, Argo Apartments and Bel Mondo Apartments.
What properties located in Wollongong are highly rated with regards to service?
Accommodationslocated in Wollongong which is highly rated with regards to service include Argo Apartments, City Beach Motel and East Woonona Sea Esta Apartment.
What are the very best properties located in Wollongong which has airport transfer?
Resorts offering airport transfer around Wollongong which are exceptionally rated include Adina Apartment Hotel Wollongong, Adina Apartment Hotel Wollongong and Adina Apartment Hotel Wollongong.
What's the best rated accommodation in Wollongong near a amusement park?
Highly reviewed hotels around Wollongong near amusement park consist of Tiny home with a pool and 2 minutes from beach., Hopetoun Villa and Urban Retreat.
Where can I book rooms in Wollongong with free cancellation policy?
Yes, you'll find the majority of hotel rooms offer free cancellation rates, in which you will receive a full refund if you cancel before the deadline. Filter your search by free cancellation to find flexible hotel deals in Wollongong.
When should I make a trip to Wollongong?
Last year, Wollongong garnered its most visitors during the month of January. Despite this, make sure to consider other months during which there are a fewer amount of tourists, as the most popular destinations will be less packed.
How long should I spend my time in Wollongong?
In the past 3 months, visitors spend time in Wollongong for 1 nights on average. The appropriate length for your trip will be determined by what you're looking to see and do while there.
Is pre-departure covid test needed for fully vaccinated foreigners to enter Wollongong?
Proof of negative pre-departure COVID-19 test is not required to enter Wollongong. For updated and in depth information on travel restrictons, please take a look at the official websites of the travel authority or government of the country you wish to visit, or go to here.
Is pre-departure covid test necessary for unvaccinated tourists to enter Wollongong?
Proof of negative pre-departure COVID-19 test is not required to enter Wollongong. For updated and detailed information on travel restrictons, please stop by the official websites of the travel authority or government of the country you wish to visit, or go to here.
Explore more travel vacation rentals
More about Wollongong
Discover the Best Time to Visit Wollongong
Wollongong is a coastal city located in the Illawarra region of New South Wales, Australia. The city boasts of pristine beaches, picturesque scenery, and a rich cultural heritage. The best time to visit Wollongong is during the months of March to May and September to November when the weather is mild and pleasant. During these months, the temperature ranges from 18°C to 25°C, making it ideal for outdoor activities such as hiking, surfing, and swimming. In contrast, the summer months of December to February can be hot and humid, with temperatures reaching up to 30°C. The winter months of June to August can be quite chilly, with temperatures dropping to 7°C. However, if you are a fan of winter sports, this is a great time to visit as the nearby Snowy Mountains offer excellent skiing and snowboarding opportunities.
Explore Wollongong: Top Fun Things to Do
Wollongong offers a plethora of activities for travelers of all ages. If you are a nature lover, you can explore the city's stunning coastline, which stretches for over 17 kilometers. The city has several beaches, including North Wollongong Beach, which is popular for surfing, swimming, and sunbathing. Other beaches worth visiting include Austinmer Beach, Stanwell Park Beach, and Port Kembla Beach. The Wollongong Botanic Garden is another must-see attraction, with over 30 hectares of landscaped gardens, picnic areas, and walking trails. For those interested in history and culture, the Wollongong Art Gallery is a great place to start. The gallery features a collection of contemporary and traditional artworks from local and international artists. The Nan Tien Temple, located in nearby Berkeley, is also worth a visit. The temple is the largest Buddhist temple in the southern hemisphere and offers guided tours, meditation classes, and vegetarian meals.
Where to Stay in Wollongong: Hotels for Every Budget
Wollongong offers a wide range of accommodation options to suit every budget. For those looking for affordable accommodation, the Boat Harbour Motel and Flinders Motel are excellent choices. Both motels offer comfortable rooms, free Wi-Fi, and onsite parking. The Wollongong Surf Leisure Resort is another great option for families, with its spacious apartments, swimming pool, and tennis court. If you are looking for a more luxurious stay, the Downtown Motel and Golf Place Inn Wollongong are great choices. The Downtown Motel offers stylish rooms with modern amenities, while the Golf Place Inn Wollongong boasts of a tranquil location overlooking the Wollongong Golf Course.
Travel Tips: How to Get Around Wollongong
Wollongong is well-connected by road, rail, and air. The closest airport is the Illawarra Regional Airport, which is located 18 kilometers from the city center. The airport offers regular flights to Sydney and Melbourne. Alternatively, you can fly into Sydney Airport and take a train or bus to Wollongong. Once you are in Wollongong, the best way to get around is by car. There are several car rental companies in the city, including Avis, Hertz, and Budget. If you prefer public transportation, the city has an extensive bus network that covers most of the major attractions. You can also take the train, which runs from Sydney to Wollongong and stops at several stations along the way.
Why Book with Agoda.com for Your Wollongong Trip
Agoda.com is the perfect platform for booking your Wollongong accommodation. With a wide range of hotels to choose from, you can find the perfect hotel to suit your budget and preferences. Agoda.com also offers excellent deals and discounts, making it easy to save money on your trip. Additionally, the website is user-friendly, making it easy to search and filter hotels based on your requirements. You can also read reviews from other travelers to get an idea of what to expect from your chosen hotel.
From Seafood to Sweets: Must-Try Food in Wollongong
Wollongong is a food lover's paradise, with a diverse range of cuisines to choose from. The city is known for its fresh seafood, with several restaurants offering a variety of seafood dishes, including fish and chips, prawns, and oysters. The Fisherman's Wharf Seafood Restaurant is a popular choice among locals and tourists alike, offering delicious seafood platters and stunning views of the harbor. If you have a sweet tooth, you must try the famous Wollongong-made "Moon Cakes." These cakes are filled with lotus seed paste and are traditionally eaten during the Mid-Autumn Festival. You can find them at various Asian bakeries and supermarkets in the city.
How to Reach Wollongong: Transportation Options
Wollongong is easily accessible by road, rail, and air. If you are driving from Sydney, you can take the Princes Highway, which is a scenic coastal route that offers stunning views of the ocean. The journey takes approximately 90 minutes, depending on traffic. Alternatively, you can take the train from Sydney to Wollongong, which takes approximately 90 minutes. The train stops at several stations along the way, including Sutherland, Wollongong, and Thirroul. The train offers a comfortable and affordable way to travel, with regular services throughout the day. If you prefer to fly, the Illawarra Regional Airport offers regular flights to Sydney and Melbourne. The airport is located approximately 18 kilometers from the city center and offers shuttle bus services to and from the airport.
Reasons to Visit Wollongong: More Than Just a Beach Destination
Wollongong is more than just a beach destination. The city offers a unique blend of natural beauty, cultural heritage, and modern amenities. Whether you are looking for adventure, relaxation, or culture, Wollongong has something for everyone. From hiking in the Illawarra Escarpment to exploring the city's museums and galleries, there is never a dull moment in Wollongong.
Plan Your Wollongong Getaway: Tips for First-Time Visitors
If you are planning your first trip to Wollongong, here are some tips to help you make the most of your stay. Firstly, make sure you pack sunscreen and a hat, as the Australian sun can be quite strong. Secondly, if you plan to hike or explore the city's natural attractions, make sure you wear comfortable shoes and carry plenty of water. Lastly, don't forget to try the local cuisine, including fresh seafood and Moon Cakes. In conclusion, Wollongong is a beautiful city that offers something for everyone. Whether you are looking for a romantic getaway or a family vacation, Wollongong has it all. With its stunning beaches, rich culture, and modern amenities, Wollongong is the perfect destination for your next holiday.