Hotels in Yokohama
Our top picks
Lowest price first
Nearest to
Best reviewed
Fast facts about Yokohama, Japan
| | |
| --- | --- |
| Accommodations | 650 properties |
| Popular hotel | Shin Yokohama Prince Hotel |
| Popular area | Yokohama |
| Nightly rates from | $14 |
| Reasons to visit | Sightseeing, Restaurants, Shopping |
Where to stay in Yokohama
---
4-star hotels in Yokohama
---
Shin Yokohama Prince Hotel is a great place to stay if you prefer being near the Train station than being near downtown Yokohama. We were able to get a double bed room for a very good price. The room was clean and bathroom as expected for a 3 star+ hotel. I have been to japan 4 times and this hotel is one I would stay at again. My wife and I visited Yokohama for 2 ...
---
Stayed there for a total of 5 nights and was easily the best western-styled hotel I had stayed thus far in Japan. Double-room was extremely spacious with a huge window facing Yokohama bay area from my room on the 17th floor (highest floor being the reception area which is on the 20th). Bathroom was separated from the toilet and the bathroom alone was extremely big. Co...
---
we stayed at kawasaki nikko hotel for the first time. it was a very nice hotel. the service was good, and the room was nicely appointed. a bit small, but relatively generous for a hotel in this price range for japan. the kawasaki jr station area is wonderful. the atre and lazona shopping complexes at the stations are unbelievable. transit to both tokyo and yokoha...
---
By Japanese standards the rooms are quite large, and furnished in an almost Scandinavian style. Everything is spotless. There was a good workdesk area and a comfortable chair with a side table, and a nice view towards downtown Yokohama. The location at the train station is great, as the hotel lobby is on the 10th floor (hotel rooms above that) and floors 2-9 most...
---
only a minute's walk to the jr station and located in the middle of the minato mirai 21 area, the new otani inn yokohama hotel is perfect for those who want to experience downtown yokohama. it is also minutes from the park, china town, and the all of the harbor attractions. the room, at least those with the harbor view, are incredible. the view in it of itself is amazi...
---
Our stay at the Daiwa Roynet was great, even before we checked in. The hotel was happy to hold our luggage for a day before officially checking in which allowed us to travel and sightsee. I would consider the hotel as 3.5 to 4 star. Great clean accom with helpful staff. They gave us a complimentary upgrade to a better room, bonus! Wifi was good and so were the amenit...
---
As someone skeptical of reviews, I booked the Rose Hotel for 4 nights as part of a travelling package of Yokohama and Tokyo. when we arrived we saw we were opposite Chinatown...a great cultural experience. The staff couldn't be friendlier, attending to our every need. it's probably the best hotel in Yokohama!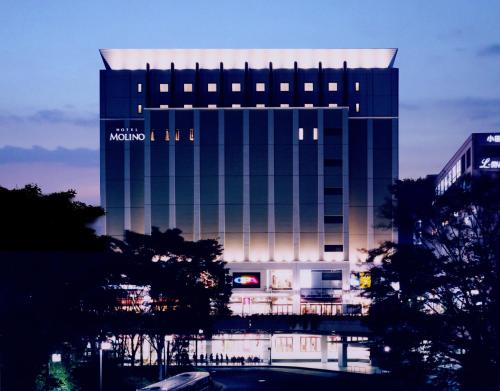 ---
I don't think there are any other hotels in Shinyuri, at least not this size. You won't be disappointed. It's not a 5 star hotel but I'll gladly stay there every time I'm in Shin-yuri. Every thing was pretty much 'average' or slightly better than average. But I have 0 complaints.
---
Very clean and comfortable! The facilities are all from the best brands (e.g., SONY, Panasonic, Zojirushi). The only thing I feel a little unexpected was that there is no coffee in the room. There are tea bags, but just not coffee. Otherwise, this is a really awesome hotel. Great cost/value! Love it!
---
Luxury hotels in Yokohama
---
The hotel is in a prime location to get around the shopping arcade in the Queen's tower and the vicinity. Great stay for who comes to conferences at Pan Pacifico Yokohama. Hotel is decorated in classic style and under some renovation to upgrade to new technology. The room has fantastic view to either the bay area with Ferris wheel or the city with Mr. Fuji in the backg...
---
Probably the best hotel in Yokohama area. Must stay at the park side to enjoy the beautiful view. Good for family holiday and/or for business trip. Should stay longer there, instead of Ikebukuro
Wai
, Hong Kong SAR, China
---
Yokohama hotels with breakfast
---
Frequently asked questions
What's the average price of a hotel in Yokohama?
The typical price for a 3-star hotel in Yokohama is USD 74. The typical price for a 4-star property in Yokohama is USD 104. The typical price for a 5-star hotel in Yokohama is USD 262.
What's the average price of a property in Yokohama this weekend?
The typical price for a 3-star resort in Yokohama this Friday and Saturday is USD 69. The typical price for a 4-star hotel in Yokohama this weekend is USD 102. The average price for a 5-star resort in Yokohama this weekend is USD 234.
What's the average price of a resort in Yokohama this evening?
The typical price for a 3-star resort in Yokohama this evening is USD 58. The typical price for a 4-star resort in Yokohama this evening is USD 84. The average price for a 5-star resort in Yokohama this evening is USD 172.
What are the best resorts in Yokohama nearby Yokohama Motomachi Shopping Street?
Verified travelers to Yokohama who stayed near Yokohama Motomachi Shopping Street have given top evaluations to Comfort Hotel Yokohama Kannai, jr-east hotel mets yokohama sakuragicho and APA Hotel & Resort Yokohama Bay Tower.
What are the most famous hotels in Yokohama?
Some of our most famous places to stay in Yokohama are Hotel The Knot Yokohama, Far East Village Hotel Yokohama and APA Hotel & Resort Yokohama Bay Tower.
What resorts in Yokohama have the best views?
Verified tourists to Yokohama have given amazing reviews for the views at Hotel Vista Premio Yokohama Minatomirai, Hotel New Grand and The Yokohama Bay Hotel Tokyu.
What resorts in Yokohama have the best breakfast?
Verified travelers to Yokohama have given exceptional reviews for the breakfast at Richmond Hotel Premier Musashikosugi, Daiwa Roynet Hotel Yokohama-Koen and Hotel Associa Shin-Yokohama.
When should I travel to Yokohama?
Last year, Yokohama gained its most visitors during the month of May. Nevertheless, make sure to consider other months during which there are less tourists, as the most popular landmark will be less packed.
Are international visitors allowed into Yokohama?
Foreign travelers are allowed into Yokohama, according to our most up-to-date information. Due to changing restrictions, we advise you to browse here for more details.
Is evidence of vaccination required to enter Yokohama?
Proof of COVID-19 vaccination may be required to enter Yokohama from outside the country. For additional details, please reach out to local authority or visit here.
Is pre-departure covid test mandatory for unvaccinated foreigners to enter Yokohama?
Proof of negative pre-departure COVID-19 test may be required to enter Yokohama. For updated and detailed information on travel restrictons, please be sure to check out the official websites of the travel authority or government of the country you wish to visit, or go to here.
What vaccines are recognized in Yokohama?
Pfizer/BioNTech, AstraZeneca (Vaxzevria), Moderna, Janssen (Johnson & Johnson), Bharat Biotech, Nuvaxovid (Novavax) are currently recognized and approved by the national health authority of the country that includes Yokohama.
Explore more travel vacation rentals
More about Yokohama
Yokohama
As the second largest city in Japan, Yokohama attracts visitors from all over the world and boasts strong international flair. Just 90 minutes from Tokyo by train, Yokohama is situated in a bustling area of Japan's coast. What began as a fishing village centuries ago has transformed into a cosmopolitan center that's filled with celebrated attractions. Luxury hotels in Yokohama cater to foreign travelers. Ryokan in Yokohama are also popular with visitors to the city in search of an authentic Japanese holiday experience.
Getting Around Yokohama
After settling into their accommodation in Yokohama, travelers often prefer to purchase a subway pass in order to get around the city with ease. Subway, train, and bus are the most popular forms of travel in the city for visitors, but some people may prefer to take taxis to their destinations. Visitors who plan on traveling frequently around the city may wish to book hotels near Yokohama Myorenji Station or Yokohama hotels near bus terminals.
Best Places to Stay in Yokohama
Travelers visiting Yokohama on vacation frequently prefer coastal areas such as Kanagawa, Nishi, or Naki. Hotels near Yokohama cruise terminal facilities can be found in these areas. Naka is home to a large Chinatown and features many cheap Yokohama hotels as well as boutique hotels in Yokohama. People in search of a quieter part of the city might want to consider Motomachi, which is popular with vacationing couples and features apartment hotels in Yokohama.
Where to Stay: Hotels in Yokohama
Many vacationers who opt to stay in seaside neighborhoods often look for Yokohama hotels with balcony features or Yokohama onsen ryokan in close proximity to the coast. Booking hotels near Yokohama cruise terminal sections are also popular with international travelers visiting the city by ship. Some of the most popular Yokohama hotels include the Yokohama Royal Park Hotel, Breezeway Hotel Resort and Spa, and Shin Yokohama Prince Hotel. Many Yokohama Bay hotels offer guests a luxury stay complemented by must-have amenities such as swimming pools and onsite dining.
Attractions of Yokohama
Yokohama offers visitors a wide range of attractions to enjoy. Some of the city's best known Yokohama spa hotels are situated near its most famous landmarks. Travelers to the city will want to check out attractions such as:

Shin-Yokohama Raumen Museum
With its 1950s vibe, the Shin-Yokohama Raumen Museum is a popular tourist attraction with its collection of ramen shops. Visitors can enjoy delectable bowls of ramen while learning about one of Japan's most celebrated culinary exports. Travelers hoping to cook some ramen of their own might want to book Yokohama hotels with a kitchen.

Sankeien Gardens
The Sankeien Gardens is noted as some of the most breathtaking in Japan. Its tranquil atmosphere is a welcome contrast to Yokohama's busier streets. Within the garden is a pagoda that dates to the 1400s. Travelers may want to book a stay nearby at a serene Yokohama ryokan.

Chinatown
As the largest Chinatown in the country, Yokohama's Chinatown is a popular tourist destination. Although it's touristy, it features a diverse range of specialty shops and is a fun place to shop for souvenirs.

Nogeyama Zoo
Nogeyama Zoo is a great destination for people of all ages. Home to hundreds of animals, the zoo also boasts lovely grounds that are well tended. The zoo also features a petting zoo that's popular with families. To enjoy sea creatures, travelers may want to seek out the Yokohama Omoshiro Aquarium. Hotels with pool in Yokohama are located near these venues and are also popular with families.

Things to Do in Yokohama
Yokohama offers visitors a wide array of things to do when they're in town. Once settled in their Yokohama accommodation, travelers may want to enjoy the following activities:

Take the Elevator to the Top of Landmark Tower
One of the tallest buildings in Japan, the Landmark Tower features an observation deck where visitors can enjoy spectacular city views. The elevators are attractions in their own right and provide a speedy ascent to the top of the structure.

Ride the Ferris Wheel at Cosmo World
Cosmo World is a vibrant amusement park that's popular with tourists and locals alike. The park features two roller coasts and multiple other attractions. Cheap hotels in Yokohama are conveniently located nearby.Watch Some Baseball at Yokohama Stadium
Baseball is extremely popular in Yokohama. While the games are exciting, the extremely polite behavior of the fans is a unique contrast with sporting games in the West. Baseball fans will definitely want to check out Yokohama's stadium experience.
Eating in Yokohama
There are a myriad of restaurants to try in Yokohama, including ramen shops and Izakaya bars. When visiting Yokohama, visitors who want to immerse themselves in the culture should try local favorite foods like beef hotpot, shumai, and Yokohama ice cream. Yokohama is the birthplace of Japanese beer, so many venues specialize in this popular beverage.

Visitors will find many different types of restaurants in Yokohama as well as street vendors. Japanese, Chinese, and Western cuisines are popular with visitors. Some of the best restaurants located near 5-star hotels in Yokohama include Sushi Otowa, Manchinro Honten, and Mutekiro.

As for nightlife, Yokohama features many bars and clubs. Karaoke bars are popular with residents as well as visitors. Popular nightlife spots include Ukiyo-E Cafe, Sake Bar Yokohama, and The Tavern. Whether looking to enjoy cocktails or dance, visitors will have many options to choose from in this city.
Shopping in Yokohama
Visitors will find a vast array of shops in Yokohama. Whether shopping for clothing, electronics, or cosmetics, travelers will want to check out major shopping destinations such as Queen's Square / Landmark Plaza, Diamond Underground Shopping Arcade, and the Yokohama Red Brick Warehouse. Many of the city's tourist areas feature boutiques and specialty shops, especially near Yokohama Bay hotels.

Travelers who want to book hotels in Yokohama can rely on Agoda to help them find the ideal accommodation for their needs and budget. Agoda helps travelers book both luxury and budget-friendly accommodations all over the world. Visit the site to find Yokohama resorts, hotels, or onsen ryokan.